Over at Garden Buildings Direct, we've just launched our brand new Studi – a fully-insulated garden room and cabin suitable for use 365 days a year.
Keep scrolling to read more about the design insights, materials used, and ultimately, the change the Studi could make to your life and garden!
At a glance:
Giving your garden the 'wow' factor whilst transforming it into a place that can be used all year round – the Studi is Designed and manufactured to the highest standards. Made from composite cladding and structurally insulated panels (SIPs), it's our most premium cabin to date.
The Studi – What's It All About?
Insulated Garden Cabins
At Garden Buildings Direct, all of our cabins have a wide range of uses: from garden room, office space, home gym, art studio, home cinema and more!
| | |
| --- | --- |
| What is a SIP? | A structural insulated panel (SIP) consists of an insulating foam core sandwiched in between interior and exterior cladding panels. SIP buildings are high-performance, offering increased energy efficiency, structural integrity, and even air quality. |
And with the Studi we've utilised SIP construction to create a fully-insulated year-round building. Modern and advanced in their design, Structural Insulated Panels (SIPs) are pre-insulated panels with a foam core sandwiched between two pieces of cladding.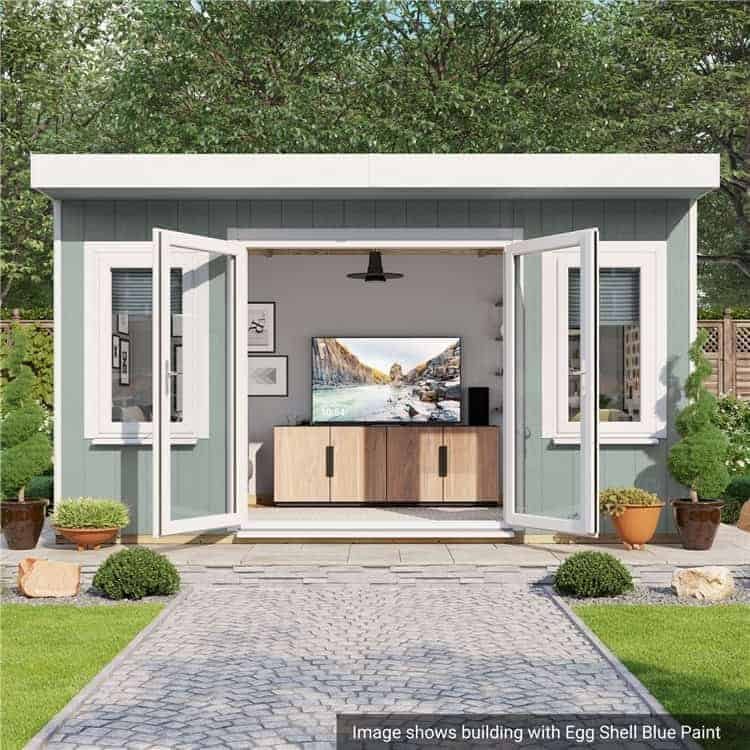 They're used as a building material for walls, floors and roof structures. SIP buildings are strong, exceptionally energy-efficient, cost-effective and easy to construct. 
EPS offers low and constant thermal conductivity across the roof and walls of your Studi insulated room to combat heat loss at the largest sites of your building's thermal envelope. The SIPs also regulate temperature, meaning that your building will stay warm in winter but cool in summer whilst reducing CO2 emissions and energy usage.
Studi Design Insights
Fully Insulated – Instead of having to insulate your gardening building, the Studi comes with optimal thermal efficiency with double-skin insulated walls. With an insulated floor and roof, it'll keep you warm in winter and cool in summer.
Easy Assembly – With a modular construction design, it's super easy to build. Made up of pre-made and ready-insulated panels and support posts that have been measured and cut by our expert craftsmen.
Highly Secure – Multi-point locking mechanism ensures maximum security for your building and the content inside. Includes an anti-pick, bump and drill door locking cylinder to both the windows and doors.
Size – 14x8ft with eaves height of 2.2m.
| | |
| --- | --- |
| Will this insulated garden room be warm enough to use in winter? | With insulation is placed into all elements of the building; the floor, the walls and the ceiling to ensure excellent thermal retention - this building can be used 365 days a year. |
The Studi – What's It Made From?
Heavy-Duty Framing –

Heavy-duty timber studs in between each SIP. Panels slot over 44x88mm studs where they meet with a pair of 44x44mm studs in each corner for increased structural integrity. Tongue and groove panels are used for the roof and flooring.

Pre Primed Interior Walls – Features pre-primed interior walls that are ready to be painted.
Double-Glazed uPVC Doors and Windows – Double glazed, energy-efficient uPVC doors and windows for peak energy efficiency. 27mm double-glazed doors and windows as standard with uPVC window and door frames.
Insulated Walls: 10mm pre-primed interior MDF walls in white that are ready to be painted
45mm EPS foam insulation
10mm waterproof composite cladding on the exterior for a stylish finish
| | |
| --- | --- |
| How secure is this garden room? | It's highly secure with tough, double-glazed glass windows and doors that feature a multi point locking system with security measures like anti pick, bump and drill door locking cylinder. |
Fully-Insulated Roof – Features a pent roof

with uPVC fascia boards.

The roof frame consists of heavy-duty 100mm roof joists with 45mm foam roof insulation and 11mm tongue and groove timber roof boards. The roof is finished topped with an EPDM rubber roof cover.

Tongue and Groove Floor –

Provided with 38x38mm pressure treated floor joists as standard.

19mm log floor foil insulated floor insulation also helps to combat "thermal drain".
| | |
| --- | --- |
| Do You Offer Finance? | We offer a pay by finance option on any purchase over the value of £560. Our simple finance options allow you to spread the cost of your purchase over 24, 36 or 48 months. Read more about our Pay by Finance option here. |
What Else Do You Get?
Guarantee
Buying from Garden Buildings Direct means investing in a guarantee of quality with every purchase. The Studi garden building also comes with a minimum 10-year guarantee against rot for peace of mind. 
| | |
| --- | --- |
| What is uPVC? | Unplasticised polyvinyl chloride (uPVC) is a highly durable and low-maintenance building material alternative to timber. It's used around window and door frames. |
uPVC Colour Options
To fully customise your bespoke garden office, we also offer a range of uPVC colour options on the Studi to add to the contemporary aesthetic.
No Planning Permission
We've designed this insulated garden room so that the base, eaves, and ridge measurements are compliant with UK planning regulations and will not require planning permission. Click on the extras tab to see a full guide to planning permission.
Easy Assembly
SIPs are strong, exceptionally energy-efficient, and most importantly – easy to construct. We don't offer an installation service for this very reason. Your Studi will be delivered to you on your nominated day as pre-made SIPs and heavy-duty studs. Simply assemble the flooring and frame and slot the SIPs over the heavy-duty framing.
Delivery
Simply enter your delivery address for fast and free* UK delivery and get your BillyOh garden building constructed ready for your next project.
| | |
| --- | --- |
| What is EPDM? | Ethylene propylene diene monomer (EPDM) is a rubber material used in roofing. EPDM is both strong and weather-resistant whilst remaining flexible withstanding temperature variations. The EPDM rubber roofing contributes to the 10 year guarantee we offer on this building. |
So if the Studi sounds like the right garden cabin for your needs, head over to our site to check it out in person via the button below.
Shop Studi
FAQs