To those who value lightweight but sturdy when it comes to garden sheds, metal is a top-tier material. Cheaper than wood, metal sheds are among the popular choices for storage solutions.
And these types of sheds are fantastic all-rounder outbuildings.  Known for its long-term and enduring qualities galvanised metal is perfect for enduring the elements.
So if you're planning on investing in one soon, you're in the right place! In this post, we'll explore the best Lotus metal shed range that Garden Buildings Direct has to offer.
Why Metal Sheds?
Like wooden sheds, metal sheds have developed a reputation in British gardens. At great value for the price, the coating and build quality of metal sheds are better than ever!
This shed type is increasing in popularity, all thanks to its incredible advantages. For one, it'll not rot or be affected by heat, excess sunlight or cold temperatures. This makes it an excellent choice when fully exposed to the elements in your backyard.
Furthermore, our Lotus metal sheds have undergone several processes with hot-dipping and galvanising. Like plastic sheds, little maintenance is required.
These processes also make Lotus sheds resistant to rust and corrosion. Unlike wood, metal sheds won't distort or warp under different conditions. They are also reinforced with strong frames and rated against strong winds.
Even a high-quality one is easy to install and requires fewer building materials. Thus, metal sheds tend to cost less than wooden and even some plastic sheds. And if you have a budget constraint for the same price as a wooden shed, you may be able to get a larger metal shed.
Best Lotus Metal Shed Range from Garden Buildings Direct
Price: From £325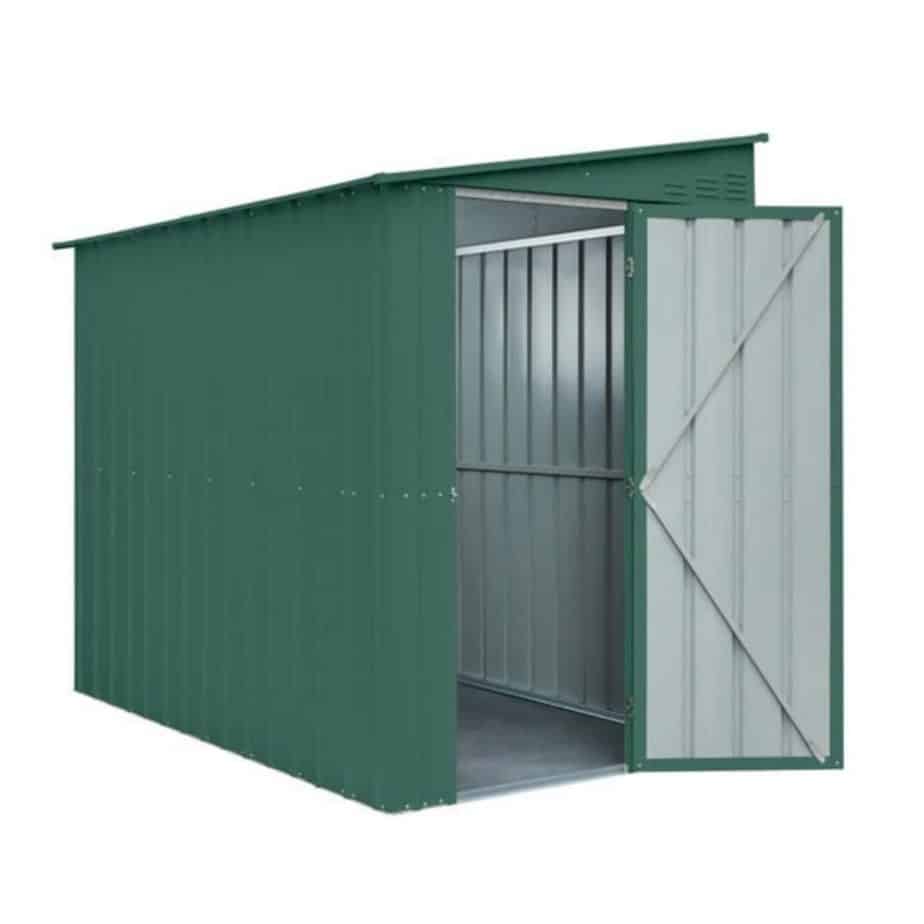 This Lotus premium metal shed has gone through both hot-dipping and galvanising processes. This gives the structure added protection from the elements.
Highlighting its tough galvanised steel, this shed has a solid and durable design. It can withstand harsh weather and will remain to look good for years to come.
The structure of this unit is a space-saving lean-to design. The angle of the pent roof is designed to deal with heavy rain and snowfall with a slight overhang to prevent water damage.
There's more! The windowless design adds structural integrity and increases security. This allows you to store your belongings away from anyone looking in from outside!
And speaking of privacy, you're going to love its wide hinged door! It's lockable and can be placed at either end of the shed, adding to its versatility.
Another great feature that this unit offers is the air vents. The ventilated gables allow air to flow in and out freely. With this, you don't have to worry about heat and condensation build-up.
A high specification lightweight metal garden shed – you can't go wrong with this one! Check out the sizes available below (measured in feet):
4×6 – £325

4×8 – £345

5×8 – £405
Price: £279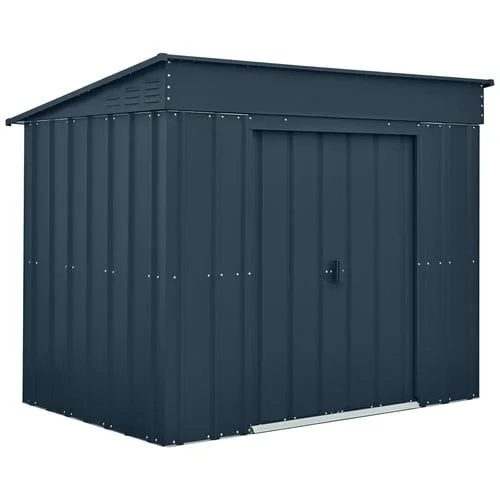 "Attractive, strong, and durable" is the perfect description for this shed. With a painted finish, this unit is robust and can last for years and years.
This low pent shed is built from hot-dipped galvanised steel, which guarantees durability. The frame and base rails are also made from heavy-gauge galvanised steel. 
Resisting bad weather, the pent roof is not only a stylish feature but also practical. It allows for adequate runoff from the roof, so you don't have to worry about water ingress.
If you value privacy, the windowless design will be a major plus to you! It allows you to store valuable items with confidence. What's more, you can access your belongings with ease through the double doors.
And we're not talking about standard shed doors here. The door's glide and track layout provide stable and easy-to-use access. You no longer have to struggle to manoeuvre your lawnmower – just slide open the doors!
To learn more about this shed, click the link!
Price: From £249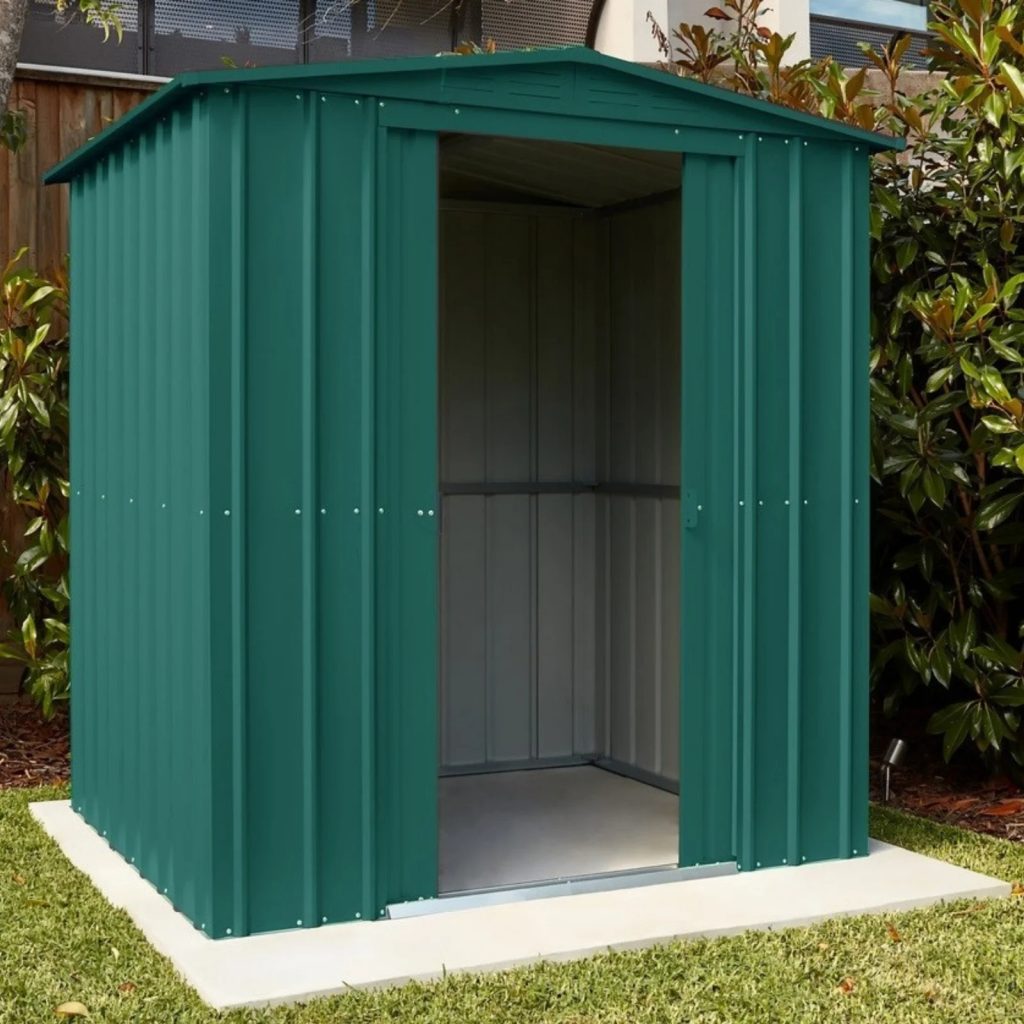 Owning a shed is a luxury, no matter the size. So even for those small gardens, there's a metal shed to cater for your storage needs. Just like this Lotus Apex metal shed!
Ideal for yards with limited space, the extra tall design gives the impression of a bigger unit. With its height, it also provides you with an expansive space for storing tools upright and enough room to move around in.
Like the rest of our Lotus units, it's also designed with thick 0.3mm steel with deep ribs. This means the structure is strong and durable and can withstand harsh weather. 
There are twin air vents located above the entrance, which let air flow freely in and out of the shed. Plus the dual slopes of the Apex roof prevents water damage that could be devastating to your valuables.
Check out the sizes available below (measured in feet):
6×3 – £249

6×4 – £279

6×5 – £309

8×3 – £329

8×5 – £369

6×5 – £425

10×7 – £509

10×8 – £525
Price: From £235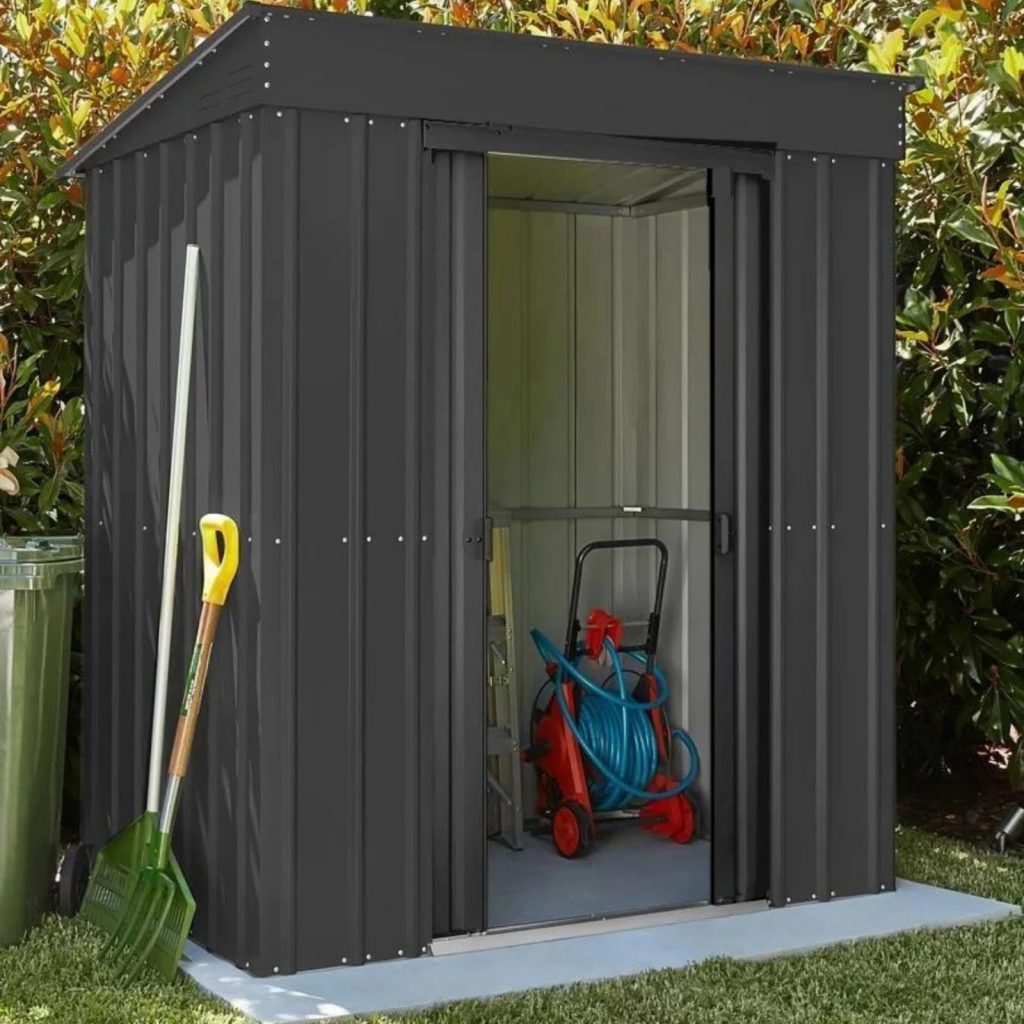 Now, if you want a sleek design with a stylish paint finish for your small garden, you'll love this unit! Featuring a timeless anthracite grey colour, this metal shed has a gorgeous aesthetic.
This shed unit also has the highest specification for a lightweight metal shed on the market. With high-grade 0.3mm steel, ventilated gables, and frame and base rails, it's built to last.
Other features include windowless design, glide & track door layout, and a pent roof.  Assembly is easy and comprehensive instructions are included. So building your shed is quick, easy, and satisfying. Check out the sizes and colours available below (measured in feet):
5×9 in Anthracite Grey – £235

5×3 in Green – £235

6×3 in Anthracite Grey – £259

6×3 in Green – £259

6×4 in Anthracite Grey – £279

6×4 in Green – £279

8×4 in Anthracite Grey – £349
Price: £545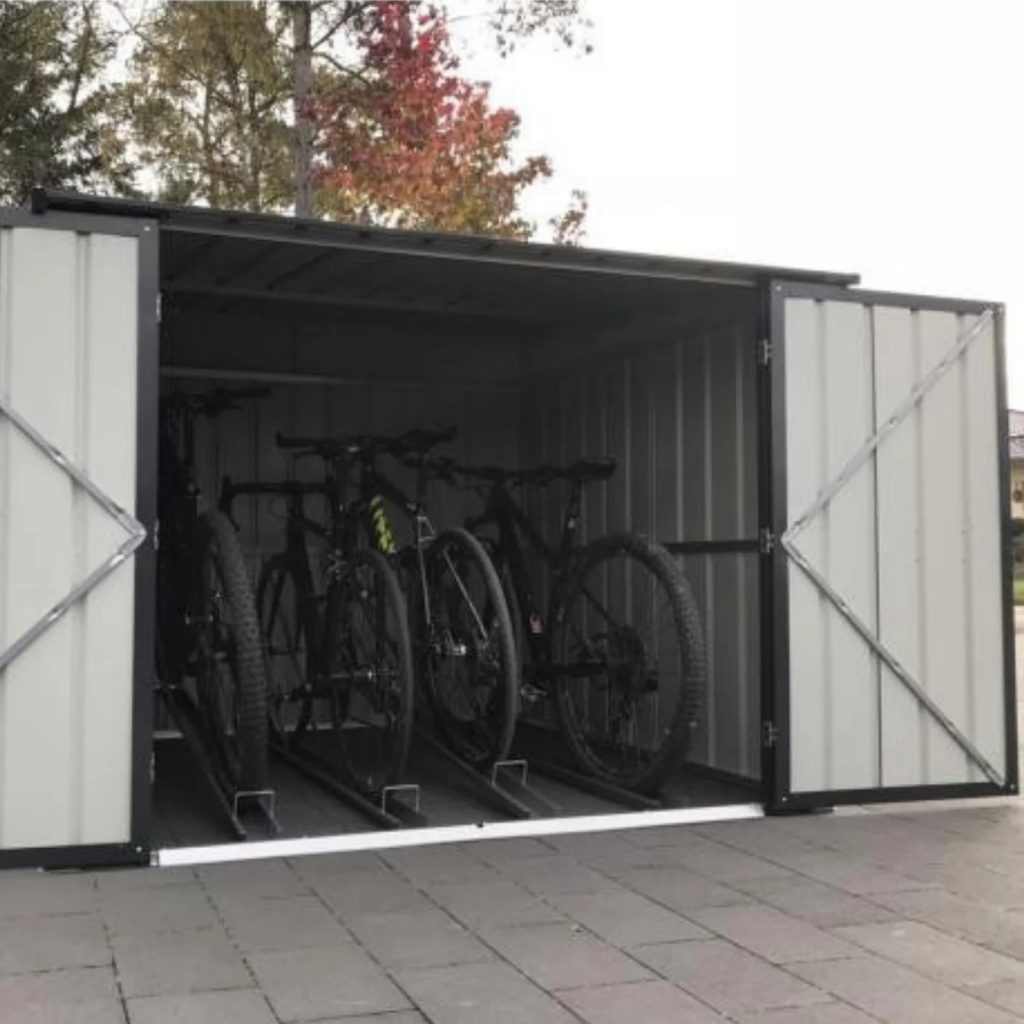 If you're fed up seeing your kid's bikes cluttering your yard, it's time to consider bike storage solutions. Owning bike storage comes with great benefits.
One, it ensures your children's bike won't clutter your garden or garage. Second, it protects the bike against rust, preventing damage or them even getting stolen.
This Lotus bicycle storage shed offers you those fantastic perks! And the sleek anthracite grey paint finish ensures your bike store looks good while standing the test of time.
It's the perfect place to hold up to 4 bikes, accessible through wide-opening lockable doors. The galvanised steel walls ensure that bicycles are protected against harsh weather conditions.
The rail stands keep the bikes upright for quick access and neat storage, too. And on top of that, this storage shed unit also has the option to keep other outdoor equipment and tools inside.
To learn more about this storage shed, click the link!
Price: £279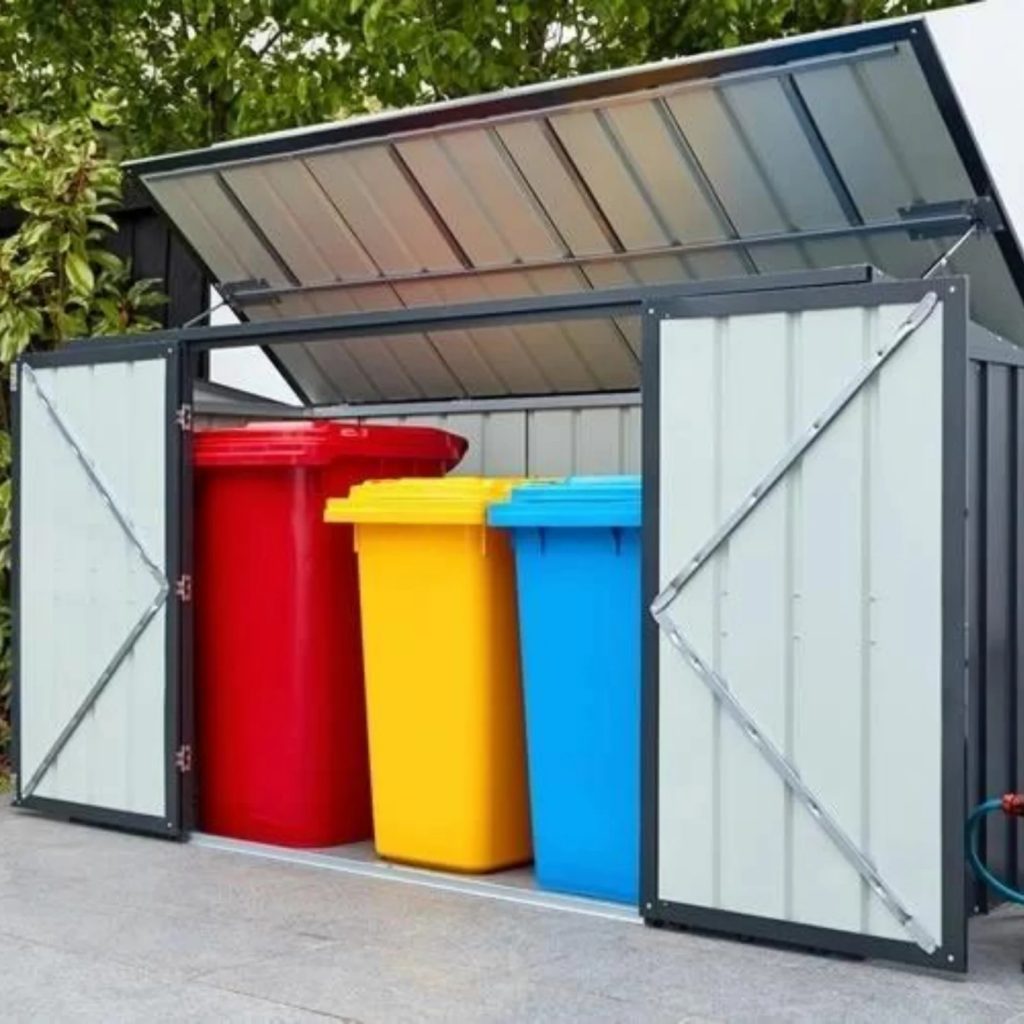 The newly developed Lotus Triple Wheelie Bin Store is an ideal bin storage solution. The walls are made of 0.3 mm thick sheet steel, which is rust and scratch-resistant while looking elegant.
The size can hold three standard-sized wheelie bins without taking up any more garden space than needed. Plus, the ventilated gables improve the air circulation, even when the doors and lid are closed.
And there's no need to hold the lid in place when trying to open your bins. The store does this for you! The sturdy steel pole keeps the lid from closing until you're ready.
The double doors to the store lock on the outside to keep your bins safely inside. Simply add a padlock that can be slotted through pre-drilled holes for extra security if necessary.
Neatly hides unsightly bins inside a sleek and classy design! Check out the sizes available below (measured in feet):
6×3 Double bin – £279

8×3 Triple bin – £309
7. Lotus 5'X3′ Metal Storage Cushion Box
Price: £209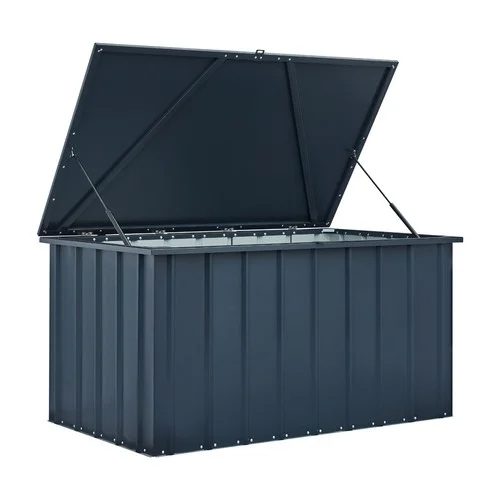 If your garden can't fit even a small garden shed, then this option might work for you! The Lotus Metal Cushion Storage Box makes an excellent storage solution.
Built from galvanised steel, it's ideal for storing your outdoor items no matter the weather. It also features a lockable lid and two hydraulic arms for easy opening and closing.
The overlapping reinforced heavy-duty lid and integral metal floor are among its perks. These features help keep rain (and unwanted pests) out.
With an 800-litre storage capacity, it's designed to save on shed space.
Why Buy From Garden Buildings Direct?
Garden Buildings Direct is a leading manufacturer and seller of garden buildings. We invest huge amounts of time and manpower to produce the best quality products that suit our customer's needs.
With this, we are confident in endorsing our garden building collections. This includes our Lotus heavy-duty metal sheds, which are absolutely worth checking out!
Click the button below to shop from our BillyOh metal sheds today.
Shop Lotus Sheds