Whether you're thinking of starting your own business or trying to get into shape, year-round garden rooms let you do so from the comfort of your home.
Garden rooms can be customised and transformed into anything from a yoga studio to a home office. But a fully-insulated garden office or a premium, insulated garden room can even help you save on commuting and energy costs whilst raising productivity.
To see if garden office pods are the right way to go for you –  keep scrolling.
Garden Office Uses:
One of the biggest benefits of outside rooms is their sheer adaptability. Not only do they offer extra space in general if your house or home office is too cluttered, but they offer dedicated space to whatever you use them for.
Working comfortably in the peace and quiet of your micro garden office has been shown to up productivity by around 13%. Let's have a look at the benefits of a garden workspace:
Garden Office
| | |
| --- | --- |
| Garden Office Benefits | Work-life balance, be closer to home, less clutter, a dedicated and productive space, cheaper than renting office space |
If you've got a garden office design then you might be thinking a little bigger than simply converting a garden shed. And creating a bespoke garden office can start to pay for itself.
It's true that garden rooms do add value – by increasing the square footage of a property's living space. But it's the cutting down on community costs and invaluable extra time that you'll get to spend with family that are some of the biggest draws.
---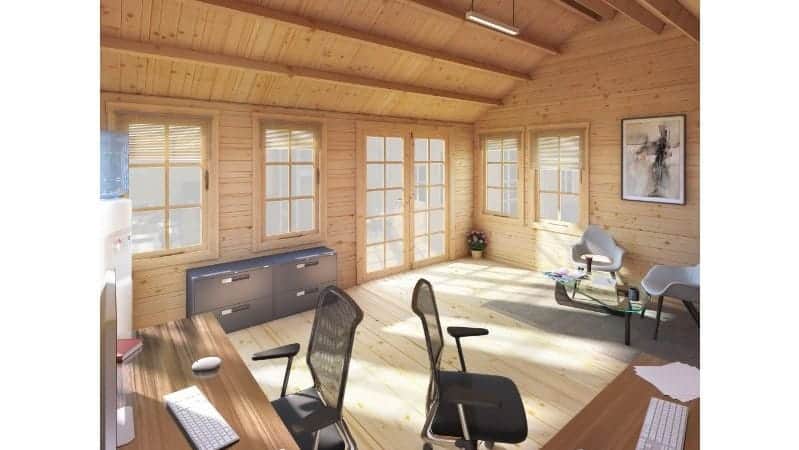 Insulated Garden Office Benefits
---
If you are thinking of investing in a garden office pod, then make sure that it's set up for office use. This means:
Why not head over to our customer stories to see what they've done with their garden office buildings On top of that, we've also had customers use their outside rooms as:
| | |
| --- | --- |
| Multi-purpose space | 31% |
| Entertaining and socialising | 19% |
| Hobbies (arts, crafts, and music) | 13% |
| Office | 6% |
| Home gym | 3% |
| Other (children's playroom, garden bar, games room) | 28% |
Garden room uses (From Which)
A Garden Studio
| | |
| --- | --- |
| Garden Studio Benefits | Suitable for a number of uses, a tranquil space for creativity |
The contemporary design of a garden room often lends itself to use as anything from a yoga studio to an art studio. Natural and natural-looking materials blend with most garden designs and buildings with tall doors and lots of windows prioritise a bright, airy interior.
A Home Cinema
If you're a cinephile or have friends and family that love to watch movies, then an outdoor pod is the perfect space. Create your very own cinema safe in the knowledge that you will reduce your carbon footprint from driving to the cinema.
Your wallet might even thank you in the long run if you factor in fuel, ticket, and snack costs!
---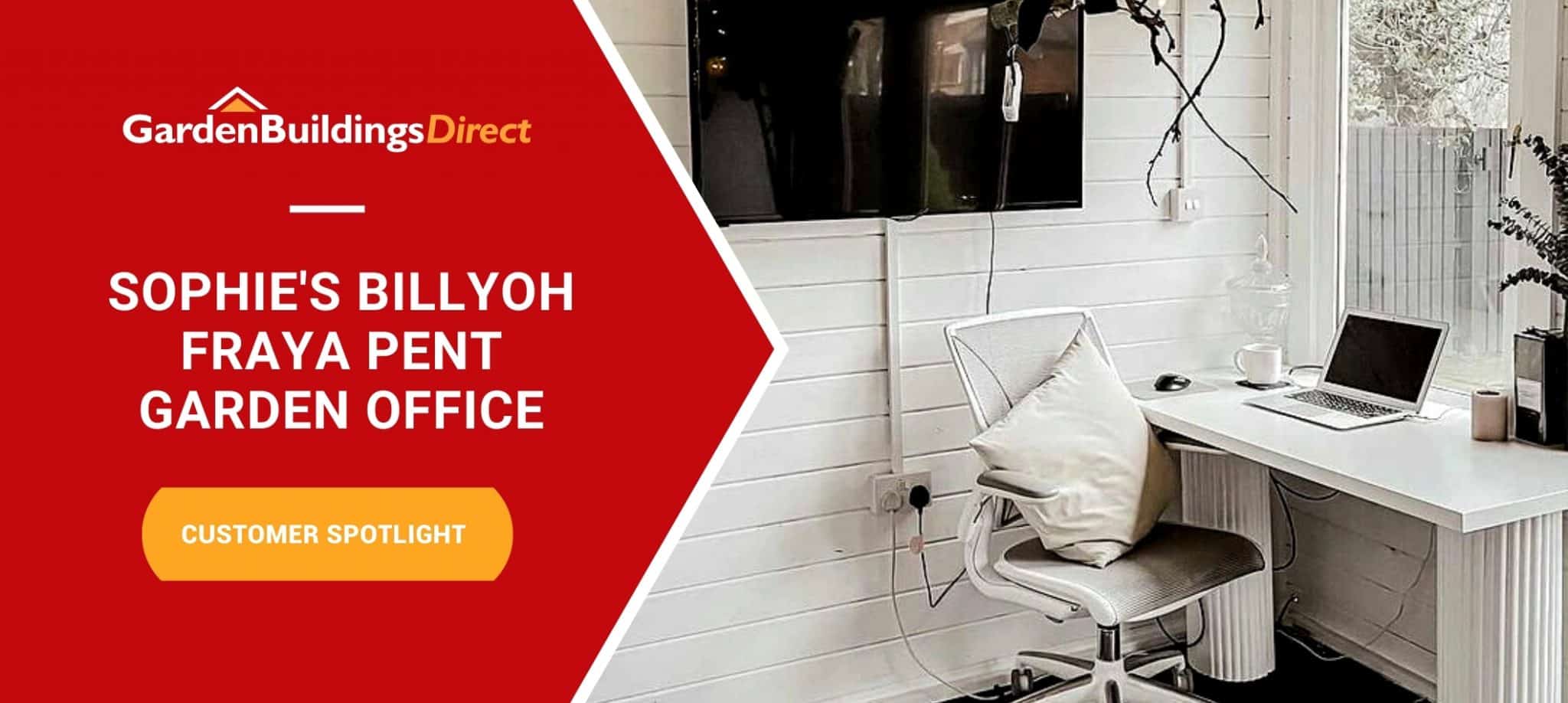 Customer Spotlight: Sophie's Pent Garden Office
Sophie is no stranger to interior decoration and renovations, and her Instagram is jam-packed with aesthetically pleasing projects that she's completed over the years. Honestly, it's one of the best we've ever seen! Read more
---
A Home Gym
| | |
| --- | --- |
| Garden Gym Benefits | Multi-functional space, no waiting for equipment, no excuses! |
Creating a home gym in one of our fully installed garden rooms might finally be the excuse you need to stop making excuses!
How many of us join the gym each January only to get put off by trekking through the rain or driving to get a workout in? Well, say goodbye to broken promises with your own home gym. The beauty of a garden gym is:
No waiting for machines
No journey to the gym
Closer to the kitchen and healthy, energy-boosting snacks!
Build as big (or small) as you want – How about an office-by-day, gym-by-night?
 No prying eyes
So now that you know what you want to do with your insulated garden room, let's look at decisions to make before buying:
---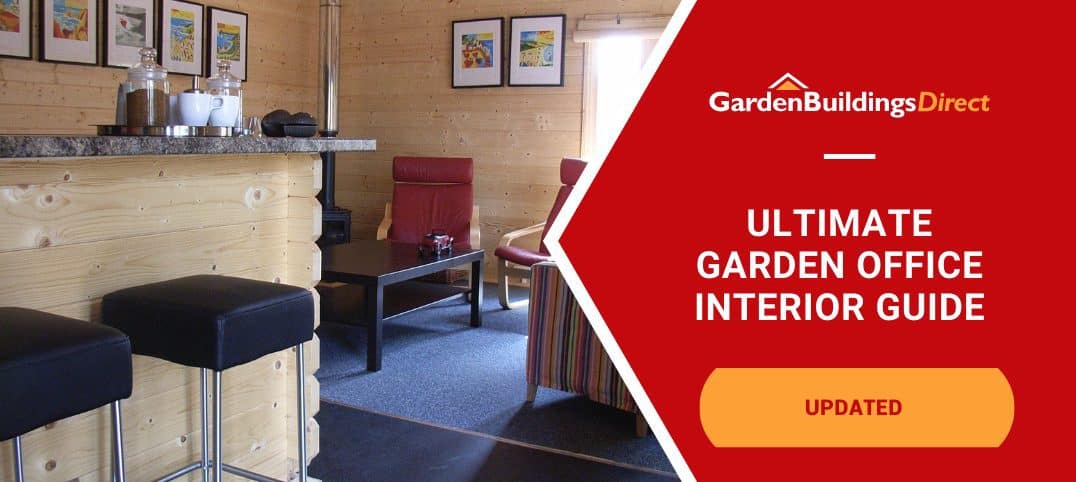 Ultimate Garden Office Interior Guide
The idea of working from home might seem stressful to some, you might not have a set workspace yet, maybe it's too noisy and you need some peace and quiet. Read more
---
Insulated Garden Room Considerations
Bespoke insulated garden rooms are going to cost you for quality. So if you only want something to use in the warmer months, consider whether you might be better suited to a summerhouse.
Size
The first thing you need to decide is – how big do I need my insulated building to be?
Are you planning on having clients come for meetings or appointments?
Does your office pod need to house more than one employee (or even business)?
For leisure: do you want to cater for guests regularly?
---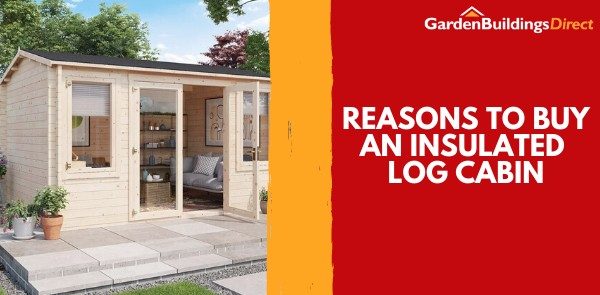 35 Reasons To Buy An Insulated Log Cabin
We get a lot of questions about whether it's worthwhile to invest in an insulated cabin. Our simple answer is always the same: yes. Efficient year-round heat and energy efficiency Read More.
---
Earlier we told you to start by marking out a space in your garden and walking around it. Figure out how many people need to be in your insulated office or studio at one time and what's comfortable.
Ultimately, you want to find a middle-ground between budget and quality where your building starts to pay for itself after a few years. That may be from saving on fuel to the cinema or not commuting which uses up around a whole week of your life and almost £2,000 a year on average!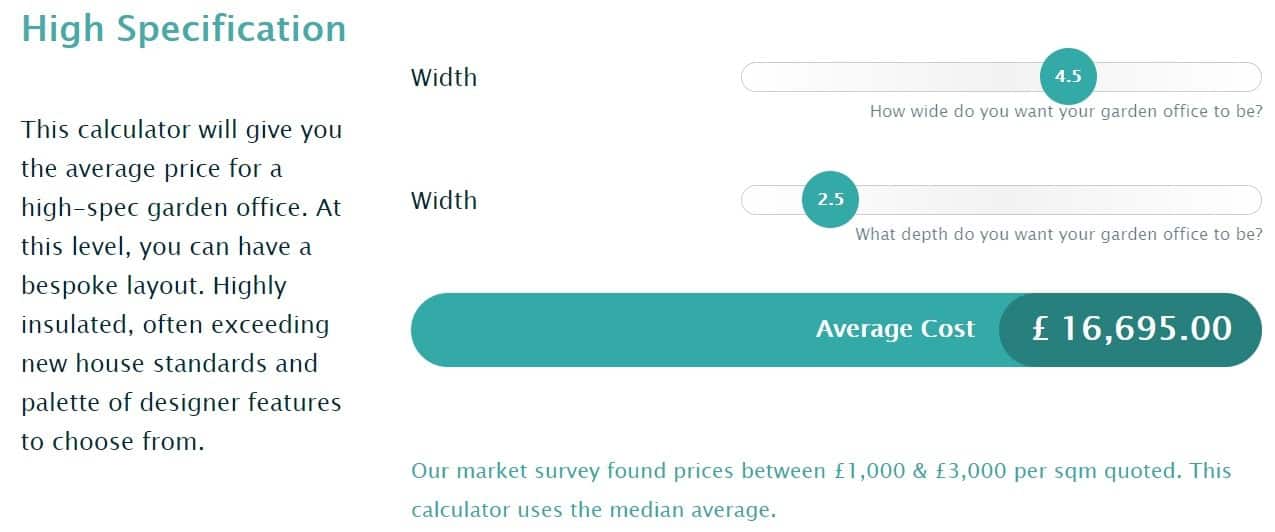 Our fully-insulated garden room comes in <strong>under-budget on average</strong> for high-spec buildings (Credit)
Budgeting
We said that quality costs, and it does. The best-insulated garden offices also tend to be some of the most expensive.
So first you need to figure out if a fully-insulated building is within your budget. Look ahead to the future – with minimum 10-year guarantees and 15-year guarantees on our pressure-treated models, a garden office is an investment.
---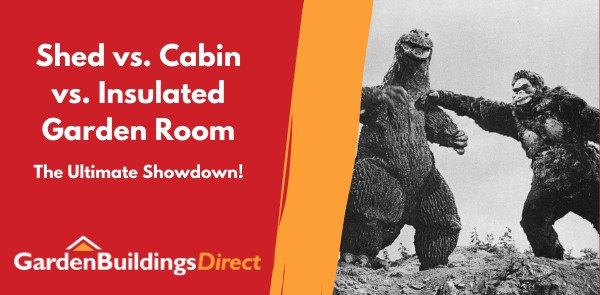 A Full Comparison Of Sheds vs. Cabins vs. Insulated Garden Rooms
Shed, cabin, garden room. Eenie Meenie Miney Mo. It's hard to know what to pick sometimes, isn't it? But if you want to learn more about an insulated garden room, then Read More.
---
That's why we also offer finance options at Garden Buildings Direct on minimum spends of £560 and up with a 10% deposit. Remember to factor in the cost of installing utilities in your plan and to check the exact of your insurance policy in case it needs to be updated.

Finance options offered by Garden Buildings Direct
And remember, it's an investment! The upfront cost will usually be matched by an increase in home value on a pound per square foot basis!
Did you know – An insulated building could save you up to 15 % on heating costs!
---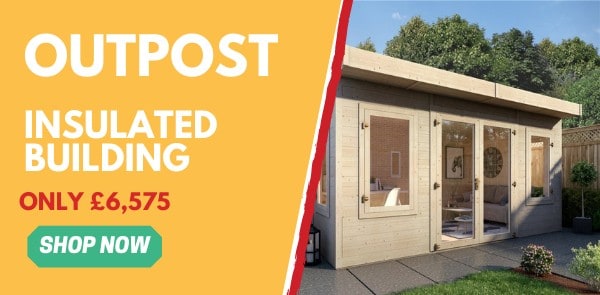 The Outpost – The Perfect Insulated Garden Building
Owning a garden building that you can enjoy all your round, regardless of the biting cold or scorching heat is something that many of us dream of… Read more
---
Insulation Materials
The materials used will differ slightly for insulating metal sheds, log cabins, wooden sheds, and even when trying to insulate a summerhouse.
Your choices include everything from Celotex and Kingspan insulation boards that fit in between wall, floor and roofing panels, to wool insulation. There are even some budget-friendly methods to insulate your office after construction.
Even something as simple as installing a low-energy heater and using a draught excluder can help a bit. Check out this guide to insulating and damp-proofing your garden building for more. Or keep scrolling for some quick explanations of what's on offer.
SIPs and Walls
One of the largest surface areas of your outdoor office that has contact with the outside air is its walls. To reduce heat loss at this point of your thermal envelope, you really need some solid insulation.
Structurally insulated panels (or SIPs) are comprised of foam insulation sandwiched between two panels of interior and exterior cladding. They're a high-quality building material used in residential and commercial construction their benefits include:
Excellent thermal regulation
Combats damp and moisture build-up
Structural strengthening
Improved air quality
---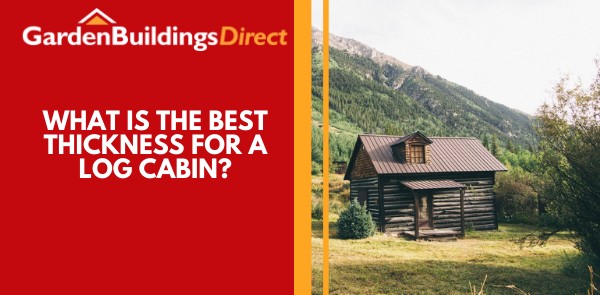 All About Cladding Thicknesses
There are various ranges for your log thickness. Starting at 19mm, going up to 28mm, 44mm and even 65 and 66mm. All of these will offer different strengths and levels of insulation. Read more
---
Roof Membrane
If like our fully-insulated garden office options, your building utilises tongue and groove panels, they'll need a cover.
Whilst shingles, felt, and even roof tiles are suitable for most garden buildings, a roof membrane can help temperature regulation as well as offer protection from water ingress and dampness.
For flat roofs, ethylene propylene diene monomer (EPDM) is a top-of-the-range option that's:
Fully waterproof
UV-resistant
Flexible
Resistant to becoming brittle due to changing temperatures
---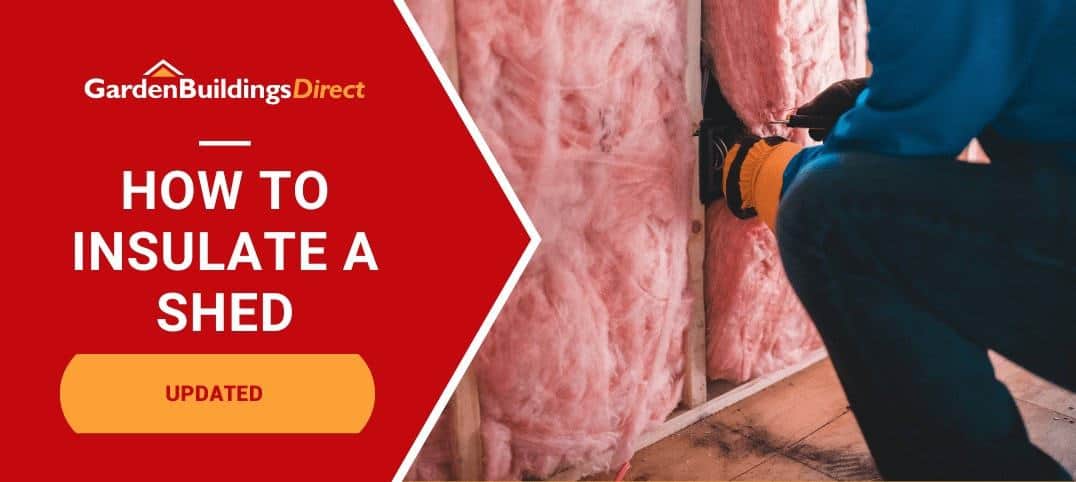 Read our quick guide below where we weigh up 
all forms of insulation by price and effectiveness.
And remember, there are a few areas you need to tackle: shed walls, floor, windows, and doors.
Read more
---
Double Glazed Windows
If you want a bright and airy space in your garden office then it's a given that you'll want large windows and even a glass door.
Double-glazed windows are comprised of two panes of glass with a gas-filled cavity between them. Due to the spaced-out particles in a gas, heat transfers more slowly both in and out. This means that your office would stay cooler in summer and warmer in winter.
Doors
As we just mentioned, if you're investing in a home office, you'll want glazed doors to see your garden, your kid's playing,  and sunlight in general.
And if you're entertaining, or hosting clients, double doors act as a real statement piece.
Floor Insulation
Contributing to around 10% of heat loss, the floor is another area to consider when buying or building a fully insulated garden room.
Kingspan or foil-backed logs and pressure-treated bearers can help to reduce heat loss and combat moisture build-up from the ground. Check out this insulation guide for more info.
Treatment
Whilst pressure treatment can help combat dampness in flooring, it won't necessarily improve the insulation of your office. Wood treatment can, however, protect your insulated garden building from harsh weather conditions in wet and cold winter months.
Another option would be to buy an insulated garden office made from composite cladding. Composite cladding is extremely low maintenance with no need for treatment and waterproof qualities that make it perfect for exterior walls.
---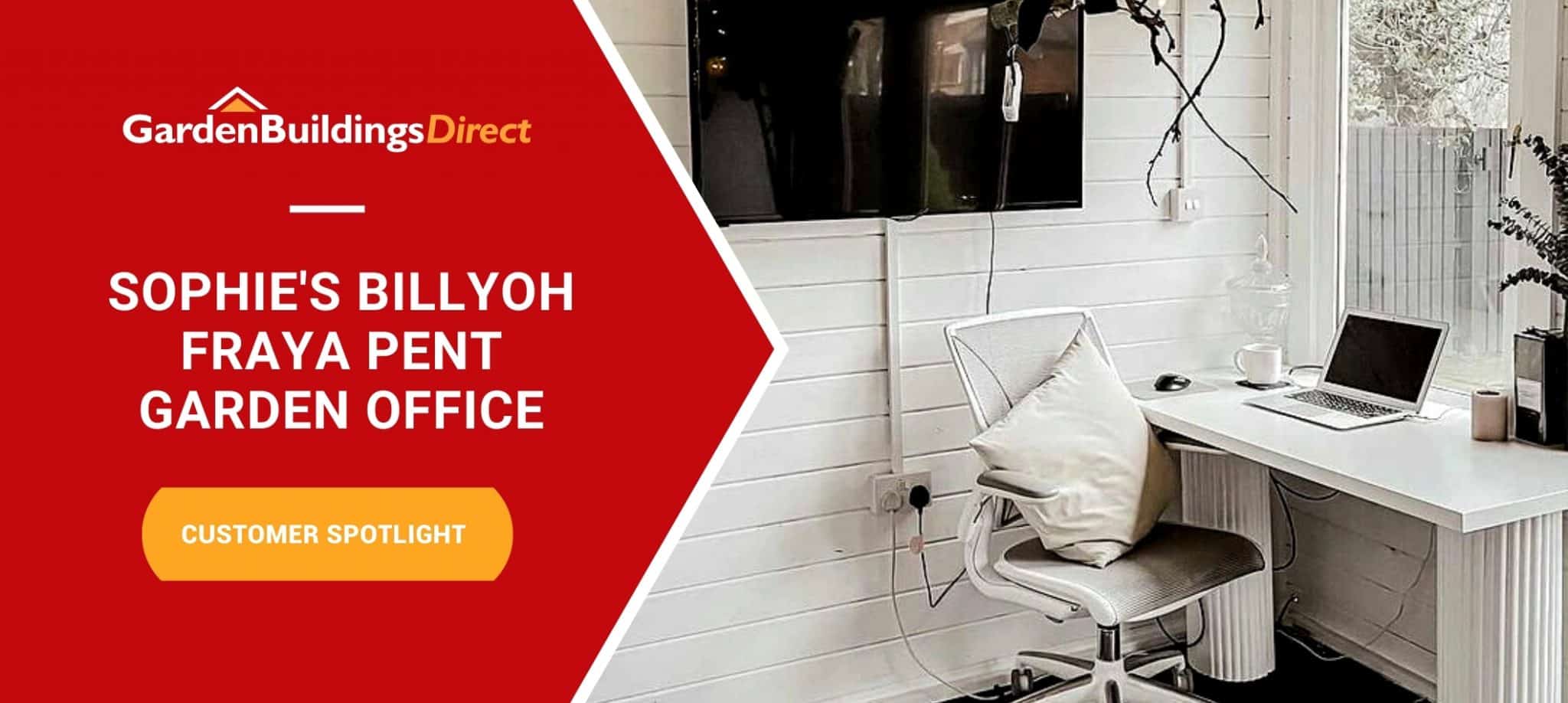 Customer Spotlight: Sophie's Home Office
This week, we caught up with property developer Kirsty, to see how she had transformed her BillyOh purchase. Read more
---
Planning Permission
Depending on the size of your operation, you may want to select an office that's spacious enough but doesn't require planning permission.
A garden room can also be a great alternative to extending your main house, with no need to wait for permission or material wait time. As such, all garden buildings from Garden Buildings Direct as measured and designed to adhere to planning regulations.
Our buildings fall under what's called 'permitted development' and won't require planning permission unless:
You plan to use it for permanent residential use (like a garden bedroom)
It takes up more than 50% of your garden space (as it was first built or as it stood on 1st July 1948)
It's built past the principal wall of your main house
Otherwise, our offices and outbuildings are single-storey. They're also built with eaves and ridge heights for both flat and dual-pitched roofs that satisfy 'permitted development' requirements. These planning regulations may vary due to where you live and whether or not previous owners built extensions.
So check out this guide to planning permission before you buy.
Garden Buildings Direct
So now you know a little bit more about garden offices including:
Their uses
How they're insulated
What to consider when buying one
 The benefits of an insulated garden office or studio
All you need to do now is check out our garden log cabins in a wide range of sizes to learn more. Or, simply head over to our fully-insulated garden office.
Guarantee, Delivery & Installation
Our tongue and groove garden offices come with a 10-year guarantee against rot, and insect infestation. With free UK delivery, simply enter your delivery address and customise your BillyOh garden building. We'll provide full and detailed assembly instructions to assemble your pre-fabricated panels as we don't offer an installation service due to the ease of construction.
Shop Garden Offices
FAQs