When it comes to metal shed insulation, whether it's where you have your office or workshop, it's essential as it allows for better heat retention during the colder months, and a more efficient transferal of the sun's heat from the indoors in the summer.
However, it can be a bit tricky when choosing the ideal steel building insulation for your particular application and location. Plus, there are tons of things you need to consider, including whether or not metal shed insulation is needed, and the recommended metal shed insulation you should opt for.
To help you come up with the best solution, this article provides everything you need to know concerning metal shed insulation. Let's get started!
First Things First: Whether Or Not Metal Shed Insulation Is Needed
If you live in an area with high humidity and temperature swings, condensation is one of the things you need to look out for. Without proper building maintenance practices, moisture will form – exposing your metal building to rust and corrosion, including some damage to any valuables stored inside, due to mould and mildew.
Metal shed insulation will help in stabilising the structure's interior temperature while at the same time, preventing moisture from entering or collecting through condensation. Depending on the use of your garden building, insulation might be essential.
How Does Metal Building Insulation Work?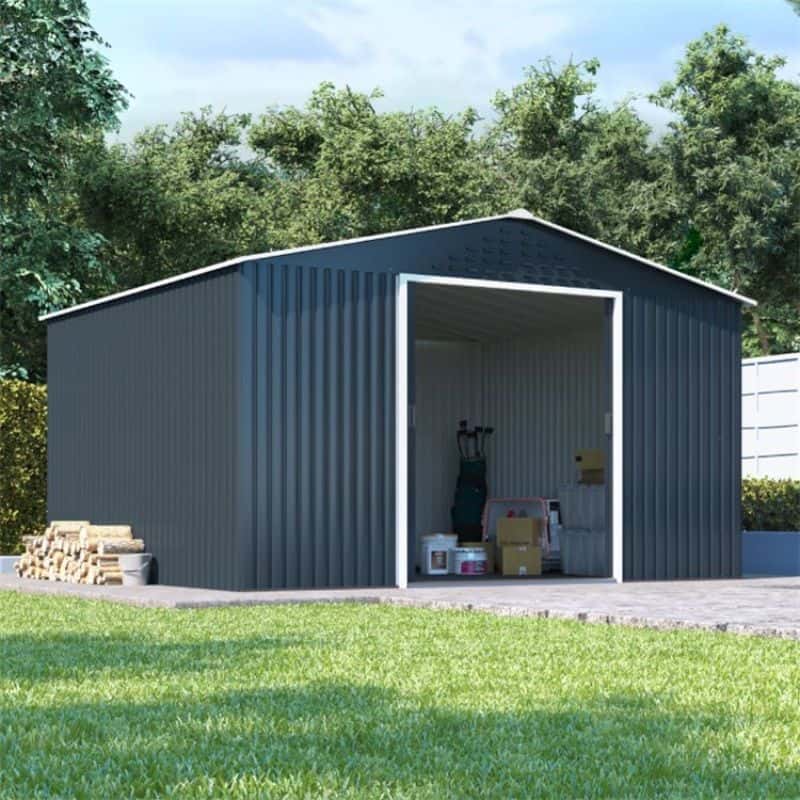 Insulation controls heat flow and noise, as well as preventing condensation. It helps in slowing the movement of the heat and keeps it inside the building, which is a perk during winter. In summer, on the other hand, it does the opposite – keeping the heat outside.
They could also increase the efficiency and effectiveness of lighting fixtures, depending on where they're installed. Insulation can also alleviate any noise coming from outside.
Insulating Metal Sheds
There are two important goals when using metal shed insulation. First, stabilising the structure's interior temperature. Second, preventing moisture from entering or collecting via condensation.
The insulation is normally installed over the framing of the building to provide continuous coverage. This prevents any transfer of energy or moisture between the building framing and the exterior roof and wall panels.
Types of Metal Building Insulation
1. Loose Fill
This type of insulation is made up of loose fibres or pellets that are blown into the wall cavities. Loose-filled insulations are chemically treated shredded recycled materials and offer three blown-in insulation choices. These are:
Newspaper

Fibreglass

Rock wool.
Blown-in insulation tends to be more expensive, but it seals well, especially in the corners and places where a blanket might not fit.
2. Spray Foam
Combined with a foaming agent, spray foam is made from a polymer material that can be sprayed into a steel wall and ceiling cavities. The mixture expands quickly when released, drying into a solid mass of air-filled cells.
Although this type of insulation is more expensive than batt insulation, spray foam can fill every tiny crevice when expertly applied, thus helping to reduce air leaks.
There are two types of spray foam insulation:
Closed-cell

– Usually the expensive, two canister spray foam kits. It has encapsulated air pockets that help resist moisture absorption and provide a vapour barrier for your shed.

Open-cell

– Not durable enough to withstand exposure and isn't as water-resistant as the closed-cell. 
3. Rigid Board
Made from fibreglass, polystyrene, or polyurethane; rigid board insulation can be the perfect choice for dampening noise, as well as resisting heat and moisture. Plus, it's easy to install, making it an ideal choice for a non-professional. Moreover, it's available in a variety of performance ratings.
Rigid boards work well on flat roofs and are considered to be a superior soundproofing material. If you plan to opt for this type of insulation, make sure to let your metal garden building provider know so that proper accommodations can be made, such as longer fasteners and extended panel lengths.
4. Batt
Batt insulation is composed of mineral fibres of rock wool or processed fibreglass. This is an inexpensive insulationchoice. Also known as "blanket" insulation, batts are economical and practical, and they remain the most popular choice for metal building insulation.
Batt insulation has R-values of R-3 per inch. Tip: For full effectiveness, the batt insulation should be installed carefully.
5. Vapour Barrier
Vapour barriers act as a moisture retardant, which is applied over the face of the insulation, providing additional benefits in the fight against moisture. Basically, it helps protect the insulation.
Tip: Opting for a high-grade vapour barrier can add an extra layer of fire-resistance to your metal building.