The best garden offices aren't hard to find, especially when you know where to look.
Working remotely or running a business in the comfort of your outdoor space is a luxury. Hustling and bustling have never been more convenient. And just like that, swapping the daily commute for a garden office makes complete sense!
Garden offices come in many shapes and sizes and offer different features. But how do you know which one is right for you? Read on; here, we'll give you insight into finding the best garden building for your dream office space!
Why Invest in Garden Office Buildings?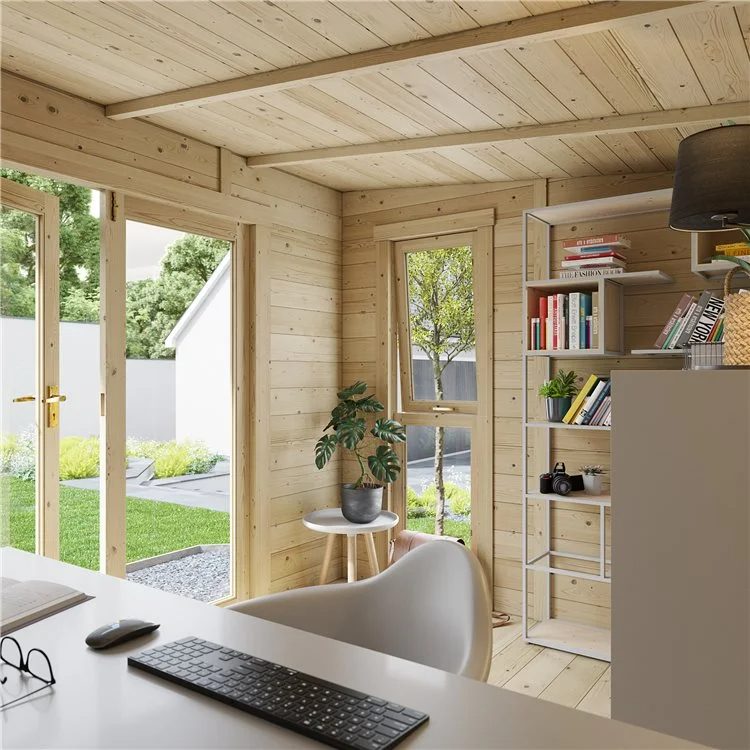 Home offices have grown in popularity as more people are turning to the WFH setup. The same goes for those wanting to step out of the four walls of their homes — and into a garden workspace.
Investing in one means you get to have an improved work-life balance. One, this will help you draw the line between work and family. Two, you'll have a designated space just for work, with less destruction and increased focus.
Working in the living room or your bedroom can also get very hectic. With family members present in your environment, it's easy for stress levels to rise. But moving into a garden office building will give you a much-needed distance from the busy household.
An office-inspired garden room has been explicitly designed with relaxation in mind. This encourages both mental and physical balance restoration.
And if you're looking for a modern garden office, you may be already familiar with an office pod. As the name suggests, it's compact yet perfectly proportioned and designed to work from home. Such designs make a sensible purchase if you're budget-conscious.
As mentioned, there's a wide range of designs and size options on the market. Garden Building Direct can be your one-stop shop for your garden room needs!
The Best Garden Offices
We introduce you to some of the best garden offices available from Garden Buildings Direct! Here, we offer an extensive selection of remote working space units. Whether you're looking for something as small as a garden office pod or an insulated building, we've got you!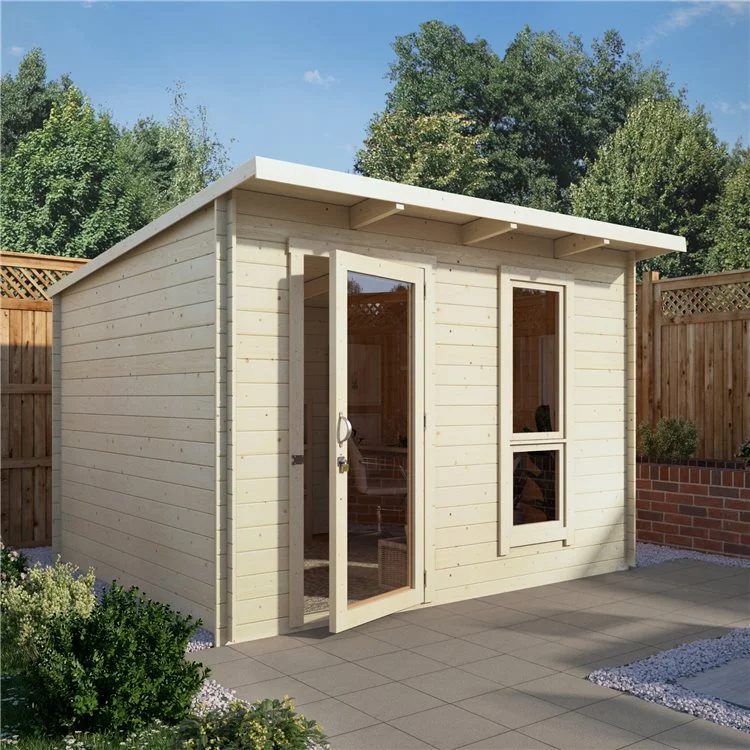 Price: From £1,655.00 to £1,249.00
Inspired by a new working method, Mia offers a spot for a tranquil home office and a relaxation hub. The floor-to-gable window and door provide plenty of natural light and a view of your garden. Paired with the contemporary design, it manifests a modern world working creative space!
Because of the compact design of the Mia, the wooden cabin can fit in most garden areas. Perfect use is a small home office with enough space for storage, a desk and an office chair. The pent roof also offers generous head height without taking up too much valuable space. Roofing felt is included for improved weather resistance.
It's the perfect choice if you want both modern features and rustic charm in your garden office.
Design insights:
Optional pressure treatment for longevity

Green mineral felt

roof covering

included

Durable single SAN glazing included as standard

11mm floor and roof included (flooring can be upgraded to a more robust 19mm option)

Size available: 10×8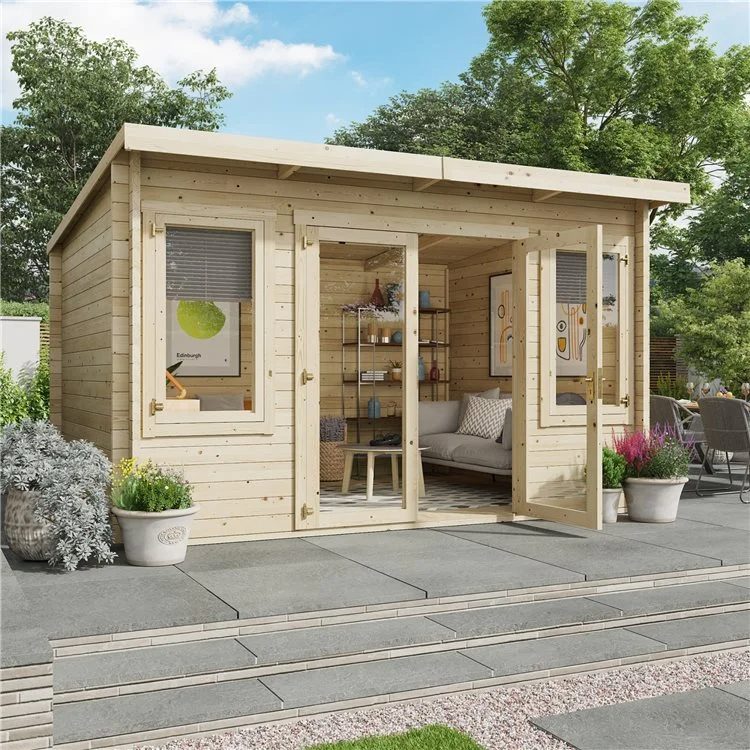 Price: From £3,901.00 to £1,939.00
This contemporary wooden cabin has a sleek design that makes it one of our best sellers. It features a bigger size than the Mia but with almost the same design structure.
It invites natural sunlight in, thanks to the opening windows and glazed double doors. Having a bright, airy interior makes it fantastic for use as a garden office or even just a relaxing garden room.
The Fraya comes with fantastic and quality features, including:
Shatter-resistant plastic (SAN)

glazed windows

11m Tongue and Groove roof and floor

Roofing felt, and 28mm log walls as standard
These options can be upgraded, offering a 19mm floor and roof for better insulation. Upgrading your walls to 44mm cladding can also improve the warmth during winter. Plus, double-glazing for the windows ensures a more comprehensive year-round use.
Pressure treatment is also available to improve weatherproofing and for a 15-year guarantee. Size options: 13×8, 13×10, 15×10, 15×11, 16×10, 16×13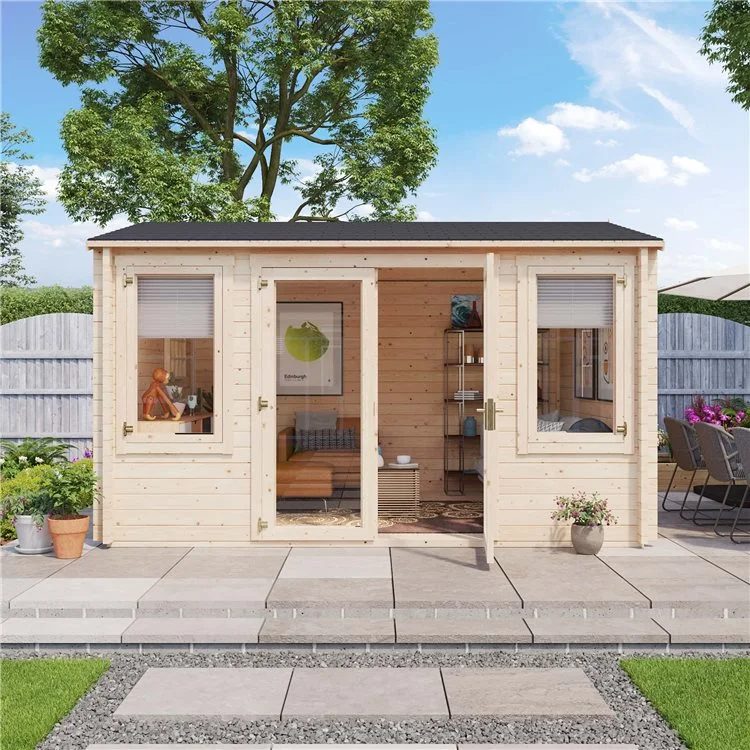 Price: From £3,901.00 to £1,805.00
Dorset would make a stunning garden workspace! Featuring a modern reverse apex design, it gives a classic yet stylish finish. The large windows, complemented by glazed double doors, bring in the much-needed sunlight.
Expect strong storm braces included in the structure's design. This special feature ensures the cabin joints are more weatherproof. At the same time, reducing the risk of bowing or twisting the logs.
The secure mortice lock system is also a big plus! You can be confident knowing your PC, documents, and other content inside are safe. Finished with heavy-duty hinges, latches and handles included, galvanised for maximum weather protection.
Design insights:
10-year anti-rot guarantee

High-quality green mineral felt roofing

Thick, 100mm x 40mm roof beams support

Customisable features such as cladding thicknesses (28mm or 44mm)

Optional pressure treatment for longevity (increasing the guarantee to 15 years)

Size options: 4×2.5m models all the way up to 5x4m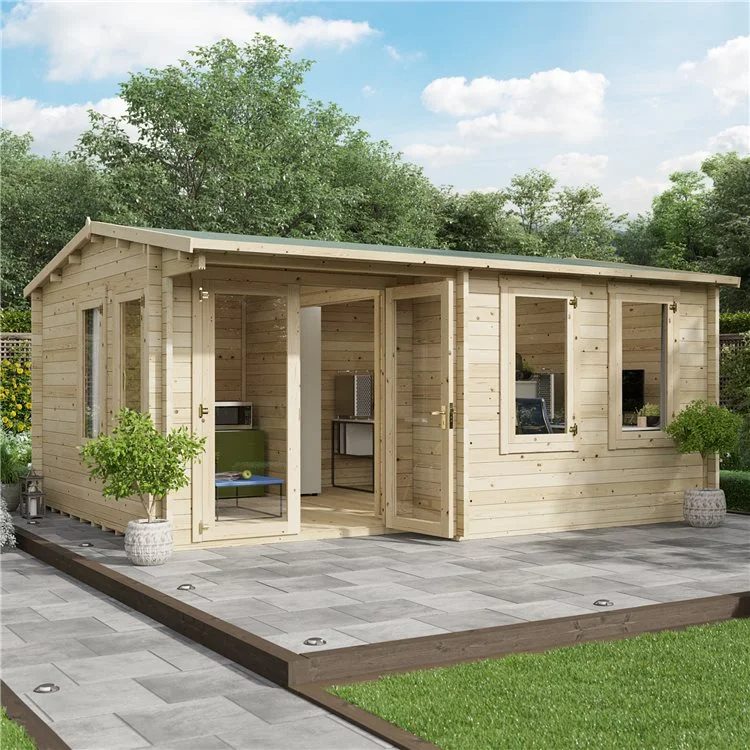 Price: From £4,173.00 to £2,325.00
If you want to get more serious with your outdoor setup, Kent would be the perfect solution for you! This wooden cabin offers expansive internal space with a multi-room feature. This means you'll have two distinct spaces to work on, separated by an internal wall.
The windows are made from SAN and can be upgraded to double-glazed toughened glass. The timber used for the cladding is also high-quality and European-sourced.
This garden room is available with 28mm walls as standard. For a more robust building, you can upgrade to 44mm walls. What's more, the reverse apex roof doesn't just offer increased headroom. It also provides coverage for a porch-like area with a stylish roof overhang. The light-coloured timber lets you get that perfect alpine lodge aesthetic, to add.
Top tip: You can use the other room for leisure, e.g. as an art studio or a garden gym!
Design insights:
Internal wall included on the 2 larger sizes

10-year guarantee against rot, insect infestation, and decay

Large, fully glazed

double doors

, and opening front window (Modern or Georgian)

Optional pressure treatment for longevity (increasing the guarantee to 15 years)

6ft high offset double door design for maximum floor space away from the doors

A secure mortice lock system to ensure maximum security for the cabin and the content inside

Size options: 13×10, 13×13, 16x13x 16×16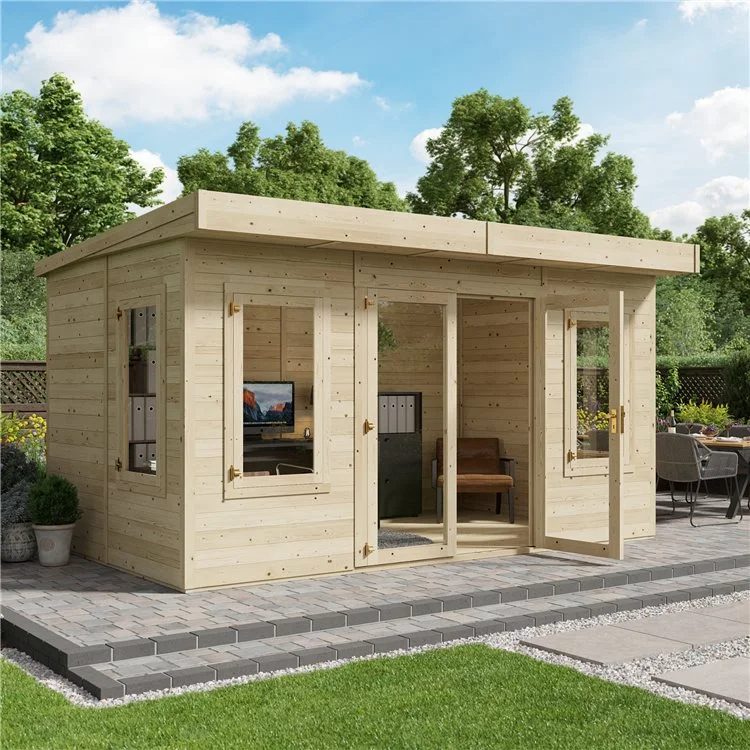 Price: From £3,895.00 to £3,225.00
An insulated garden office helps maintain a comfortable temperature throughout the year. This ensures you'll stay cool during hot summer days and warm during the colder months. Not only will this be beneficial from a comfort standpoint, but it can also help save on energy bills. The BillyOh Outpost Insulated Building is no exception!
Unlike the previous models, the Outpost is designed with EcoQuilt insulation. This feature covers the roof, floor, and walls — even better, with thick double glazing. 44mm framing and multi-foil insulation are sealed between two 11 mm T&G cladding. This forms 66mm thick fully-insulated panels. In short, it has higher effectiveness levels than uninsulated wooden structures.
You can configure it to suit your garden space thanks to its modular construction. This means it features moveable door and window panels. And it's quicker and easier to build than a traditional-style garden cabin. The Outpost is delivered in handy pre-assembled panels and makes for the ideal insulated garden office.
Design insights:
Complete with felt, fixtures, and fittings

Optional pressure treatment for longevity

14mm double-glazed

windows

for year-round use

Secure mortice lock system for maximum security

Size options: 8×81, 12×8, 14×8
---
No matter what style or size garden office you're after, there's something for you here. So don't hesitate to check out our website today – or, to get straight to the good stuff, click the button below and browse our garden offices right now!
Shop Garden Offices