Owning a garden building that you can enjoy all your round like an insulated garden office, regardless of the biting cold or scorching heat is something that many of us dream of. Here at Garden Buildings Direct, we've designed the perfect relaxation getaway that can be enjoyed throughout the year.
Here, we present to you our newest release – the BillyOh Outpost Insulated Building.
BillyOh Outpost Insulated Building (Price: £6,575)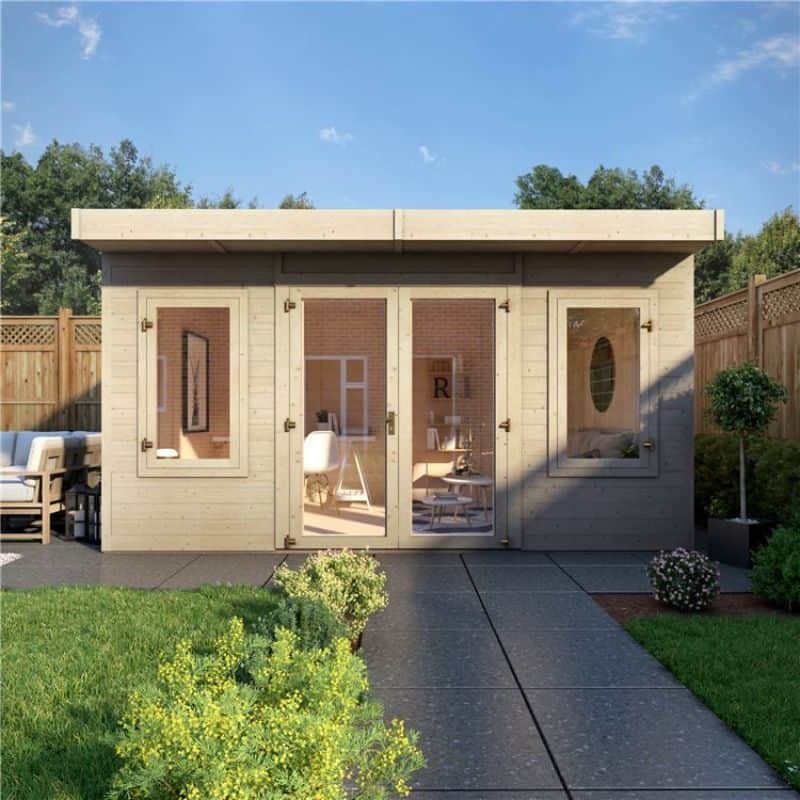 The Outpost Insulated Building is the perfect space for an all year round office, relaxation hub, gym or garden studio. The only limitation to its use is your imagination and ambition! With EcoQuilt insulation in the roof, floor and walls, as well as thick double glazing included, it stays warm through the winter and cool in the summer!
With its customisable design, the Outpost features movable door and window panels, which lets you configure the structure so it can seamlessly fit into your garden. The Outpost also comes with full-length double door windows and shatterproof single glazed windows, offering a light and airy feeling.
But there's more! Highlighting a modern and stylish design, this insulated building boasts a pent design and long windows which will look fantastic in any contemporary garden setting.
Designed with thick, durable tongue and groove boards throughout, and European sourced timber that is purposely selected to ensure dependable quality, you can be safe in the knowledge that the Outpost Insulated Building is one that'll last for years to come.
Offering a cosy environment, this building can be put to use as a relaxation haven, garden office, or even as an area for your children to play in.
Design Insights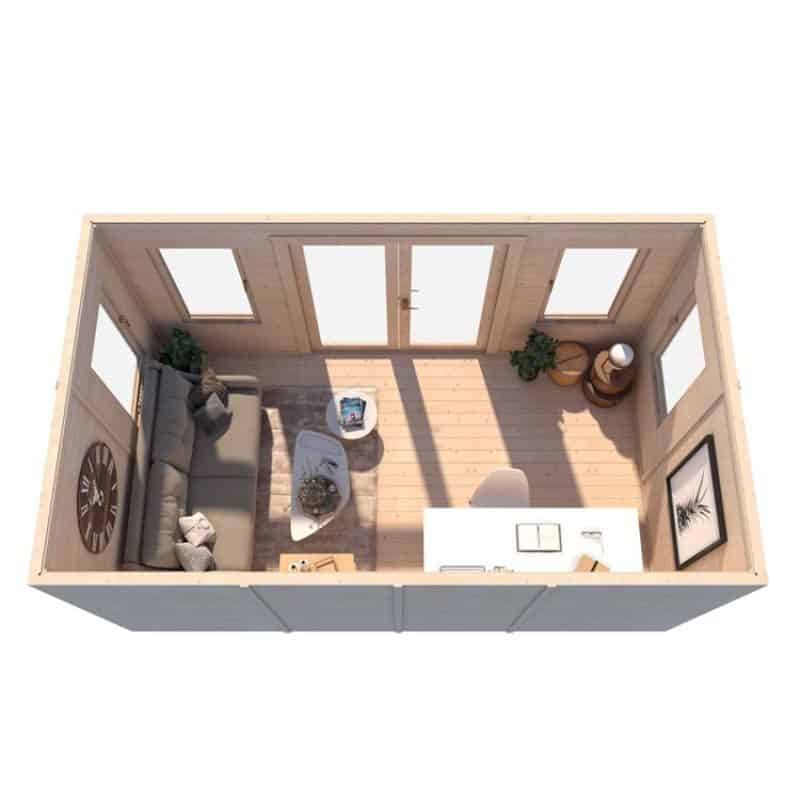 The BillyOh Outpost can offer you your dream home extension experience, as well as a peaceful and comfortable working environment. Constructed by our manufacturers with over 20 years of experience in design and production, we take pride in every aspect of this building.
Fully Insulated with Eco Quilt Insulation

66mm thick insulated panel construction

Optional pressure treatment for longevity

11mm Tongue and Groove Floor and Roof

Complete with felt, fixtures and fittings
---

---
Fantastic Reasons to Buy the Outpost Insulated Building
1. Fully Insulated: EcoQuilt Insulation
Wood is known for its natural insulating properties, which helps in preventing the transfer of heat between the interior of a garden building and the external environment. EcoQuilt insulation ensures that the heat from the interior of the insulation structure remains when the external temperature dips.
What's good about this is that the entire building is insulated; from the roof and walls to floor. Meaning, this insulated building will only ever require minimal heating. In most cases, it won't require any additional heating at all. The less heating you use, the more you can save money on energy consumption.
Insulation key features:
Non toxic and non irritant

CFG and HCFC Free – Requires no special clothing or equipment
2. The Ideal Outdoor Entertainment Room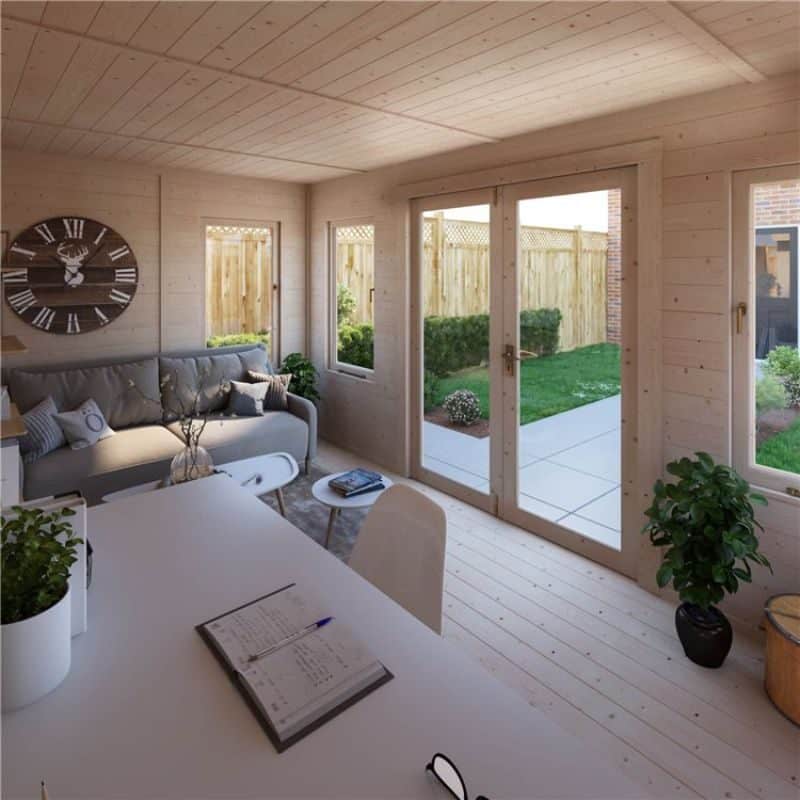 You can transform the BillyOh Outpost into your go-to relaxation hub where you can enjoy your garden space, relax and de-stress in this all-weather building.
With the Outpost Insulated Building, you can create your own entertainment room, personal gym, garden office or even a garden pub. With countless options to choose from, you'll never run out of ways to make use of this versatile building throughout the year!
3. Modern Pent Design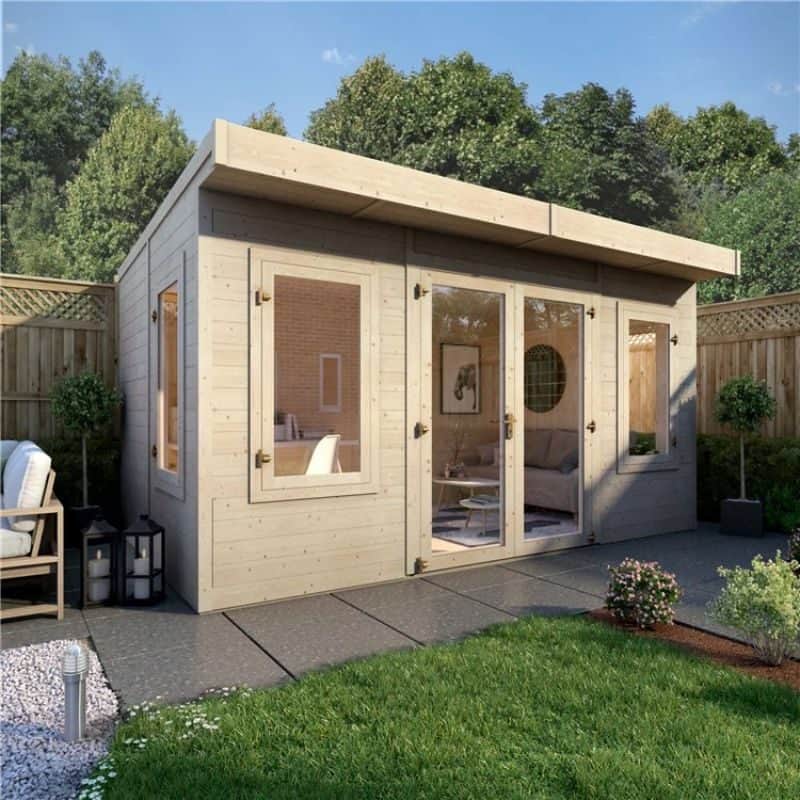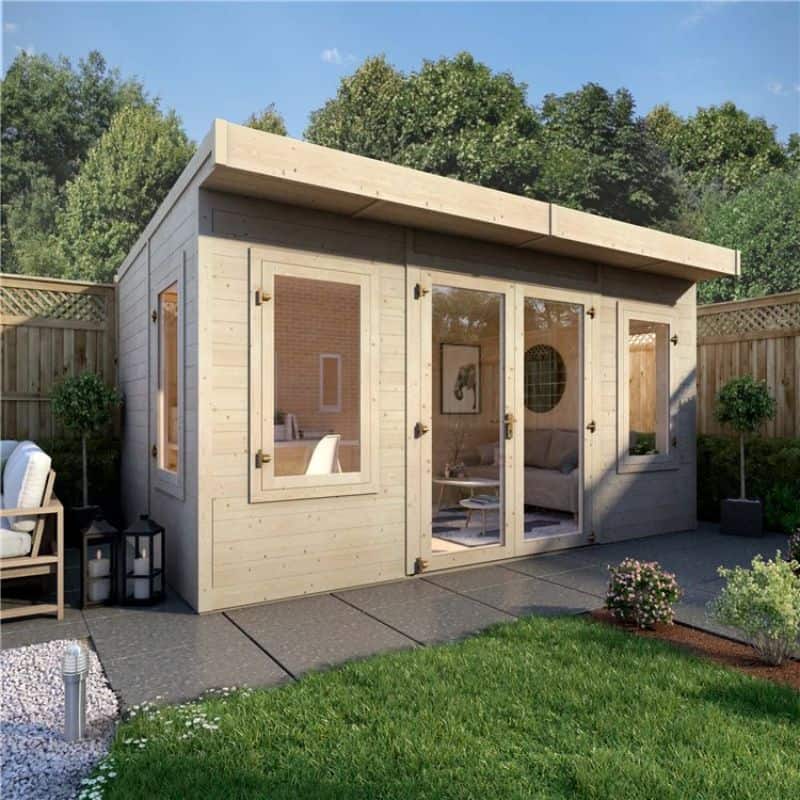 With its modern pent design and double glazed double door and windows, easy access to the building is ensured, making it ideal for entertaining. In addition to the double door design, the Outpost also has a plain rear and under 2.5mm ridge quality.
Double glazing features on both doors and windows, giving your building 360° insulation. The Outpost also has 7ft Internal eaves height from front to back.
4. Tear Resistant Felt
To protect the roof from harsh weather conditions and water damage, the Outpost features high performing waterproof felt which gives the overall building structure the ultimate roof protection.
This unit offers green mineral felt as a roof covering option. This felt is durable and watertight, which helps in preventing any water from getting through and damaging the roof.
In addition, the felt is more durable than traditional sand felt, meaning that it doesn't need to be regularly replaced, making it a long term, cost-effective option.
---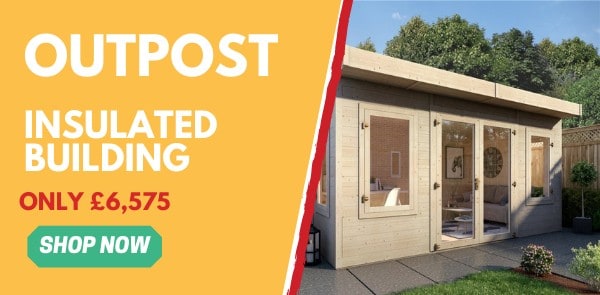 ---
5. Durable Tongue & Groove
The boards interlock to create 66mm thick, durable panel construction, offering high-quality weather protection. 
Not only that, but with the 11mm T&G Cladding, 27mm x 44mm framing, and ECOQuilt Expert Foil Insulation, you'll be assured of unbeatable quality. Without them, your outdoor structure would struggle to withstand some of the UK's harsher weather conditions.
The multi-foil insulation locks the heat in with the same U-Values as 120mm Glass Wool Insulation. What's more, the tongue and groove cladding provides a premium aesthetic and structural durability in equal measure.
Note: This unit is complete with 11mm Tongue and Groove roof, floor and green mineral felt roof covering.
6. Optional Pressure Treatment
Maintenance is vital in ensuring your insulated building remains in excellent condition all year round. When it comes to upkeep for your garden building, pressure treatment represents a brilliant way to improve longevity, weather resistance and resistance against mould, damp and rotting wood.
Pressure treatment works by submerging the wood into a liquid preservative in a vacuum. This seeps into the wood and provides it with a much greater level of resistance to rot or fungal decay.
The finished product is an undoubtedly rewarding one. We recommend opting for pressure treatment, as this is a process which is usually carried out by professionals, so isn't something you can do yourself.
As a way of protecting the BillyOh Outpost Insulated Building from the elements, you can choose to opt for pressure treatment. Opting for this particular upgrade will ensure your garden building remains looking great during the summer and winter alike, irrespective of weather conditions.
7. Additional Extras to Choose From
Discover our range of BillyOh accessories that will allow you to customise your garden building to the very last detail, including high-quality padlocks, paint, silicone and assembly kits.
Extra
 BillyOh Silicone and Gun Set – £15.00

BillyOh Value Assembly Kit – £25.00
Base Option
Ecobase Fastfit Full Base – £295.00
Guttering
Premium One Side Guttering – £109
Add a Garden Bar
You can even transform the BillyOh Outpost into your own bar with our garden bar unit! Price: £199.00
Additional extras:
Wood stain and protector paint

Exterior superior paint

Shed and fence paint
Get your Outpost insulated building via the button below!
Shop Insulated Buildings