It's time to talk about SIP Buildings.
You might already have some questions, like: What does SIP stand for? What does it mean? How do they make or go in a building? These are all great questions, and in this article, we'll answer them all.
Let's start with a basic answer, and one you're going to need to know before we go any further. SIP stands for "structurally insulated panel". They're a smart new way to create structures, and here at Garden Buildings Direct, we're using them to create some great new Garden Buildings – including our best-ever, premium garden room.
But if you're not fully sure what they are, or what they do, then you're in the right place. We're going to be explaining all about SIPs and SIP buildings.
Ready? Let's get started!
Structurally Insulated Panels
To start off, we know that SIP means Structurally Insulated Panels, but what does that itself even mean? 
Structurally insulated panels are an advanced building material that can be used for walls, floors, and roofs. They are wooden building materials, like wooden planks, but with a twist – they have an advanced design that means they are insulated as standard.
Their special design inserts insulation within their structure, with a foam core sandwiched between two pieces of composite cladding. The cladding protects the foam, while it performs the important job of insulating the inside of the building. You can see an example cross-section in the photos above and below.
Their ability to be both the structural exterior of the building and the insulation makes them exceptionally energy-efficient and cost-effective. Alongside this, the panels are very strong, easy to construct and install, and provide an attractive finish for both the inside and outside of the building they are installed in.
SIPs are nothing short of revolutionary. Insulation and structural strength in one great, adaptable package. Yes, they're more expensive than the combo regular cladding and insulation installation, but for what you get they're more than worth the investment.
So now that we know what SIPs are, it's time to explore SIP buildings.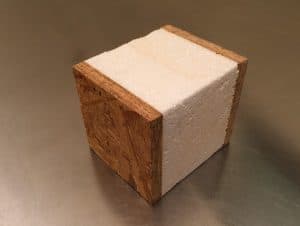 What are SIP Buildings?
Now you know what SIP buildings are, working out what a SIP building is will be a lot easier. That's right, they're buildings that use SIPs within their structure – typically for their walls, roof, or even floor.
But what kind of buildings use SIPs? And how do they get the most out of the panels?
Let's start with the buildings that use the panels. SIPs look and work best in wood-based buildings that have been designed to accommodate and maximise the benefits and appearance of SIPs. A wooden finish makes SIPs blend in naturally, while other smart insulating features and components, like composite cladding, help SIPs work best.
Unfortunately, these structures will also be more expensive due to the fact they're using the panels.
Their price point makes it difficult to justify using them to replace existing panels in buildings – it is easier and cheaper to just install traditional insulation. You probably won't see them in older buildings.
Here at Garden Buildings, we've taken the same approach. We only use SIPs on our best, newest, and most prestigious Garden Buildings – such as the Outpost.
The Outpost has been designed to make the most of the SIPs it uses, with additional multi-foil insulation to help the panels perform at their best and exterior cladding to protect them. We've also opted for a stylish, modern log cabin design in which the panels seamlessly blend into and give the building an attractive interior indoors and out.
We've also built a SIP building that is packed with the latest technology all while retaining a sleek, modern appearance. With great space and pre-insulation, it's ideal for use as a garden office.
What Are The Benefits of SIPs?
Still not convinced? Let's run through the benefits of SIPs, SIP buildings and, in particular, their advantages over conventional buildings.
Pre-installed insulation

. This might be the best part of SIPs buildings – they're all the insulation a building needs! With SIPs, there's no need to install a separate layer of insulation like you would do in regular buildings (although it won't hurt!). 

High energy efficiency.

SIPs are extremely efficient when it comes to energy because of how effective they are at insulating. This is because the foam core insulating layer is helped in its job by the timber boards on either side. You won't have to spend much money at all on heating because the insulation will keep it all in!

Structural strength.

The way SIPs are designed gives them especially good strength. The foam core in the centre actually gives the panel extra durability by acting as a shock and stress absorber. The boards are less likely to break from impact or bending thanks to this aspect of its design, giving the building extra durability.

Attractive design.

The stylish and modern finish of SIPs makes them look, to put it simply,

amazing

. They are designed to emulate the look of natural wood, which lets them fit seamlessly into wood-based SIP buildings.

Long-lasting.

As with most modern technology, SIPs and SIP buildings are

built to last.

With their strength and a little bit of protection, both the panels and building will remain standing for years upon years without losing any of their effectiveness.
Can be enhanced with other features.

The effectiveness, longevity, strength, and appearance of SIPs can all be enhanced and improved when they are used in conjunction with other features like composite cladding, interior foil insulation, and double-glazed windows.
Rounding Up
Whether you've heard of them before or knew nothing about SIPs before reading this, you can now call yourself an expert.
SIPs are a truly revolutionary way to fit and build Garden Buildings, providing structural integrity, insulation, and an attractive design in one simple package. They're especially perfect for garden offices.
To help you with your buying decision, see if an insulated garden building is really worth it.