If you've been wondering what Composite Cladding is, then don't worry – you're not alone. 
Composite cladding is a fairly new invention in the world of construction and garden buildings, but it's taking it by storm.
Composite cladding is a new and improved type of cladding that works better, more efficiently, and with less maintenance. Made out of treated wood strand substrate (we'll explain what this means later!), this new type of cladding is versatile and can be used to great effect in SIP buildings.
Ready to dive into the details? Let's explore composite cladding!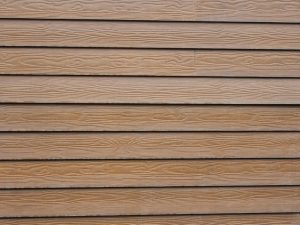 A New Kind of Cladding
Composite panels are a new type of external structural cladding, made out of specially-made and treated timber. They're lighter, more durable, and much more energy-efficient than any cladding that has come before. That's not to mention the other qualities they have!
At Garden Buildings Direct, our 10mm composite cladding boards are made from treated wood strand substrate. This sounds complicated, but it just refers to how the timber is made.
During construction, the wood for the cladding is split up into strands. Each strand is then chemically treated to create "substrates" – small pieces of wood coated in chemicals. They are then reformed and sandwiched between real timber planks to make the cladding board. This is a complicated process, but it has loads of benefits.
Normally, cladding is designed to protect external structural walls from adverse weather, add a layer of insulation, and even improve the appearance of the building. Composite cladding does all this and more.
Loads of Great Benefits
Time to find out why composite cladding is just so good. Remember that these benefits are for the composite material only. Traditional timber cladding is good – but not this good!
Effective and efficient insulation
Insulation and temperature regulation is where composite cladding really earns its stripes. The cladding is fantastic at keeping your outbuildings and garden offices warm in winter and cool in summer due to the insulation it provides.
What's even better is that it not only controls heat but sound too!
Installing composite cladding boards all over a building creates what's known as a "heat envelope" around the external walls of the structure. The thick cladding boards create an insulating box, or envelope, that keeps all the warm air inside. 
Along with structurally-insulated panels and double-glazed windows, you'll have peace of mind and a cabin that is always cosy! With this combo, you won't need to buy or install additional insulation. But, when it comes to summer, the cladding works the other way around – blocking out the hot air to keep your building nice and cool. 
As we mentioned, the cladding's insulation is also effective when it comes to sound. The envelope is just as good at keeping sound out, so you can relax inside without distracting sounds from outdoors.
Resistant to all weather conditions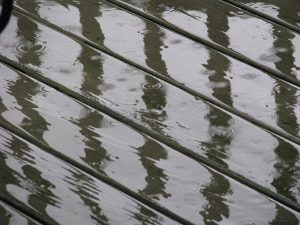 Composite panels are also super-resistant to the elements. No matter how bad it gets outside, the cladding can stand up to it!
The composite cladding material is waterproof, meaning that it resists water and can take a soaking! This will offer a layer of protection for the exterior of your building and help stop water ingress along the walls of the structure.
But it's not just the rain that the boards are resistant against. The cladding is super strong structurally, allowing it to remain resistant to high winds and storms. This might not seem that impressive, but you'd be surprised just how much damage high winds can do to your building. 
It's even resistant to seismic activity – but we hope this isn't put to the test!
Thanks to the strength of composite cladding, this doesn't have to be a concern.
Long life and minimal maintenance
The chemicals that are applied to composite cladding during construction make it very, very durable. This quality means that you won't have to worry about repairing or doing maintenance to your exterior walls.
On top of this, composite cladding has a super-long product life. It can go through decades of use, with minimal maintenance, and still do the job it was designed to do. This cladding is truly one of a kind!
Eco-friendly
As if all those great benefits weren't enough, composite panels are also good for the environment!
As it is made out of wood, the cladding is already benefitting the environment by not adding yet more plastic to the world. Its durability is also great for the environment because it prevents the need to buy and install new cladding on your building. This means new cladding doesn't need to be made, reducing the number of trees that need to be chopped down.
But where it will shine is the end of its (very long) life. Since it is possible to separate the treated parts of the wood (non-recyclable) from the treated areas, it's easily recyclable into manufactured wood boards such as MDF. Or, if the boards still have time left after you've stopped using them, they can be easily reused to clad another building. 
Composite cladding has everything, but being eco-friendly is just the cherry on top!
The Round-Up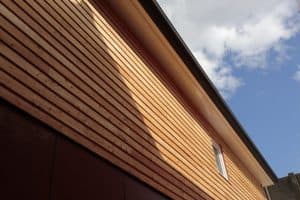 If you didn't know how great composite cladding was before you read this, then you certainly do now. In fact, you're probably thinking about buying some for your property or garden building right now, aren't you?
Let's finish up by just going back over all the things that make composite cladding so good. 
It is an

effective and efficient insulator of heat and sound.

It's temperature regulation also means it makes your cabin comfortable in hot and cold temperatures.

The cladding is resistant to

all

kinds of weather conditions, and even seismic activity.

Rain and wind won't wear them down.

Composite cladding has a

long life while requiring very little maintenance

. Once it's in, it's there to stay!

To top it all off, it's eco-friendly.

You can easily recycle your timbers after use.
When it comes to cladding, composite is a great option. But if you're looking for another alternative, check how tongue and groove cladding for sheds works.