Christmas is here and – oh ho ho – are we here at Garden Buildings Direct ready for it!
The Festive season is brilliant for a whole bunch of reasons from the food, to the drink(s), to the general cheer. Seeing the family, having Christmas parties, and gathering around together on the day itself…there's no other time of the year that's quite like it. That's why it's important to make the most of it.
One way we make the most of Christmas is by spreading the cheer throughout our houses, through our gardens, and into our Garden Rooms!
They're a great place to relax and spread some cheer – and if you have a garden room, you should definitely do the same. In fact, we've created this guide to help you do just that.
So, to find out how to enjoy Christmas in your Garden Room, keep scrolling!
Your Garden Room
If you don't have a garden room, and you're wondering how in the world can you spend Christmas outside, then we've got some news for you! At Garden Buildings Direct, our specialist Garden Rooms come fully insulated – meaning you can enjoy them all year round!
Made using Structurally-Insulated-Panels and Double Glazing, our Garden Rooms keep out the cold and hold the warmth inside. This means you need minimal heating to keep it warm. 
These features allow our Garden Rooms to be used all year round. Winter can be an especially great time to make use of them, and you'll get that lovely feeling of being snug and warm inside while it's all chilly outside.
If you're interested in capturing this feeling for yourself by buying a garden room, take a look at our two insulated Garden Rooms: the fantastic Outpost Insulated Building, and our premium Garden Room – the iconic Studi Insulated Garden Room. We guarantee you won't be disappointed by either!
Using Your Garden Room at Christmas
Making the most of your Garden Room during Christmas is pretty similar to making the most of your house to increase the festive feeling. That's right – we're talking about Christmas Decorations! 
Don't stop at just inside either…we'll be exploring both interior and exterior decorations. No more delays: let's talk about both of them.
Putting Up Decks Inside
If you're looking to make your Garden Building Christmassy, there's no better way to do it than with some classic decorations – or "decks"! Let's explore the kind of decorations you might want to use to make your Garden Room all Christmassy.
A Christmas tree
This one is a must – you simply can't create that classic Christmas feeling without a Christmas tree! 
A tree really brings the festive season to life, bringing a festive cosiness to any room with that classic pine smell and the warmth of the decorations. If you're aiming for a Christmas vibe, don't miss out on a tree.
Now getting a tree isn't difficult – but choosing which type you want can be. When picking between a reusable plastic tree, and an authentic pine, there's no clear right answer. Fortunately, we're on hand to give you a hand with the decision by giving you the facts – and you can find them right here.
Pro tip: If you do end up buying a real pine, consider giving it a second life by planting it in your garden! Plant it as soon as you possibly can after using it – if the tree spends any longer than a week and a half inside it probably won't survive outdoors again.
Whichever tree you choose, you're obligated to fit it up with all the fittings! Sling on flashy lights, some colourful tinsel, and of course baubles galore. Finish it off with a star and you instantly have a dose of festive feeling for your garden room!
Room decks
Complement the decks on your tree with a slew of decorations for the room itself! There are unlimited possibilities when it comes to decorating your room, but we've got a few ideas for you to consider and indulge.
If you have a sofa in your garden room, you can easily give it some festive cheer by covering it with a festive throw! It's a simple and easy way to make it look Christmassy while also enhancing the comfort of your sofa.

Deck the halls…

and the walls!

Attach some lovely Christmas garland strings to your walls to surround the room with a warm and hearty feeling. You can also attach some baubles and ornaments to the garlands to match the style of the tree and enhance the effect.

Why not consider hanging some stockings and filling them with one or two cheeky gifts? This way you'll be spreading some of your festive happiness around. You could always spend Christmas afternoon in your garden room, relaxing after a big lunch and

opening those cheeky stocking fillers you left in there!
A wonderful wreath
A beautiful wreath is the perfect way to round out the decorations in your Garden Room. Either buy one from a trusted store or gather the materials and assemble one yourself! It's not that difficult, and the achievement of making it yourself is worth the effort.
Hang it on either the inside or outside of the door for that final touch that announces that this Garden Room is fit for Christmas!
Putting Up Decks Outside
Putting up interior decorations is one way to make your garden room Christmassy – but some exterior decorations are how you really level it up!
You might be wondering why you need outside decorations if you're aiming to make your Garden Room a place of festive fun. But by putting decorations both inside and outside you're allowing yourself to enjoy the decks when you're both in and out of the room.
From the comfort of the inside of your Garden Room, you can enjoy the tree and have a cosy Christmas night. But when the snow is coming down and the temperatures dive below zero, getting out to your Garden Room becomes more of a struggle. That is when those outside decorations come in handy!
From the comfort of your home, you'll still be able to enjoy your Garden Room by looking on in wonder at its beautiful outside decorations. Basically, you'll be able to enjoy your garden room twice as much! And who can say no to that?
Lights
Lights are the staple outside Christmas deck, so don't hold back when it comes to your Garden Room. While you can opt for figures or props, we always recommend using lights for your exterior decorations.
There are hundreds of thousands of light types and configurations you can try out. Try to sync up the light patterns and light colours so you don't have anything that clashes.
To make the best use of the structure of your Garden Room why not try stringing lights along the edge of the roof and down the window frames. This will frame the structure of your Garden Room and make beautiful-looking shapes. The lights will also reflect off the windows of your garden room and create a lovely glow.
In addition, you can also hang up LED light shapes – like snowflakes and Christmas bells – from the windows. And, to go the extra mile, why not string lights along the sides of your garden leading down to the Garden Room?
Now Make the Most of It!
So, you've got all your decks set up and the festive spirit is literally flowing out of your Garden Room! Our top tip now is: don't let it go to waste! Yes, now you've set up your Garden Room in wonderful Christmas style it's time to enjoy it. And we're on hand to help you do just that.
Keep it cosy 
The first you need to do is make and then keep the room a place you want to stay in. Especially in winter, it can be easy for a Garden Room to become somewhere that seems cold and far away. But with just a little effort you can keep it in a state where you want to keep going back in!
This is easy with our garden rooms, which have composite cladding to easily keep the warmth inside. 
All you really need to do is keep the door shut so that the insulation can do the work, and provide a little bit of heat to warm the room up. Since garden rooms are insulated, they don't need a lot to keep themselves warm!
Doing this will incentivise you to keep coming back and enjoying it – and who doesn't like enjoying a garden room!
Use it for a party!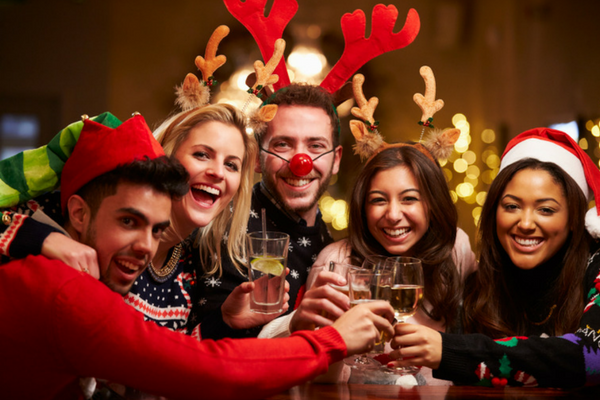 Parties are a Christmas staple, so why not take advantage of your garden room and host one in there (provided it's COVID safe)!
Get your friends or family around and throw a little bash in the Garden Room. The wide, open space is the perfect setting for a social party. The large windows, beautiful Christmas decks, and huddle of people will all contribute to a super cosy atmosphere.
You won't have to worry about people wandering off into the further reaches of your house, either. Now that really is making the most of your garden room!
Spread The Cheer
So if you have a Garden Room, get the best out of it is this Christmas by filling it with beautiful decorations and making full use of the space with some chilled out evenings and cosy parties!
In the case that you don't have a garden room…what are you waiting for? Fortunately, it's never too late to start! Follow the links to our Outpost, Studi, or shop our great range of garden rooms using the button below.