A garden room by itself is enough to revolutionise your garden space and how you use your house. Adding that extra space, with all of its possibilities, will alter how you view your home and property.
But what if, instead of just using a singular room, you have a garden building that can perform many purposes? Or even has different separated rooms? A multipurpose garden room, summer house, or log cabin has the ability to change the way you live. 
Sure, this might seem like an overstatement now – but imagine separating your work and home life completely. Or, imagine having a whole separate building for socialising and entertaining. All of this and more is possible with a multipurpose garden building – and we're going to show you how to turn these ideas into reality.
So buckle in and get ready to start adding multipurpose into your garden room!
Your Garden Room
The first thing you need to decide is how you want to divide up your garden room – or, if you don't have one yet, which one you want to invest in! Let's handle this latter bit first since you can't have a multipurpose garden room with a garden room in the first place!
First things first, you'll want something with a large floor space. If your garden building is too small to begin with, you'll find it difficult to divide it up into nicely-sized rooms or areas. 
If you want to decide the layout all by yourself, we'd recommend the BillyOh Kent Garden Office. With a large floor space, you can design your multipurpose garden room the way you want it. 
However, if you're looking for a model that does some of the work for you, then you should absolutely choose the Cove Multiroom Log Cabin. The Cove is equipped with a large floor space and is multipurpose by design with two separate rooms, an accessible door between them, and even a covered porch area to relax in!
Dividing the Space
Now that we've got you equipped with a garden room, it's time to decide how you're going to split things up. The best way to make your garden building multipurpose is to split the interior living space up. However, how you do this is very important and depends on how you intend to use it.
We'll run through your options and reveal which one is best for you and your situation.
Partition
One way you can divide up a garden room design is to use a "partition" or a room divider. A partition can be described as a feature that divides the room without separating it entirely. There are a few ways that this can be achieved.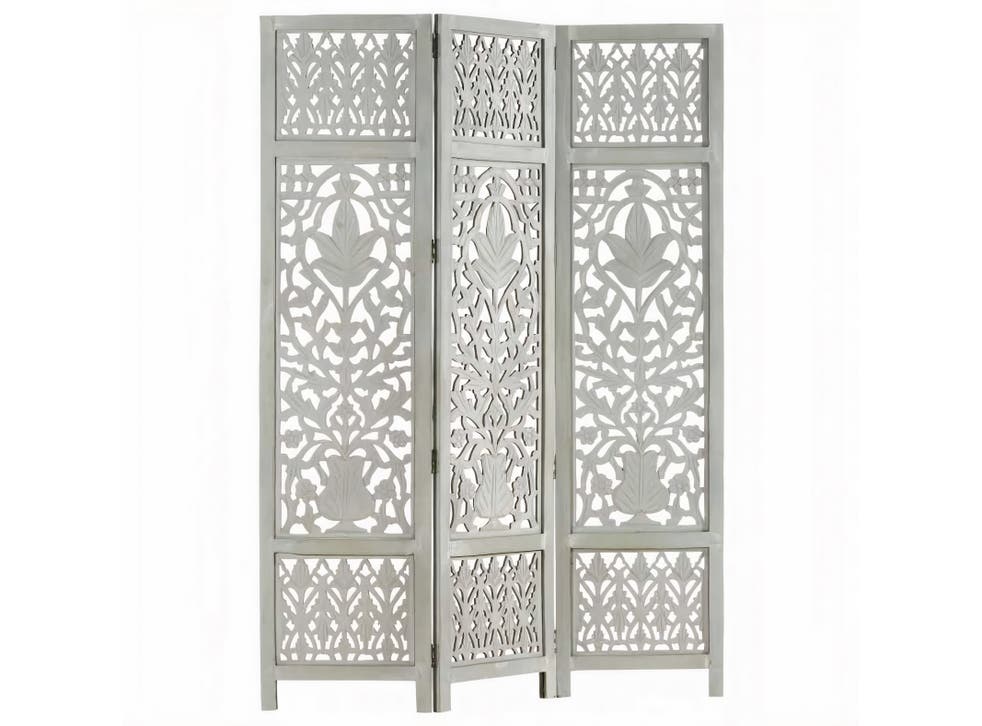 The first and one of the most popular is a folding screen. These are portable, folding screens, usually made out of wood, that can be extended to provide a semi-permanent barrier within a room. 
Folding screens are easy and efficient ways to break up a room, and can easily be moved around to split it up the space in different ways depending on how you want to use it. They're not expensive to buy and are very easy to set up.
Another possible partition you could use is a curtain. Install the curtain to divide the room, and then pull it across whenever you need to create separate spaces. You can select different curtain materials and styles to change the amount of natural light and how much you can see "behind the curtain".
Partitions are great ways to provide space separation in a garden room. They're easier to set up and in some cases you can change how and where the space is divided. However, because they're impermanent they also don't provide much privacy or any proper sound insulation.
Permanent Wall
Your other option is a permanent wall structure. This is the more obvious choice when it comes to dividing up a large space, and it's clear to see why.
A wall provides permanent visual and noise separation, creating two rooms rather than just dividing up one. In this way, you'll be getting more privacy and quiet space which, in turn, gives you loads more options for what you want to use the space for. 
On the other hand, installing a full wall is more difficult and more costly. Installing a full wall also means installing a door in this wall too, which is extra cost and effort. Alternatively, you could install a half wall – which will provide some separation and won't require a door – but the space won't be fully closed off.
In the end, the decision of what you separate it with is up to you and depends on how you want to use the room. If you want to separate the building and create a room that requires privacy, we'd recommend a wall. If you just want to split the space up a little, a partition will do the job just fine.
To make this decision, we recommend having a plan of which purposes you want to use in your multipurpose room. What's that – you're not sure yet? Well worry not, because we've got some great ideas to help you plan your perfect garden room.
Fitting It Out
As we said, a key part to designing the interior layout of your garden room is to know which functions your rooms will be fulfilling. Some of you might already have an idea, and some of you might have no clue at all – wherever your head is, we've got ideas and options to help your visions come to life.
Home office or workspace
This is an absolute classic use for a garden room – infact, many of you may already have a home garden office! Workspaces and offices work great in garden rooms because they allow you to create a separation between your home and work environments.
Furnishings for a home office are straightforward: a desk, a chair, perhaps some storage units for paperwork or stationary. These units are easy to find and install, meaning you can make a home office without much stress.
When it comes to organising a home office in your garden room, you'll want privacy for your office space from the other rooms. We'd recommend a solid wall in conjunction with an office to ensure good separation and privacy.
Living or dining room
Perfect for large social gatherings, or an intimate dinner for two, a separate living room, dining room, or general entertaining space in your garden building can allow you to stretch out the confines of your home beyond its walls.
Equipping either of these rooms is likely to be a more labour and cost-intensive affair than an office, as you might need sofas, chairs, or maybe a whole dining table. However, this can be offset by the fact that these rooms don't need too much privacy.
A living or dining room goes great with a small utility area or room: somewhere to store cutlery or cushions – or maybe a small sink to wash the dishes in. This idea doesn't require much privacy, and you can almost certainly use a partition to cover the sight of these not-so-glamorous utility areas.
Storage areas
Another idea that would give you a bit of extra space in the home is by creating a purpose-built storage area or room within your garden building. This might help to free up an area or even whole rooms within your house!
Setting this up will likely require storage racks and shelves, as well as some smaller item organisers and boxes for smaller objects. 
On top of this, you'll certainly want to segment any storage areas away from other rooms in the house. A thick curtain could work, but a wall would work better and give your more space for vertical storage in the form of shelves.
There are other options you can invest in for your new living space too – from a garden gym to an art studio, or even a guest bedroom or games room! Whatever you choose, just make sure to pick a layout that suits it.
Whichever way you want to kit out your multipurpose garden room, keep the functions and nature of your rooms in mind. You won't want to separate a living room and storage area with just a partition. And, alternatively, you'll be losing valuable socialising space by separating a living and dining room by a large wall.
By making smart decisions, you can make the most of your space.
Time to Get Multipurpose
Now we've shown you the way, it's time for you to get to work on your own multipurpose garden room. Set up the building in the way you want it, with rooms and partitions that suit your ideas.
When it comes to garden rooms that will fit the bit, you can always rely on Garden Buildings Direct. With our wide range of garden buildings, including loads of garden rooms and log cabins, we're sure you'll find one that suits you.
The BillyOh Studi is a prime example – it's a fully insulated garden room ideal for year-round use.
Shop Garden Rooms