Garden fences serve a dual purpose: protection from forces of nature and adding aesthetics to backyards.  On top of privacy and design flair, the right fencing ideas can also add to a landscape's appearance and flow. Like garden gate ideas, there are many designs and styles to choose from.
Fences range in materials, structure, height, and more. Some can be made DIY, while others need a higher skill level to put together.
If you're still on the fence about what design to choose, consider our decorative garden fencing ideas below!
1. Modern black
Although black may not be the first colour you have in mind for a fence, it's worth considering. A black fence gives a stylish addition to backyards, especially for contemporary homes.
It also adds a touch of modern flair to an otherwise classic vegetable garden. Most importantly, the dark colour helps make any surrounding greenery pop.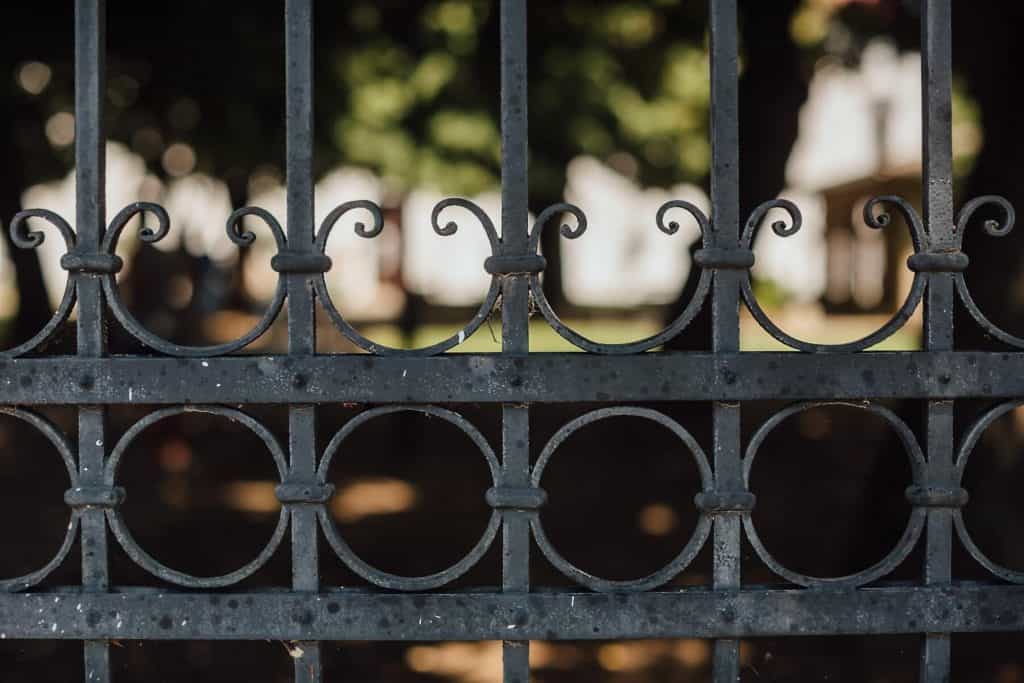 2. Wood and wire
A fence style that combines wood posts with metal wiring in between is now common to many UK gardens. The design isn't only practical but also stylish and cost-effective.
This is ideal for keeping animals in or out – or as a support structure for raised garden beds.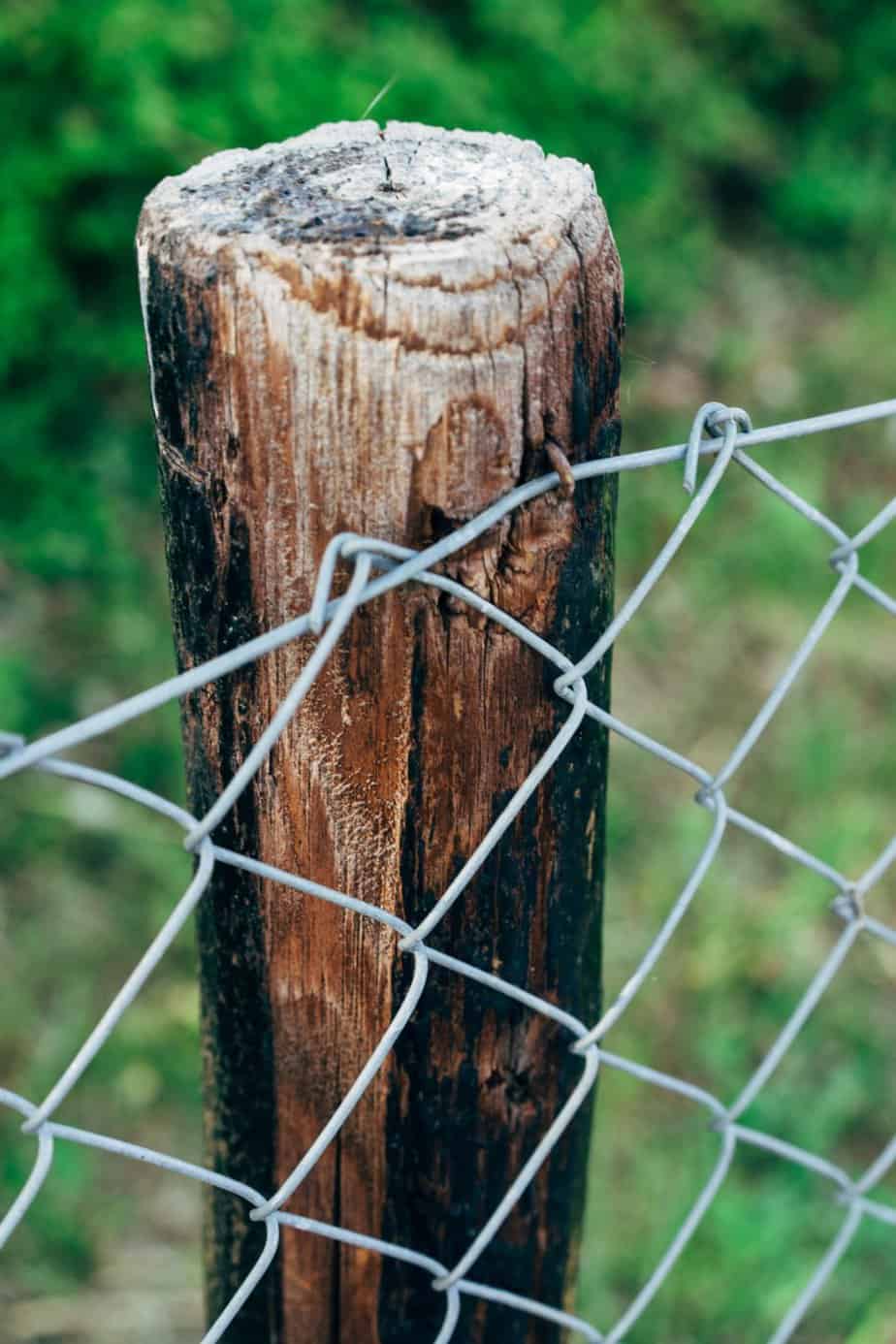 3. Iron
Metal fences have been around for centuries. They're durable, with a simple design and black finish that make them much more elegant.
As for the maintenance, they may require repainting from time to time.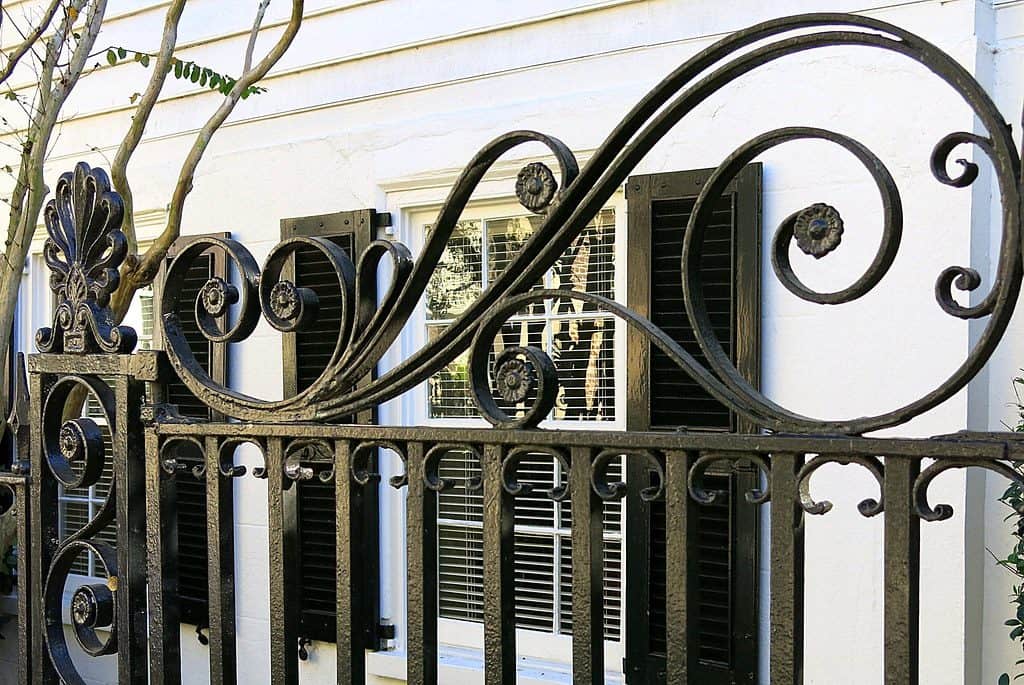 4. Gabion wall
This type of garden fencing involves a wire wall filled with stones, combining wood posts. Large cobblestones or local rocks can complement the landscape. Just look how sturdy it is!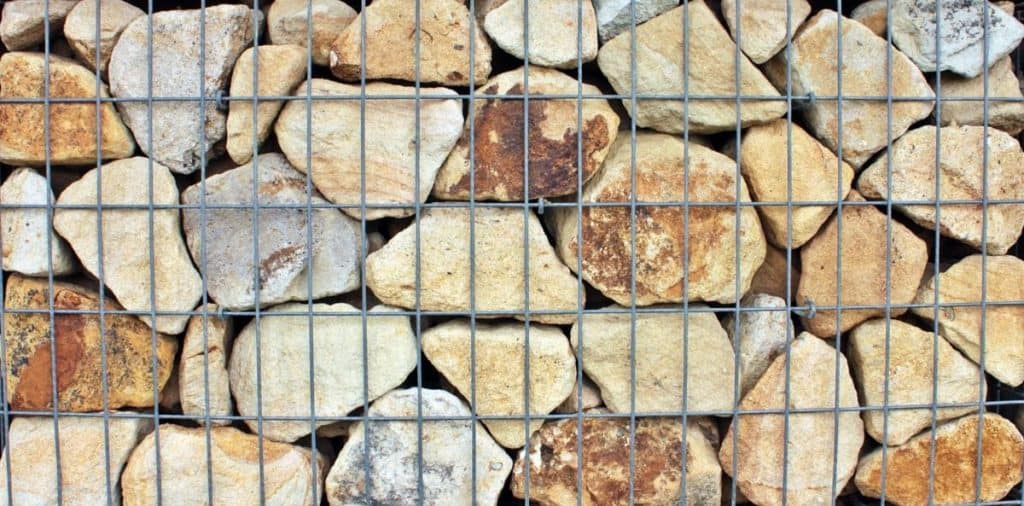 5. Stepped wood
Perfect for gardens located in hilly areas or on a slope, a stepped wood fence works well with the geography of the land. The horizontal slats draw your eyes across the fencing, making the step effect not too choppy.
It offers privacy no matter where you're standing.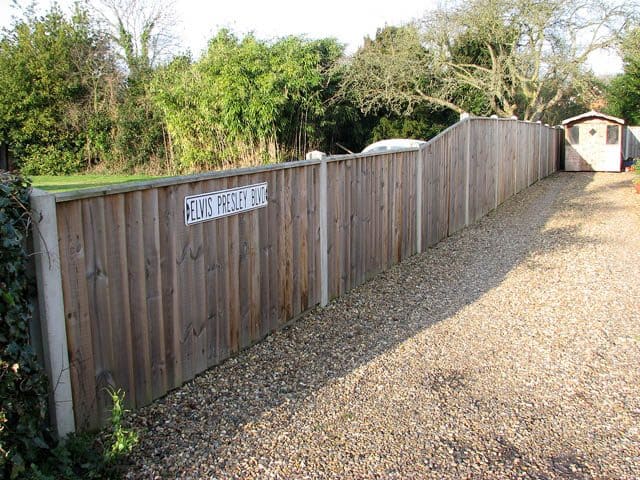 6. Wicker
Wicker garden fences are constructed of bent willows. The rustic appearance is ideal for informal cottage gardens, garden beds or borders. Great for climbing vines, the simple design pairs well with more traditional styles.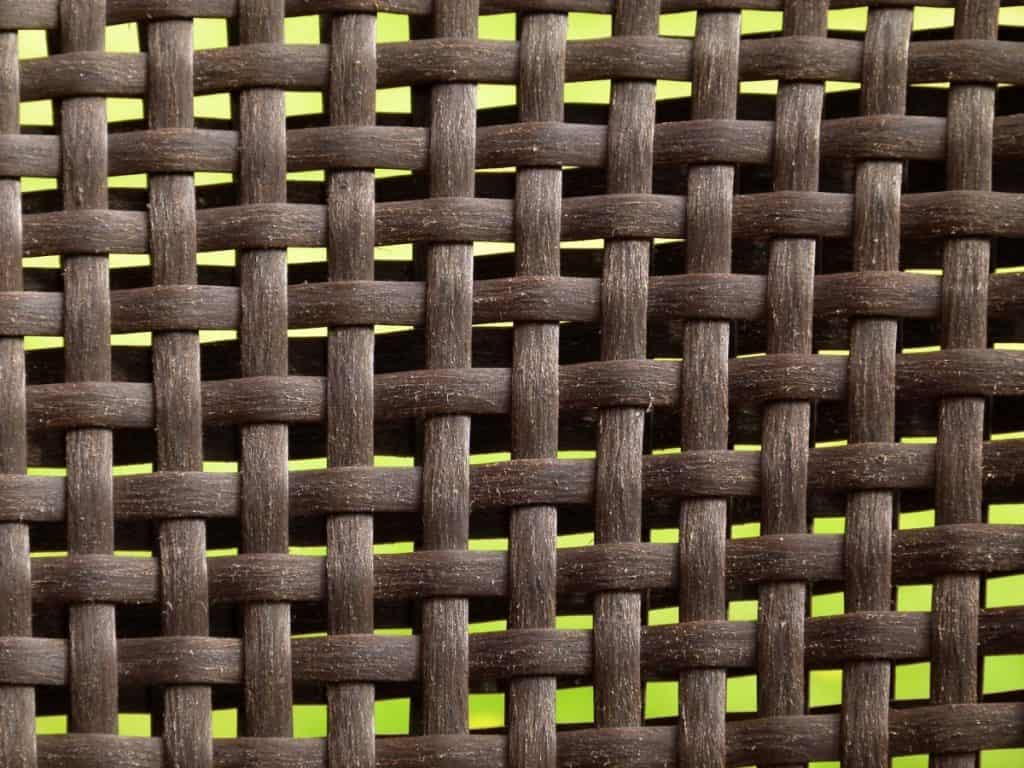 7. Pallet
This creative DIY pallet project uses a wood pallet as one of the best-repurposed materials to build a fence with. A pallet fence can give off a rustic vibe and offers many design options.
Paint pallets in a colour that coordinates with your garden space, or stick to the natural wood.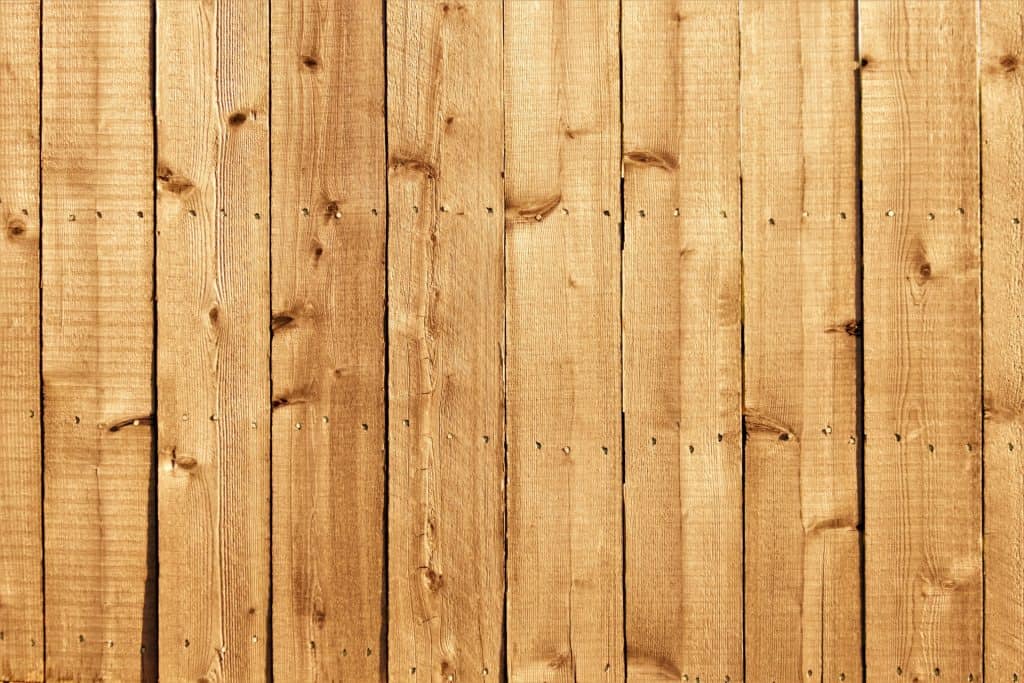 8. Traditional picket
A white picket fence is one of the classics in garden fencing designs. It adds curbside appeal to a home, as well as allows greenery to pop. Picket fences are a beautiful addition to most styles, from colonials to capes and farmhouses.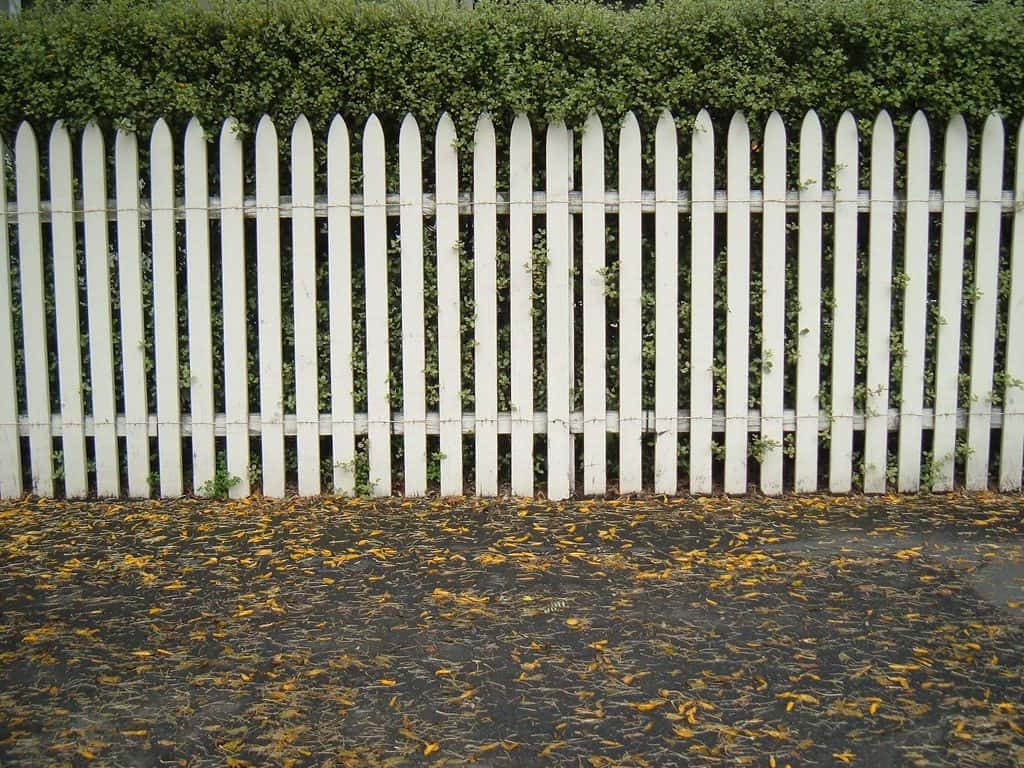 9. Horizontal slats
A modern way to preserve backyard privacy without stifling the yard. A horizontal slat fence looks great next to lush plants and is also a good choice to match with a modern garden landscape.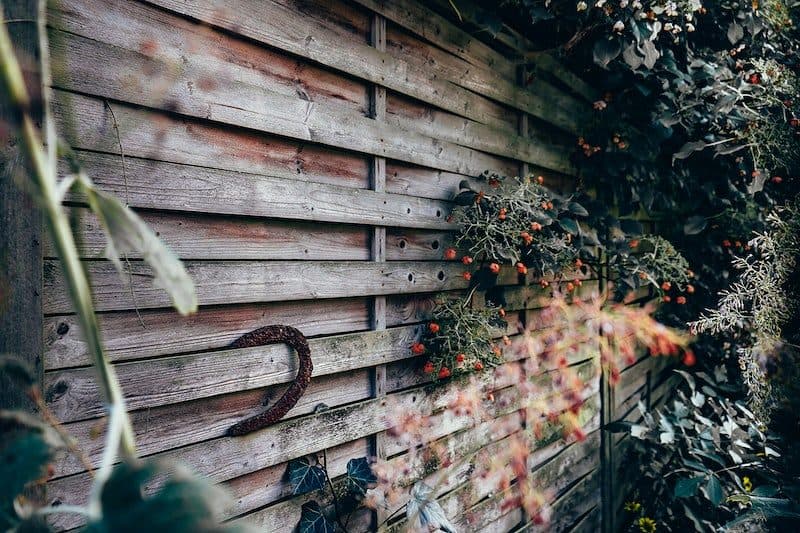 10. Bamboo
This bamboo fence uses full bamboo stalks lined up with a timber base anchoring  these decorative fence panels. Bamboo fences are lightweight and let enough light through. They blend well in any backyard, especially if you have a tropical-themed garden.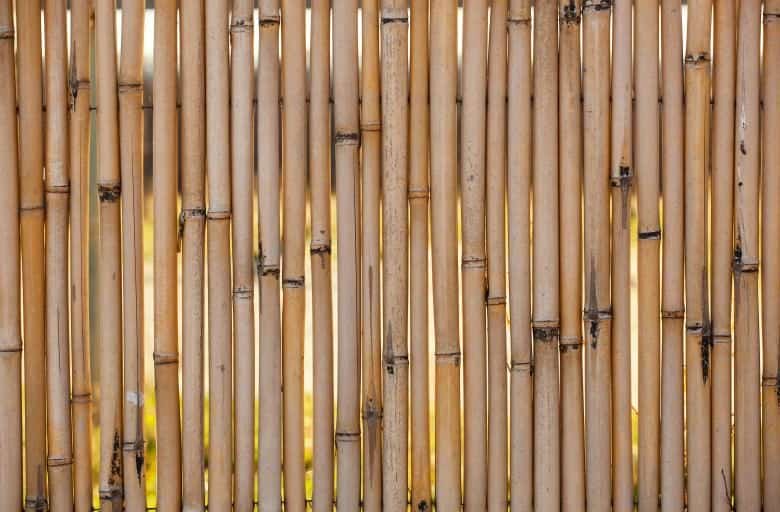 11. Concrete
If you're looking for a more modern and permanent approach, go for concrete fences. High concrete fences are used for both safety and beauty. Most are in grey, with geometric gaps and lines for interest.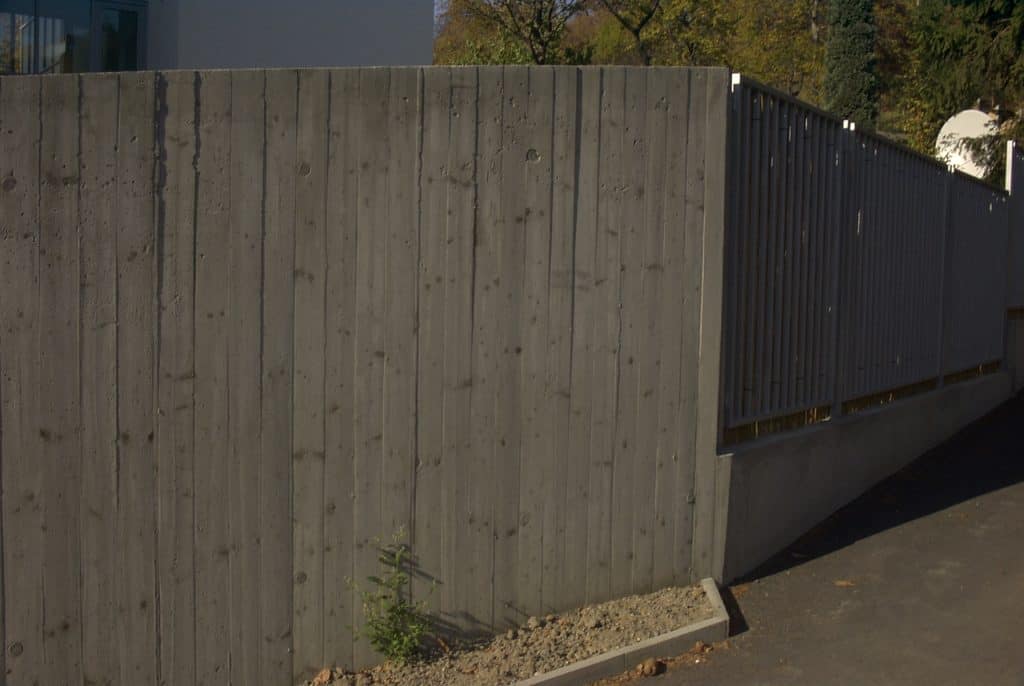 12. Wood and corrugated metal
Corrugated metal and wood make the perfect combo for a practical garden fence! Corrugated metal is durable and is often covered with a protective weatherproof coating. The wood panels, on the other hand, are rich and dark, which complements the metal.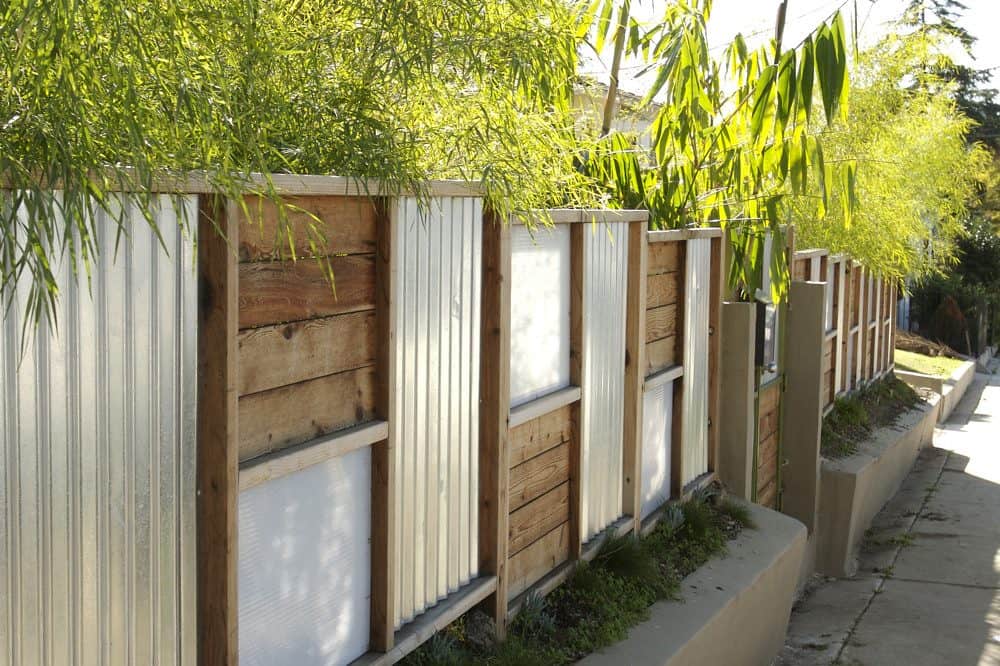 13. Vinyl
Sometimes simple is best. A DIY vinyl fence is cheap and easy to make.  Paint it whatever colour you like, or stick to white for a neater look.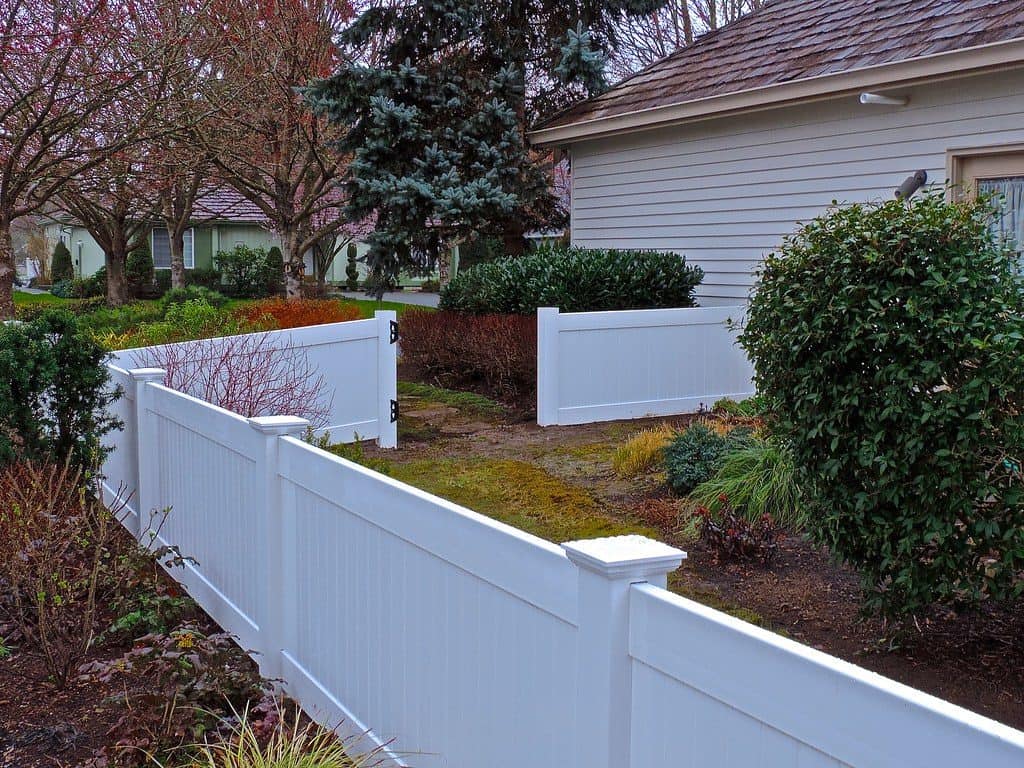 14. Rustic rope
A rustic rope-style fence resembles a cable type or guardrail. The overall style will depend on the kind of materials from which it is constructed.
Have a look at this one. The weathered wood and rope suits a casual rural setting.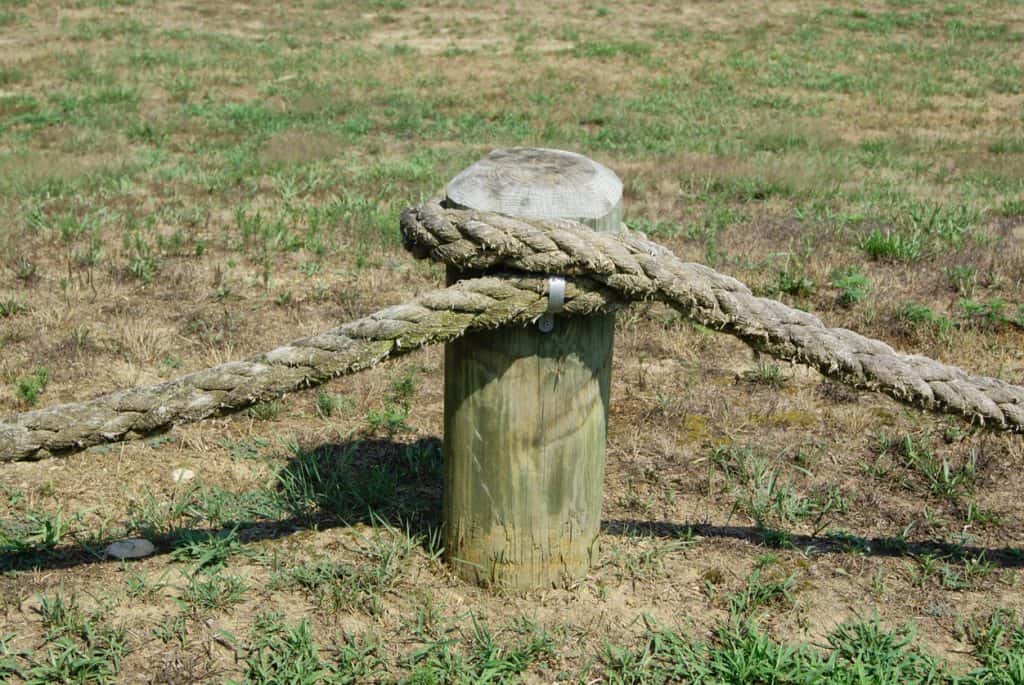 15. Zigzag
You don't always have to stick to the straight and narrow. Fences look more unique when they meander or follow a zigzag pattern. Just like this one flanked by tall grass and some bright yellow flowers.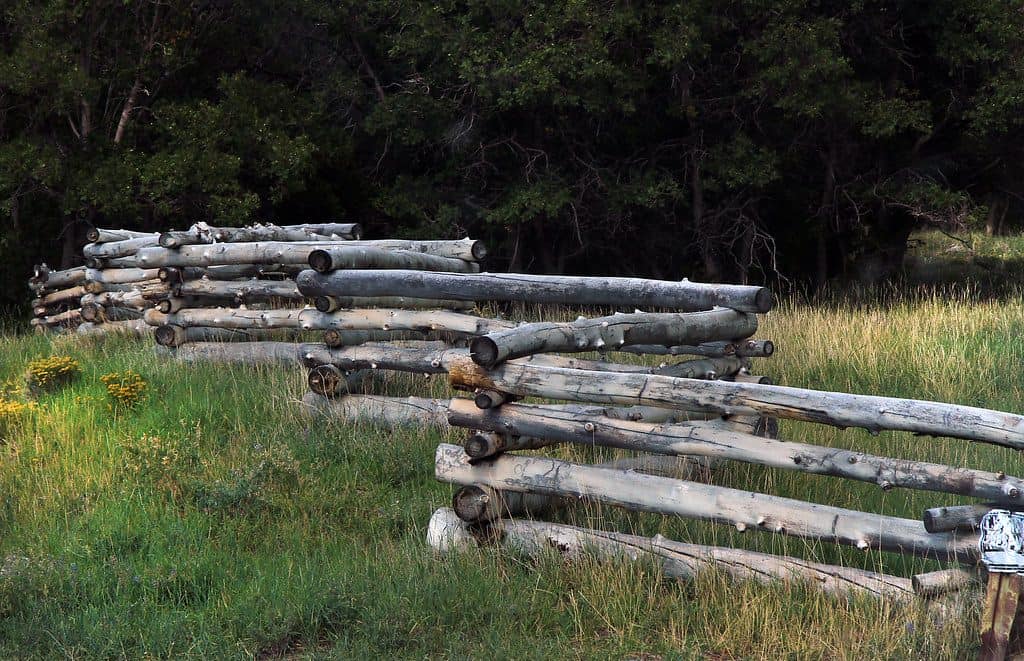 16. White lattice
Lattice fences offer enclosure to the yard without adding a restrictive feel. They're perfect for adding security within the property with functionality and aesthetics.
They make the perfect alternative to tall garden screening ideas.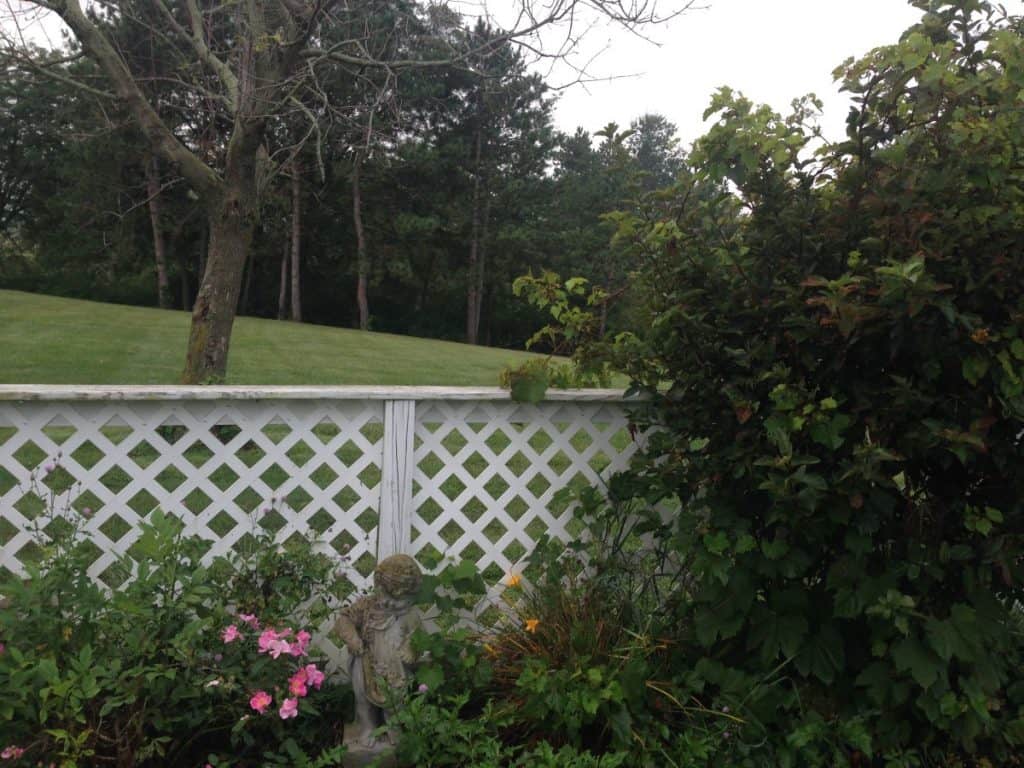 17. Repurposed timber frame
If you've got offcuts and leftover timber from an old project, don't toss it out just yet! You could easily create something like this – a clean-cut edge garden fence.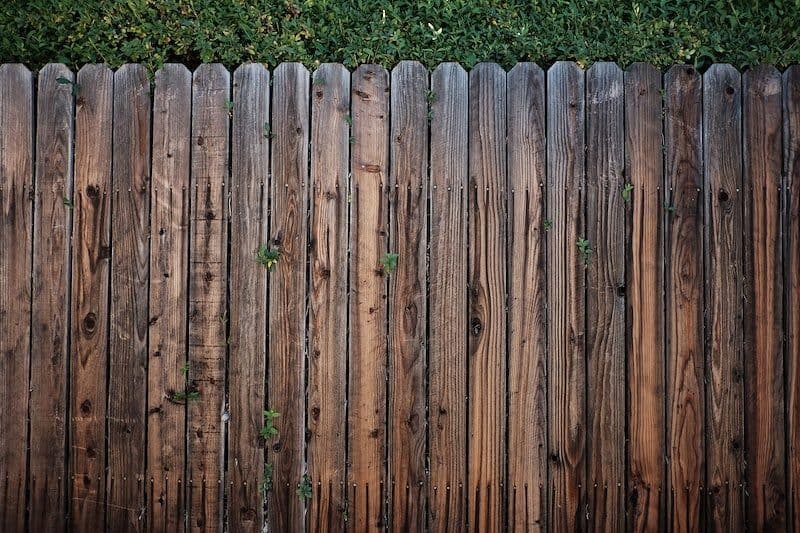 18. Log style
Whether you have a log-style home, a log fence is a great idea for your garden. Plus, it's simple and easy to make. Get started with some clean logs, a sledgehammer, post diggers, a claw hammer and some long nails.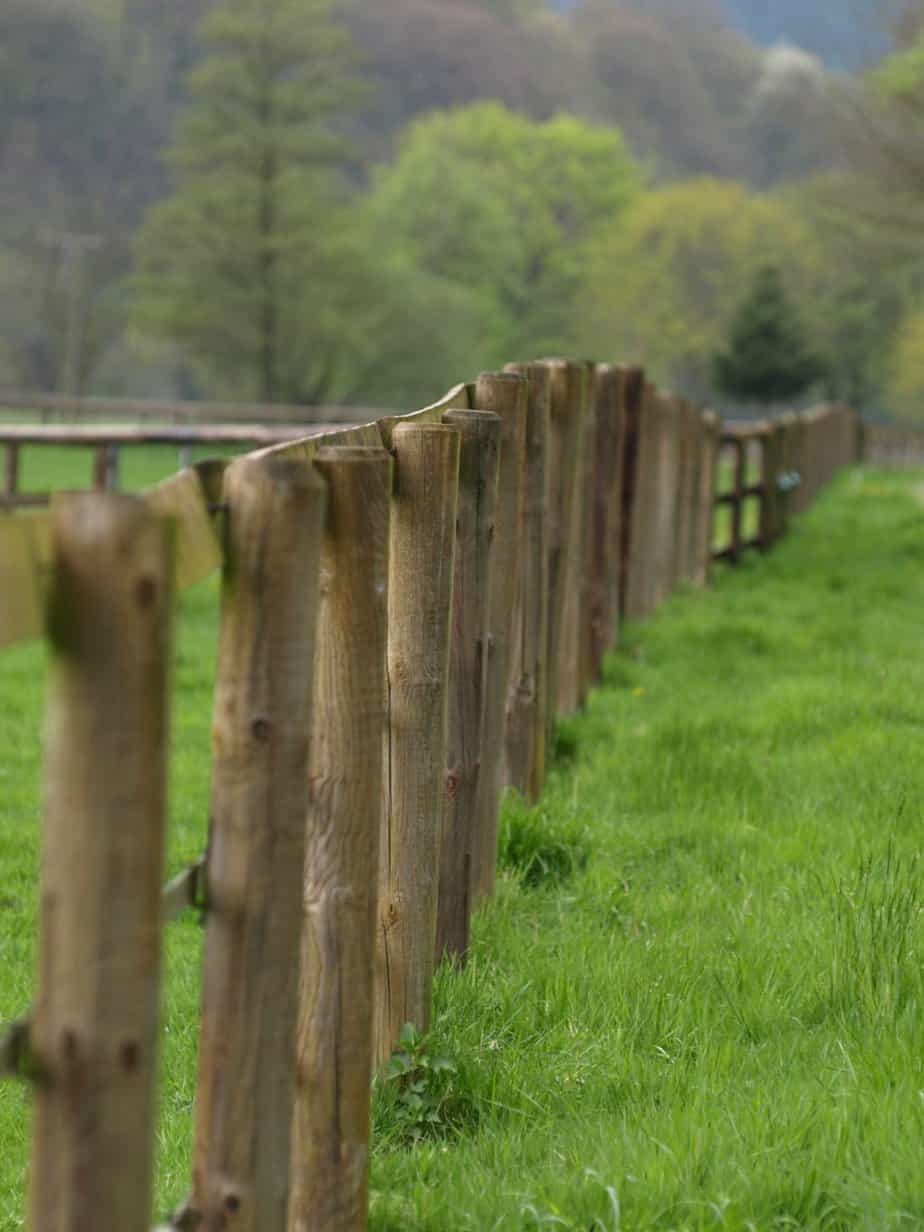 19. For a vegetable garden
Chicken wire is an excellent fencing option for your veggie garden. It will keep out rabbits, deer, chickens and cats. The addition of wooden posts helps define your garden visually.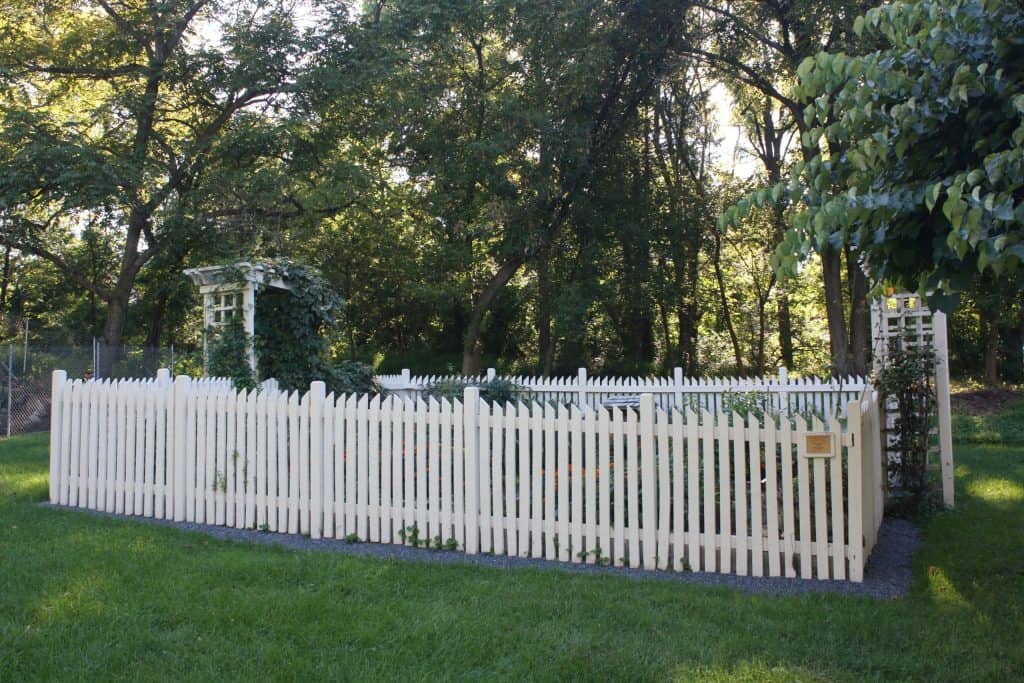 20. Split rail
A split rail fence gives off a historical and rustic-style look. Using timber or logs, you can create this sort of stacked rail fencing option. Perfect for keeping medium-sized animals out of the garden while providing a clear view of the yard.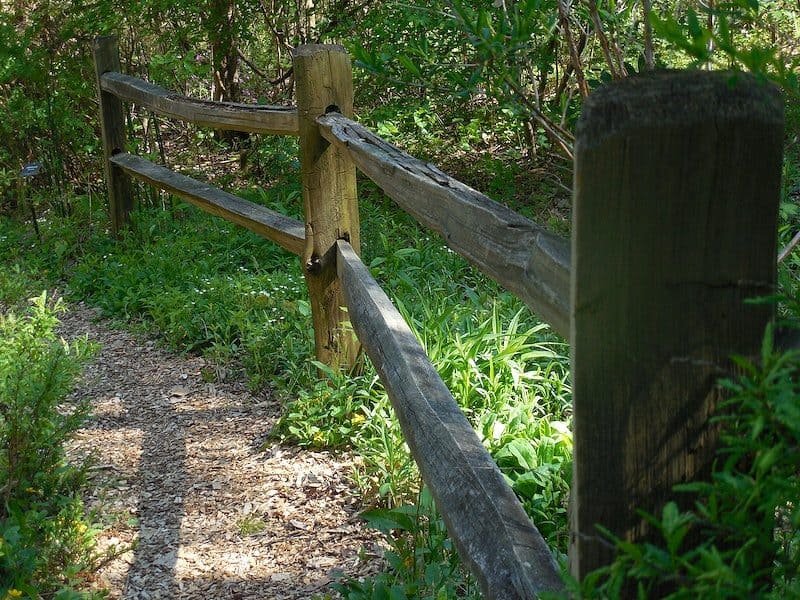 21. Paint in pastel colours
Give your fencing a new character with soft pastel colours painted on them. You can stick to one colour or experiment with a rainbow or a mix of hues.
Here, the icy blue and baby pink palette softens the impact of the tall fence, along with creeping vines.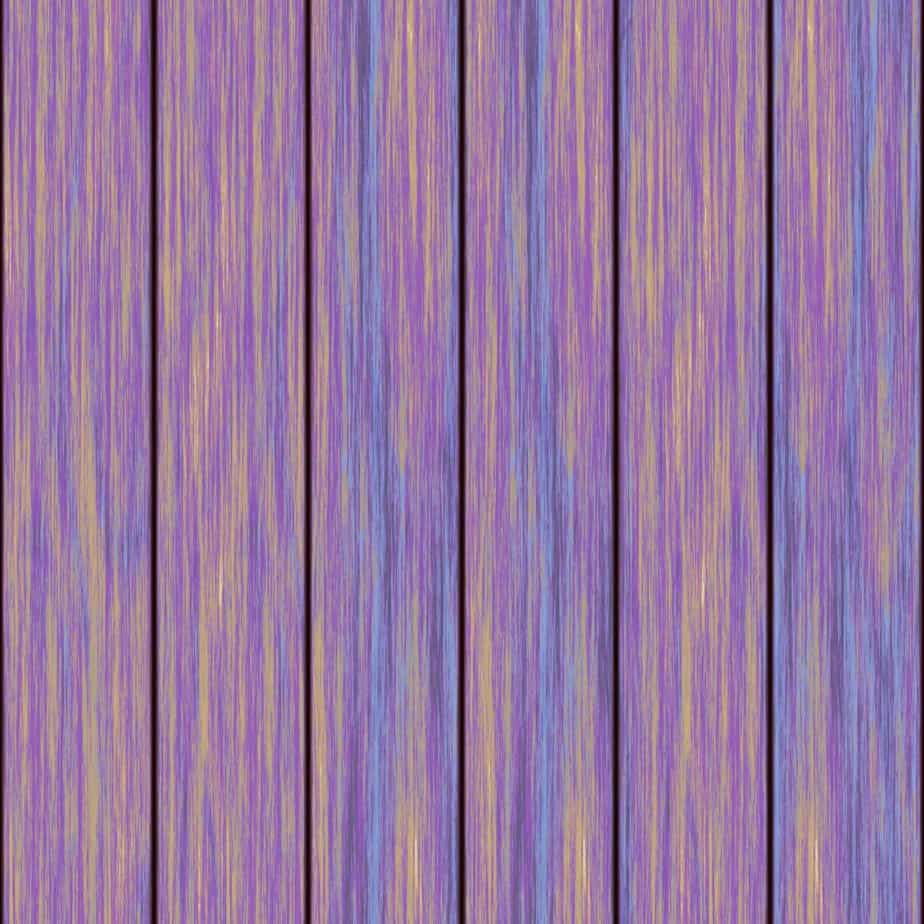 22. Go for a sculptural approach
Take a cue from this sculptural fence. You don't have to recreate the whole concept. But you could use steel alloy fencing and mimic the spiral structure.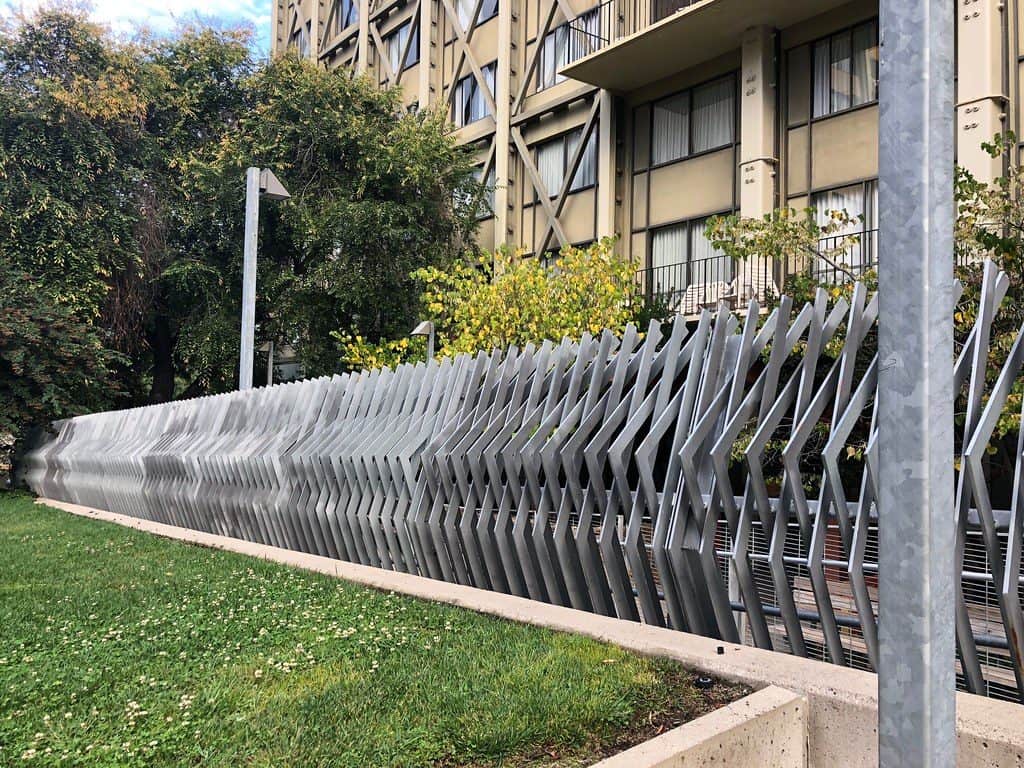 23. Decorative privacy screening
You can either install the screens on their own or attach them to the existing fence for added pizazz. Made of Corten steel, the panel offers a warm, rusted patina to the scene.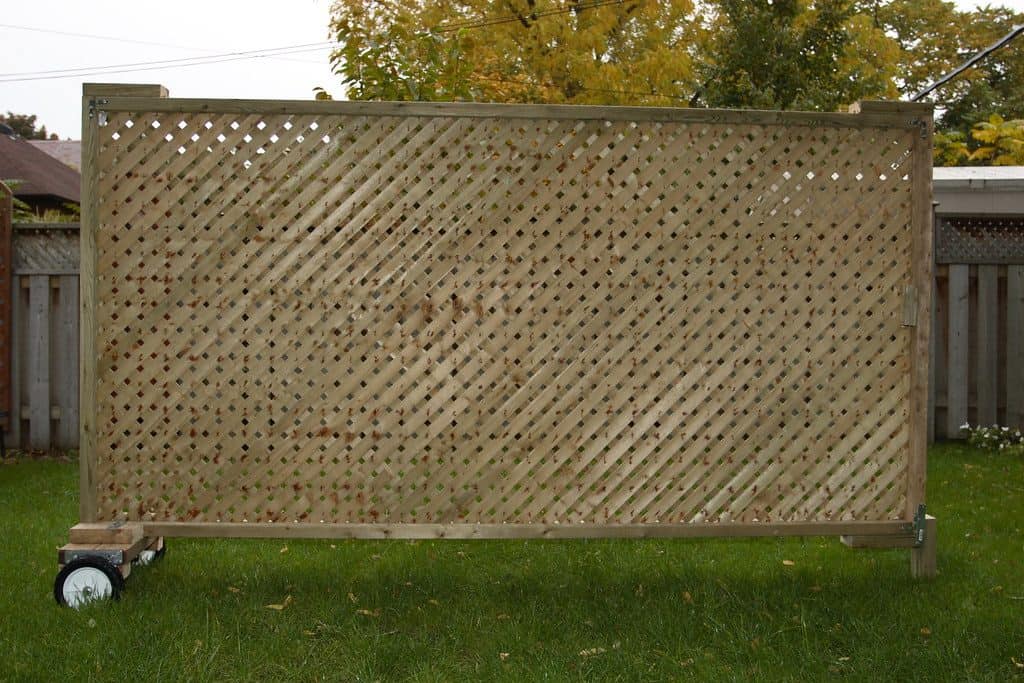 24. A trellis addition
Got no spare bare space to put up a living wall? Your fence has got you covered! Install a trellis on the fencing or have it attached, and let it be covered by climbers. An easy way to create that living wall effect.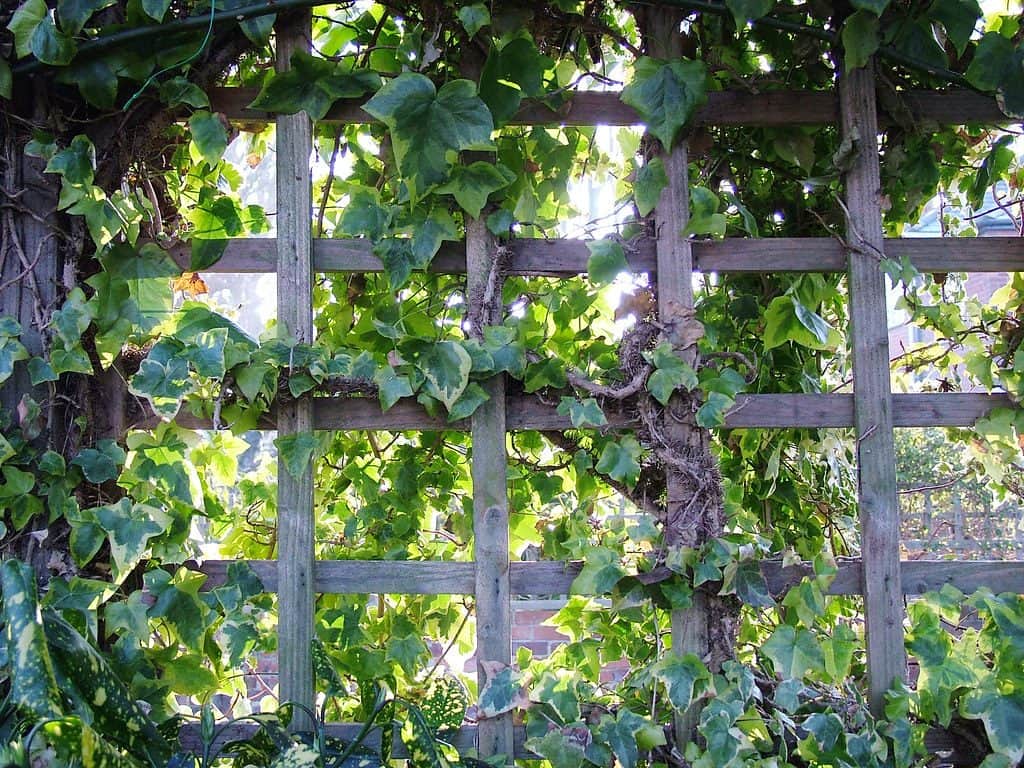 25. Switch to glasses
This idea works best if you own a backyard pool. Glass fencing makes a savvy boundary to the pool zone but without giving full privacy.
It also opens up the space, making it feel bigger while allowing you to enjoy the view.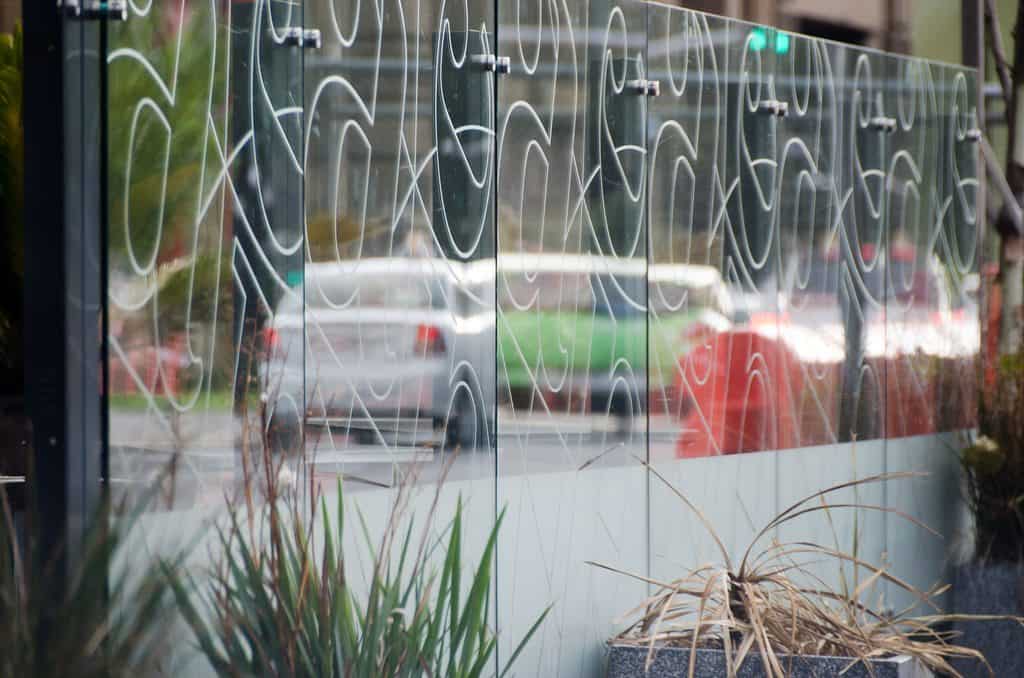 26. Pair it with an arbour
An arbour and fence make a wonderful outdoor pair. The perfect combination for an entry gate, making your yard look more inviting!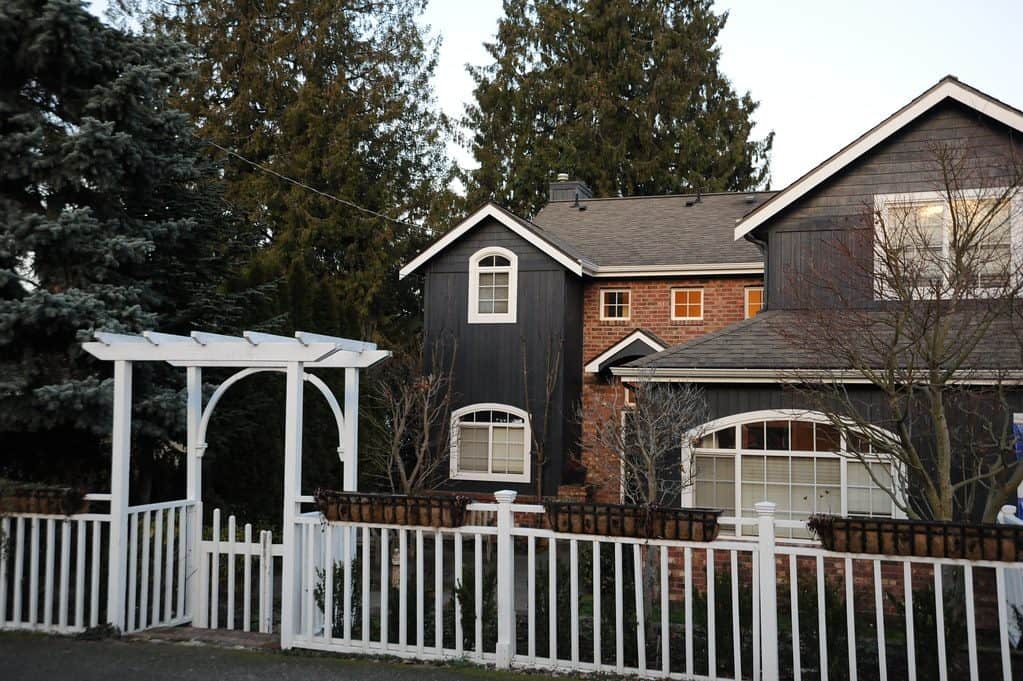 27. With striking raised beds
Raised beds can fit just about any space and that includes the inside of a fence or wall. This method maximises the garden by subtly taking advantage of the vertical space.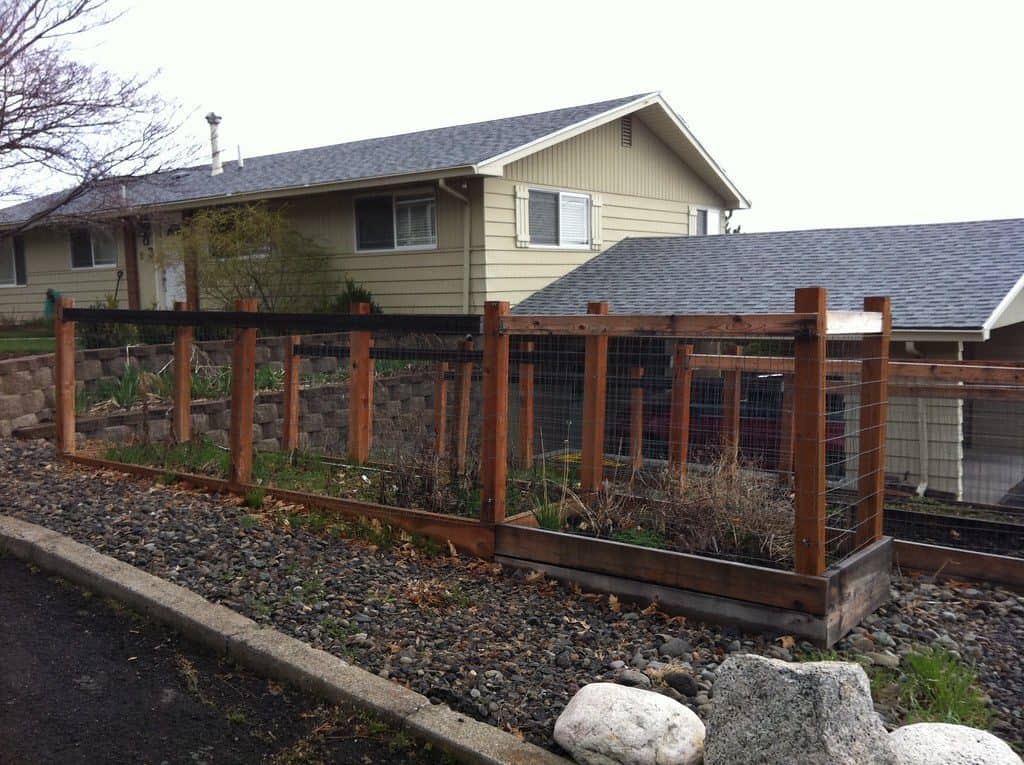 28. Get creative with shelving
A modular shelving unit like this is ideal for adding valuable space for your potted plants. You could hang a mirror on the side to open up the space even further with all that ground space you've saved.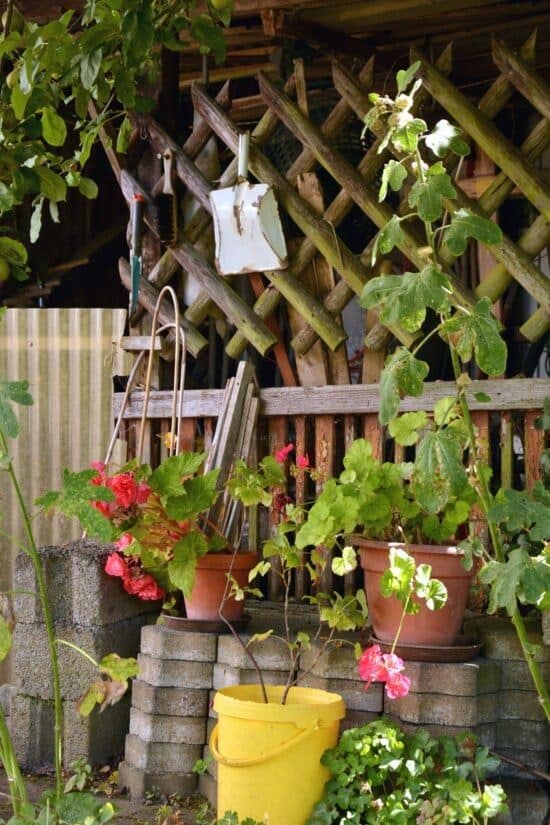 29. Cut-out panels
Cut-out panels bring an exciting new style to garden fencing. This design would work on a boundary or between different areas of the backyard.
The panel also gives the view beyond, without surrendering privacy.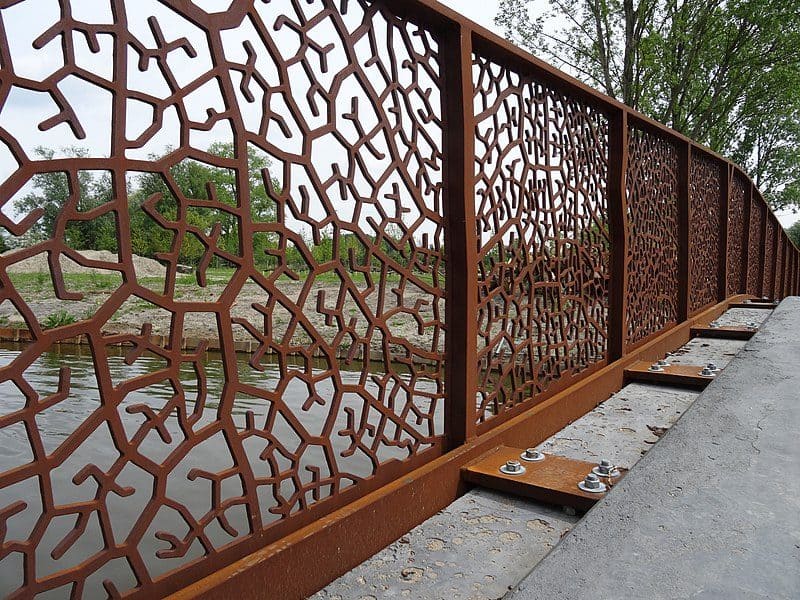 30. Incorporate outdoor lighting
Add beauty, security, and highlights to your yard with lighting on your fencing. Attach metal mounting hooks or cup hooks onto the fence and suspend the lights from them.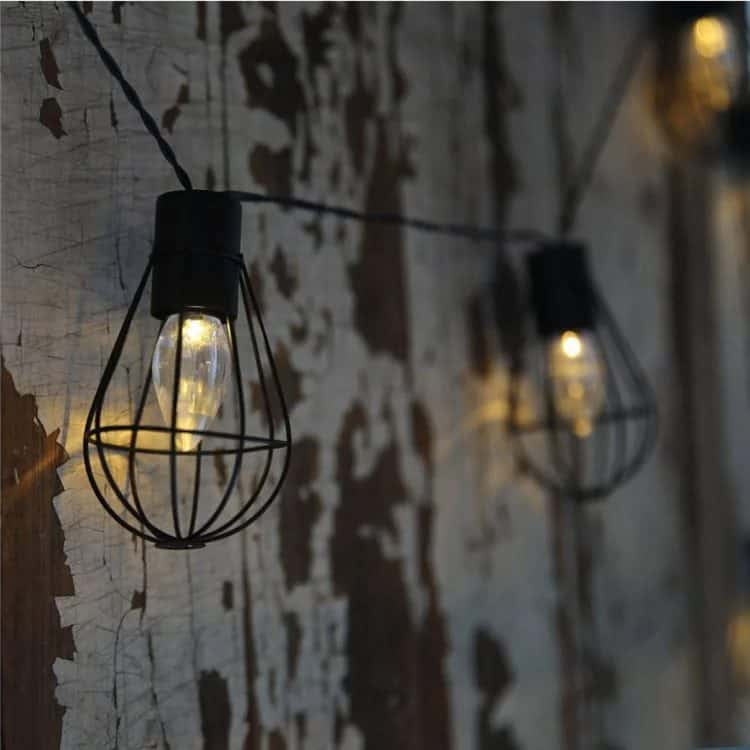 31. Or try a fence of lights
Fences don't have to be solid, especially if they're used as subtle dividers for your garden or patio. Here, the design combines shepherd's hooks with festoon lights alongside a path.
32. Opt for reed screening
Reed garden screening makes for a cheap fencing alternative, providing necessary concealment. Use it as a cover for a chain link fence or attach it to an existing fence upright with ties.
It can also be a great solution for patio shade solutions.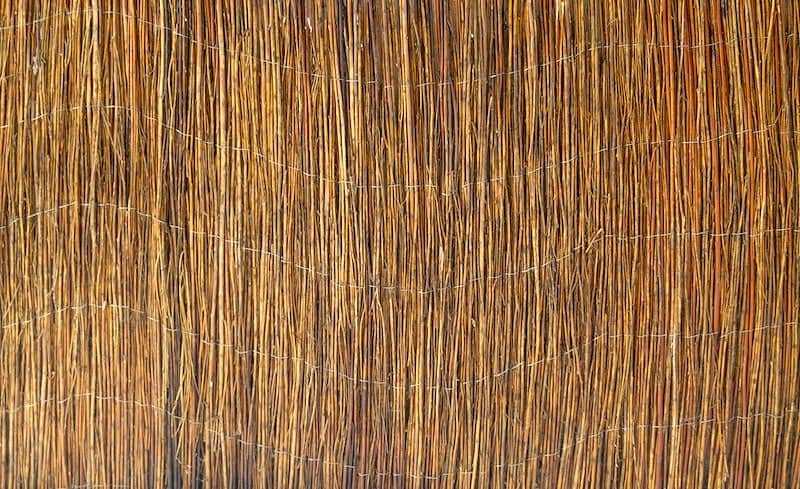 33. Go for a crisscross approach
One of the most common rustic fence styles is the classic crisscross pattern. The lattice design consists of thin diagonal slats, and it comes in four different styles. Crosshatch, criss-cross square, horizontal and arch top.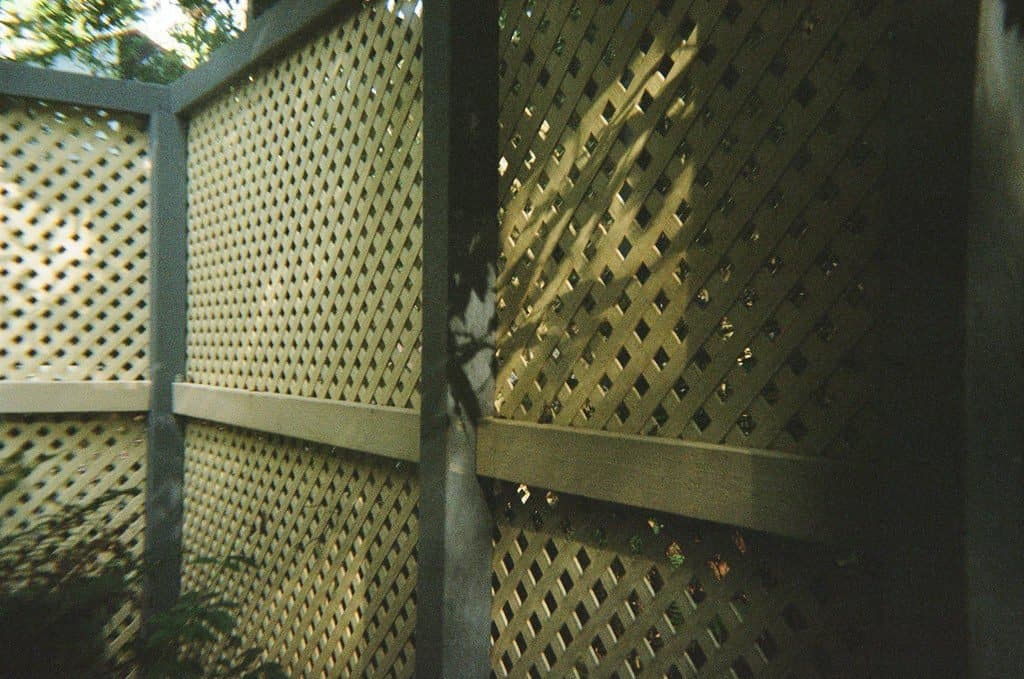 34. With rose climbers
Climbing rose bushes will look especially majestic on white picket fences. But as long as your fence is sturdy and can support the weight of the plants, you can train them to grow on the railing.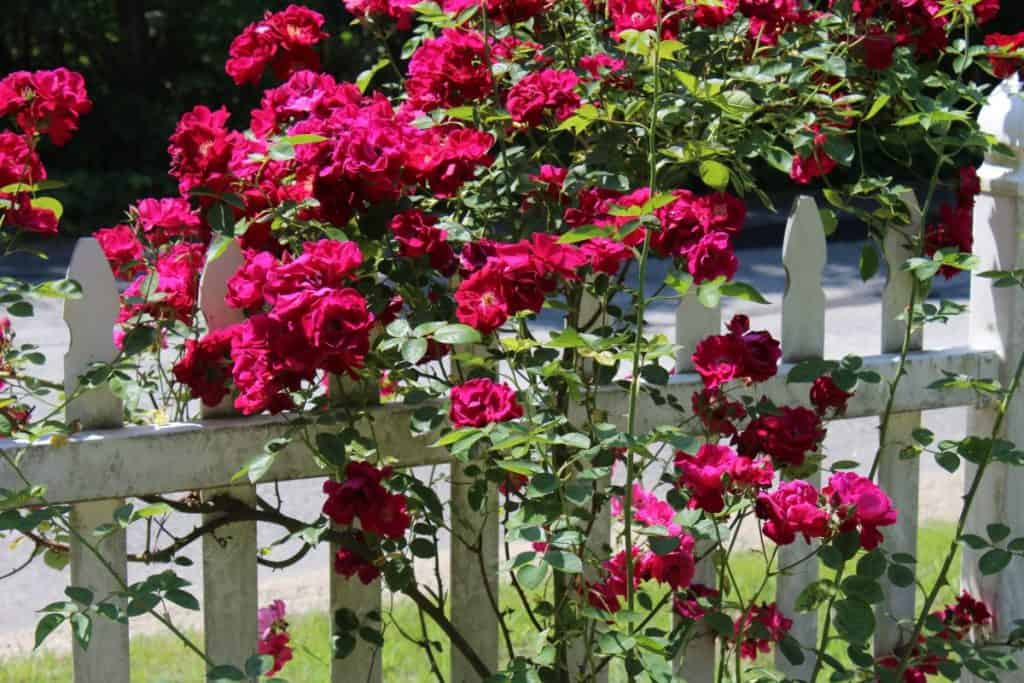 35. Get artsy with a mural painting
What a great way to brighten up your fence, indeed. Now, you don't need to plant any flowers! Or go for a street-style mural for an urban edge.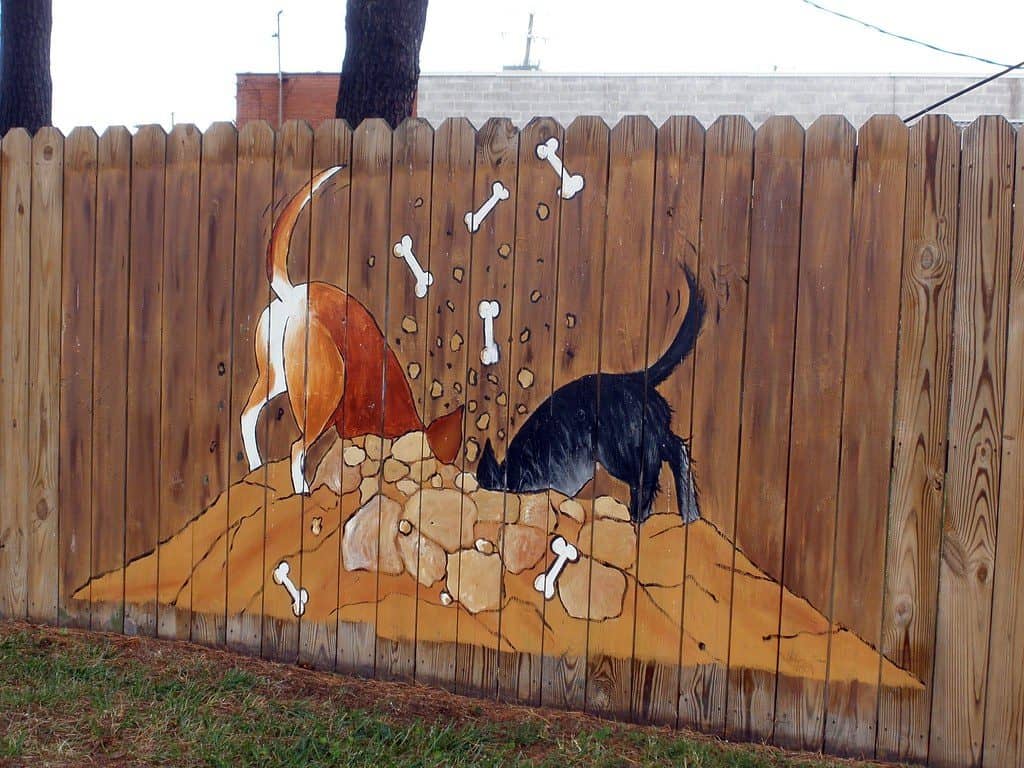 36. Bamboo retaining wall
A bamboo retaining wall will look naturally amazing with bamboo fencing behind. The idea is to delineate a garden bed by cutting bamboo stalks down to a uniform size.
Arrange them side by side and bind them together with rope. This is a great option for a curved garden bed too.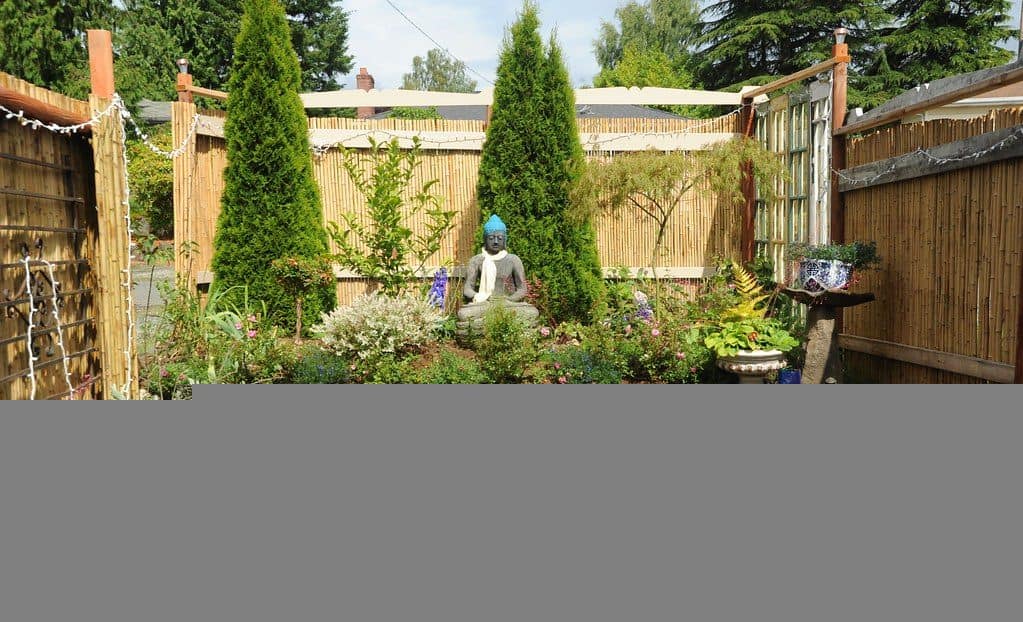 37. Mix media fence
For this concept, you may combine bricks (for the posts) with metal or wood (for the fence). This material combination also ensures that you have some sight lines through the fencing.
Opt for a mixed fence design like this especially if you have a stone-style home.
38. Full brick wall
Or if you want privacy, durability, and beauty in one, consider a full brick wall "fence". Bricks can provide a sturdy support structure for plants like climbing ones. They can be easily painted, too, so you can easily match the look of your home.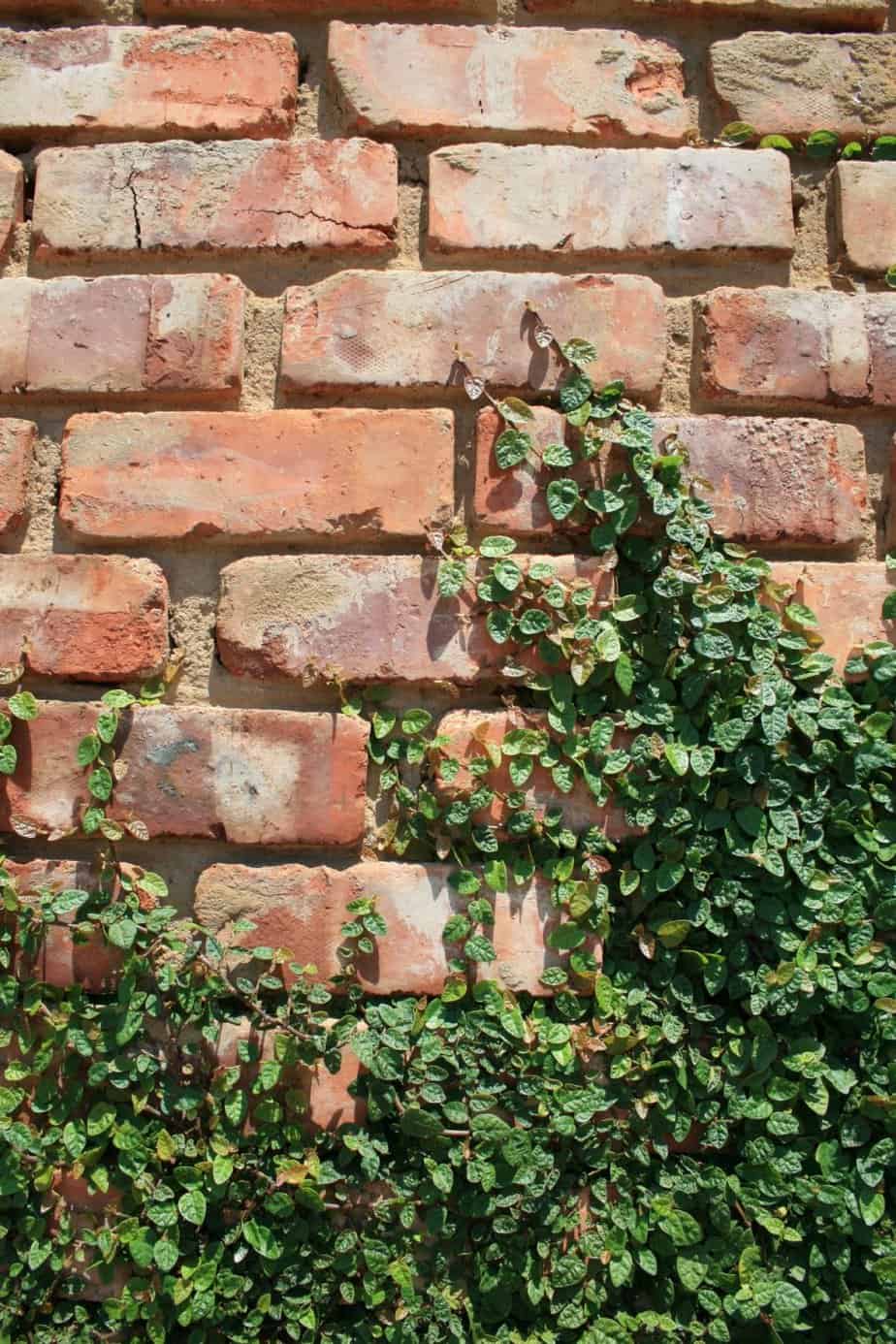 39. Long rail design
Long rain fencing design is your best shot if you own a large barnyard, a courtyard, or you own a lot of land you need to fence off. The simple uniform look isn't distracting and it can also cut the number of materials you'll need.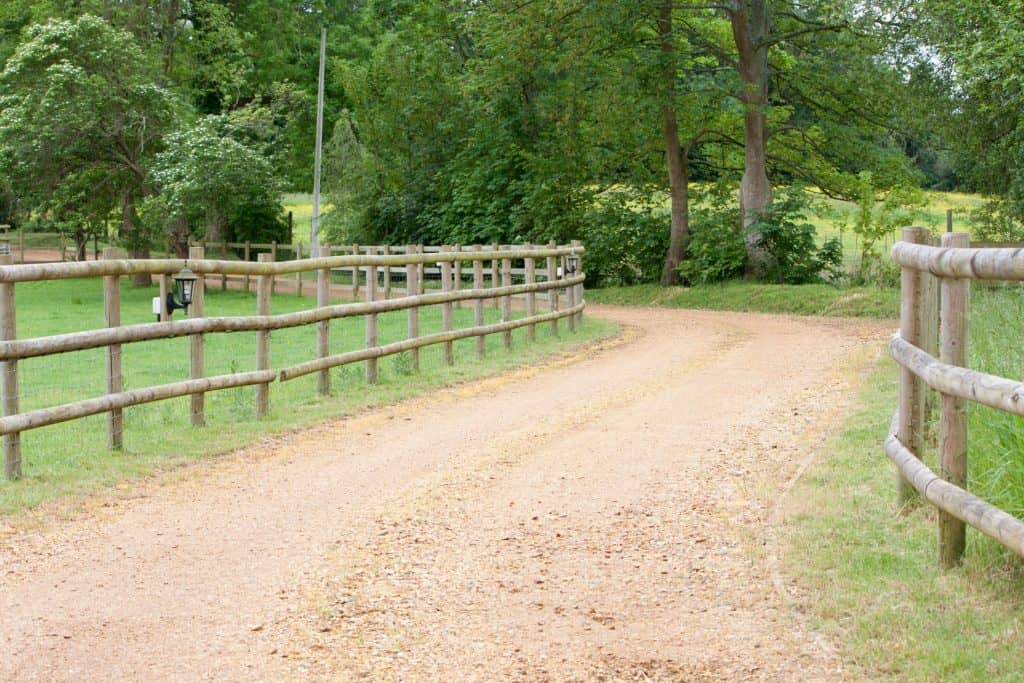 40. Stacked stone wall
Dry stones last a lifetime and can serve multiple functions – one of them is a stacked stone wall! Take a cue from this stone wall with a picket gate.
This would look especially good in the front cottage-style yard to add curb appeal.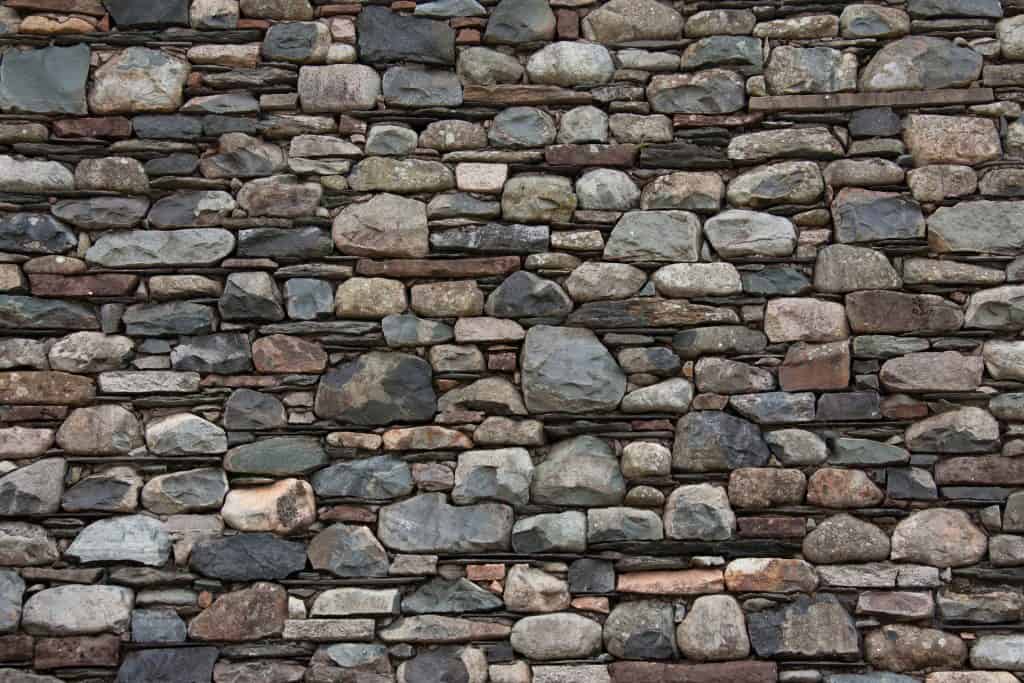 41. The vertical gardening way
Make your fencing come alive and lush with vertical gardening. Add hooks to your fence, from which you can hang pots. 
Opt for foliage with large leaves to fill any gaps, concealing the fence. This can also hide fence blemishes, drawing the interest to the plant's beauty instead.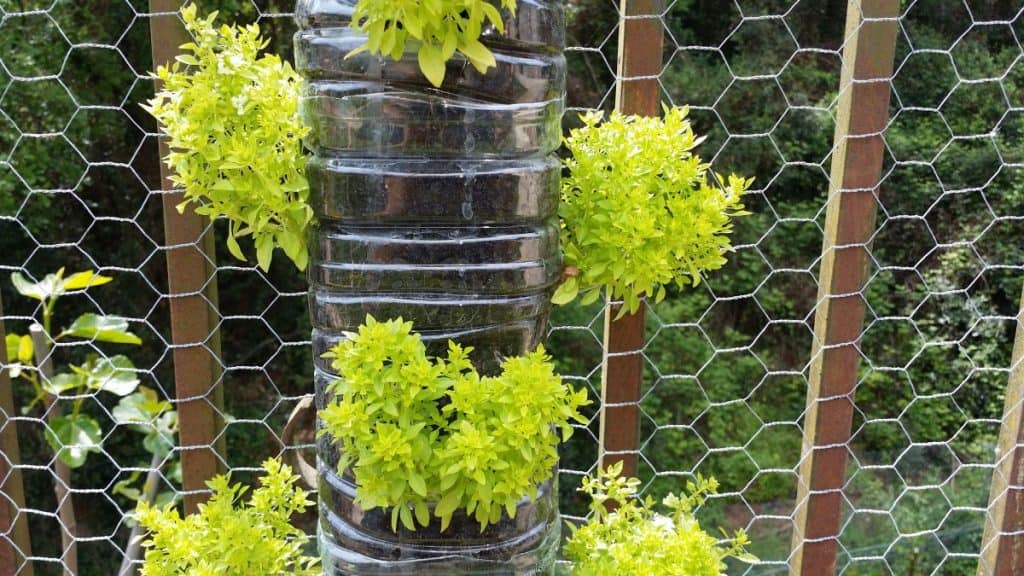 42. Surfboard fence
Perfect for beach garden ideas, a surfboard fence adds both aesthetic and privacy to the yard. This idea is usually seen at homes near beaches and in famous places like Hawaii.
But not anymore! Your neighbour can now – in the comfort of your backyard.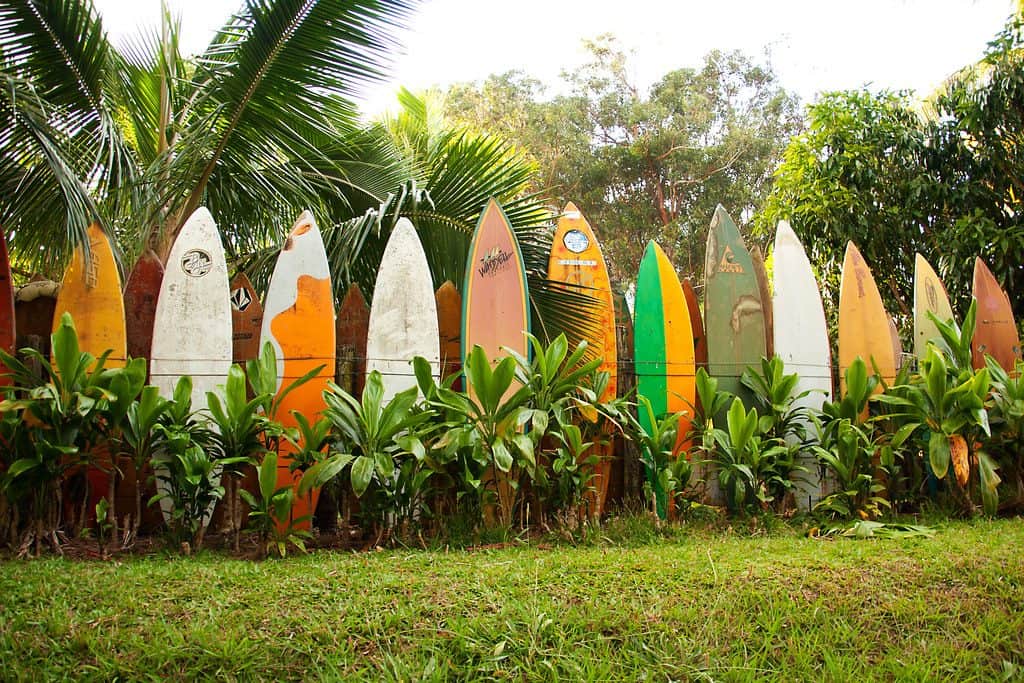 43. Laser cut metal panels
Weathered metal panels make a stunning backdrop to cottage garden borders. The laser cuts add up to the industrial look and the design adds a modern touch. A great edge statement to a garden of pretty meadow flowers!
44. Add colour to it
Let your fence bring colour to your outdoor space with a lick of brightly-coloured paint. You can buy panels that are pre-treated in coloured stains for added protection.
Otherwise, take advantage of the large range of exterior wall wood paints on the market. Check out these fence colour ideas for inspiration!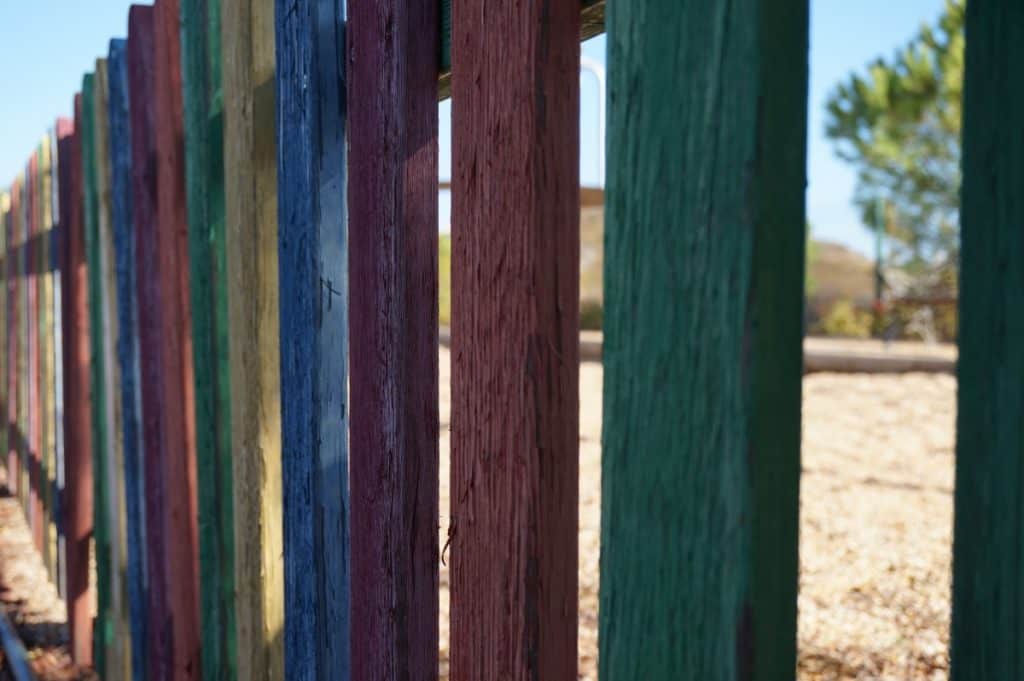 45. Slatted and solid fencing
The trick is not to go for solid fencing on all sides, but instead, to use a combination of slatted fencing. This design will help prevent a boxed-in look and let the light through.
If you have a small patio that faces a busy street or driveway, this might be the perfect solution for you.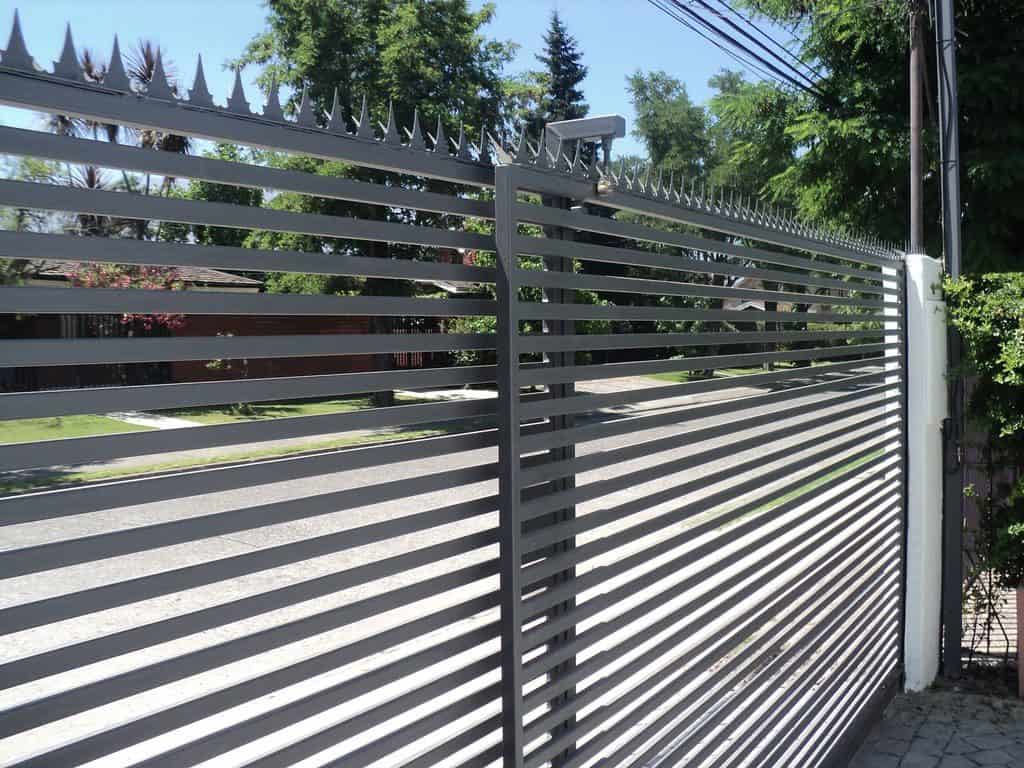 46. Add a water feature
A water wall is a great way to create shade, divide an outdoor space, or add a dramatic accent to your fencing. Here, the water wall on the fence creates a focal point and relaxing sensory experience.
Imagine how great this would look on a grander scale if you have the space!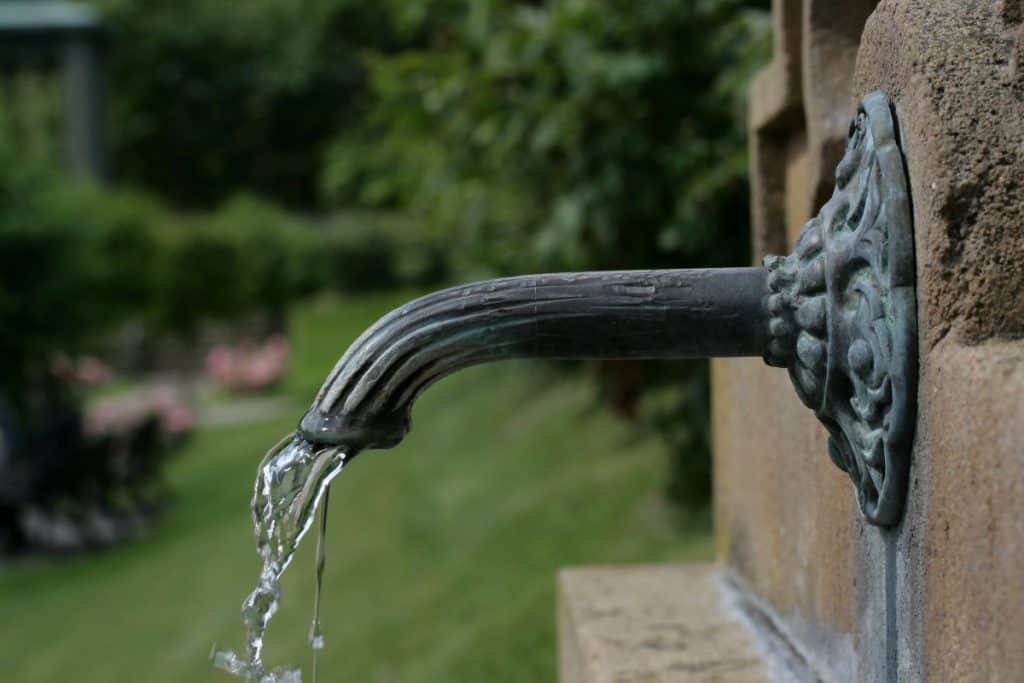 47. With an archway
This lovely white archway directs guests to the backyard in an enchanting way. The mix of vibrant annuals and perennials effortlessly adds a pop of colour. This one would also look magical in front gardens.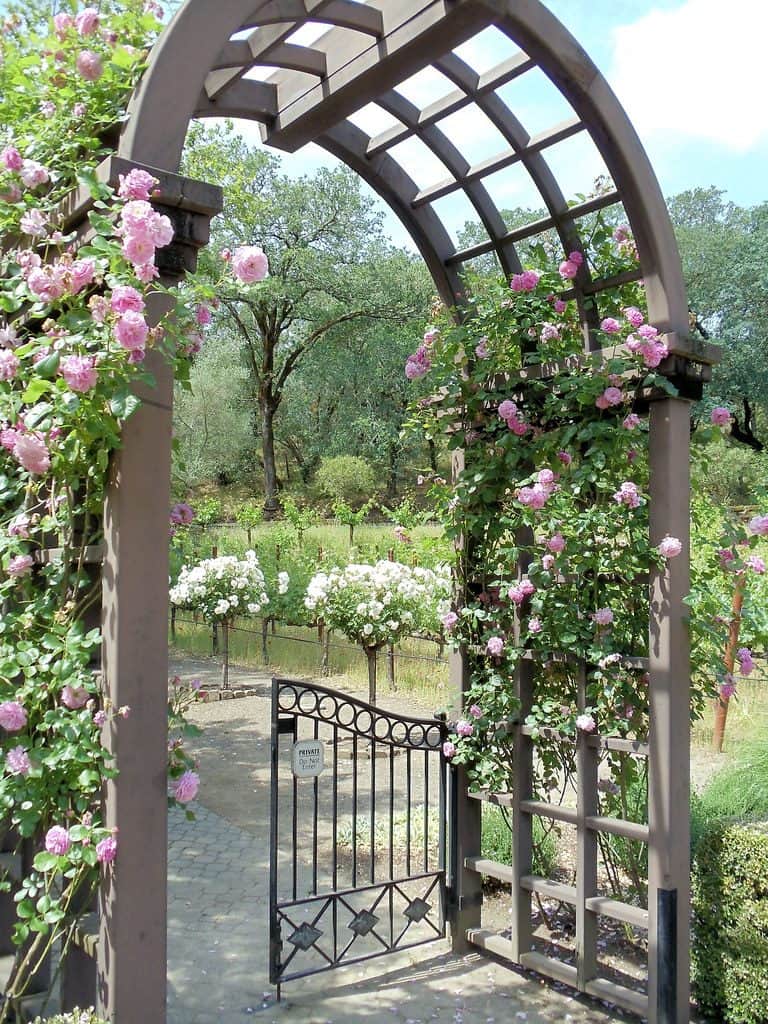 48. Overgrown with ornamental grasses
Ornamental grasses have a lot to offer in the landscape. For one, surround your wooden fence with wispy grasses and towering greens.
A natural way to create a lush and natural-looking garden and a backyard paradise!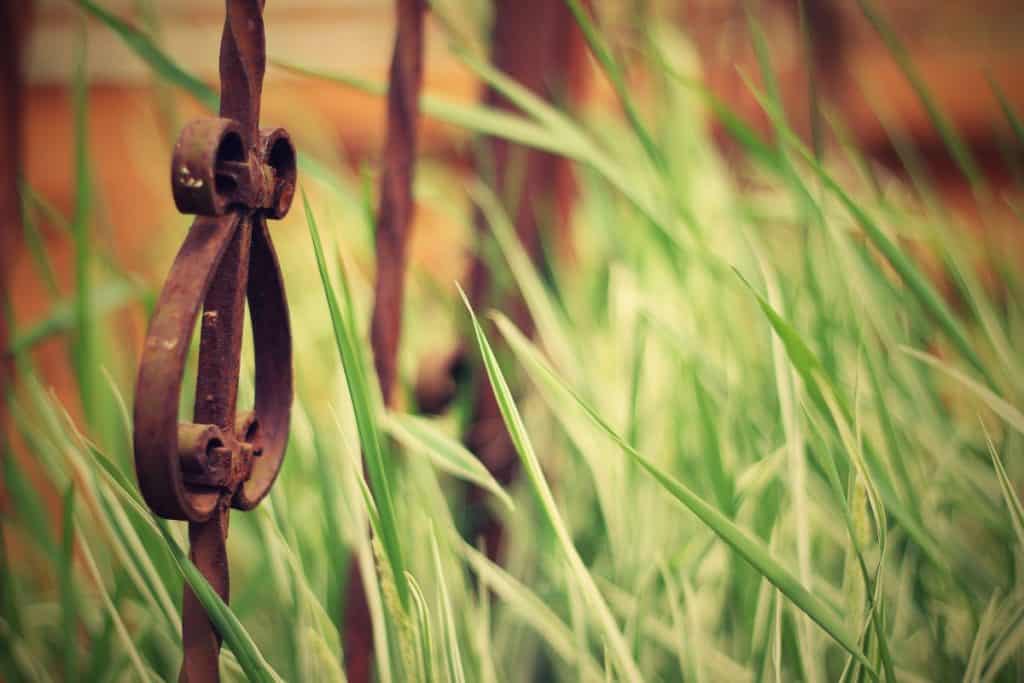 49. White but weathered
This white and well-loved gate proves that antiqued wood makes for beautiful fencing. There's a classic touch to it, at the same time, a hint of rustic charm.
It would both work in a country-inspired or farmhouse garden setting.
50. Wooden fence and metal gate
Create visual interest by bringing wooden fencing and a metal garden gate together! This popular mix gives off a modern-traditional vibe, perfect for contemporary outdoor spaces.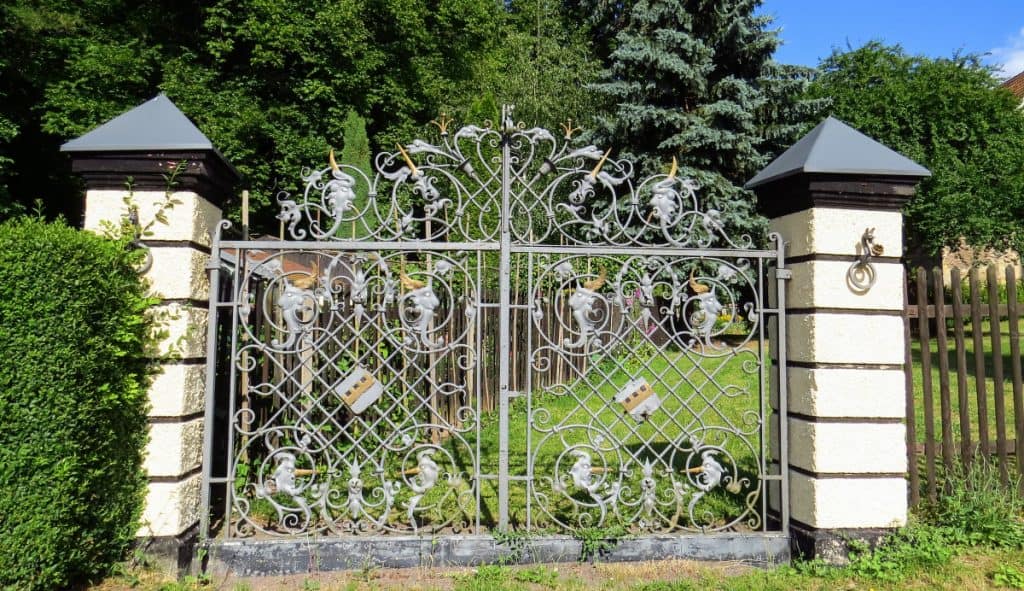 51. Horizontal wood plank design
Horizontal planks are usually more costly but can look more elegant than vertical.  Some use blonde wood, and some use darker wood. Planting greenery along the privacy fence creates a nice layer as well.
52. Chevron privacy wall
Get protection with visual interest in your patio with a chevron privacy wall. Recreate this look by arranging boards in a herringbone pattern. This DIY can help you get that stylish and affordable outdoor screen to your space in no time!
53. Make it glossy
If your garden fence is made from multi-height wood posts, consider a glossy look. A darker stain will look great next to bright green plants. This also helps promote a relaxing atmosphere in your backyard, like a spa vibe.
54. The upcycled method
As you explore fencing options, consider reused materials, too. Keep an eye out for unused metal or wall sheet panelling to salvage. Old ceiling tins also make a great choice.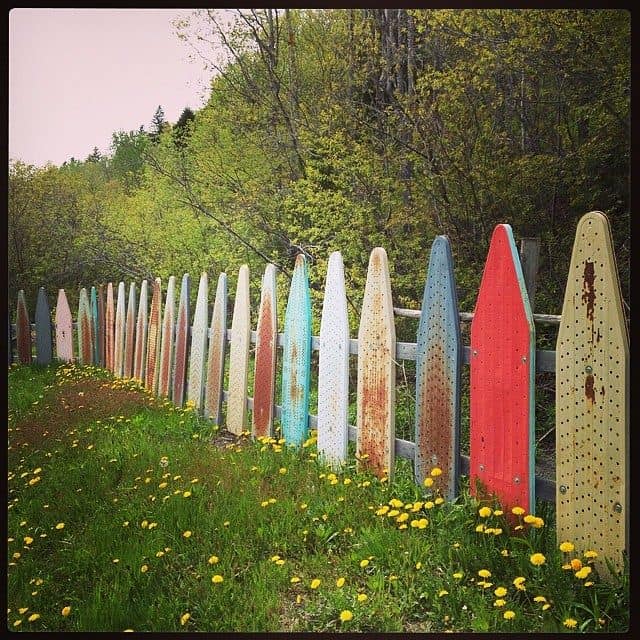 55. Curtains as final touches
Curtains are a great divider and a sheer alternative to solid fencing. Hang up the breezy cloth material around a porch or pergola for an extra layer of privacy and a cosy atmosphere.
Garden Fencing Ideas: Round-up
Like garden gates, fences effortlessly section off different yard areas and provide security. They are used by many farmers, landscape designers, and flower enthusiasts alike.
Simple as they may seem, fences are decorative elements that can help make your garden stand out. And we hope our list of awesome garden fencing ideas will inspire you to make your own.
May you find the perfect type of fence that suits your outdoor space best!
Shop Aluminium Gates
FAQs