Are you looking to buy a garden shed? Then you might be wondering what all this talk about tongues, grooves, and shiplap is. Lucky for you, we're here to help.
Tongue and groove cladding for sheds is a top contender when choosing what type of shed to buy. And we've already sung from the rooftops about the advantages to tongue and groove cladding. 
But we realised people still had questions. So we've scoured the internet and racked our brains to try and answer them all.
So keep reading for our ultimate guide and FAQs to tongue and groove shed cladding.
What is Tongue And Groove Panelling?
Tongue and Groove panelling or cladding is a unique type of wooden boarding that is used to make wooden buildings.
T&G panels are uniquely designed so that they can fit together without the need for nails or glue. Regular wooden cladding, such as overlap panels, need glue or nails to fit two panels together.
With T&G cladding, the wood panels are purposely constructed to fit together using a special tongue and groove joint.  Each wooden panel has both a tongue – the part that sticks out – and a groove for a tongue to fit into. The tongue and groove are situated on opposite ends of the panel to allow them to connect to other T&G boards.
You can a cross-section of a Tongue and Groove joint below. In the image, two panels are fitted together.

As you can see above, fitting two planks together is as simple as sliding the tongue of one panel into the groove of another!
In a Garden Building, such as a shed, the panels are fitted together vertically with the groove fitting to the tongue of the panel below. Further panels are stacked on top of each other to form a wall, roof, floor, or another wood surface.
As you might have already guessed, this method of joinery has a heap of advantages. Since we love them so much, we won't keep you waiting! Let's get a closer look at what makes them so good!
Different Types of Cladding
Below, you'll find a comprehensive overview of the most common types of shed cladding.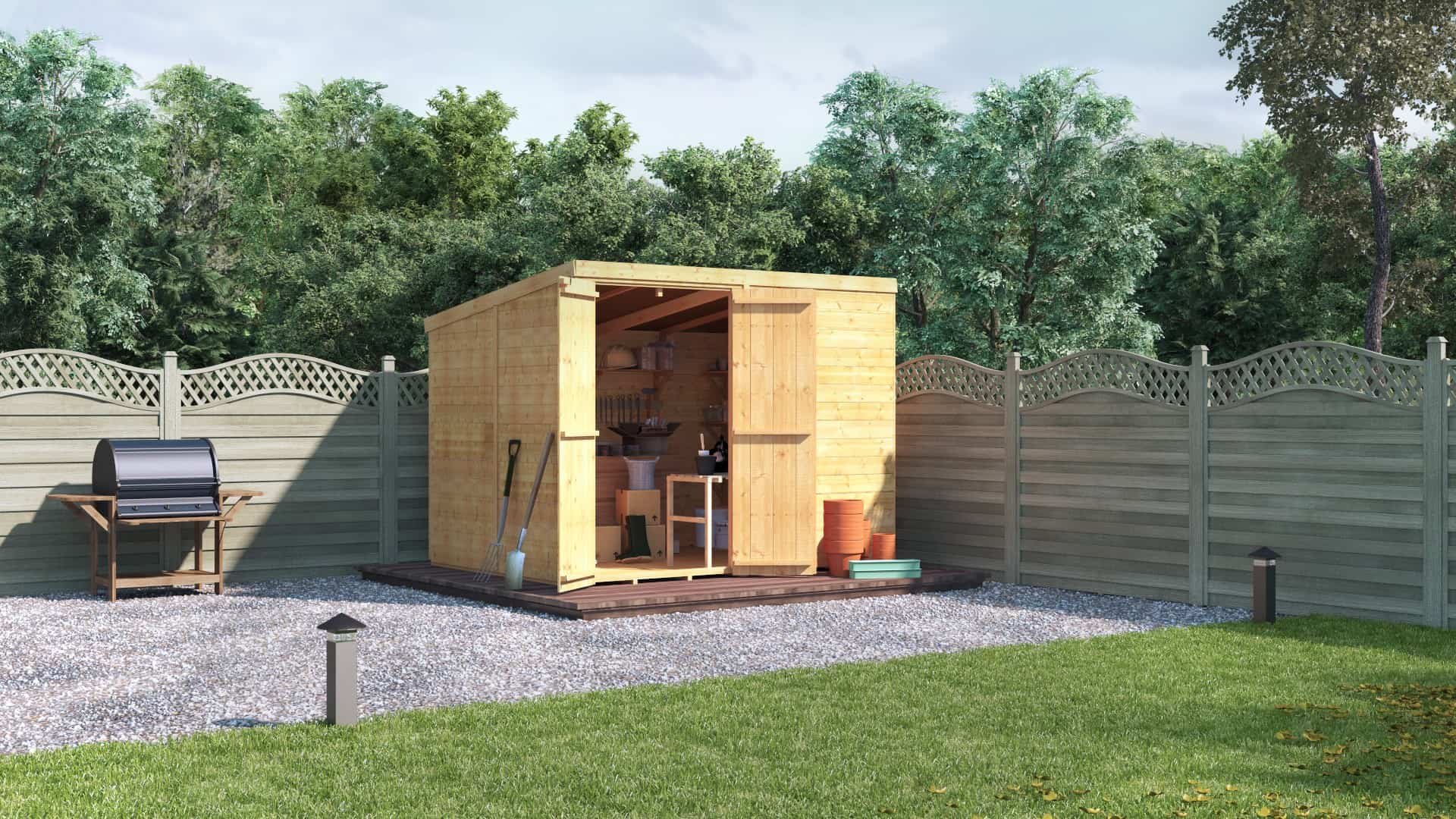 Tongue and Groove Cladding
Now, we should all be familiar with the basics of cladding. All set with shiplap, overlap, and tongue-and-groove?
Then, as this is an ultimate guide to tongue and groove cladding, let's more on to why it's so popular. Then we can look at how to build your own T&G shed and what you need to bear in mind.
Are you after the perfect combination of quality, weather resistance, durability and price? It's a tongue and groove shed.
Tongue and groove is also great for people who store expensive tools and machinery in their sheds. The interlocking panels make it much harder to break into than, say, overlap panelling. 
This also means your shed is more protected against water ingress. And it'll be better insulated. This is one of the first major steps in looking at how to damp proof your shed. 
Tongue and groove also offers the aesthetics of exposed timber. But, it comes in a clean, modern design. If you're looking for a more rustic exterior to your garden buildings; think overlap.
Like shiplap, though, tongue and groove boards also contract with the climate. This makes them less prone to rot and warping. T&G's robust nature is why it's also so popular as a flooring material. It can withstand heavy, prolonged footfall.
And if you're worried about a DIY project - don't be. Tongue and groove cladding is easy to put together. It'll only need you, a friend, and a bit of time to construct a T&G shed. Plus, you won't need many tools.
Shiplap Versus Tongue and Groove
Now that we've looked a bit more and tongue and groove cladding, let's compare it with shiplap.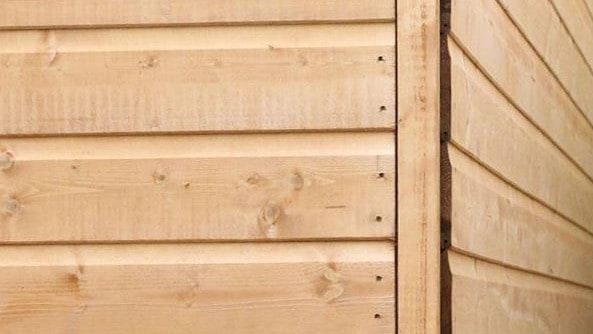 Overlap vs Tongue and Groove Cladding
| | | |
| --- | --- | --- |
|   | Tongue and Groove | Overlap Cladding |
| Appearance | Creates a smooth and modern finish for any garden building. | Provides an outdated slatted finish – not preferable for contemporary sheds. |
| Security | Flat surface and no-grip exterior walls mean it is nearly impossible to break cladding apart. Extremely secure. | Exposed board ends and connecting nails make cladding easy to break and vulnerable. |
| Cost | Specially constructed boards are expensive to build. High costs. | Versatile, able to use any type of wooden boarding. Cheap to buy and very cost-effective. |
| Assembly | Easy-slide in assembly with no tools or knowledge required. | Manual assembly requires tools and knowledge of how to create proper overlaps. |
| Space between boards | Next to no space between the boards. Repels draughts and water while providing insulation. | Gaps are likely after construction and can form over time. Lets in wind and rain, susceptible to water damage. |
| Strength | Internal connections create a strong structural spine. | Boards are nailed together rather than connected so provide little strength. |
Installing Tongue and Groove Cladding
Whether you're buying or building your own shed, you'll want to consider corners and trim. Check out our guide for treatment and trim ideas before you buy.
Once you've got that figured, you can look at building your tongue-and-groove shed.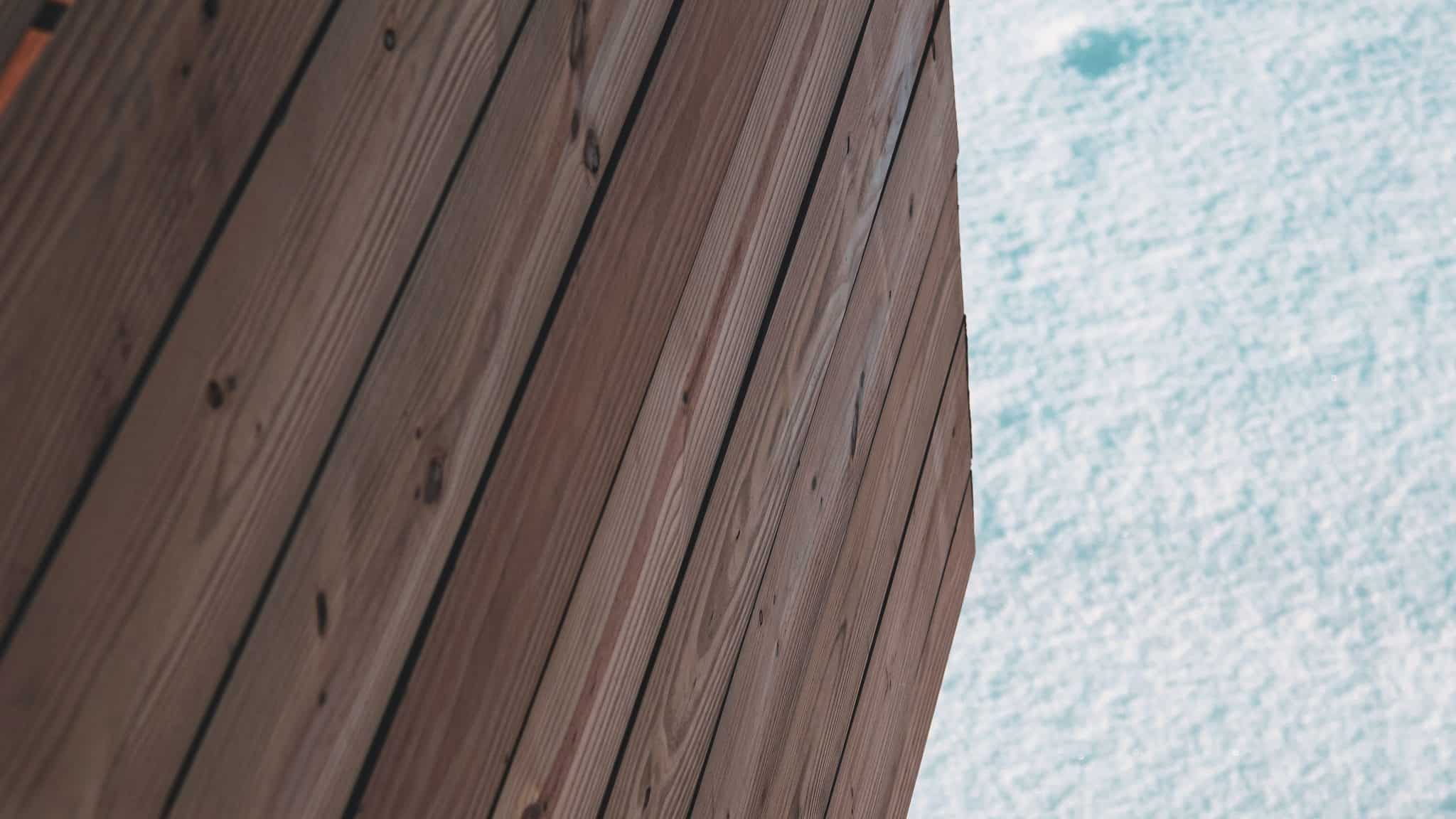 Tongue and Groove Cladding and Weather
T&G cladding is weather resistant and able to expand with varying climates. Due to its resistance to rot and tight seal, it is unlikely to rot. Yet, tongue and groove timber should still have timber treatment applied. Otherwise, it should be pressure treated.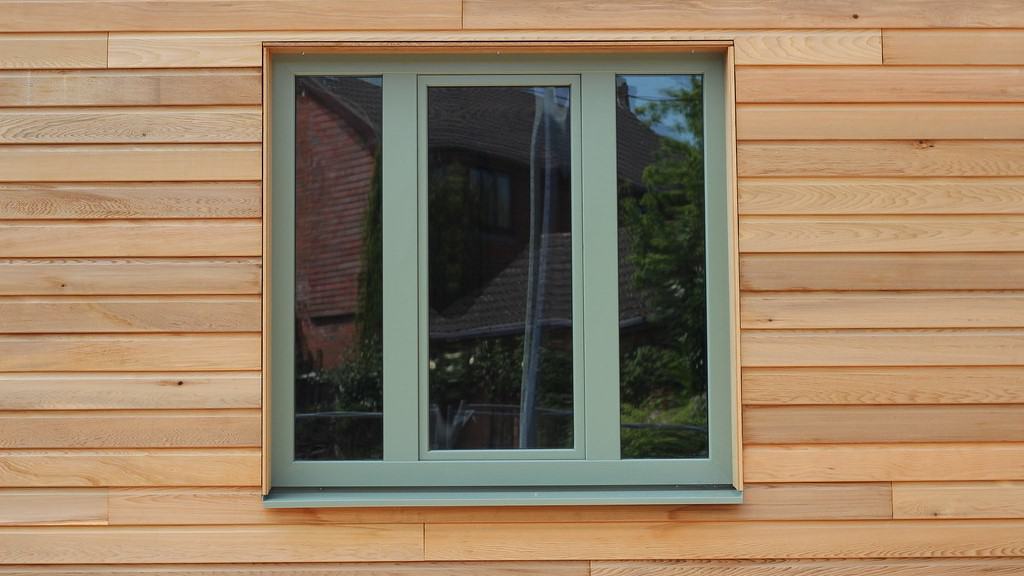 Tongue and groove cladding is not just for looks. It's also adept at protecting your garden shed from water ingress and damage.
The interlocking system of T&G panels means that water can't penetrate wood or the inside of your shed and contents. This also makes tongue and groove cladding less susceptible to rot.
If you're buying a T&G shed from Garden Buildings Direct, you can opt to have it pressure treated. This is where timber is locked in a vacuum in a vat. It's then treated with preservatives and chemicals.
Barring that, you should:
Remove any old paints and treatments with a solvent-free oil remover

 Clean your wood with a neutraliser

Use a water-based, saturated, or opaque finish
For tongue-and-groove sheds, we recommend spirit-based treatments. Water-based treatments may need to be applied yearly.
Garden Buildings Direct Tongue & Groove Sheds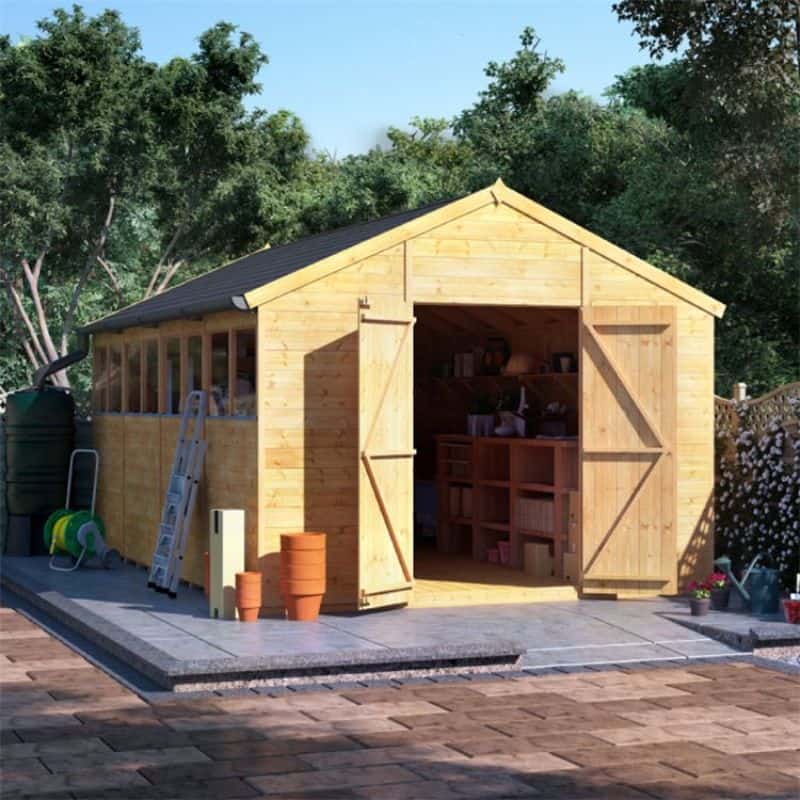 The Expert takes pride in its T&G construction, where the timber used has been formed to allow the panels to interlock. Because of this, the Expert will remain free from water ingress and weather damage.
A pressure-treated tongue and groove building is excellent for anyone who is looking for a low maintenance shed or workshop. It will also maintain its fantastic aesthetic all year round.
If you're planning to use your shed as storage for sizeable tools and other garden tools, or perhaps you intend to use it as your official DIY workspace, then the Expert Apex is the perfect choice!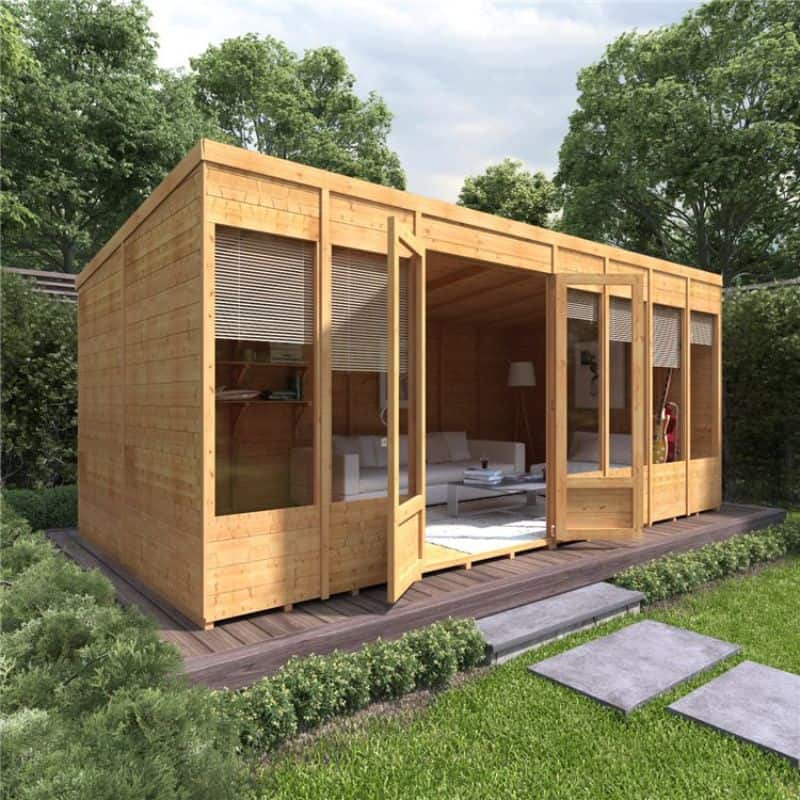 Built using tongue & groove panels, the Bella has a secure and stable structure that's built to last. The panels interlock, creating a smooth finish that enhances the style of the summer house. The interlocking tongue and groove panels form a strong connection which creates a high degree of structural strength.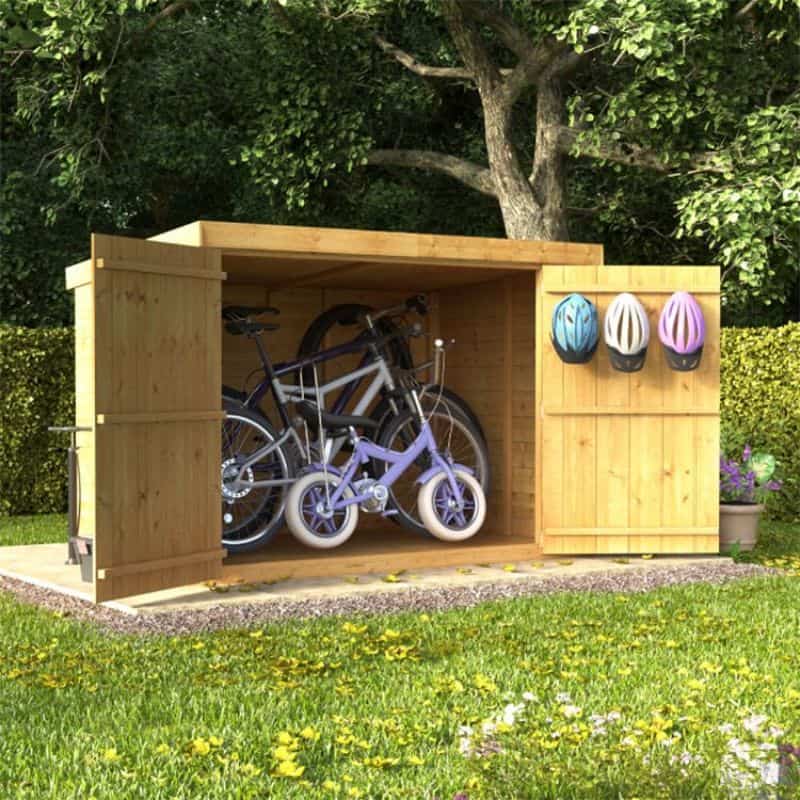 Built using T&G panels, the Mini Master has a secure and stable structure that's built to last. The panels interlock, creating a smooth finish that enhances the style of the storage unit. 
This finish can be complemented by the additional flooring options, which we offer as a solid sheet, 11mm or 19mm T&G.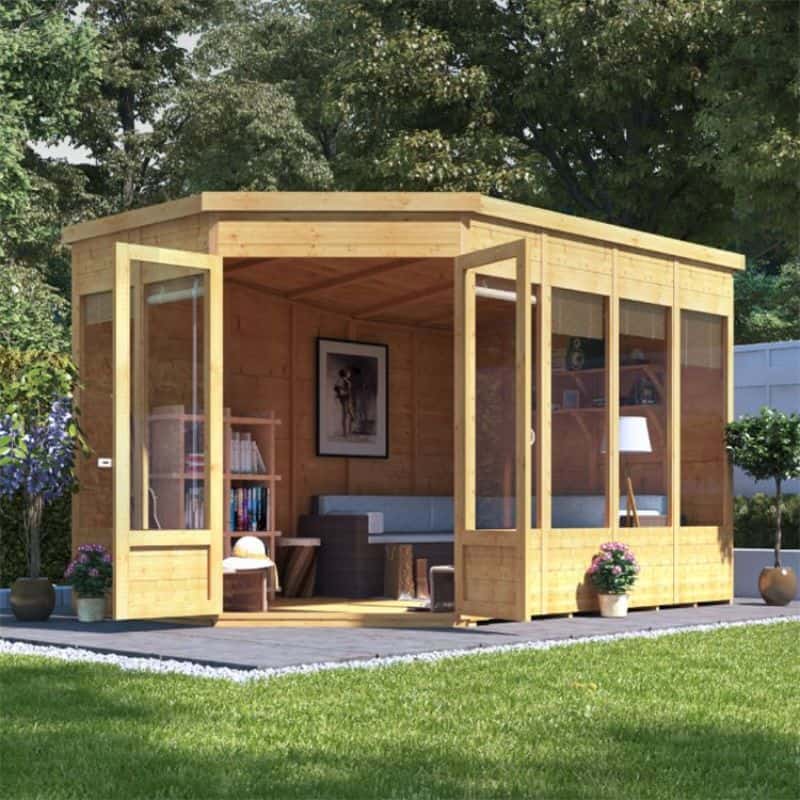 The Renna Summerhouse is also constructed using an interlocking tongue and groove method. The T&G boards provide a smooth engineered finish, which complements the modern style of the building. Each panel is 11mm thick and provides the summerhouse with excellent strength.
Pressure Treated Options
And for ultimate protection and longevity, we recommend opting for a pressure treated garden building. Pressure treatment is an extra step in the construction process, where the wood is treated in a pressurised tank, and chemical preservatives are forced deep into the wood's fibres to resist rot, weathering, and pests.
This protects the wood inside and out and is better than regular dip treatment, as this only coats the surface of the wood. By pressure treating the wood, you're left with a building that is low maintenance and cost-effective. You may even save money in the long run thanks to freeing yourself of maintenance worries.
To find the garden building that will suit your needs, head over to our website and shop for your dream outdoor structure!
Tongue and Groove Cladding for Sheds
And we're done! Well done for making it this far. Now you should be an expert on tongue and groove cladding. That goes for whether it's sheds, flooring, or decking.
We hope you've found the answers you need so you can make the best choice about shed cladding. But we'll recap just in case – tongue and groove cladding:
Is

waterproof

and

weather-resistant

Offers a

tight seal

Is

harder to break into

Is

low maintenance

Can be ordered

pressure-treated

Is

reasonably priced
And if you're looking to add a shed to your garden, check out the steps you need to follow to prepare your garden for a shed.
Shop Reverse Apex Workshop
FAQs