We love to catch up with our customers to see how they're getting on with their garden buildings. So this week, we caught up with property developer Kirsty, to see how she had transformed her BillyOh cabin.
To say that Kirsty is a busy bee would be an understatement. As a successful business owner and a home renovator, it's a surprise that she has any spare time to herself. Let alone any to take on other projects!
However, when the national lockdown happened, Kirsty was unable to work from her rented office to carry out her staple. Kirsty decided that if she wanted to continue with her endeavours she'd have to set up a home office.
As she had ample space in her garden, she decided to take the plunge and convert a garden building into a home office. Kirsty wanted to detach her work and home life completely, but she also wanted to give her property added value in the long run.
After hours scouring the internet, she came across Garden Buildings Direct and fell in love with our BillyOh Fraya Pent Log Cabin.
'Great website and very easy to navigate.'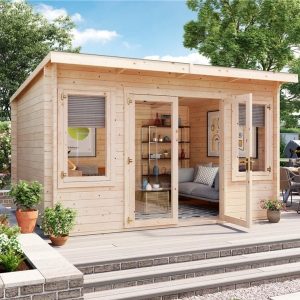 Kirsty decided to go with the Fraya log cabin as she adored its double door design. She also knew that due to its modern look and high roof layout, it would be the perfect setup for her new home office.
'I loved the double door design. It's very sleek looking and the perfect ceiling height for my home office.'
Upon delivery, Kirsty got straight to work assembling her new build – and once complete, she decorated it so that it was fit for immediate use!
She upgraded the windows to double glazing to keep out the cold and painted the exterior in blackout fashion. The interior was decorated a brilliant white, and furnished with shelving, computer desks, and other office essentials. She also chose to go for blue velvet seating for a luxurious look.
'I've created a white, wooden-floored modern office space for 3 people. There are spotlights in the ceiling and I painted the outside jet black.'
The best part about Kirsty's new unit is that it paid for itself too! With her new home office installed and in play, she cancelled her rental office and within six months the savings had covered her new instalment!
'I was able to stop renting an office! It paid for itself within 6 months. It was perfect during lockdown!'
You can see the full scale of Kirsty's transformation below: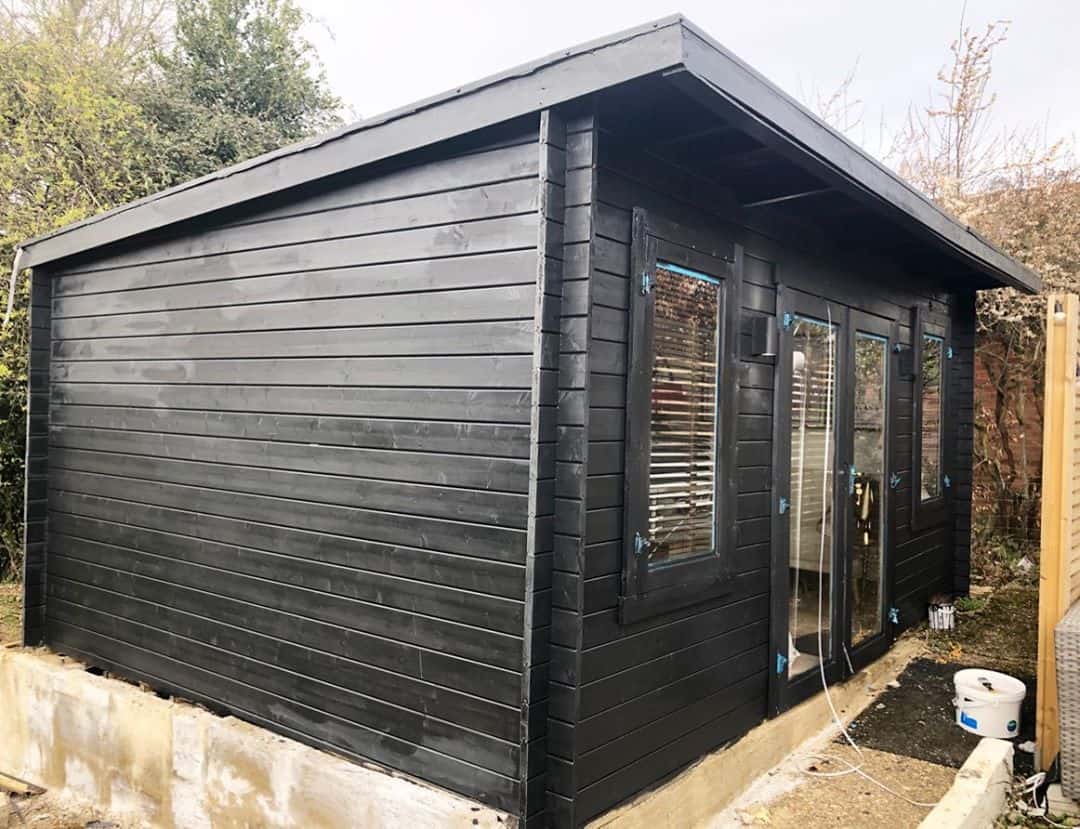 It's no surprise that the Fraya Log Cabin is one of our best selling units, and we're so proud of what Kirsty has achieved with her new garden office. If you want to check out more of her new build, as well as her home renovation projects, be sure to surf her Instagram – @griffiths_kirsty.
And if you've got a great story about your BillyOh shed, summerhouse, log cabin or playhouse conversion – we'd love to hear it! Simply get in touch with us on our social media pages for a chance to feature here.
And why not check out some more of our customer stories here!
Shop Garden Offices