If you're looking to get with the times and get your shed 'lit' (as the kids say), then it's smart to know your options.
Do you want to keep working into the night (whether it's in a workshop or a garden office) or are you just looking for a bit of light for when you're hanging tools back up or storing the lawn mower?
Either way, this post is chock full of lighting solutions for your garden shed. From natural to artificial lighting, we'll run through all your options and what they mean. Check it all out, below!
Key Takeaways:
When thinking about increasing the lighting in your shed, consider:
How much time do you spend in your shed? If it's just a few minutes to take tools in and out then your needs will be different to if you use it as a hobby room, for example.
What's your current lighting situation? Can you maximise the natural light your shed already receives? For example, does your shed have windows or is it a windowless shed?
What's the location of your shed site? Where in the world and where in that country do you live? Where is your shed positioned relative to the sun's path? How many hours of sunlight a day/a season do you get?
Are you using your shed as a workshop? If so, you might need more intense light for specific areas and you may want to shy away from harsh LED lights.
Don't use gas-powered lights or open flames for safety reasons!
What is your budget and how important is lighting your shed to you?
Bear those answers in mind as you read this post.
Lighting Options
Your lighting options will be split into artificial and natural light. Let's start with the first one.
For artificial lighting, you'll want to figure out what type of light is going to work best for you. Will it be ground lighting on the way up to your shed, or LED lighting inside it?
Some terminology and pointers to bear in mind are:
Energy Efficiency  –  What's the most efficient (and cheapest) way to light your area?
Brightness –  How much light comes from the light. This is measured in what we call lumens, where the more lumes = a brighter light.
Usage life –  How long does the light source last in use (and what's its overall lifespan?).
Installation –  Can you install the lights yourself? Are they battery-powered or will you need to wire up your shed? Will you require an electrician?
Colour and Temperature – How 'warm' does the light appear?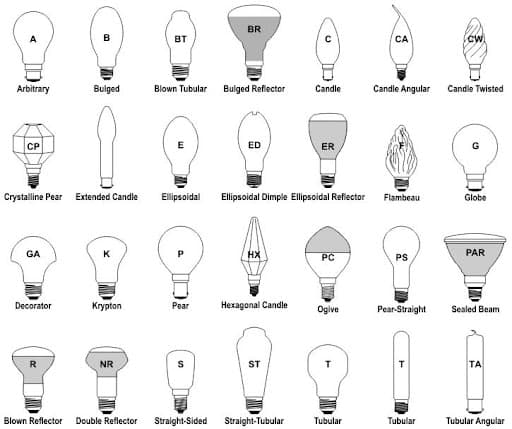 Bulbs (Artificial Light)
Once you've settled on the type of light you want, you can look deeper into the available options. For example, if you've decided on using lamps because they're portable and cheap – do you want a standing lamp, table lamp or even an anglepoise lamp which you can move to light wherever you're working?
You'll also have various options for bulbs for those lights including halogen and LEDs. Halogen bulbs create powerful lights which can also provide heat – so bear this in mind if they're situated near anything flammable in your garden shed.
LED Bulbs
LEDs, on the other hand, are very efficient and long-lasting. You can also choose from a lot of different LED colour options and styles rom striplights to spotlights.

LEDs can be great for garden workshops but they can cause shadows, flicker, and create a harsh lighting environment as they're quite 'cold'. Consider opting for a 'warmer' colour than white light. You can combat this, however, by using more lights or careful positioning for fluorescent tubes.
Compared to regular incandescent light bulbs, LEDs will also last longer.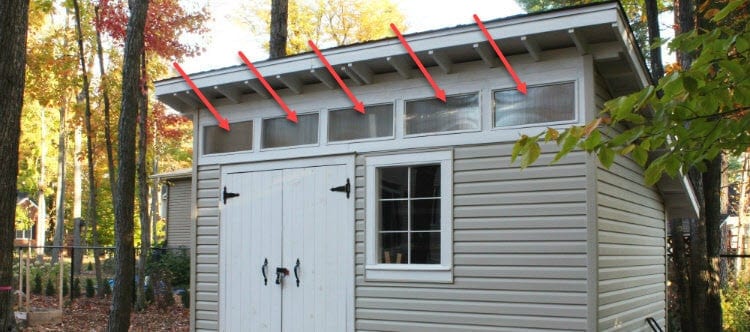 240v Lighting
If you do decide to run mains power to your shed, then you'll open up a world of possibilities. Although, it can end up being more expensive.
You'll be able to run the same lights as in your house. If you're using solar-powdered lights (which we'll get to in a moment) you can even install an inverter to convert 12v DC to 240v AC power. This can then be used for things like electronics and tools.
You can pick up lighting kits, for example, for easy stick-on or screw-in lights where holes in the back of the mount just slide down over protruding screw heads.
Just remember to check the bulb lumens before you buy and settle on a bulb shape. You can always check out this bulb buying guide for more information.
Security Lights
And if you're looking to buy outdoor lighting for your shed to increase security, there are even more options.
For outdoor security lights, you might think about picking a set with a motion sensor. Or, consider buying security lights that come on at night, and go off in the morning. These light sensors will help keep your garden shed secure and save you money in the long run.
You can either mount security lights (typically) to the front face of your shed or install flood lamps (at ground level). Think about the access route to your shed as well, this may be an area you want to light. This will require your shed to be wired for 115V in order for most floodlights to work, though.
Solar Panel and Solar Lighting
So let's assume that you have a long garden and getting mains power to the shed (building) would be a pain. Solar panels and solar lighting can help you solve this issue.
Very basic solar systems will feed into a 12v battery. This used to leave the lighting options that you could run from this fairly limited. But nowadays this is sufficient to charge and run a host of LED lights.
Just remember to install your solar panels either on your shed's roof or wall that faces south – this is to maximise the sunlight it receives to charge it and make it more energy-efficient. Remember, you'll then have to run wiring from this panel to your light fixture/s.
By harnessing solar energy, a solar light can charge a power bank and act as a cheap, efficient and environmentally friendly of lighting your shed. The cost will depend on the size of your light fixtures and the illumination you require.
Solar lighting will also usually offer lower lighting levels and a different type of light to electrically powered lights. So bear that in mind. The good news is, you can get a solar kit with cheaper lighting options – so installation might not require a professional!
And if you really want to think outside the box, you could even use an uninterruptible power supply (UPS) to charge your lights. Just check out how the guy in the video below did it:
Switches
If you're thinking about installing any utilities in your shed, you might want to at least consult a qualified electrician. Whether it's just a light switch, dimmable bulbs, or a remote control you want, we don't advise playing around with wires unless you're experienced.
And if you're wiring your shed up to the mains, you'll need to sink armoured cable in trenches from your house which could well require a qualified professional.
Otherwise, your options are:
Natural Light
If you either don't want the hassle or can't afford to install artificial lights in your shed, you can always try and maximise on natural light. This is a step that works best before installing your shed but can work out cheaper (or even free if you play your cards right!).
Natural light in your shed will depend on a lot of factors like:
Where you live (in the world and in that country)
The day outside
Cloud cover
Where your garden is situated
The windows, doors, ceiling lights etc. in your shed
Any coverage such as curtains or blinds
The hours of sunlight
Natural obstructions like hedges and trees
Sadly, not all gardens are created equal. As the sun rises in the East, some gardens will get more light in a day and throughout the year. So consider where you place your shed and which direction any in-built features like doors and windows will face.
The good news is that extra windows and ceiling lights can always be installed.
Ceiling Light
If you want not only plenty of light, but a good spread of light, then installing (or buying a garden shed with) a ceiling light is a great option.
As sources of light go, this will, however, offer you variable natural light which will be best when the sun is at its highest.
Lighting Design
Think about the lighting design of your shed as well as the efficacy of certain choices. Do you want a natural or artificial light source? Do you need to do close, delicate work, or do you just want some accent lighting?
And are you going to rig up mains power to your shed, or use another power source like solar energy? Otherwise, windows, windows in doors, and ceiling lights can all offer natural alternatives.
Comparison of Energy Use
And last but not least, check out this handy resource on lighting choices by their light output per square metre including the available lumens of light.

Lighting a Garden Shed
Well, we sure hope you enjoyed learning about shed lighting as much as we enjoyed helping!
We now know that:
Your options for shed lighting fall into either natural or artificial choices
Natural choices include: Clever shed siting and facing, windows, doors, and ceiling lights
Artificial choices include: Mains, battery-powered, or solar lighting
And you have a range of bulb and lighting choices including halogen or LED bulbs, striplighting, footlamps, and even anglepoise lamps
So go out into the world and find the lighting design that fits your shed and needs. But if you're trying to run before you can walk, then you can always pick up a high-quality BillyOh shed via the button below:
Shop Storage Sheds
FAQ