Despite the name, a summer house is a versatile year-round outdoor building – even in colder spells. But for such a structure to withstand winter, it requires efficient insulation. Otherwise, its purpose is rather restricted to warm seasons, as its name would suggest.
There are a variety of insulation options covering the roof, walls and floor. Keep reading to find out more about summer house insulation, including the best ways to do it.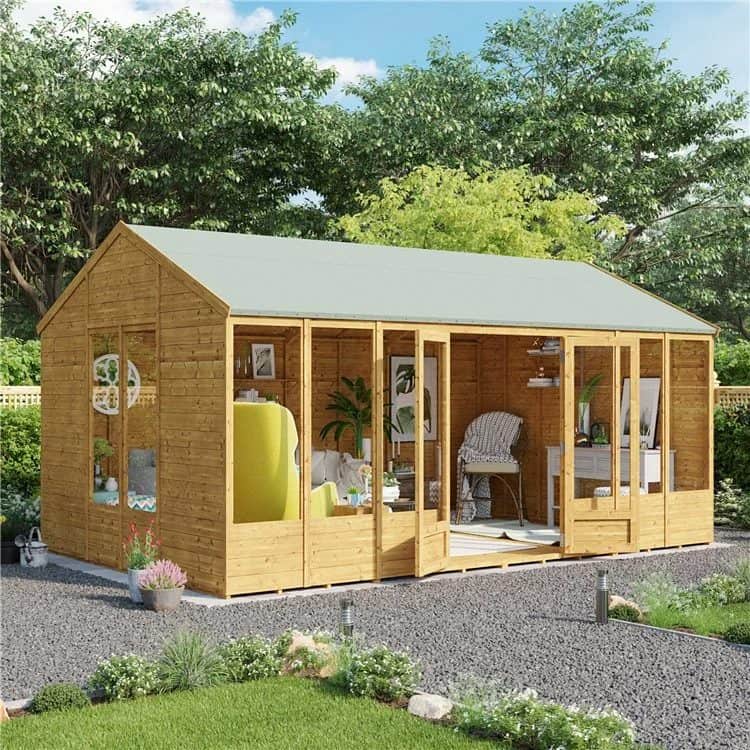 A wooden summerhouse design features glass windows to keep warm in the summer sun. Yet, it can be unbearably cold throughout the rest of the year, particularly in the wintertime. Like garden timber buildings, e.g., wooden sheds, internal insulation can make a difference.
Different forms of insulation include:
Floor insulation

Wall insulation

Roof insulation
For windows, the process of double glazing helps with heat retention. 
All these methods can help make your 8×8 summer house a warm, functional space year-round. Whether used as an office space, a garden studio, or an extra feature for your outdoor space.
To help you make the most out of your outdoor building, here are the main considerations:
First things first
The insulation itself isn't the first step. A careful examination of the structure is. This helps you find any structural damage that could compromise your insulation efforts.
To do so, check your summer house for any holes or gaps where heat can leak out. If it does, use a weatherproof and moisture-resistant sealant to close these. High-quality caulks and sealants will do. Apply on where the sidings meet, including the trim, and the following:
the bottom edge of the side where it overlaps the doors

where the roof meets the siding

in corners

around windows and vents
Doing so will keep the inside completely protected from the elements. Then, proceed to add a layer of insulation – one at a time.
Choose your insulation material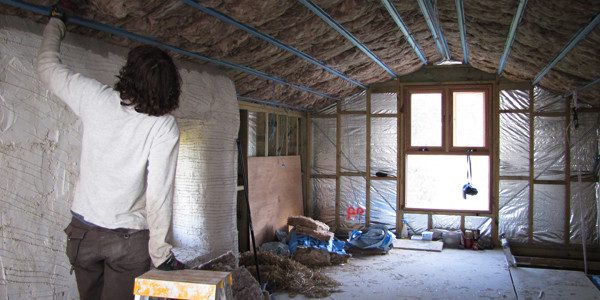 After filling the gaps, choose an insulation material to work on, such as glass wool. Glass fibre wool requires less ventilation, whereas foil-lined and rigid types demand more.
Some are tempted to use bubble wrap for its low-cost qualities. But it's only ideal for basic projects where no installation of electrics is involved.
Many experts, meanwhile, opt for foil-backed compression insulation. Not only is it cost-effective, but it also has a great R-value, safe to use with electrics, and more! This makes foil-backed insulation a great choice for conversion projects.
Once you have chosen the right type of insulation, confirm the process. Generally, it should go between the structural frames of the summer house. But assuming your garden building only needs a form of heating on the floor, focus on the flooring.
Top tip: To determine how much you need, use a tape measure to assess each space you plan to cover.
Wall thickness
Your chosen wall thickness will have a significant impact on the insulation value. Even if you have 28 or 44-mm timber walls, insulate your summer house. This guarantees adequate insulation that ensures comfort for the whole year. So, even in the colder months, you can enjoy your stay in your summer house with enough heat at low-energy costs.
Determine the best way to do so
You can insulate a summerhouse in many different approaches. But there are two common ways: internal and external, where you can have benefits for either.
External insulation.

Installing insulation on the

external walls

can save space within the interior. But because it's outdoors, this will need something to cover it, e.g. a durable lining. A

wooden wall

will also work, increasing the quality of thermal insulation. Either way, it could lead to an

additional cost

.
Internal insulation

. The other way around, this method is easier and often a more suitable solution for roofs. It can also be cheaper than its exterior alternative.
Insulating the Summerhouse Roof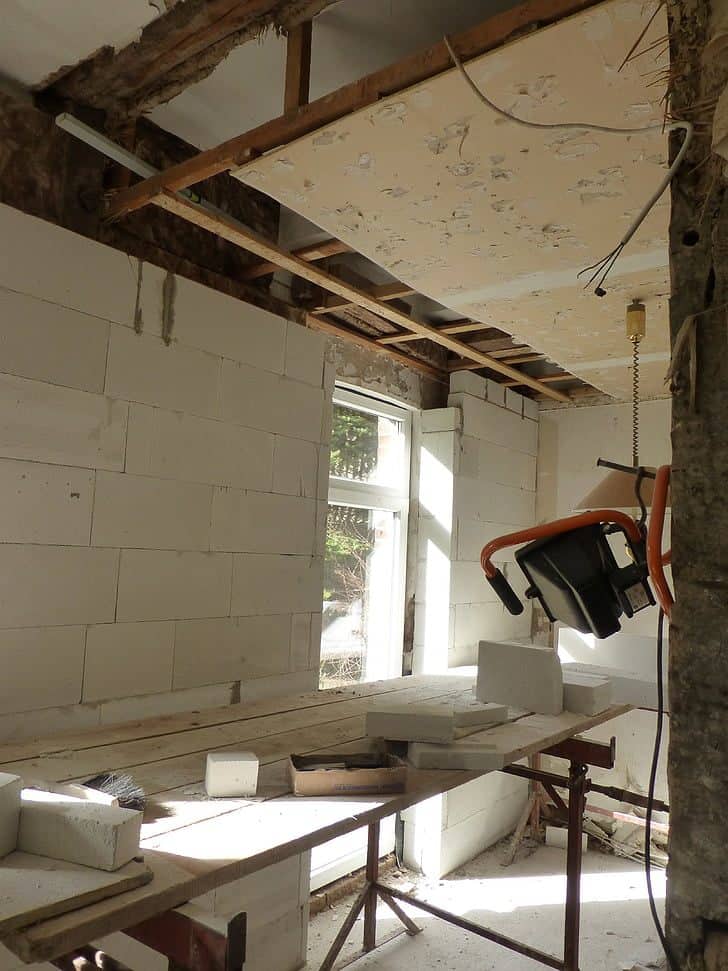 Before insulating the roof, check its status first. It could be topped with materials like felt, tiles, and EPDM. Also, see if it's in a state of despair, and if it does, fix it at once before adding the insulation. Otherwise, it'll let heat escape and cause water ingress.
The best insulation method will be within the joists, provided it's a wooden roof. You may cut the insulation boards to size and friction-fit them if necessary.
You'll also want to install a breathable membrane against the roof before that. Or use foil-backed insulation within the inbuilt breather membranes. Then, cover the underside of your roof with MDF or plywood boards to decorate it however you see fit.
Insulating the Summerhouse Floor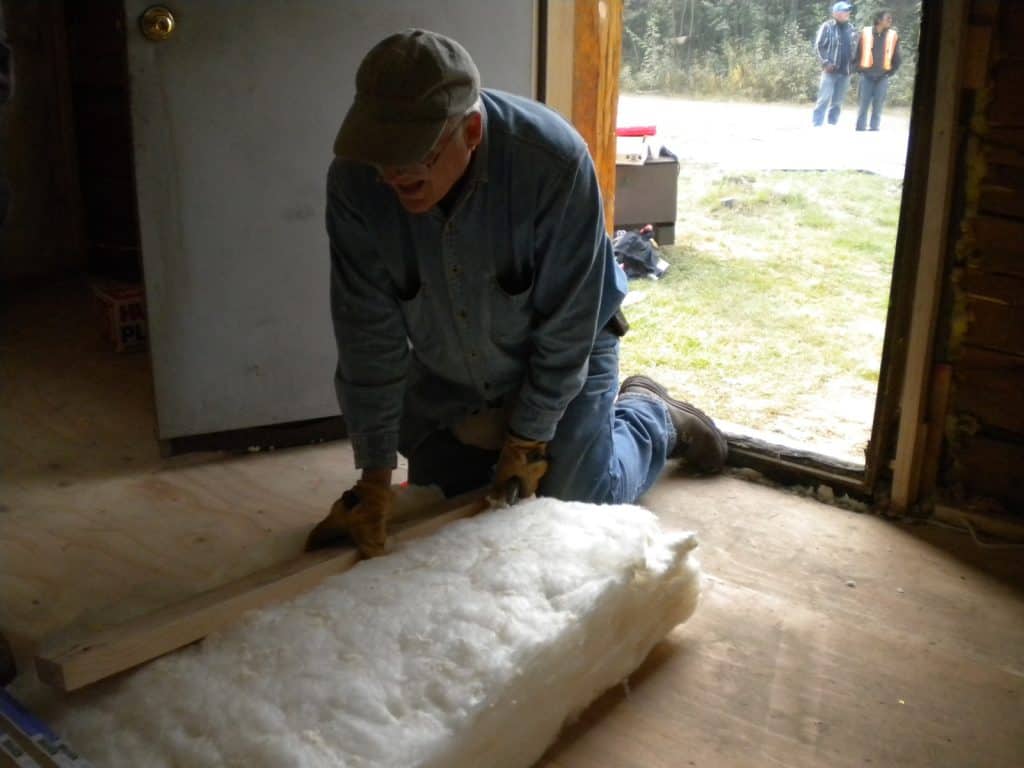 There are two ways to insulate the floor: above or underfloor insulation.
If you're constructing the summer house from scratch, under the floor is your best bet. Solid insulation boards fitted between the joists will do the job. You may nail small pieces of wood to ensure the boards stay in place. Or use an expanding insulation foam around the insulation boards.
Suppose you bought yours from Garden Buildings Direct; the procedure will be different. In most cases, the floor needs to be fully removed. You should be able to dismantle and reinstall them, depending on the floor conditions.
Your better option is to make a false floor from insulation boards. This, however, will decrease the height within your garden building. But it'll allow you to install thin insulating flooring boards, in turn. This also lets you connect them with tongue and groove boards, then topped with plywood or MDF. Decorate as you see fit.
Insulating the Wall Panels
A considerable heat loss through the walls of a summerhouse is certain. Thus, insulation can be applied in much the same way as a roof. With either a breathable membrane or insulation product and topped with plywood/MDF.
As the joists within the wall can be uneven, ensure to check each gap before you cut the insulation to size. If the building is built with windows throughout, this can lower the value of wall insulation. Plus, it can make the process more challenging.
In such cases, insulating the timber walls may offer less benefits than double-glazing. But there's a trick to improve heat retention! Install insulation around, over, and under any windows, and cover it with solid boards.
Double-glazed windows can greatly improve heat retention in your summer house. But before doing so, ensure there are no gaps around your current windows.
If you have draughts within the walls, make amendments at once. Any gaps will cause heat to escape regardless of the thickness of the windows.
Going back, double glazing also helps reduce condensation. It protects the outbuilding from dampness, as well as offers acoustic insulation. Glazed doors are also worth considering.
Extra Heating
A trendy option for summer houses is using electrical power as an energy source. This means no smoke, no need for burning materials, and no safety precautions. Listed down below are some of the home heating you may choose:
Infrared
This heating device produces infrared radiation and provides warmth to a person. Anyone around the radiating field heating can indirectly heat the air. It surely can keep any garden building, including log cabins, warm and cosy in winter.
A fan heater, for one, can provide the warmth you need for your summer house. There's also no pre-heating period. How cool is that?
Electric stove or fireplace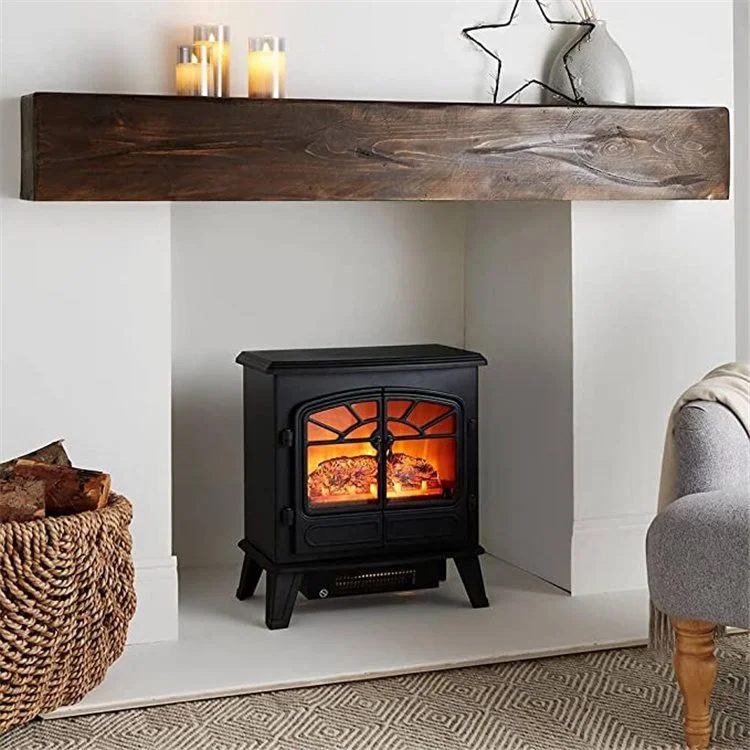 Both combine the easy and safe handling of electrical heating. Take this electric stove, for instance. It can double as a feature, adding to the interior aesthetic!
Round-up
It's not mandatory to insulate your summer house. You may use heaters or fans as an alternative if you have electricity connecting to the building. But if you want a solution that guarantees low heating costs, insulation is your best bet.
Say you don't want full insulation or the costs are risky, then consider double glazing. This alternative can be a simple addition at no extreme costs.
For a total impact of insulation on your summer house, insulate the roof, walls, and floors. And there you have it!
If you wish to skip the insulation step, explore our range of insulated summer houses. Our garden workspace, currently on sale with a 10% discount, is a prime example. For additional colour choices, take a look at our insulated garden office. It's a versatile option for various uses!
What you should read next: Summer House Ideas: Types, Design and Uses