Despite the name, summer houses are excellent outdoor buildings no matter the time of the year – including winter. Speaking of the colder months, if you're planning to use your summer house throughout the coldest season of the year for a studio or garden office, then it's definitely worth considering insulation.
It will likely be uncomfortable to work in a garden building or even spend a great deal of time in there when the weather is simply too cold. To make the most of your summer house on a cold, crisp wintry day, read on to find out how you can keep your summer house warm and cosy during the winter.
1. Summer House Insulation: Winter-proofing
Entering a summer house with no proper floor and wall coverings will surely make you shiver. So, make sure to invest in floor and wall coverings.
You may purchase some rugs – particularly those with wool content – for the floor, as well as an underlay to add an extra layer of warmth and prevent the carpet from slipping. Wall hangings are an excellent investment too, especially if the wall is timber—keeping out draughts and providing more cover against the freezing weather.
Another effective means of summer house insulation this winter is to make sure your windows are double-glazed (and ideally facing towards the south). If you have a more extensive roof overhang above the windows, it will let the low winter sun in, but shade them from the high summer sun.
By doing so, this will keep your summer house cosy – protecting the building and yourself against the cold of winter. Moreover, this insulation will have the opposite effect in the summer, acting as a heat regulator to keep temperatures down on especially hot days. Green roofs are also a great alternative as they have excellent insulating properties.
Things to Consider with Summer House Insulation – Wall Thickness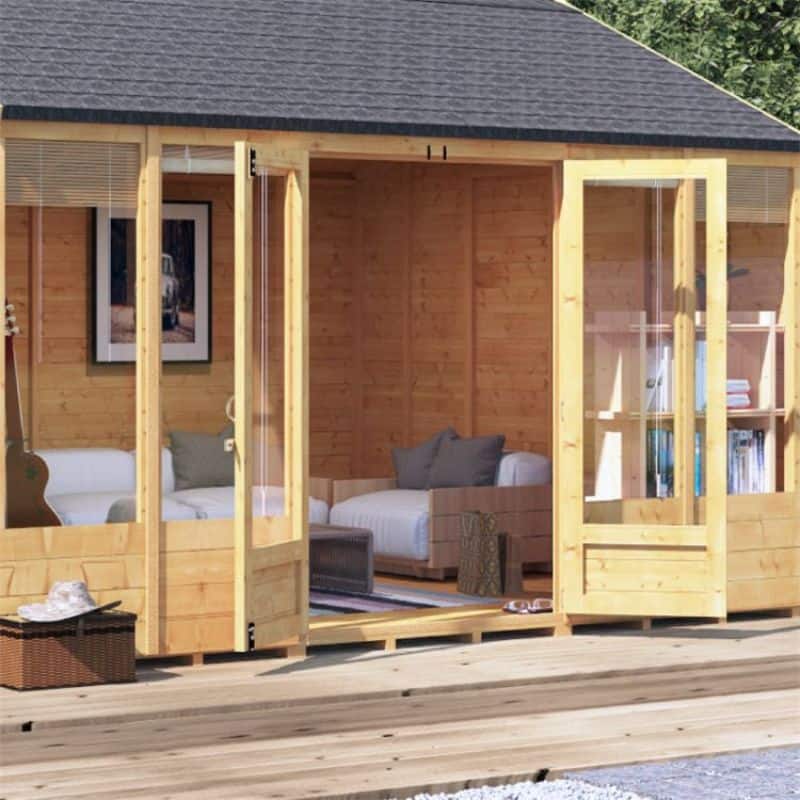 Your chosen wall thickness will have a significant impact on the insulation value.
Our experts recommend considering insulation even if you have 28 or 44mm timber walls. This will surely guarantee a level of summer house insulation that ensures comfort throughout the winter — allowing for year-round heat with low energy costs.
2. Heating to Benefit Your Summer House Insulation
A trendy option for summer houses is using electrical power as an energy source. This means no smoke, no need for burning materials, and no safety precautions. Just an electrical socket will do!
Listed down below are some of the options you may choose:
Infrared
This heating device produces infrared radiation that can provide warmth to a person. However, with everything or everyone around the radiating field heating, they indirectly heat the air as well.
It can be a perfect investment for someone who uses their summer house year-round, as it can surely keep any garden building warm and cosy in winter.
Fan Heaters
They can quickly provide the warmth you need for your summer house, meaning there's no pre-heating period. How cool is that?
Electric Fireplaces
Resembling a real-life fireplace, an electric fireplace combines the easy and safe handling of electrical heating. Now you can stay inside your summer house whilst feeling warm and cosy this winter.
3. Roof Gutters
Keeping your summer house protected from any water leakage – including the repeated dampening of the wooden parts – is also crucial. With that, we suggest investing a little extra to add roof gutters.
Not only they are easy to install, but they also do a great job in keeping your summer house dry, making sure it will last longer. If there are no leakages found and the roof is fully secured, your garden building will retain more warmth all winter, keeping it cosy inside, even when it's chilly outdoors.
4. Extra Tip: Furnishings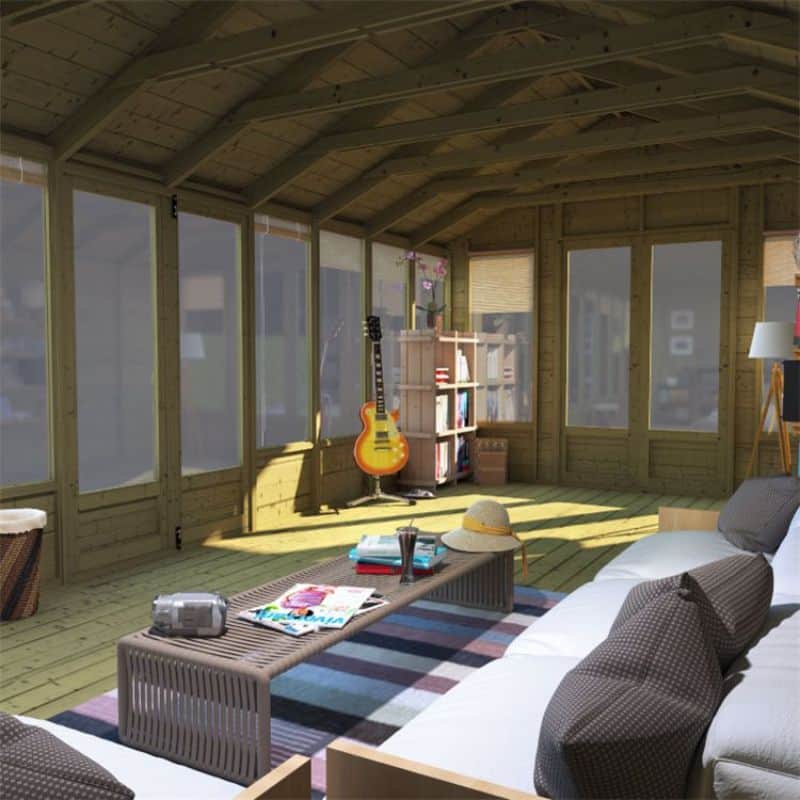 Make your summer house feel warmer by adding rugs, keeping the floor extra warm. Blankets and cushions will provide additional cosiness and keep you warm throughout the cold nights. 
Dim lighting gives a cosy feeling, as well as adding candles and vibrant colours, such as gold, orange, red, to name a few—finishing off the overall look of the summer house by adding warmth and a highly pleasing aesthetic.
How Can Summer Houses Be Used?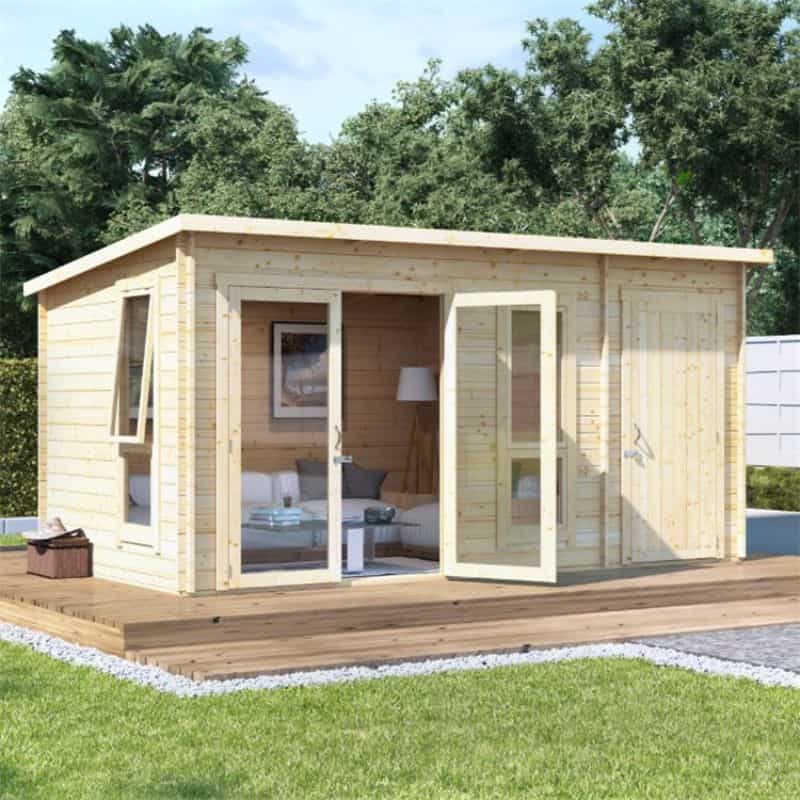 Garden Storage

– As with many garden buildings, summer houses makes an excellent storage solution for your garden needs, as well as for your

outdoor furniture, toys and bikes.

Workshop

– Most summer houses are designed with larger windows, meaning that they can provide you with the right amount of space to install workbenches and racks to keep your gardening/craft tools safely organised.
Outdoor Dining

–  Fill your summer house with a comfy dining set, paired with fun decorations, and enjoy your new outdoor dining experience!

Garden Office

– Who would have thought that a summer house hidden away at the bottom of your garden could be used as an idyllic location to do your work? Include a sturdy desk with a comfy desk chair and working from home may have never been easier!
Quality Summerhouses at Reasonable Prices from Garden Buildings Direct!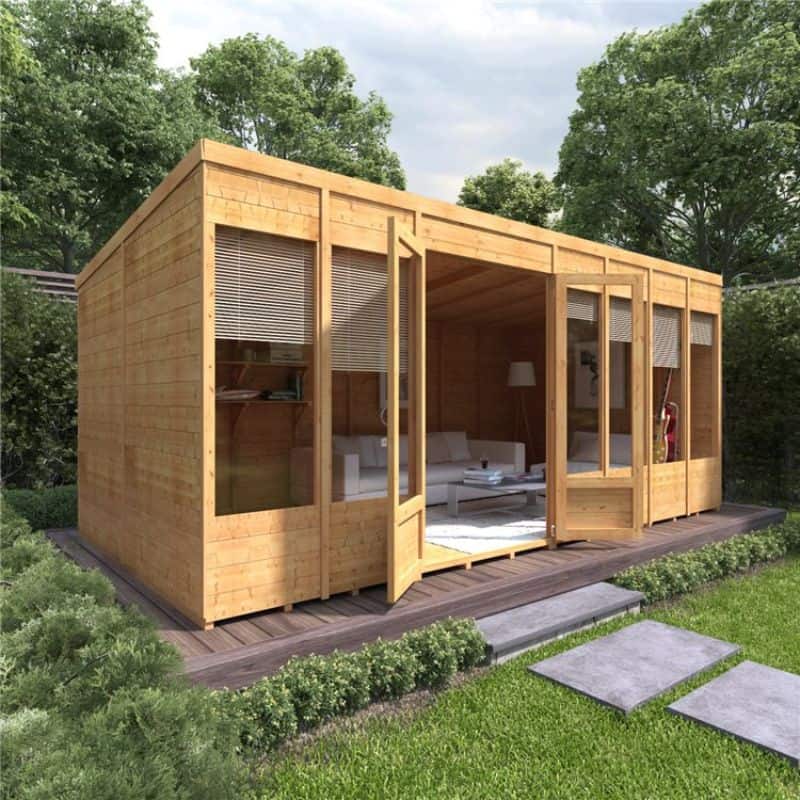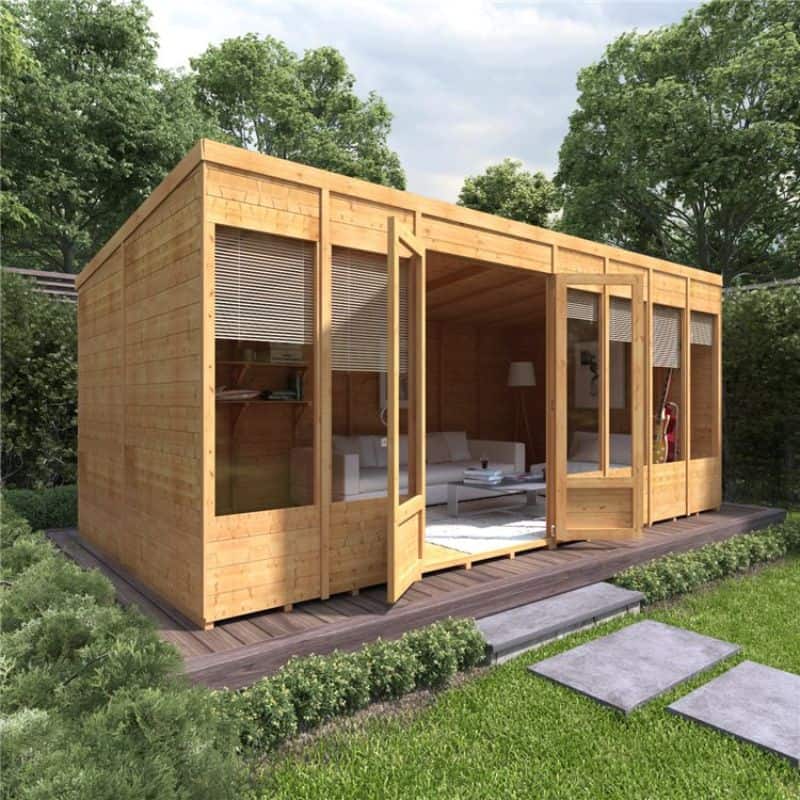 Made with quality materials and following excellent standards, our garden building collection, including our wide variety of summer houses, are offered at extremely reasonable prices.