Log cabins offer the perfect blend of traditional alpine style with a modern twist. They're made from thicker log cladding than regular wooden sheds and are better insulated for use year-round.
Sold, right?
So why buy a log cabin with a side shed attached to it? Well, that's what we're going to answer over the next couple of minutes of your time. Check it out as we weigh up the pros and cons of a log cabin with side store, below.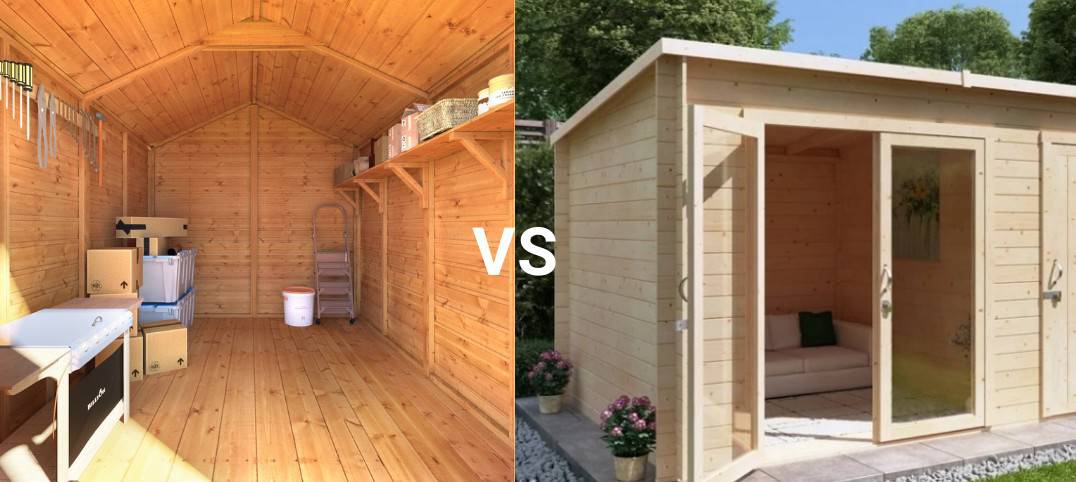 The main reason anyone would want a log cabin with a shed attached would be for its multiple purposes. With a 2 for 1 garden building you can not only maximise on utility but save space. By not having to built two separate structures you can also get the most out of your outdoor space.
That's because, no matter how economical you are – two buildings will take up more space. And we don't just mean footprint. Think about the access space you'll need to leave around the buildings and wasted space.
And if you don't need a particularly large shed, then a log cabin + side store comes in handy.
Additional Storage
Whether it's storage space for gardening equipment, a lawn mower, storage for bikes, clutter etc. garden sheds have always been a great solution.
So ask yourself how much extra space you actually need? With a log cabin that comes with side storage, you can even customise the 'shed' part with shelving and hooks to maximise space.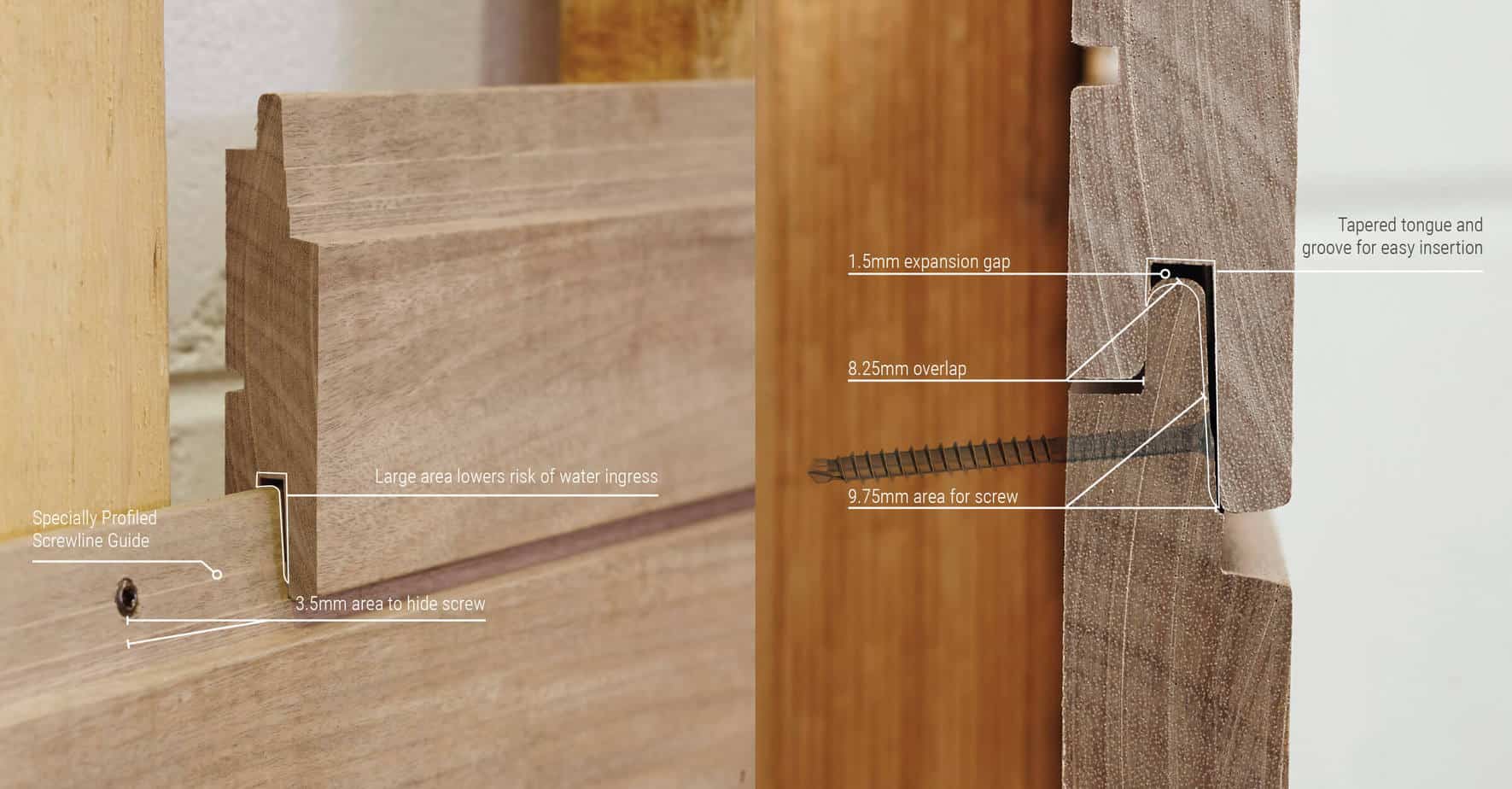 Tongue and Groove Cladding
Tongue and groove boards, used in most (and all BillyOh) log cabins creates a tight seal that protects against water ingress. This combined with thicker cladding because you're using logs means that tools will also have extra protection without paying a premium. The construction style also offers extra security due to the interlocking join.
And better insulation means your garden building will stay cooler in the warmer months and warmer in cold weather due to heat regulation.
Garden Home Office
Log cabins often lend themselves to use as garden offices (especially recently!). So if you want your own man-cave or she-shed with the best of both worlds – what's better than a home office and little shed to tinker in?
So what does all this actually look like in execution?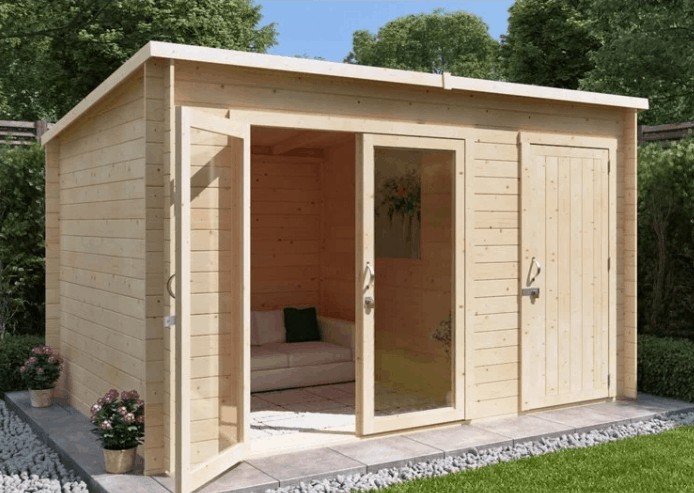 Within our wide range of log cabins, the Tianna log cabin summerhouse with side store stands out as a model that caters to all these needs. And finding a log cabin/side shed isn't all that common.
With a 12x8 shed and 14x8 model on offer as well, you can go bigger or smaller depending on your needs. And all without missing out on features like the wide-opening double doors that make access, aeration, and simply enjoying the breeze and the view so easy.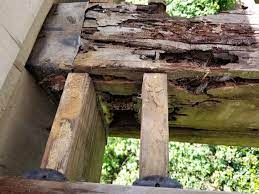 Treatments and 10 Year Anti-rot Guarantee
Even if you opt for an untreated model, your Tianna log cabin with side store will come with a BillyOh 10-year guarantee against rot, insect infestation, and decay.
But there's also the option to purchase quality timber treatment in the form of optional pressure treatment. Pressure-treating the timber by introducing preservatives in a vacuum will increase this guarantee to 15 years!
This wood treatment will also protect your garden building in even harsh weather conditions.
Pent Log Cabin
Pent roofs (or simply flat roofs) are a roof type that offers a contemporary style. But they're also practical. A pent roof offers increased headroom at the front as well as adequate runoff. This ensures your interior is protected from water ingress even in heavy weather. That's why a pent roof is so popular as a style choice for a contemporary summer house.
---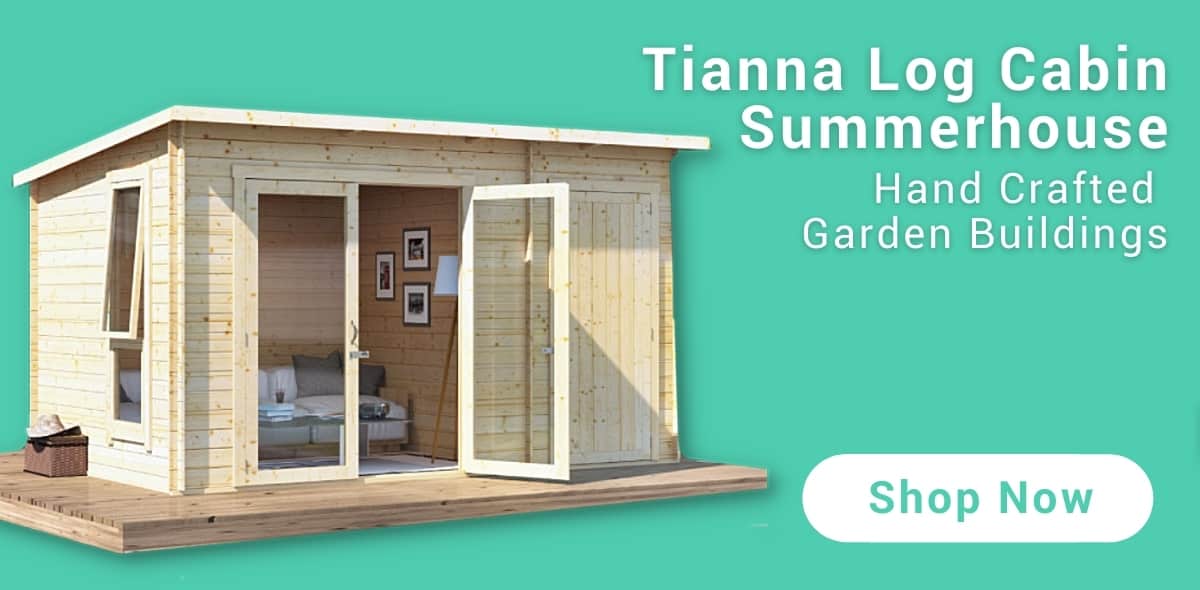 ---
Cabin Installation
And if you're worried that a log cabin plus a shed means double the work – don't be!
Delivered as pre-cut and easy-to-assemble tongue and groove panels, the process couldn't be easier. Just check out the video below if you don't believe us!
And with an eaves height under 2.5m and a ridge height under 3m, this dual-purpose building won't require planning permission. So long as you build it in your backyard and it doesn't take up more than 50% of your garden (and you don't intend to live in it!), you'll be home-free.
Base
All you need to do is erect your Tianna log cabin with side store onto a stable base that covers the ground of the log cabin and shed. Building a level base will ensure:
You're protected against groundwater and pooling
There isn't undue pressure that causes broken windows, warping, and cracks in your building
That screw holes etc. all line up
Why Buy From Garden Buildings Direct?
At Garden Buildings Direct, we've been cabin suppliers for a fair while now. And our BillyOh log cabins have always kept up with the times. We're constantly innovating and testing to bring you the best possible product at the best price.
And on top of that, because our expert craftsmen work out of our UK factory we can offer fast and free delivery to most of mainland UK. Don't believe us?
Just enter your delivery postcode and check out the Tiana via the button below to get started!
Shop Tianna Log Cabin
FAQ