There are various ways that you can build a base for your log cabin but it's important to know how to do it properly as it needs to be solid and sturdy base as well as a level platform. If your log cabin base isn't built correctly, you will face serious issues down the line.
Here are the things you need to consider when building a log cabin base.
Choose the Right Location
The location you choose for your log cabin is important!
Remember to make provisions for roof overhangs around your building when you are constructing near trees, walls or any other boundaries. Don't position the building directly against a wall or fence. This as you won't be able to move around the building easily when applying the treatment.
We recommend you should treat your log cabin as soon as it has been constructed as this will keep it protected from any potential water damage such as rot. If the log cabin is placed under trees, the roof may become littered with leaves and the guttering can become blocked.
Choose to position the cabin at least two metres away from the boundaries of your property or you could need planning permission for your log cabin.
Make Sure the Base Is Level
If your log cabin base isn't level, the logs won't seat properly and the roof boards will not go on straight. This will cause a noticeable incline in them. As well as long term problems such as warping, twisting, straining, cracking and splitting can arise.
Choose the Right Kind of Log Cabin Base
A log cabin should be placed on either concrete, a patio, paving slabs or decking. The first of these options we'll discuss is that of a concrete base.
1. Concrete Base
There are a number of ways to build a concrete base but it is generally constructed using a timber shuttering. If the building is fairly large, steel reinforcement can be built within the base itself. This will add the strength of the log cabin base
Step 1

: Mark out the area and excavate to approximately 150-200mm depth.

Step 2:

Once the ground is level, use compacted hardcore at around 150mm thick.

Step 3:

Use 100x25mm timber to form the shuttering for your base. Place the timber on the ground and knock in some ground posts on the outsides of the timber.

Step 4:

Ensure the formwork is level and then you can lay the polythene to form a damp proof membrane.

Step 5

: After this add the concrete mixture and level it off using a piece of timber. 

Tip: this will definitely require another pair of hands. You want the finish to be as smooth as possible for laying the log cabin onto.
2. Paving Slabs or Patio
Step 1:

Mark out the area you'll be using and excavate to approximately 150mm depth.

Step 2:

Infill 150mm with 50mm scalping and compact using a vibrator plate or roller.

Step 3:

Lay paving stones on a 4:1 mixture of grit sand and cement at 50mm deep, levelling as you pour.

Tips:

Use flat paving stones rather than textured ones as this will ensure the base is flat for the log cabin to be positioned on. Also, if an electric supply is required, add the mains supply at this stage.
Our Latest Log Cabins:
BillyOh Metro Log Cabin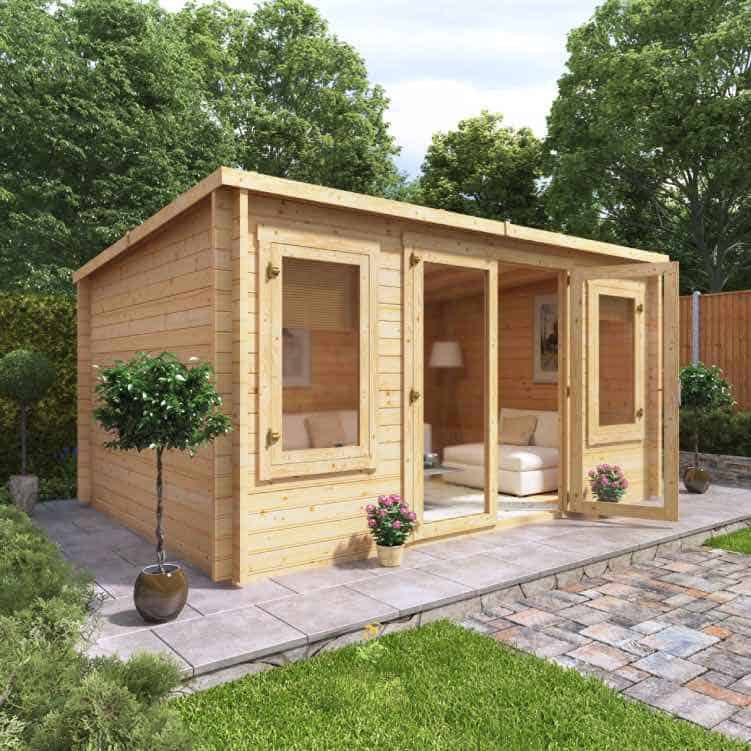 BillyOh Canton Log Cabin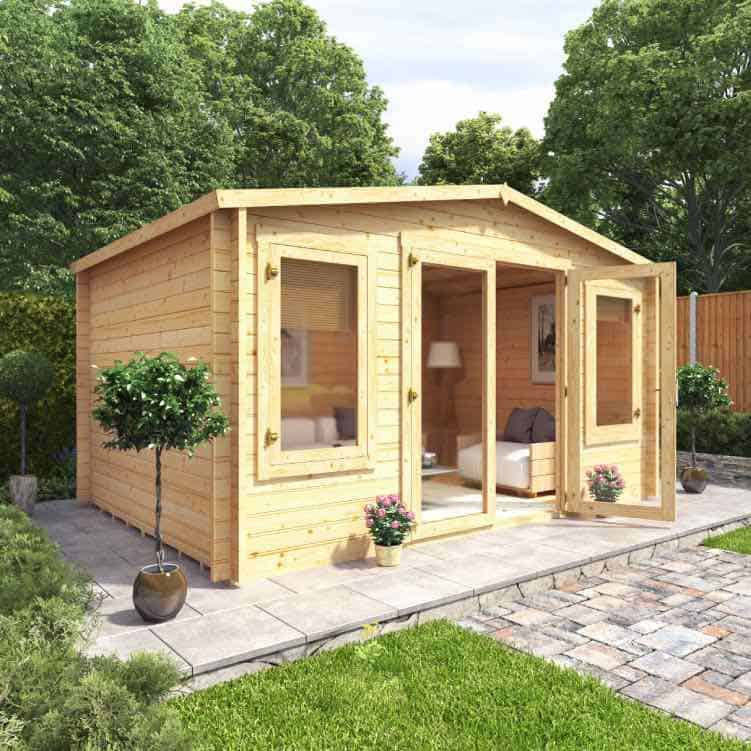 BillyOh Highfield Log Cabin