There's a wide range of benefits that come with having a log cabin in your garden. They can be utilised all year round, be it for work, entertainment, relaxation, or a combination of all three. What you use your log cabin for, is initially influenced by your log cabin design.
Possessing robust and highly durable qualities, a timber cabin is undoubtedly the perfect choice if you're on the hunt for an extra space which will last for years to come. What's more, this type of garden building can cater to your lifestyle – allowing you to customise the area according to your needs.
With that in mind, our experts have curated the perfect log cabin design ideas to help you stay closer to nature while at the same time, enjoying the rustic ambience of your cosy garden retreat.
Cabinspiration: Log Cabin Design
1. Log Cabin Design Idea: Relaxation Haven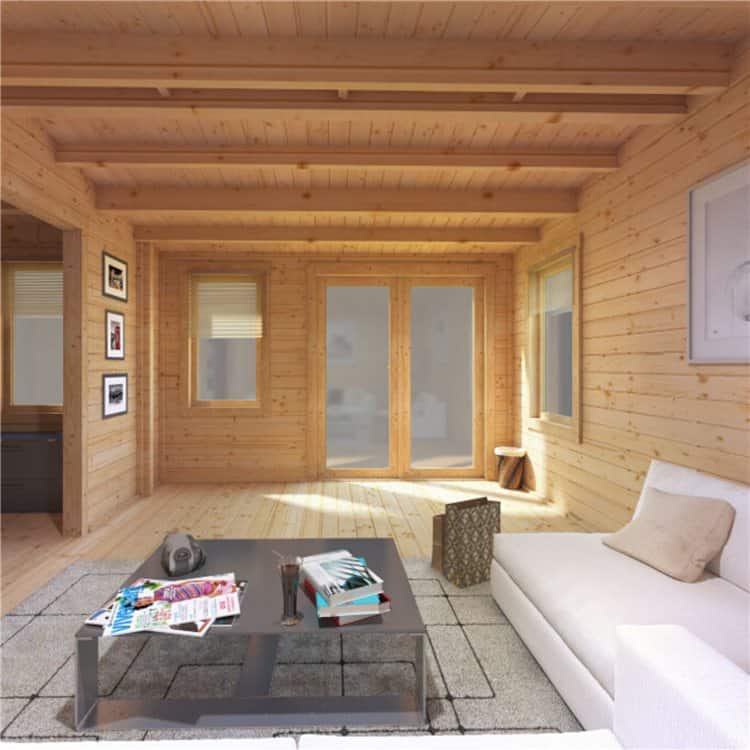 At a certain point in our lives, what we all need is an escape from the chaos of everyday life. You don't necessarily need to travel far away to have some much need time for recuperation. Sometimes, all you need is a log cabin that can provide you with a cosy hideaway.
If you own a cabin and you haven't thought about how you'd want to use it, then transforming it into your go-to relaxation haven is your best bet – especially if relaxation and comfort are more your style.
All you have to do is to invest in some comfortable seating, cushions and coffee tables to carry out your dream garden retreat. Whenever you crave some alone time, you'll now have a place specifically for yourself when you want to unwind after a long, tiring day.
2. Log Cabin Design Idea: Garden Office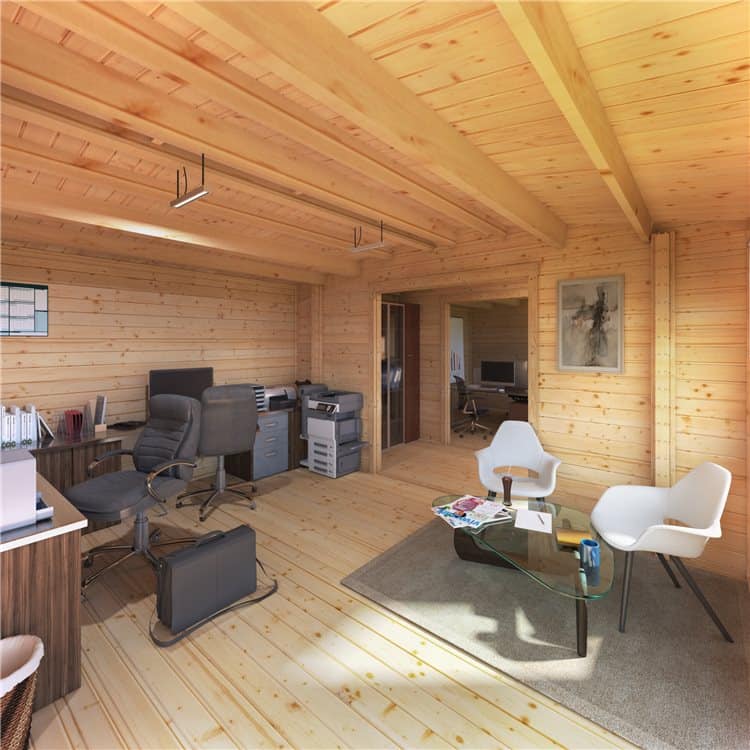 If you're working from home, it's always a good idea to have a dedicated work space that will remind you of an actual office setting, rather than confining yourself in your bedroom or invading your kitchen counters with paperwork
If you find your home a bit distracting, or if you don't have a spare room to convert into your at-home workplace, a log cabin is key! Garden offices are becoming popular for people who work remotely, and log cabins are no exception.
Follow our suggested list of what you'll need for your log cabin office below. From the office essentials, to storage and the interior design, we've got you covered!
Decorating
Paint It Up –

To maximise the feeling of space, you'll want to stick to light, bright colours on the inside of the log cabin. Whitewashed walls are a popular trend for modern garden offices. The outside can be painted in any colour you fancy, or whatever best complements the garden around it.

Incorporate Personal Touches –

If you need garden office log cabin ideas, create a homely touch by adding photo frames to your desk, or framed posters on the wall to add vibrancy. 

Add Comfort –

Although the garden office will be where you'll be working, you'll still want it to be a comfortable space to spend time in. Add comfort with a rug or garden furniture and cushions.
Storage
An o

pen shelving unit

is a great way to utilise a tall log cabin. Building shelves upwards means you have more room in the building to work or walk around.

Another way to use storage from the walls of the log cabin is by using

wall-mounted pegboards

. These can hold all your stationery and keep clutter off your desk. 

A cheap method of storage for a garden office is

clear storage containers

which are stacked together. These are perfect for storing your ink cartridges, paperwork, and chargers. 
Don't forget to consider the following:
Lighting –

The right lighting will let your work in your office, no matter what time of day it is. Different types of lighting will complement your office needs; you can opt for Halogen or LED lighting.

Heating –

Heating will make sure your office is pleasant to work in, whatever the time of year. It will also prevent moisture from building up, and will keep paperwork or electronics from being at risk of becoming damp

Insulation –

Make your log cabin garden office insulated – from the ceiling and walls to the floor – and keep it protected from damp. It will also take less energy to stay warm. Even better, it will work on soundproofing the building, which is perfect if you enjoy working with loud music on.
3. Log Cabin Design Idea: Garden Gym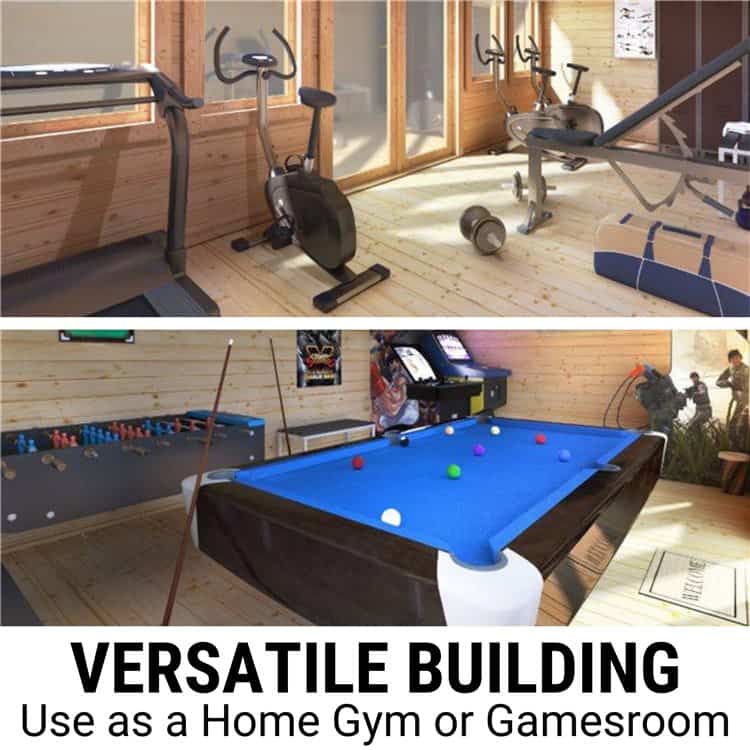 Log cabins are one of the most versatile garden buildings that can be transformed into almost anything! How about a personal space where you can work out to your heart's content, and without any disturbance?
If you're planning to sweat more and get fitter this year, but you're worried about membership fees, then turning your log cabin into a personal gym space sounds like a great plan! 
Are you ready to work out in style with your cabin gym? When it comes to decorating your home gym, your options are limitless, allowing you to create your preferred environment.
Window blinds can be added for privacy while mirrors add an aesthetically pleasing touch. Adding sound systems are an excellent way to keep yourself motivated while working out! If your indoor space allows for it, then why not add some squat racks and benches?
Tip: As for the equipment, we suggest going for smaller yet equally effective workout equipment and avoid bulky machines as much as possible. This way, you can maximise the floor space.
4. Log Cabin Design Idea: Garden Bar
Simply having a garden is already enough to provide you with an excellent space to make the most of your time outdoors with your family and loved ones. Imagine the, turning your log cabin into a state-of-the-art, garden bar!
Having a cabin bar gives you an ideal place for you to flaunt your bartender skills. Not to mention that you've got yourself a private bar that you don't have to queue at in order to get served.
Sounds exciting, right? If you own a log cabin, you might want to start considering utilising it as a garden bar.
When it comes to decorating your garden bar, barware like glasses, shakers, stirrers, trays, coasters are essential – and of course, don't forget the drinks! The interior and exterior decoration is also vital to add personality to your cabin bar.
You can even add bar signs, beer mirrors and more!
5. Log Cabin Design Idea:  Entertainment/Game Room or Man Cave
Looking for ways to shut off from the stresses of a modern, fast-paced lifestyle, if only for a few hours? Seeking a personal sanctuary where you can have some much needed me-time in between or after a busy day?
A log cabin designed for entertainment is something that can be beneficial, not only for enjoyment, but also for mental health. If you're thinking of turning your log cabin into one, then this is the sign you've been waiting for!
When decorating your entertainment room, owning the right gaming room is a brilliant idea to provide hours of fun for the whole family! This will also provide you with the personal space to play your all-time favourite PlayStation or board games, in between legs of darts or turns on table football.
Imagine your ideal game room with:
Dartboard

Board games

Table games, e.g. pool table

Sports room

Collector's room