Move over man caves and traditional sheds – the hottest trend on the block is the garden bar, or 'bar shed.' Dive into the DIY craze that's taking over the internet.
It's not just a shed; it's a canvas for your personal tavern dreams. From beer mirrors to bar games, this is where your garage treasures find a new home. Ready to embark on this exciting journey? Discover essential tips, bar shed ideas, and the key elements needed to turn this dream into reality!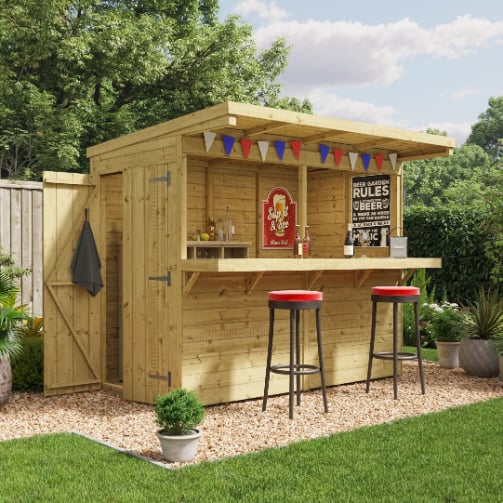 Starting the journey to make your backyard bar shed is thrilling. Before you begin transforming it, it's important to grasp what bar sheds are. Understanding how they can enhance your outdoor area also helps.
The 'bar shed' concept explained
A bar shed is a space designed for a personalised social hub nestled in the garden or backyard. Imagine a cosy retreat steps away from your home. Tailored to your taste and with your favourite drinks on the menu. This concept encourages the conversion of a simple shed into an entertainment-focused space. It brings the pub experience right to your doorstep.
Adapting your shed building
Once you understand the essence of bar sheds, the next step is adapting your garden shed to fit this idea. Think about adding design elements that match your taste. For instance, classic rustic touches for a traditional vibe. Or opt for modern details for a stylish cocktail lounge. Explore creative lighting, seating arrangements, and decor to infuse personality into your space. Customise it to showcase your unique style and preferences.
Making the idea bar shed means adding elements that blend style and practicality. Let's explore essential components that elevate your space into a welcoming oasis.
Bar stools and seating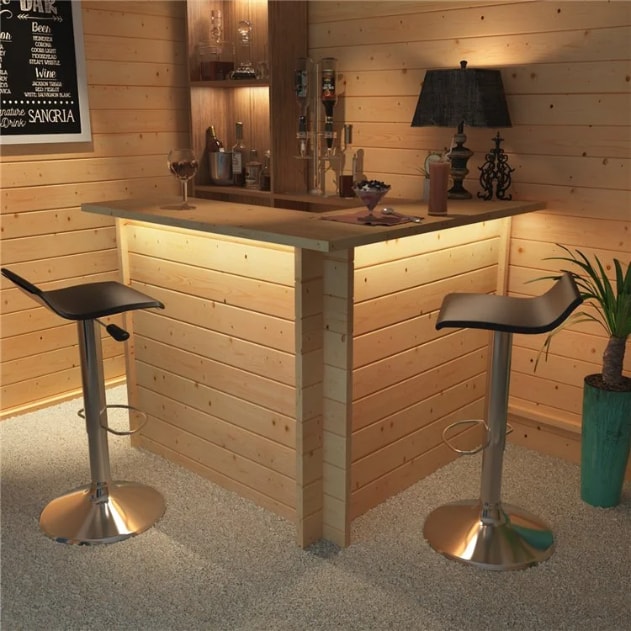 Choosing the right bar stools and seating is important. Opt for comfortable yet stylish options that complement your chosen theme. Consider durable materials suitable for outdoor use. Make sure your guests can relax and enjoy the ambience comfortably.
Opt for weather-resistant materials to withstand outdoor conditions. Adjustable height stools cater to various preferences, and cushioned seating enhances comfort. Ensure your choices complement the overall theme for a cohesive and inviting atmosphere.
Lighting solutions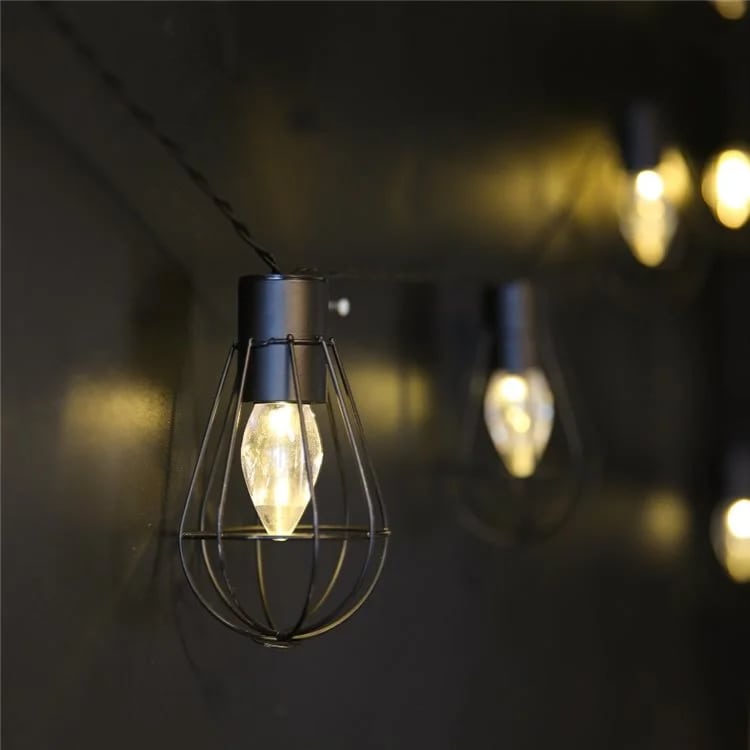 Illuminate your bar shed with versatile lighting solutions. String lights create a cosy ambience. Pendant lights or LED strips offer focused illumination for functional areas. Consider solar garden lights for eco-friendliness and easy installation. Blend different lighting sources to achieve a balanced and inviting atmosphere.
Stocking up must-have booze
No bar shed is complete without a well-curated selection of beverages. Stock up on essential spirits, mixers, and garnishes to cater to diverse preferences. Consider themed cocktails to enhance the experience. Ensure proper storage to maintain drink quality. Don't forget non-alcoholic options for a comprehensive menu. A well-stocked bar ensures you're ready to host great gatherings in your outdoor haven.
DIY Tips and Tricks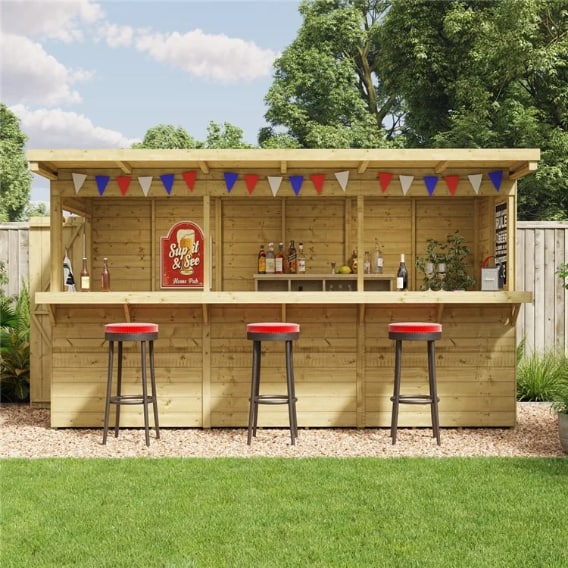 You wouldn't want to miss these cost-effective DIY strategies. Take note of these tips to ensure a personalised and stylish space without breaking the bank:
Budget-friendly approaches
Explore thrift stores for affordable furniture and repurpose items for unique charm. For one, upcycle pallets into bar counters or use recycled materials for decor. Either way, this adds character without overspending. Opt for DIY paint projects to refresh existing furniture. Also, create a cohesive look without a hefty price tag.
Creative decor ideas
Inject personality into your bar shed with creative decor. Hang vintage signs, repurpose old barrels as tables, or create a DIY menu chalkboard. Utilise natural elements like potted plants or salvaged items for an eclectic touch. DIY wall art and personalised signs contribute to a unique atmosphere. This allows you to express your style and make your bar shed truly one-of-a-kind.
Choose a Theme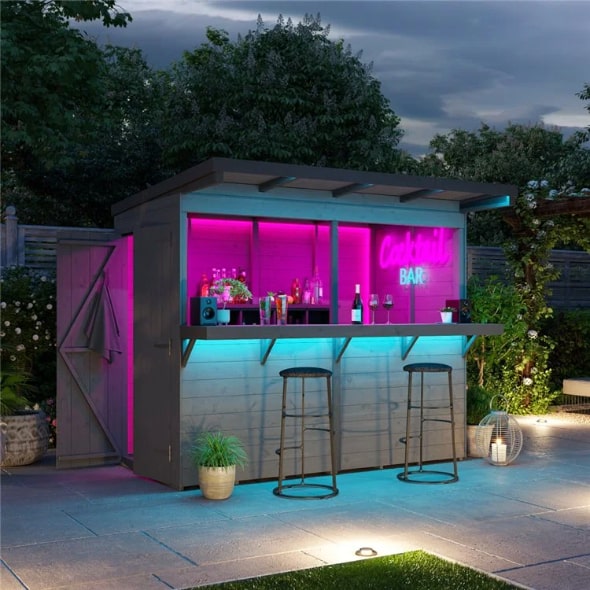 When creating your bar shed, picking a theme adds a personal touch. Let's check out some ideas suited to various tastes and preferences.
1. Irish pub
Capture the warm, convivial ambience of an Irish Pub right in your backyard. Infuse your pub shed with Irish charm by decking it out with memorabilia. Think of Guinness signs, shamrocks, and warm wood accents. With this theme, you create an intimate space reminiscent of a Dublin pub. It invites friends to share stories over a pint in a cosy and friendly atmosphere.
2. Wester Saloon
Transport yourself to the rugged landscapes of a John Wayne film. Yes, with a Western Saloon-themed bar shed! Line the walls with dollar bills, Western film posters, and authentic-looking reward posters. Stepping into this pub retreat feels like stepping onto the set of a classic Western. It's a homage to cowboy culture, inviting you to experience the nostalgia of the Wild West right in your own space.
3. Classy cocktail bar
Embrace sophistication with a sleek and refined cocktail bar shed. Keep the design understated with subtle bulb lighting framing a stylish mirror. Stock your shed with a selection of premium spirits. Ideal for intimate gatherings, it's the perfect spot for a sophisticated sip of your favourite cocktail, making every hour "gin o'clock."
4. Chalet pub
Bring the charm of the Alps to your backyard with a snug chalet pub. This concept extends to wooden panelling for walls and floors. Crafted with rustic wooden beams and matching bars. Authentic decor like antlers or animal skulls also enhances the alpine feel. Cosy seating and dim lighting transform your pub shed into a welcoming retreat. It simply grants a serene escape from the daily grind.
Choosing a theme not only defines the aesthetic of your bar shed. It also sets the stage for unforgettable gatherings in your styled outdoor haven.
Enjoy Your Backyard Bar
Next is to focus on thoughtful touches, from comfortable furniture to planned landscaping. Enhancing the atmosphere ensures every seat is a delightful experience.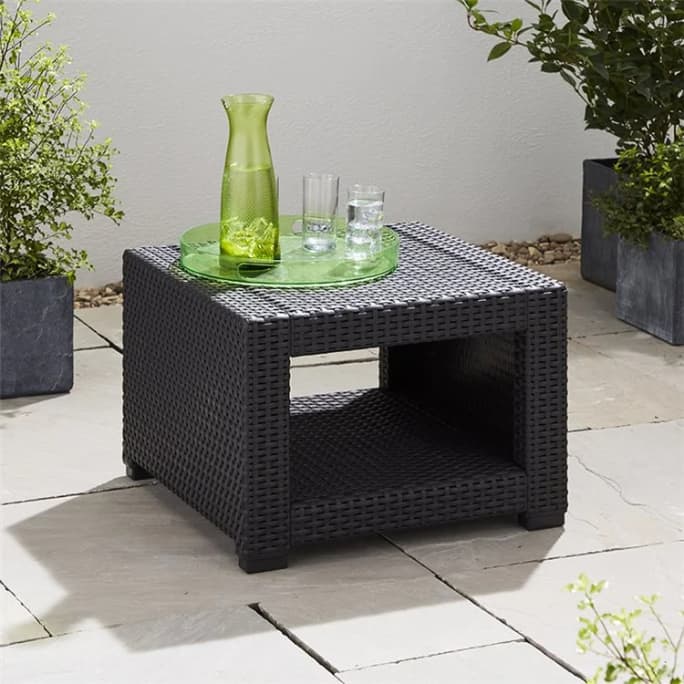 Choose durable and comfortable furniture to elevate your bar shed's comfort level. Opt for weather-resistant materials to withstand the elements, such as rattan furniture.
Select furnishings that complement your chosen theme. Consider garden chair cushions or throw pillows to create a relaxed ambience. Whether it's bar stools, lounge chairs, or a combination, you name it. The right furniture enhances the overall comfort and appeal of your outdoor retreat.
Landscaping
Extend the charm of your bar shed to the surrounding landscape. Integrate greenery to soften the space and create a connection with nature. Incorporate elements that complement your chosen theme, such as flowers or shrubs. Careful landscaping contributes to a refreshing and enjoyable atmosphere.
Hosting Tips and Tricks
Up your hosting skills with tips to make every bar shed gathering memorable. These tips ensure your backyard is the perfect spot for enjoyable socialising.
Planning fun bar games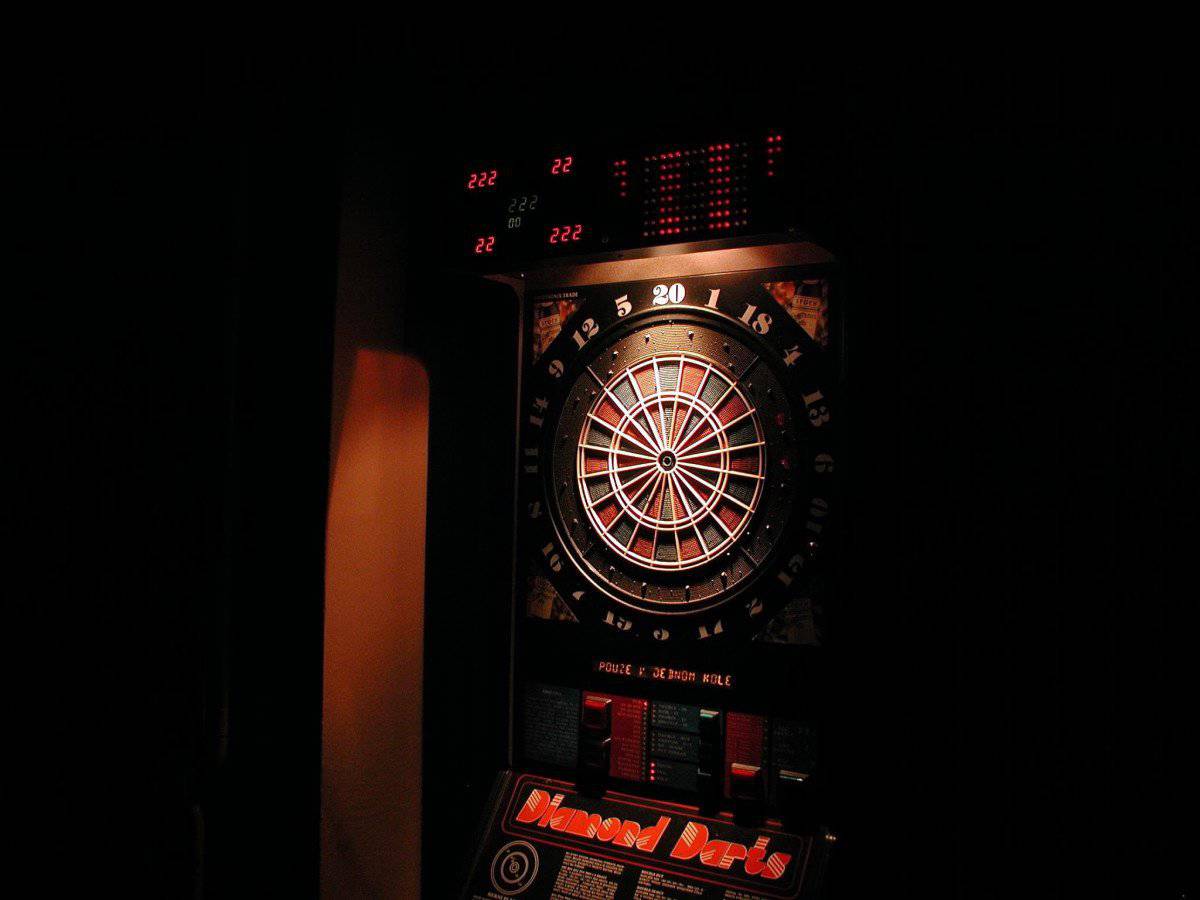 Infuse energy into your backyard bar shed gatherings with entertaining bar games. Consider classic options like darts and pools or innovative and DIY games. Create an atmosphere of friendly competition and laughter. Include games that align with your chosen theme for an added layer of fun. Be it a casual game night or a spirited competition, you name it. A well-planned bar game enhances the social vibe of your outdoor haven.
Inviting friends for a great time
Master the art of hosting by creating an inviting atmosphere for friends. Encourage socialising with comfortable seating arrangements, ambient lighting, and a well-stocked bar. Consider themed gatherings or casual get-togethers. Align the atmosphere with the preferences of your guests. Thoughtful hosting ensures everyone feels welcome. It turns your bar shed into the ultimate destination for unforgettable moments.
Cheers to Your Garden Oasis
These suggestions offer a glimpse into the vast creative bar shed possibilities available. The key is to infuse authenticity and personal flair. Embrace the DIY journey with enthusiasm and creativity. Transform your garden room into a unique expression of your style. Whether it's the charm of an Irish Pub or the sophistication of a cocktail bar, the canvas is yours to paint. So, let your imagination run wild and turn your bar-shed fantasy into a tangible reality!
Note that these pub ideas are versatile and can be applied to log cabins or summer houses as well. Feel free to adopt the same principles and bring the cosy charm of a pub to your preferred space.
Next on your reading list: How to Host a Party in Your Garden Pub