Transforming your garden into the ultimate pub experience requires thoughtful planning. In this article, we've curated the finest ideas to help you craft the perfect backyard bar.
From stylish interior concepts to essential drinking accessories, we've got you covered. In the midst of constructing your bar shed or just getting started? Our decor guide will prove invaluable in elevating your project to the next level!
1. Garden bar signs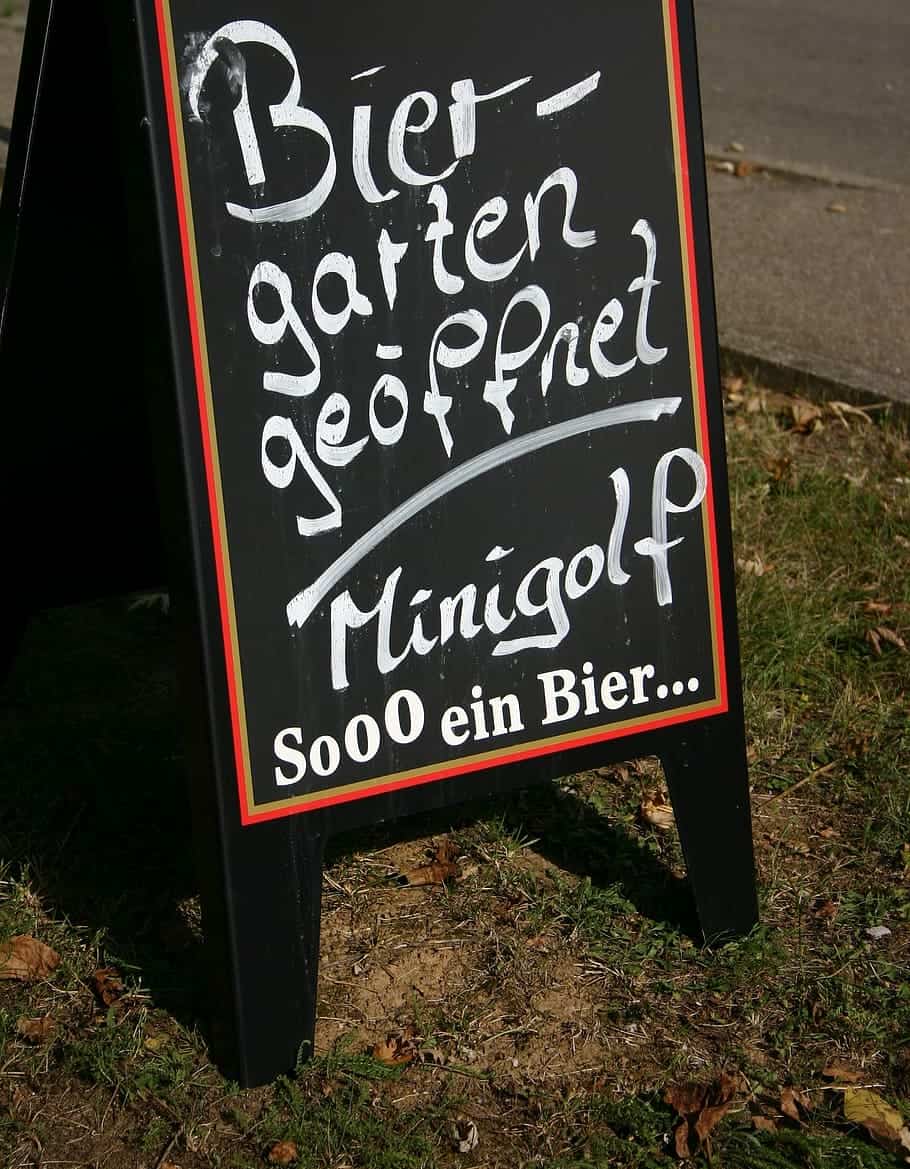 (Image Credit: Wallpaper Flare)
Don't let bare walls sap the fun from your outdoor pub experience. Transform those empty spaces with bar signs, boosting the ambience of your pub shed. These signs come in various materials, from rustic wood to vintage tin.
Emblazoned with witty phrases and nostalgic slogans for added personality. Consider hanging a wooden sign to infuse humour and character into your garden bar's décor.
2. Outdoor bar footrest
Beyond mere indulgence, a well-designed footrest is a must-have for any bar setting. Bar footstools offer your guests an inviting space to unwind after a long day.
To start, they provide a comfortable perch to savour your drinks and soak in the atmosphere. Next, they elevate the aesthetics of your bar, adding a touch of sophistication to the setting. Investing in quality footstools ensures that everyone can relax in style. This, overall, makes your gatherings all the more enjoyable.
3. Beer mirrors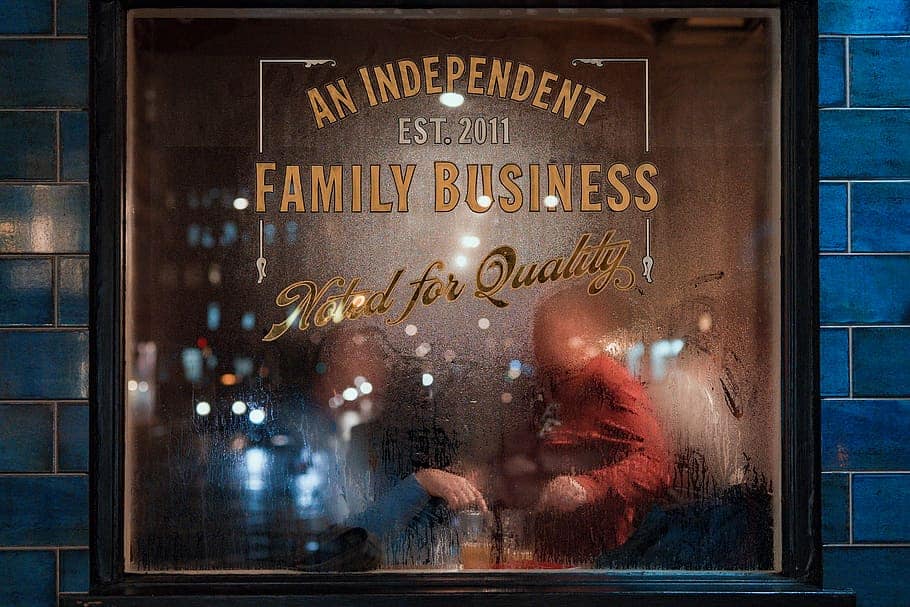 (Image Credit: Wallpaper Flare)
Embrace your home bar's ambience by banishing those bare walls. Embrace authenticity with the addition of a classic bar mirror.
These mirrors have long been a staple in beer and liquor advertisements. And they're the very same you'd find gracing the walls of your beloved pub. Now, it's your turn to infuse that same touch of commercial-grade charm into your garden bar shed.
This is a great way to impart a vintage and genuine feel to your space and reflect your personal style. The perfect finishing touch, indeed, for added character and sophistication.
4. Drinks on tap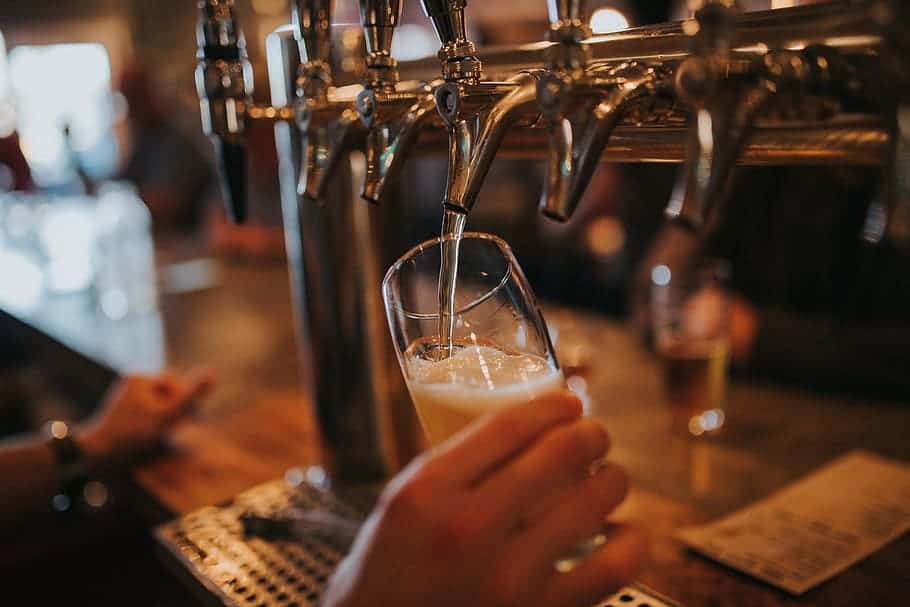 (Image Credit: Wallpaper Flare)
No garden bar is truly complete without the pleasure of draft beverages. Say goodbye to the days of canned drinks or serving beer directly from bottles. Take this opportunity to incorporate an at-home beer tap or keg system
With this addition, it will save you valuable time and offer cost-efficiency. Imagine the convenience of effortlessly pouring perfectly chilled drafts for your guests! This transforms your outdoor pub into a haven of refreshing indulgence.
5. Drinking vessels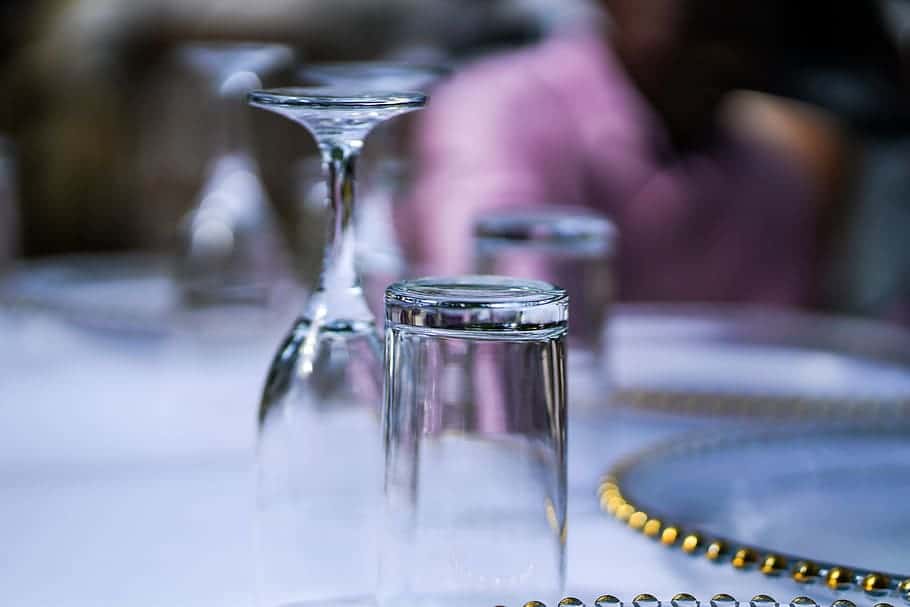 (Image Credit: Wallpaper Flare)
Selecting the right glassware is vital to aligning with your wooden garden bar shed's style. For one, the ideal barware ensures each drink is served with elegance and flair.
The market offers a diverse array of glassware suited for every type of drink. Whether you're mixing cocktails, pouring wine, serving beer, or offering refreshing juices. Let's explore some essential glassware shapes below:
Cocktail or martini glass:

Perfect for classic cocktails and martinis. Such glasses introduce a touch of sophistication to your bar's repertoire.

Highball and Collins glasses:

Ideal for tall, refreshing mixed drinks. The design helps maintain the drink's temperature and presentation.

Old-fashioned ones:

A staple for serving whiskey and other spirits 'on the rocks.' They lend a timeless appeal to your bar.

Shot glass:

Essential for those who enjoy straight-up spirits or fun shooters.

Margarita glass:

The iconic vessel for margaritas and other tropical delights. The perfect choice for bringing a festive touch to your garden bar.
By curating a collection of these essentials, you can serve great drinks with a sense of style!
6. Keg bar stools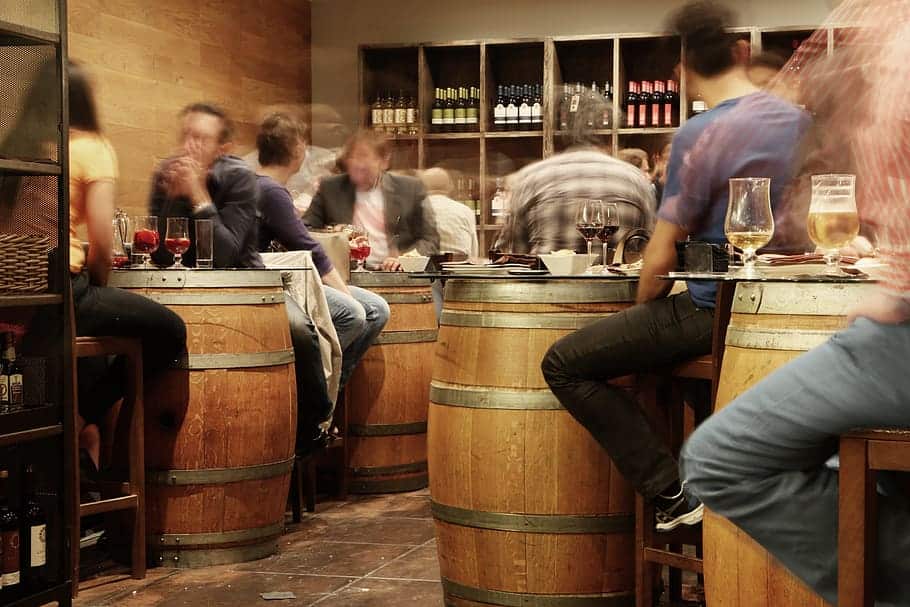 (Image Credit: Wallpaper Flare)
Do you have some empty keg shells lying around your garage or garden workshop? Why not DIY it into a functional piece of furniture – enter the world of keg bar stools!
Instead of discarding these keg shells, repurpose them into unique, stylish bar stools. Add a few essential hardware components and a touch of do-it-yourself enthusiasm. This approach not only reduces waste but also adds conversation pieces to your space.
7. Ice bucket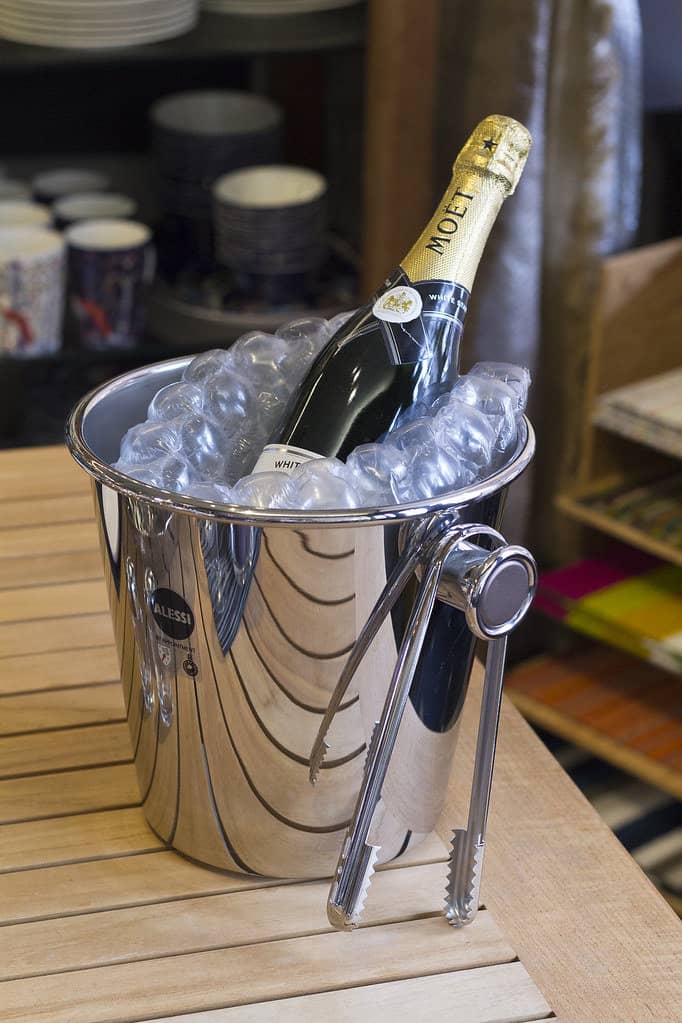 Ice is an absolute must-have for any garden bar. It ensures your guests' drinks are perfectly chilled throughout. To facilitate this, ice buckets prove to be the quintessential bar accessory.
These versatile containers keep ice readily available for crafting delicious cocktails. What's more, they maintain the optimal temperature for bottles of champagne, wine, and more. With one, you can cater to your guests' needs, offering them refreshing top-ups.
Whether it's a hot summer day or a cool evening, ice buckets come in handy. Their presence assures that your drinks are always served at their best. Overall, they elevate the enjoyment of your outdoor bar setup.
8. Bar table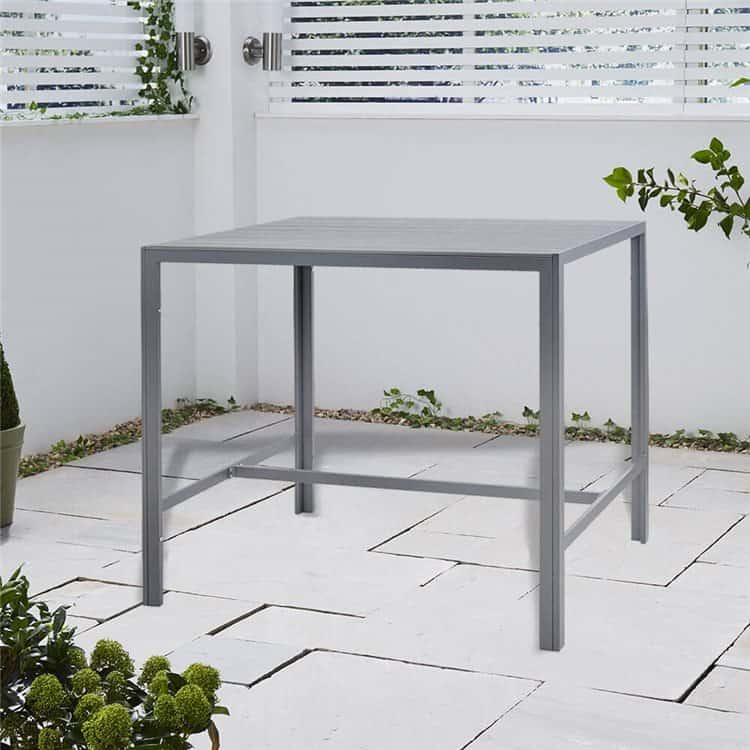 A bar table is an excellent addition to a pub shed, particularly when it comes to extending the space. First, it creates a dedicated area for serving and enjoying drinks. This can effectively transform it into a functional pub-like environment. A great example is the Grey Outdoor Bar Table.
Next, a bar table optimises space usage. For one, it takes up less room compared to a traditional dining table or multiple chairs. This allows you to accommodate more guests comfortably. Moreover, to extend the capacity of your pub shed for social gatherings and parties.
Take this BillyOh Nightjar Garden Bar setup, for instance. It features a classic L-shaped design and room to sit 3-4 people, ideal for small wooden sheds or log cabins.
Additionally, a bar table encourages a cosy and communal atmosphere. It makes it easier for guests to interact and engage with each other. It also serves as a focal point, enhancing the overall aesthetics and ambience of the space.
Garden Bar Ideas
Creating a garden bar can be a fantastic addition to your outdoor space. But what can make it truly exceptional is infusing it with the vibe of your favourite type of pub or bar. So here are some ideas to take inspiration from:
1. The classic Irish garden pub
If you love the warm and cosy atmosphere of a traditional Irish pub, this one's for you! Here's how to recreate that charm in your garden:
Decor:

Incorporate dark wood furniture, vintage signs, and dim, warm lighting.

Bar counter:

Opt for a dark, polished wood bar counter with a brass rail.

Drinks:

Stock up on Irish whiskey, stout, and some Irish folk music to complete the ambience.
It's all about recreating that quintessential Irish pub charm in your garden!
2. Trendy cocktail lounge
For a more modern and stylish feel, emulating a trendy cocktail lounge is the way to go:
Decor:

Use sleek furniture, contemporary artwork, and soft, indirect lighting.

Bar counter:

A chic marble or glass bar counter adds a touch of elegance.

Drinks:

Focus on craft cocktails and infused spirits. Add garnishes like fresh herbs and edible flowers.
Your outdoor space will transform into a sophisticated hub for creative mixology.
3. Rustic beachside bar
Capture the essence of a laid-back beachside bar in your garden for a casual, tropical vibe:
Decor:

Weathered wood furniture, nautical elements, and beachy colours create a relaxed atmosphere.

Bar counter:

Consider a rustic, reclaimed wood counter for that beachy feel.

Drinks:

Stock up on rum, fruity cocktails, and perhaps a tiki torch or two for a true beachfront experience.
Add some decor like surfboards or tiki torches to transport your guests to a coastal oasis.
4. The urban speakeasy
Are you into the allure of Prohibition-era speakeasies? If so, here's how to bring that clandestine charm to your garden:
Decor:

Dark, moody colours, velvet furniture, and vintage paraphernalia set the tone.

Bar counter:

A hidden, retro-style bar counter. Or opt for a repurposed antique cabinet that can work well.

Drinks:

Classic cocktails like martinis and Old Fashioneds.
Don't forget to add jazz music in the background to nail the speakeasy feel.
5. Cosy wine bar garden corner
For wine enthusiasts, a cosy wine bar setup is perfect for enjoying a glass of vino in your garden:
Decor:

Wine racks, cosy seating, and soft lighting create an inviting atmosphere.

Bar counter:

A wine bar cart or a wine barrel table can add character.

Drinks:

A selection of wines and some cheese. Play some ambient acoustic music to enhance the wine bar ambience.
Transforming your garden bar into one of these allows you to create a space that reflects you. These ideas are sure to help you design an outdoor pub that suits your taste. Most importantly, it offers an inviting escape right in your own backyard. Cheers to your creative garden bar adventure!
Round-up
Sure, there are many great deals on bar supplies that you can add to your home pub. But remember, it's your bar. You have the creative freedom to infuse it with your unique designs and ideas. We hope this article will help you to put together the cool stuff you want for your garden bar!
If you're looking for somewhere to house it, then take a look at our extensive range of garden buildings. From sheds to summer houses to log cabins UK, the sky is the limit for your garden bar!
Next on your reading list is: Garden Bar Ideas for a Shed & the Best Outdoor Furniture