Log cabins are undeniably one of the most energy efficient types of garden building. For one, wood is a natural insulator—it can trap heat, keeping you warm and cosy inside during the cold winter months. 
This type of garden building is also environmentally friendly, making it a worthwhile investment. Whether you use it for entertainment, work or a combination of both, a log cabin is guaranteed to provide you with your dream home extension that can be utilised all year round.
With a robust and highly-durable design, a log cabin is an excellent choice, especially if you're on the hunt for a long-lasting outdoor building! What's more, it caters to your lifestyle, which lets you tailor the space according to your needs.
The Garden Buildings Direct log cabin collection is no exception. Our most adaptable log cabin yet, here we offer our latest log cabin release, the BillyOh Porto Log Cabin!
BillyOh Porto Log Cabin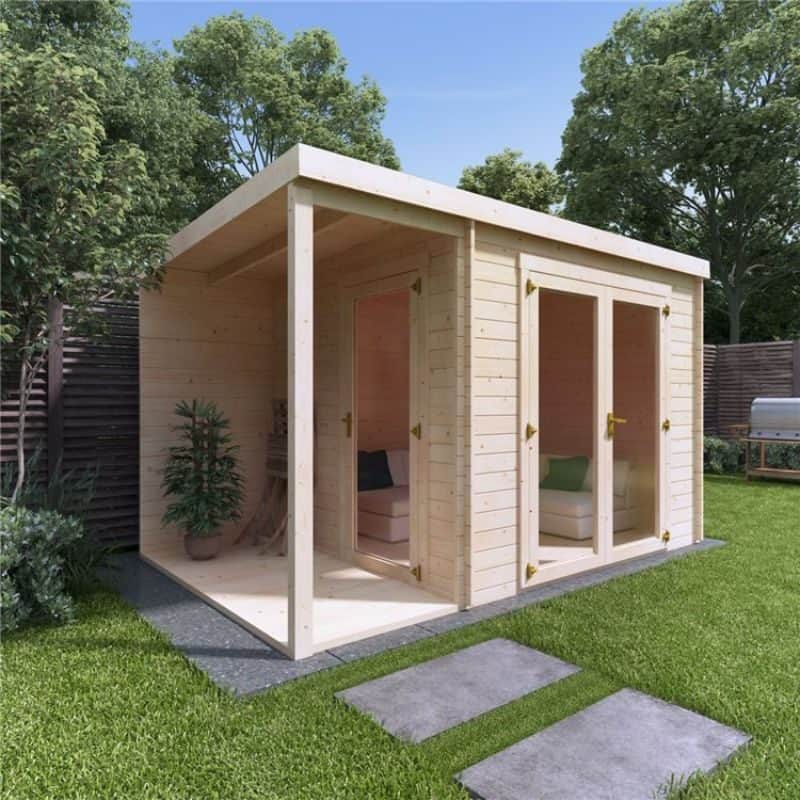 Designed to fit perfectly into the corner of your garden, the Porto Log Cabin is a premium log cabin building that is worth investing in!
What makes this log cabin unique is that it flaunts a customisable left to right configuration, making it adaptable to your individual space, allowing you to enjoy your al-fresco veranda to the full.
Available in 28mm thick walls, the Porto Log Cabin guarantees to accommodate your outdoor needs, whether you're looking for an attractive mini outdoor relaxation haven, personal garden gym, or home office.
Porto Log Cabin: Integrated Veranda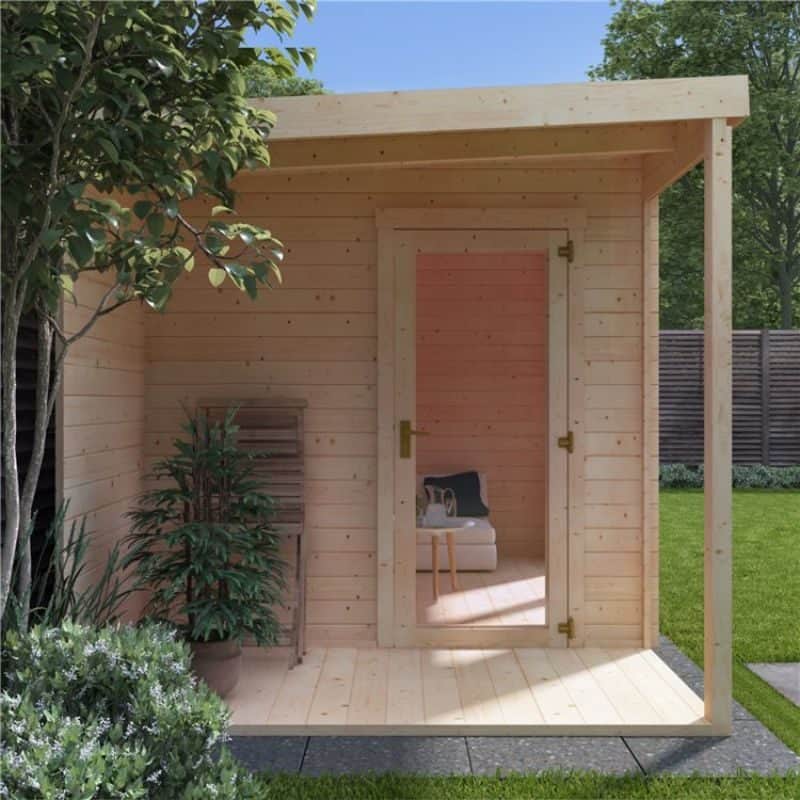 Owning a garden building is already a plus, but having a log cabin with an integrated veranda is a win-win! The Porto's veranda creates a sheltered area perfect for:
Outdoor dining in the summer months

A cosy seating area during the autumn season.
The veranda also provides the perfect stopgap between your log cabin area and your outdoor space/house. Whether you're planning an elegant alfresco dining party or you just want to enjoy nature, there's no denying the beauty that verandas add to a log cabin's exterior.
Porto Log Cabin: Dual Entrance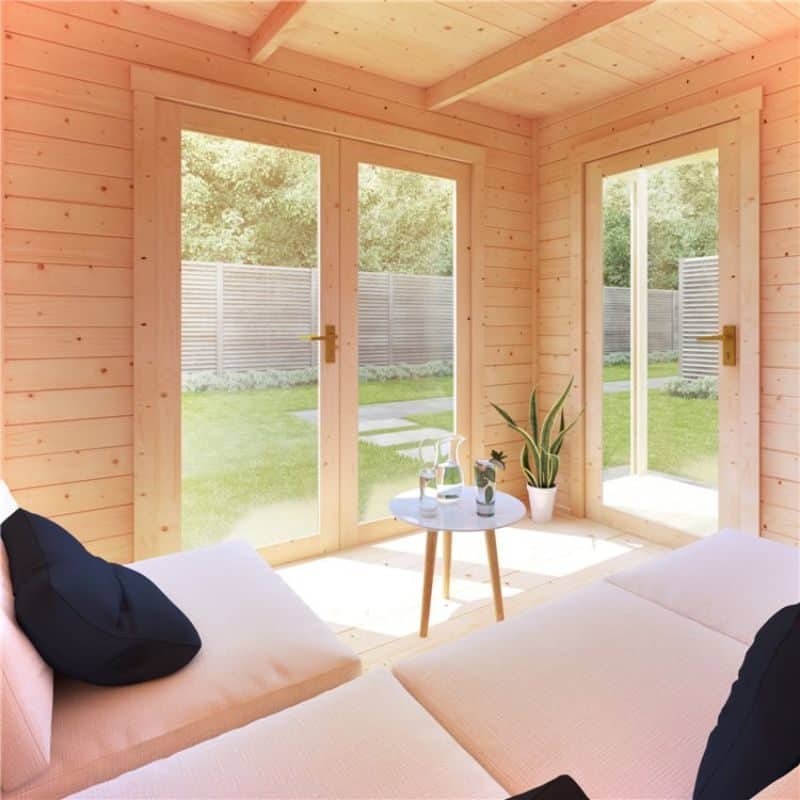 Thanks to the dual entrance that this cabin offers, it allows sunlight to flood in and provides stunning views of the garden while creating an accessible garden hub. This makes the Porto an ideal outdoor relaxation haven where you are able to fully enjoy your garden space, relax and de-stress in this all-weather log cabin.
Porto Log Cabin: Premium Personal Living Space
Designed with your comfort and satisfaction in mind, this log cabin unit enables you to spend more time outdoors, getting the most of your garden. 
Creating your very own outdoor lifestyle has never been easier. With the 2.5m building height, it provides you with enough headroom to give you a spacious and airy feeling. Trust us, you'll never want to leave your BillyOh log cabin again.
Porto Log Cabin: Long Lasting Protection
Made out of a solid, interlocking Tongue and Groove cladding structure, the Porto is a stable and secure building. With the 28mm T&G cladding thickness, we can ensure you'll stay dry and warm in the comfort of your log cabin.
This log cabin is also available with two different roof options, which both provide a durable and sturdy covering for the log cabin.
11mm Tongue and Groove board roof

19mm Tongue and Groove board roof
These are made using interlocking panels which form a strong board. It protects the building from falling debris, avoiding damage inside the cabin.
While both options are durable, we suggest opting for the 19mm. The 19mm option is designed for heavy duty use and can provide a greater level of protection than the standard 11mm option.
As for the flooring, the T&G floor creates a strong and reliable base for the log cabin. The flooring is designed for heavy-duty use, so you can rely on them not to be easily damaged and require repairs or replacement.
Porto Log Cabin: Tear Resistant Felt
To protect the roof from harsh weather conditions and water damage, Green Mineral Felt is available as a roof covering option. This is a high performing waterproof felt, giving you the ultimate roof protection.
The felt is durable and watertight, which helps in preventing any water to penetrate through and damage the roof. In addition, the felt is more durable than traditional sand felt. This means that it does not need to be regularly replaced, making it a long term, cost-effective option.
Upgrade to Pressure Treated Option to Increase its Lifespan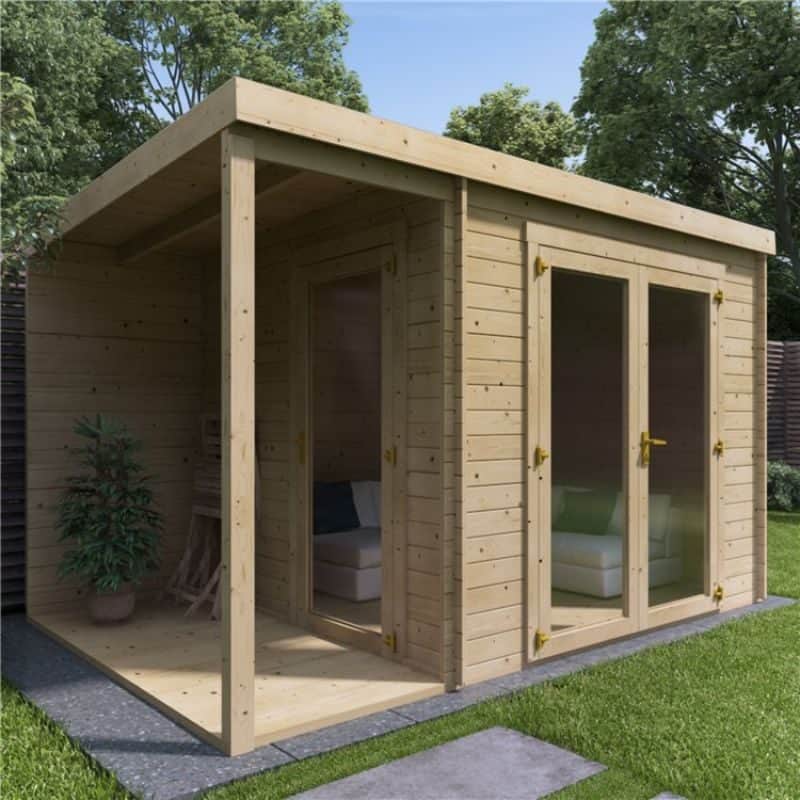 Maintenance is vital to ensure your log cabin office stays in excellent condition all-year-round. When it comes to upkeeping your garden building, pressure-treatment always comes in handy.
How does pressure treatment work and what benefits you can reap if you opt for a pressure-treated log cabin?
The pressure treatment process consists of: dipping the timbers into tanks full of chemical preservatives to penetrate them until the wood is situated in a vessel full of wood preservative. This process is then completed by drying the wood out naturally using a kiln or airflow.
This procedure sure is a tedious one as it includes multiple steps, but the finished product will be rewarding. This is also carried out by our professionals and is not something you can do yourself.
As a way of completely protecting the Porto from the elements, this special upgrade offer will ensure your garden building looks great all year round!