Log cabins make the perfect garden office. These garden buildings are spacious and provide a peaceful environment for focusing on your work or managing a business. As log cabins are made from thick logs, they are well insulated and great for use all year round.
Perks of Having a Log Cabin Office
The idea of having a garden office grows more and more popular among professionals and entry-level workers of any line of career. And there are notable reasons for it.
Wait, does it even count as "professional" to work from home, out in the garden? A sceptical company- or city-based worker might ask. To them, a career-life is something fulfilled within skyscraping buildings at the heart of the metropolis. But that's the very thing.
People now realise the need to unwind from the urban jungle whilst taking their productivity (and paychecks) to a success rate. This and many more reasons, factor in why people prefer working from home in their garden office shed. Here are a few reasons why:
Cuts Out Travel Time and Cost
Viable Place for Startups and Freelance
Say Goodbye to Office and City Noise
Strict Rules, No More
Lets You Create Your Ideal Workspace
Brings Nature-Inspired Productivity
Relieves Work-Related Stress in No Time
It's Your Sanctuary
Allows Better Work and Home Balance
Flexible Uses
Adds Character to Your Garden
Increases the Value of Your Property
Why It's Important to Have a Separate Working Area
Unfortunately, not all of us have the luxury of working from home. But, studies have shown that even working from home one day a week can boost productivity and decrease stress. This is without mentioning the small matter of reducing your own carbon footprint, whilst also helping to stop global warming.
But what's the big problem with working from home? If it's that easy, why doesn't everyone do it all the time? The quick answer: distractions. Without an organised place to work, all manner of problems occurs when working from home.
Staying focused is the main issue no matter where you are. Dirty dishes and television are killers and you don't feel like you're working because that's not what you associate with a home environment.
If you don't have a separated working area, often you might even find yourself overworking. It's easy to lose track of time and suddenly realise that you haven't driven home from work, or even switched off your computer. Without some separation from work and home, you might find yourself going on forever.
What to Look for in a Garden Office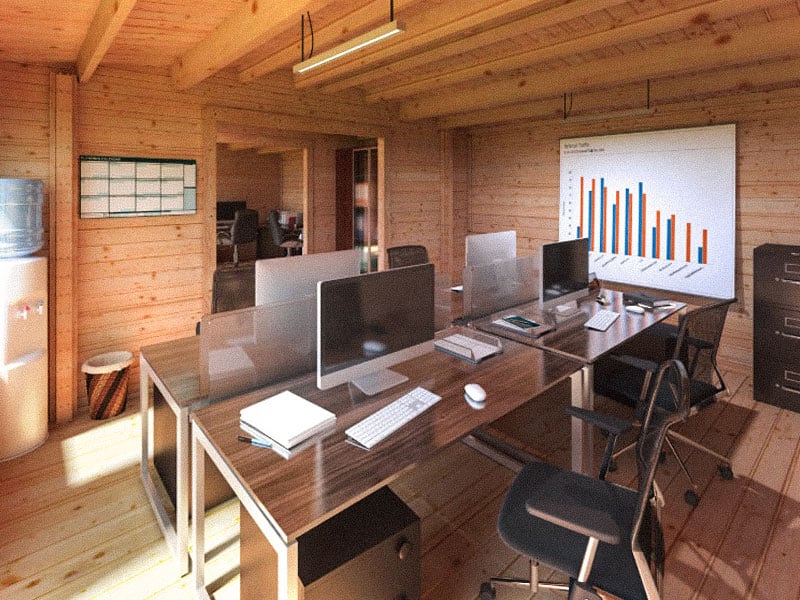 If you intend on using your office all year round, you will want to purchase a log cabin which is constructed using high-quality, thick logs. Plus, pressure-treated ones. These will ensure the cabin is well equipped for all weather.
Our log cabins range in log thickness from 19mm all the way up to 70mm! So, you can always find a log cabin which is perfect for your requirements. If you'll be using the log cabin to run your business from, a 70mm log can thickness is a perfect choice.
1. Small Garden Offices
A small garden doesn't mean you can't create a garden office or that you have to compromise on outdoor space. It just means that you can opt for a more compact cabin.
The Pathfinder 'Nook' Log Cabin is our smallest cabin is 3.0m x 2.5m, offering a traditional alpine roof and Georgian bar windows. This hard-wearing log cabin is equipped for all weather and is constructed with 19mm tongue and groove cladding. It also comes with a premium quality tongue and groove floor as standard.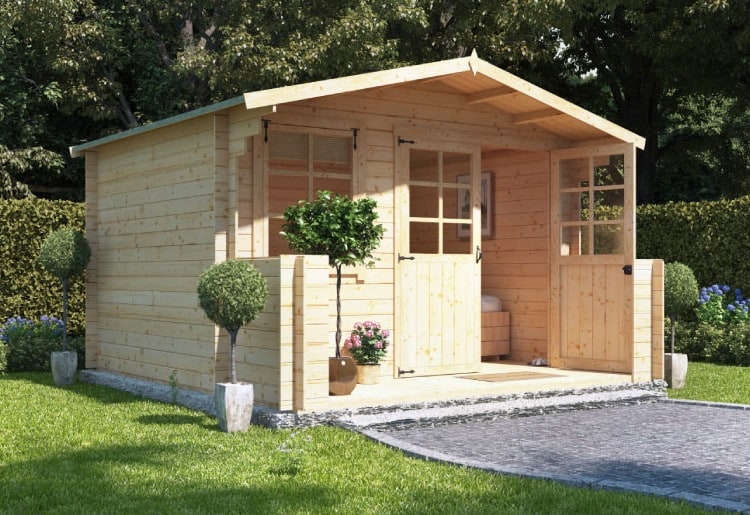 For something a little bigger, you may want to opt for a cabin such as the Devon Log Cabin. This design has the option of modern windows and doors, but if you prefer the traditional style you can also choose a more traditional style with Georgian bar windows and doors.
It is available in sizes starting from 3.5m x 2.5m so it is perfect for a smaller garden.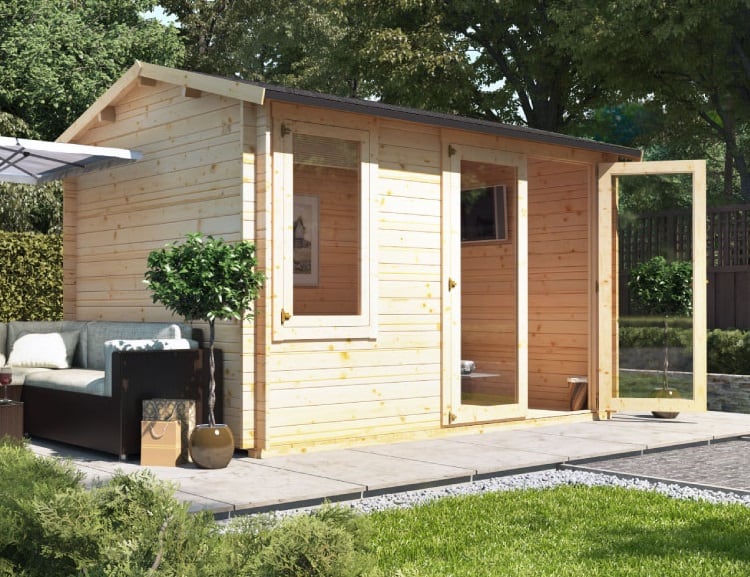 2. Medium Garden Offices
If you need a cabin which offers a little extra space, we have a range of log cabins which make a perfect home office for your garden.
Most of our log cabins are available in a range of sizes, so you can always find what you are looking for.
The Kent Home Office is an ideal choice for anyone who wants to start up their own business. This log cabin model is, in fact, one of our best-selling units.
The cabin has a log thickness of up to 70mm so it makes ideal use all year round. It also has a contemporary design so would suit any modern garden.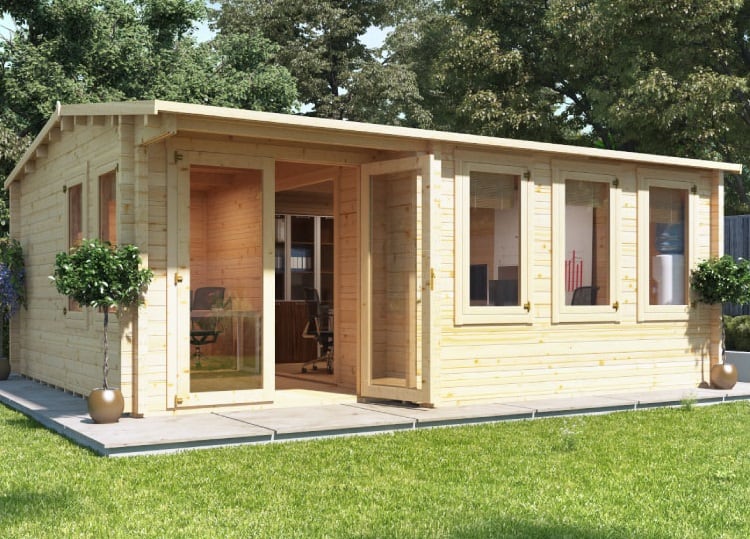 If you are looking for a large and more traditional log cabin, our Clubhouse Home Office is a perfect choice. Just like our Kent unit, our Clubhouse log cabin is also one of our best-selling units so make sure to check it out!
It is a spacious log cabin which has both the choice of traditional features such as the Georgian bar windows and doors or more modern windows and doors. The log cabin is extremely durable and strong due to the 28mm, 35mm or 44mm tongue and groove cladding options.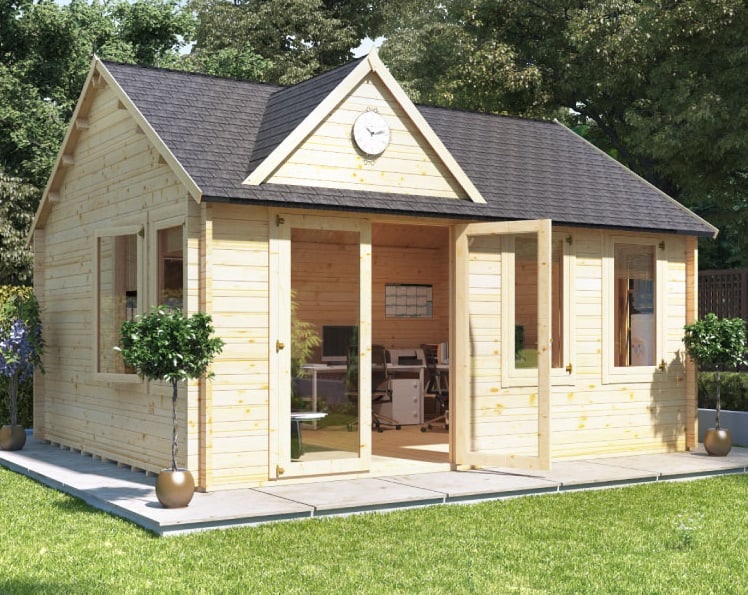 Getting Started With Your Log Cabin Home Office
Once you've decided which log cabin is the right choice for your garden and working needs, the next step is to decide on what your budget will be.
After you've built the log cabin, you can move onto transforming it into a functioning home office. There are a few things you should consider when turning your log cabin into a home office. Will the cabin need insulation, electricity and wifi?
Once you've got the basics set up, you can work on the interiors. Add a desk, chair and all your favourite furnishings. Then, you're good to go!
The Steps You Should Take to Create the Perfect Home Office
1. Start With Furniture and Decor
To be the perfect working space, you need a great setup, starting with your furniture and décor. Put in a quality chair, which you can relax in, then add an oversized desk to get you going. Don't forget a heater, even better if you can put a timer on it, you want to walk into a pre-warmed office.
2. Set up an Interval
Having outdoor intervals has proved to be a big success, with huge benefits to your concentration and productivity. A log cabin office not only gives you a place to separate work from home, but it also gives you the opportunity to take regular intervals and get some fresh air.
3. Apply Proper Interior Design
The log cabin's interior design is just as important. You can put in some nice bookshelves and fill them to the brim. A coffee machine can be great too, ditching the bad work stuff once in a while and having a proper caffeine injection. Going that extra mile makes all the differences when you're at home.
4. Install Reliable Technology
Next, you need your tech to be up to scratch. Some efficient Wi-Fi is essential because, without it, you're pretty much working in the dark ages. Get yourself a reliable laptop that won't let you down and hook it up.
Setting up a computer might seem like a good idea, but in the long run, it can cause issues. Laptops are always better at home, you can move around and if disaster strikes, you can actually go into work.
To Conclude
If you can, working from home has some huge benefits if you do it correctly. You should be able to increase productivity and get a greater balance in your work and social life.
With no commute, the average worker should end up with an additional 109 hours worth of home life. There's also the health and finance benefits, no more travel stress or extra cost. With the convenience of being at home, you should be able to avoid any fast food lunches and do some exercise.