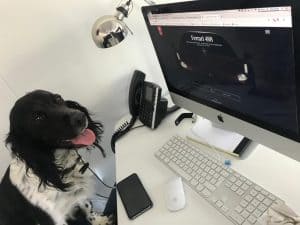 To appeal to industry talent, many workplaces have bolstered their workplace benefits – introducing perks such as flexible working, unlimited annual leave, allowing employees to bring their pets into the office with them, and more. 
However, the coronavirus pandemic (and the lockdowns that have come with it) have meant that many employees are now working from home, and this transition has meant that many are missing out on these more unique aspects of company culture.
Working from home has meant we have to adapt, and as an industry leader in bespoke designed garden offices we've seen first-hand that having a designated space to work from has many benefits, including helping to balance our work and personal lives, making the most of our outdoor space, and allowing us to spend more time with our pets, regardless of whether our employer has a pet friendly policy or not. 
To get some expert advice into the subject, we questioned multiple experts (including in the fields of psychology, mental health, workplace wellbeing, productivity, and so on) about the benefits of having a dog in the office, whether it be in a traditional office environment or our DIY work from home setups. 
The experts included:
Dr Tara Quinn-Cirillo,

Horsham Psychology

Rachel Allan

, Chartered Counselling Psychologist

Gemma Leigh Roberts, performance psychologist and Founder of

Resilience Edge

Paul McCrossin B.App.Sci (Chiro) Chiropractor, UCA President,

N8 Health

Shelly Perry, Clinical Director, RMN and Director of Corporate Mental Health and Wellbeing programmes,

breathe therapies

Sean Liddell, MD at

Mindful Training Ltd

Catherine Burn, Consultant at

Shine Workplace Wellbeing

Dr. Heather Venkat, DVM, Companion Animal Veterinarian with

VIP Puppies

 

Joe Nutkins, a Kennel Club Accredited Dog Trainer

Debby Lucken, founder of

Pocodogs

 

Brandon Egley from

Dog Friendly Sheffield
Read on to find out more…
Mental Health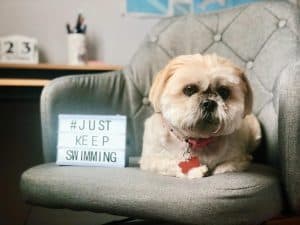 Photo credit: Rebecca Barnatt-Smith, Graduate Marketing Executive
One of the benefits of having an office dog is the positive impact on our mental health. Catherine Burn commented that "the evidence is mounting that those forced to work from home during the pandemic have experienced decreases in their mental wellbeing. The most common problems which impact employees' mental health have been loneliness and burnout. In a usual working environment, we are surrounded by colleagues which helps us to feel part of a community, but without these daily interactions we can soon become lonely. Burnout is a state of physical and mental exhaustion and occurs when people have been under prolonged stress and can be detrimental to mental health and job performance. 
"Even before the pandemic, those who worked from home were vulnerable to burning out because home workers often work more hours, take less breaks and have more distractions. Unfortunately, this has only been exacerbated by the fallout of the pandemic, where people are experiencing issues that blur the boundaries between home and work. 
Paul McCrossin explained that the physical effects of mental stress can display itself "in the form of neuro-musculoskeletal disorders. Therefore, strategies that reduce mental stress such as pet ownership can only benefit. Any strategy that reduces stress is helpful and pets have been shown to reduce stress levels not only having dogs but cats as well. Reducing stress means lower blood pressure and reduced cardiovascular disease risk as an added benefit.". 
Brandon Engley shared that "stroking a dog for 10 minutes can lower cortisol levels while also increasing the release of our feel-good hormones". Sean Liddell added that "a pet also provides a social connection and helps us to feel less withdrawn, it also improves mood, lowers cortisol, heart and blood pressure". 
Shelly Perry stated that "dogs offer a safe space. Many studies have proven how dogs can help their owners feel less depressed, stressed and more empathetic. This would help us not only deal with the pressures of an increased workload and different working environment, but help us to be more patient with colleagues who may also be struggling at the moment".
Rachel Allan commented that "dogs live in the here-and-now and can help remind us to focus more on the present. This can be beneficial if we are struggling with stress or anxiety".
Catherine Burn continued that "pets are a great way to reduce anxiety and stress, because even just stroking or sitting next to a pet can release the feel-good chemical dopamine which can boost your mood… No matter how stressful your day has been, having a pet to relax with in the evening is a brilliant way to wind down and relieve the stress of the day. If you've been considering introducing a new pet into your home, then the research overwhelmingly says that this could conquer your loneliness and improve your overall wellbeing".
Companionship
Photo credit: Sue McCabe, trainer and behaviourist at Muttamorphosis Dog Training
As well as helping our mental health, our pets can also offer companionship, helping us to combat loneliness. Catherine Burn commented that "pets are great companions. They can give you company, especially when you're not around your colleagues, which can help you feel less isolated".
Joe Nutkins added that "our pets give us someone to talk to, confide in and offer us unconditional affection which in turn boosts our serotonin levels and production of oxytocin – both helping us feel loved and happy! This can have a knock-on effect with helping us naturally lower our cortisone levels and help us feel less stressed".
Dr. Heather Venkat shared that "my dog actually helps me to tackle my work better by being a companion and helps motivate me so that I don't feel alone while working. I can also connect with other co-workers virtually by talking about our dogs and it helps us work well together on our projects knowing that we have something in common".
Routine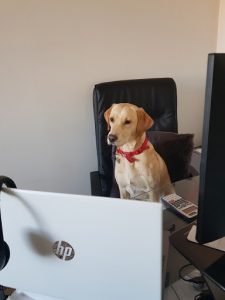 Photo credit: Samuel Barsby, Finance graduate, Kybotech
As dependents, our pets also help us to stick to a routine. Sean Liddell stated that "having a pet is an enormous protective factor, especially to a remote worker. They instigate healthy routines, having to get up in the morning to feed and then walk them means the day starts when it always used to, so it gives us a feeling of stability".
Catherine Burn commented that "having a pet means that you have to care for someone other than yourself, who will need feeding and care at particular times during the day. Dogs thrive on having a routine, and in the absence of a usual routine ourselves they can provide a great lifeline to us to keep ourselves in a routine too".
Paul McCrossin added "maintaining a routine is important way to cope with stress and lockdown and the change in work patterns has changed routines and it takes discipline to re-establish an alternative routine. A pet is a good way to do this particularly dogs which require walking however all pets require feeding and caring for which imposes a routine".
Gemma Leigh Roberts shared that "research suggests maintaining a routine can be helpful to manage symptoms of stress and anxiety. Being responsible for, and looking after, a pet is a great way to implement some routine in life".
Joe Nutkins added that "pets, especially dogs, give us a routine to continue no matter what else is happening. This routine can help us owners by maintaining some normality at a time where everything else is feeling alien which is somewhat comforting".
Exercise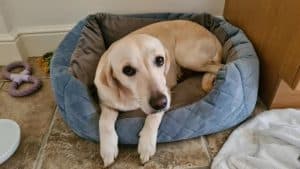 Photo credit: Christopher Palmer-Smith, COO, Kybotech
Another, more obvious, benefit is the exercise aspect. Paul McCrossin commented that "walking and exercise is a well-documented way to reduce mental stress." 
Catherine Burn added that "in particular, dogs are a great excuse to get out and have some exercise, and even speak to a few dog owners along the way which helps social connection. The benefits of regular exercise on mental health are well supported; it can reduce stress, improve your mood and help you sleep better". 
Productivity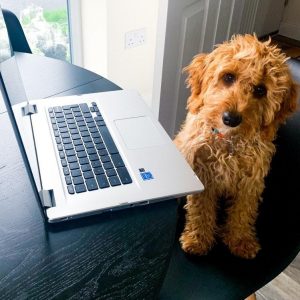 Photo credit: Maja Jarosewska, Graduate Marketing Executive, Kybotech
There are also studies that have shown that having a pet can actually increase our work output. Sean Liddell shared that "pets also help increase productivity for remote workers by providing a distraction, avoiding burn out and enabling workers to work consistently throughout a working day at a more even pace due to regular small breaks which recharge the workers capacity for work".
Sue McCabe added that "psychologists have long since known that taking regular breaks increases productivity and creativity levels at work. Whether working from home or in an office, having a dog to keep workers company could help to positively affect their health. This turn can lead to fewer sick days being taken and in an increase of overall productivity".
Brandon Engley shared that when in an office environment "we're all guilty of sending an email rather than talking to somebody, but you'll find that others will come over and talk to you far often when there is a dog involved. Suddenly those emails become chats and it helps to improve communication, it's also a good way to get talking to people in the office that you perhaps usually wouldn't need to".
Catherine Burn commented that "colleagues rated teammates higher on trust, team cohesion and camaraderie when they had a dog on screen during their virtual meeting".
The Impact on our Pets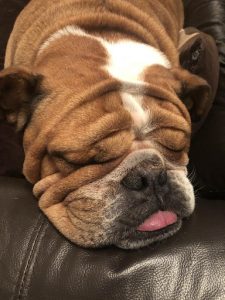 Photo credit: Ivan Latter, Eccommerce & Marketing
While there are numerous benefits to having an office (or WFH) dog, it is worth noting the impact that this is having on our pets. Sue McCabe added "some dogs will have relished in having their owners at home more, but others will have found the noise and activity of the busy household more difficult to cope with. 
"For the first group, the company of their human will have boosted feel good hormones, serotonin and oxytocin, decreasing alone time stress and improving both physical and mental wellbeing. The flip side is that some dogs have really struggled with the increased traffic of a busy lockdown house, full of kids and adults. I have seen an increase in behaviour problems as a result, notable anxiety, possessive aggression and in some cases chronic avoidance behaviours, in an attempt to get some peaceful down time away from the buzz of a busy family at home 24 hours a day".
Debby Lucken explained that "most dogs have adapted well to having their owners home much more than before. What is perhaps more difficult for dogs to understand, it's that their owner's time isn't dedicated to them, as much as it would normally be when home. Another issue that we, professionals, have noticed, is the lack of 'alone' time dogs are having while their owners work from home. Dogs will find it exceedingly difficult to accept and can develop something called Separation Anxiety, which is a condition that makes dogs feel abandoned when left alone. It is important to keep your dogs used to being left for a while, even when working from home, so that they will not be too affected when the time to go back to work will come again".
Dr Tara Quinn-Cirillo said "we do also need to consider the ethics of acquiring a pet during lockdown if this is not something you have considered before. A new pet can be a large transition and involve a considerable amount of emotional and physical input. This may not be wise if you are already struggling with the demands placed upon you when working from home and perhaps managing additional pressure such as childcare".
Case Studies
As part of our research, we also collated some real-life stories of how dogs are helping their owners as they work from home:
Klaudija Nikolova, Growth & Engagement Officer at Enterprise League –
"I've worked from home for more than 3 years. My dog is with me for the past 2 months, but frankly, she has neither decreased nor increased my productivity. However, she has snored a few times during the morning calls with my boss. It can be embarrassing and distracting sometimes. Although my boss and the team swear they don't hear anything and they smile".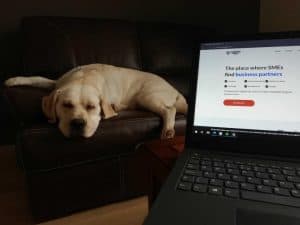 Photo credit: Klaudija Nikolova
Photographer Karen Bennett –
"I absolutely believe that owning pets whilst working from home increases the productivity of your work. From having a constant companion at your side and having a good reason to allow yourself small breaks especially when not being able to see the wood from the trees. These short breaks have often given flashes of inspiration leading to more productivity and wise decisions. When on zoom meetings having a dog or cat relaxing on a chair or sofa on view behind you is always a great icebreaker. Clients seem so much more at ease and relaxed often leading to a conversation between dog and client. Pets are very sensitive to their owner's inner feelings and have a great ability of understanding what it is you need by nudging and smothering you with affection. They may also display actions that give you a sign saying it's time to stop now".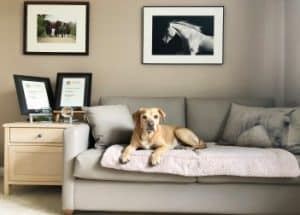 Photo credit: Karen Bennett, Photographer
Rae Radford, from Minster Mutts – 
"As a Social Media Influencer, I soon realised that sitting in front of a computer all day long wasn't great for my waistline nor my mental health. So, I decided to set up a small Dog Walking Business in and around my village. The beauty of my workload is now I get paid to walk some of the most amazing furry friends, I get away from the buzz of Social Media while exercising at the same time. Working from home especially in the winter can be very depressing and stressful, so escaping for the odd hour here and there not only breaks up your day but also gives you an energy boost".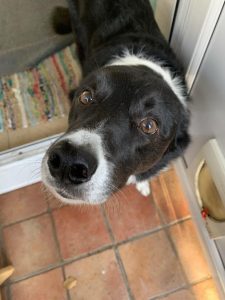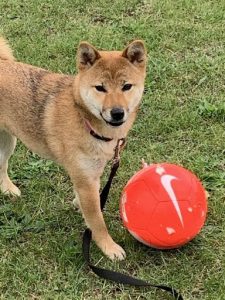 Photo credit:Rae Radford, Social Media Influencer
One and All Dog Fitness & Canicross – 
"I'd have been lost without my dogs this last 9 months of WFH, pretty sure I'd have just sat scoffing chocolate rather than out walking, the dog cuddles have certainly helped me de-stress. Being 'needed' has kept me active and given reason for me to keep a routine"
Disclaimer: The information in this story is accurate as of the publication date. Garden Buildings Direct are not liable or responsible for the accuracy of the advice provided by third party experts, nor for the content or operation of any third-party websites, webpages, or resources which have been linked to within this article.
Your furry friend would especially be more pleased to be your working companion if you're working in an insulated garden office!