When you think of the humble garden shed, it typically conjures up images of a place for storage that's stuffed to the gills!
And there's nothing wrong with keeping lawnmowers, strimmers, and bikes in a garden shed. Heck – we encourage it! But sometimes we forget just how much potential our sheds have to extend your living space. And it doesn't have to be a relaxing summer house or log cabin.


It could be a games room, home office, gym, or even a pub! That's what our wonderful customers have taught us – and boy have they been busy. They've been decorating the interiors of their BillyOh garden sheds and have been kind enough to send us pictures! We've picked fifteen of our favourites for creative shed interiors with heaps of inspiration!
---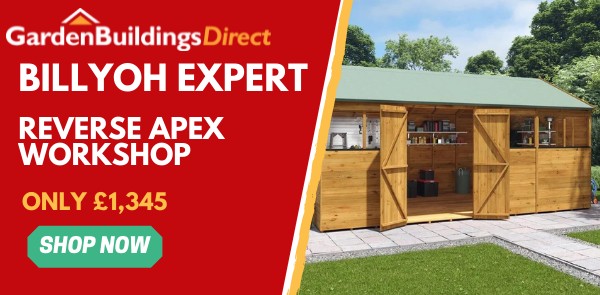 ---
Top 15: Glen's Leisure Room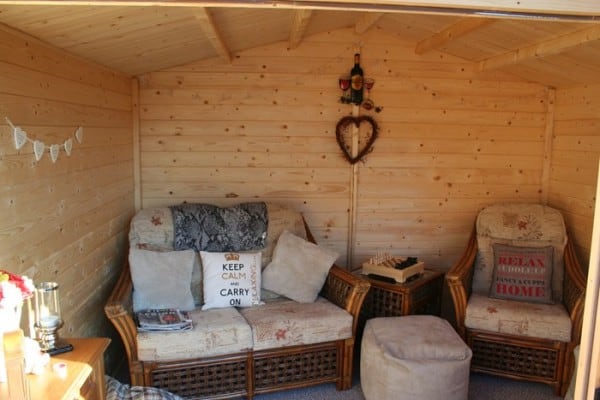 Glen's is the first to make our list of best interiors. There's an adorable mix of decor which has been chosen for this wooden shed. It's also matched by a set of comfy sofas and statement throw pillows. Glen's leisure room is proof that your humble shed can be transformed into a cosy garden retreat!
Number 14: Simon's Garden Office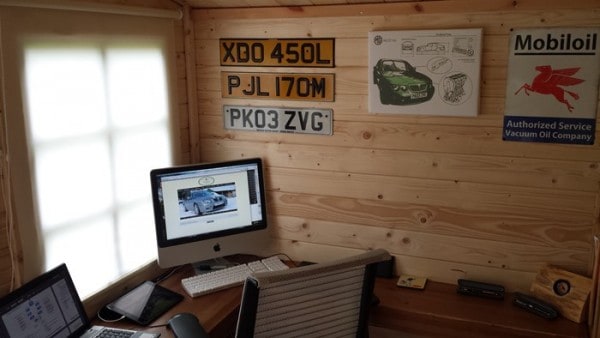 Next up is Simon's garden office. Working from home has never been quite so good with this shed-turned-office. Bringing in his wooden desk, classy work chair, computers and gadgets, Simon is all set to work and meet a deadline. Check out our range of garden offices for an upgrade.
Number 13: Brenda's Summerhouse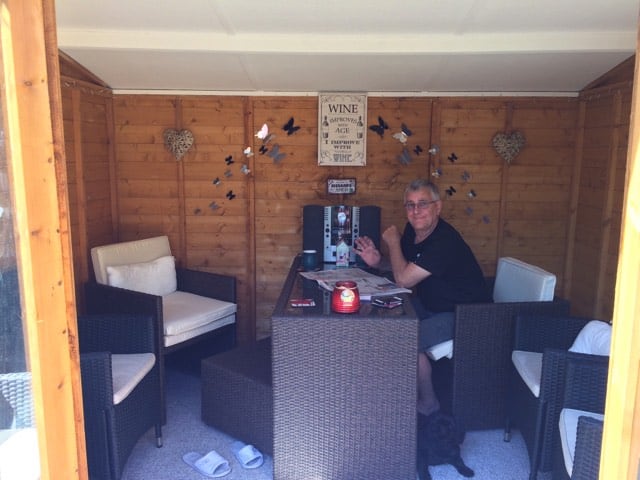 Brenda loves hosting parties in her summer house and we can see why. The shed is decorated with modern rattan furniture and features a basket bar where Brenda and her husband relax in the morning with a cup of coffee.
Number 12: Rachel's Seaside Summerhouse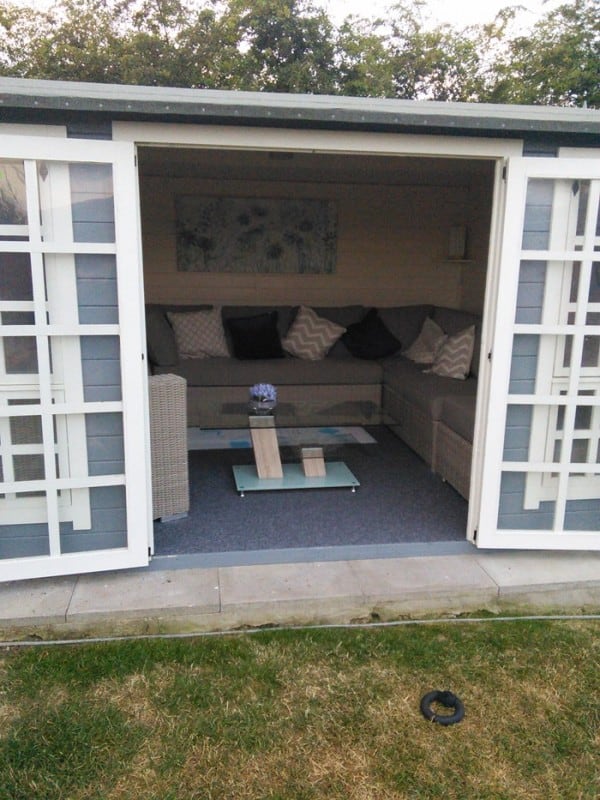 Rachel's blue summerhouse definitely deserves a place on this list of best interiors. Her soft blue-themed garden shed is all decorated from wall to floor and equipped with an exquisite and spacious couch to accommodate a large number of guests.
Number 11: Lisa and Paul's Spa Shed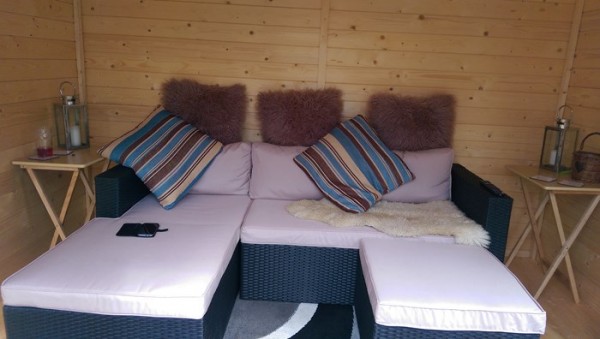 A spa in the middle of a garden! Lisa and Paul really know how to indulge themselves and their guests. We bet that the soft couch and pillows, scented candles, and essential oils have already have done a great job of pampering the lucky owners and guests.
Number 10: Contemporary Shed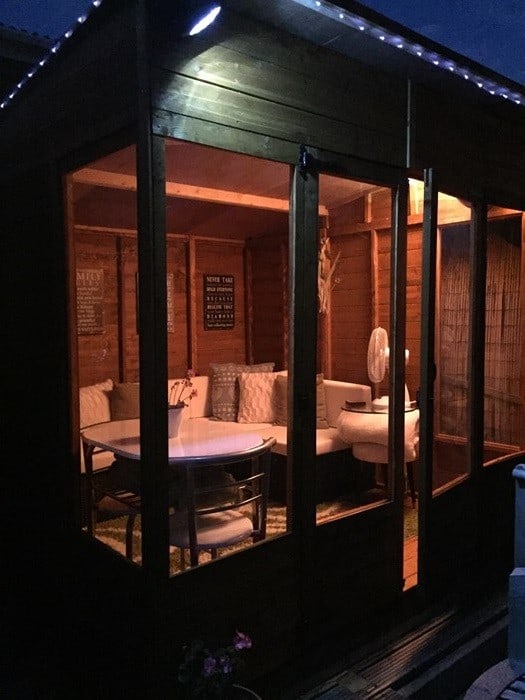 Night outs can be as cool and exciting as one spent inside this nifty garden shed. The white furniture against the wooden wall and floors elicit a sensational mix of music and contemporary feel that is sure to make a garden shed a favourite place to hang out every night.
Number 9: Jacky, Jim, and Zoe's Country Shed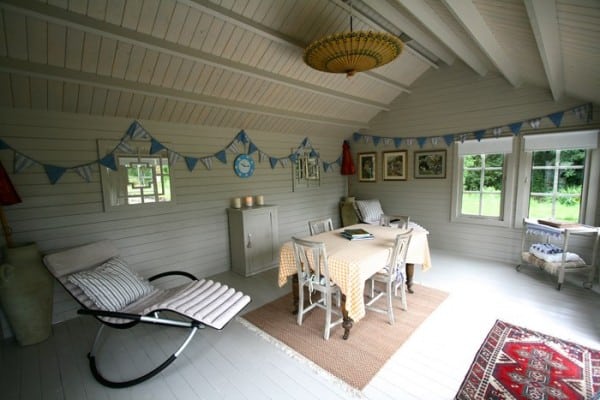 Jacky, Jim, and Zoe have created for themselves a breezy living space out of a garden shed. Look how they blend country-inspired table sets and home accessories with modern twin recliners. Neutral shades and bunting have really brought this airy shed to life.
Simplicity and symmetry really bring out the best of this creative interior.
Number 8: Ray's Rustic Shed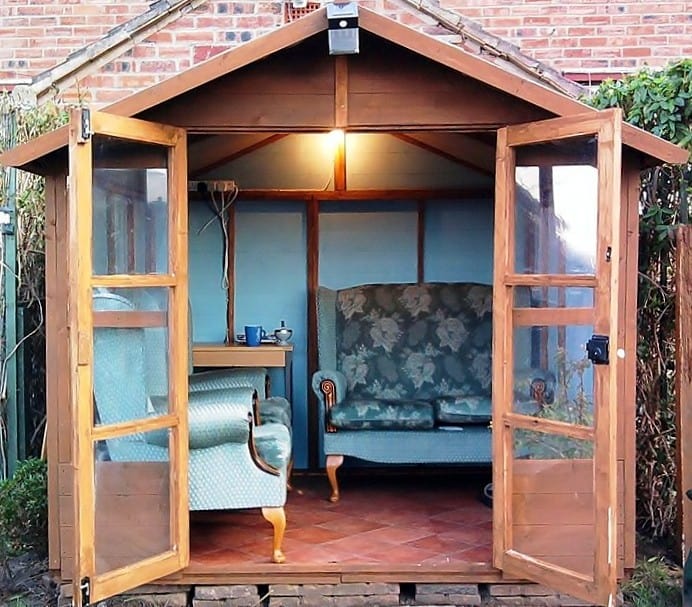 Ray's shed has more of a classic, traditional feel. We like the calm blue colours and the very comfy-looking armchair and sofa. Everything about it emanates peace, comfort, and tranquillity.
Number 7: Mick's Bar Shed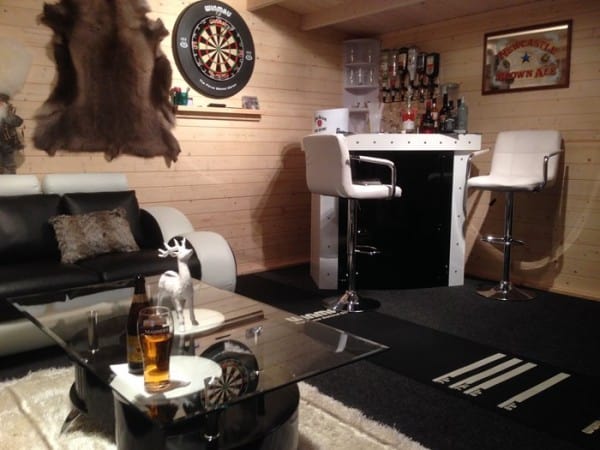 This shed has become a lodge and garden bar for the boys. Mick has a distinct and wild taste when it comes to hobbies as shown in his shed interior. This bachelor shed has everything you need for a wild night in, including a bar and comfy sofa to relax on! It reminds us of another bloke who turned his shed into a bar. We see a trend forming!
Number 6: Steve's Cosy Log Cabin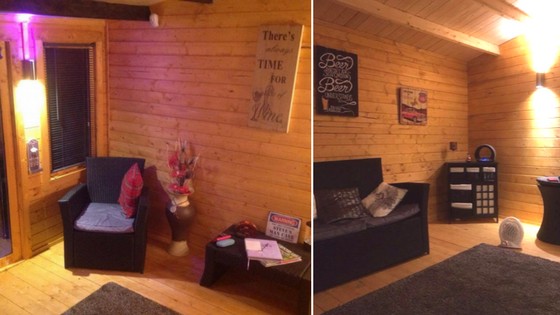 Take a look at this stylish retreat! Steve's log cabin has been kitted out with all the comfy furnishings to make it a comfortable space to spend time in with family and friends. This cosy space features a sofa, armchairs and a soft rug. Steve's also added stylish lighting so he can use the cabin at night.
---

---
Number 5: Gwyneth's Summerhouse

Next up is Gwyneth's attractive little shed! We're getting a bit of a seaside vibe from this pretty little summerhouse. With a table and chairs facing outwards into the garden, she'll be able to admire the very best of what nature has to offer.
Number 4: Michelle's Football-themed Shed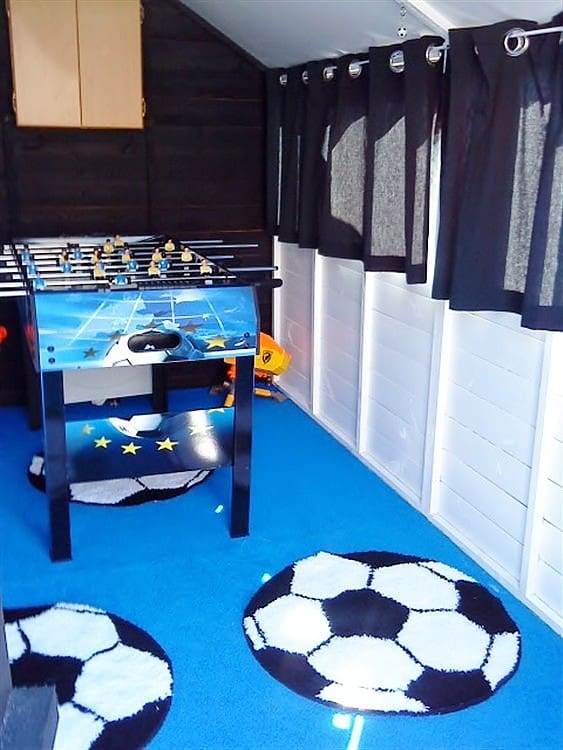 On the other hand, we'd guess that Michelle's shed is anything but boring. This looks like a real lad's pad through and through, complete with table football and a football-themed carpet. What more could young boys ask for?
Number 3: Disco Shed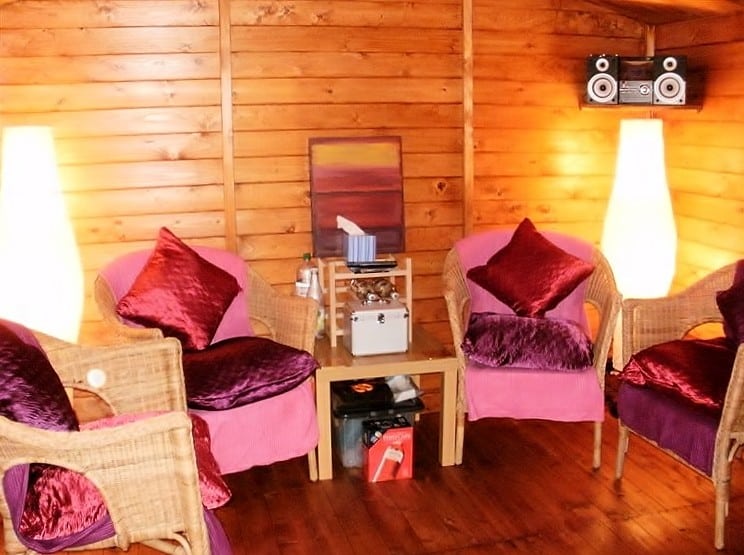 From a lad's pad, we turn to a girly room. Peter's shed seems like a daughters' haven. Pink cushions and blankets galore adorn the wicker armchairs, whilst a make-up box and stereo complete this disco-themed shed.
Number 2: Jane's Beach Hut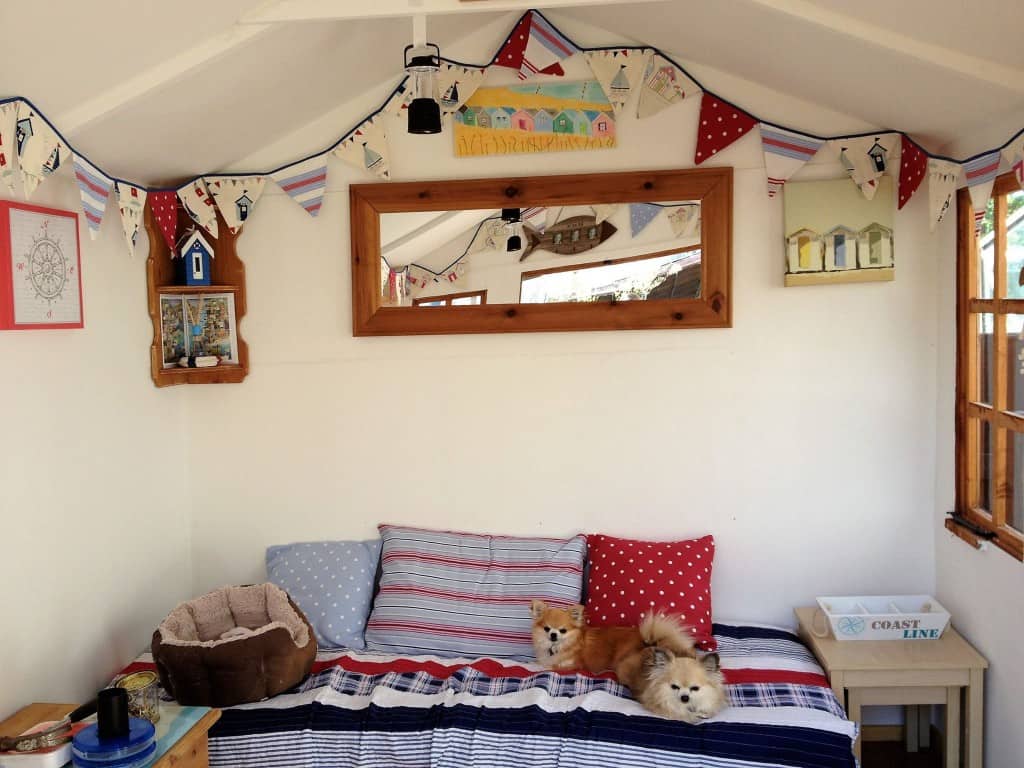 Jane's beach hut summerhouse is an idyllic retreat for her and her two cute dogs! The white walls combine with nautical colours to create a vibrant room that feels cosy. Soft furnishings make the shed homely and welcoming. We love the beach theme!
Number 1: Catharine's Shed Home Office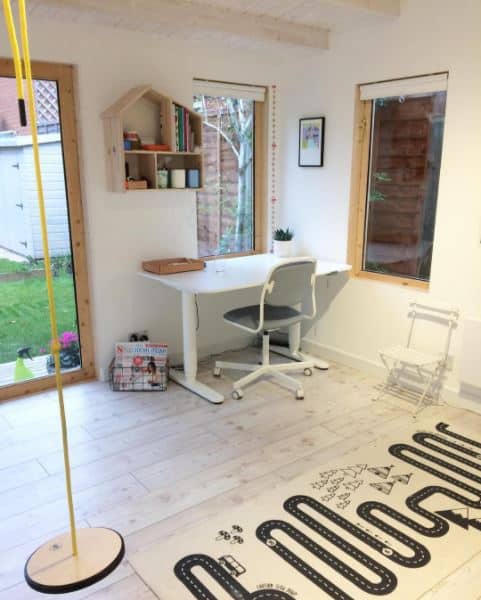 Catharine's log cabin office has an amazing interior. We literally did a double-take on seeing her photo – you could easily be forgiven for mistaking her shed for a contemporary office space. The stylish furniture, white-washed walls, and quirky hanging swing make the shed a perfect office space for any garden. 
And there we have it. Let us know what you think of the DIY designs in this article. Better yet, why not comment a link to your own garden shed, or get in touch on social media to feature on our next round up? We'd love to see how you've decorated yours.
Shop The Expert Pent Workshop