Potting sheds are one of the most unique and useful garden buildings out there. With such a diverse selection of garden buildings available on the market, a potting shed may not seem essential. Despite this, we can assure you that the features offered by a potting shed make it a truly unique proposition. Thanks to a potting shed's ability to combine the practical elements of sheds and greenhouses alike, there are undoubtedly a number of superb potting shed advantages.
Potting Sheds vs Greenhouses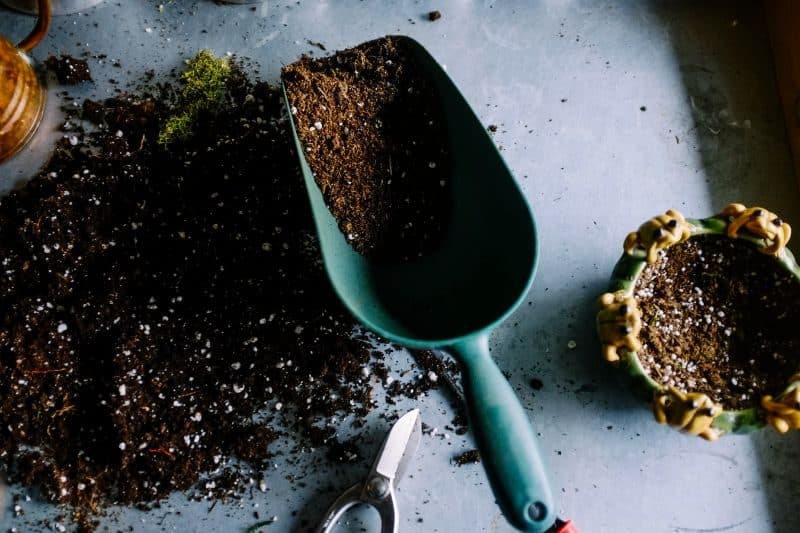 Greenhouses are usually made from transparent materials, such as glass or plastic, attached to a timber or steel frame.
The higher temperature within a greenhouse means that plants can be encouraged to grow which otherwise might not survive out in the garden. 
Potting sheds on the other hand, are perfect for gardening enthusiasts who need a space to grow plants, as well as perform other gardening activities which may not be feasible inside a greenhouse. When it comes to its functionality, a potting shed can provide every green fingered individual with a tranquil place to plot and plant.
Just like any traditional greenhouse, a potting shed offers a sanctuary for plants, creating the ideal growing temperature, especially for those that aren't ready to brave the outdoors. What makes a potting shed so great is that it offers a place for plants to grow, as well as a space for your pots, trays, tools, soil and seeds.
Potting Shed Advantages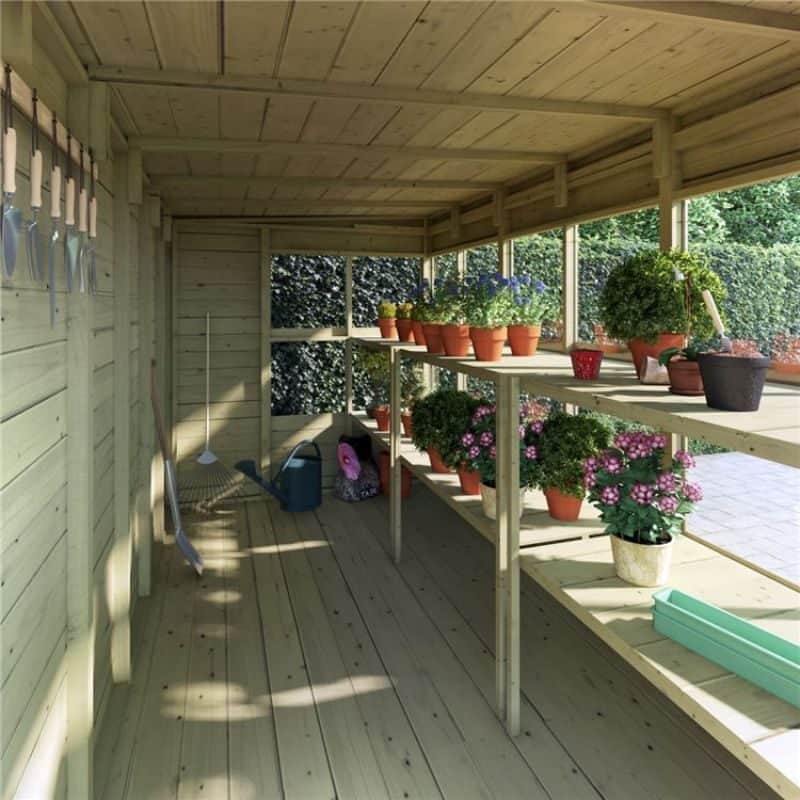 One of the advantages of owning an actual potting shed, rather than utilising a storage shed as an alternative, is that it can operate as the central hub for your gardening activities; be it sowing seeds, potting seedlings or pruning/deadheading plants.
But the potting shed benefits don't stop there!
Potting Shed Advantages #1: Provides the Ideal Environment for Plant House Potting
Potting sheds offer a warm environment for plants, as well as for seeds, pots and soil—keeping them safe from damp, cold and rain and at the same time, encourages the growth of plants and seedlings.
In addition, top of the range gardening tools and equipment tend to be quite expensive. If your house or garage ran out of space to store outdoor essentials, a wooden potting shed can be the perfect solution to keeping your costly items secure.
Most potting sheds feature secure key operated locks, which is something that greenhouse models don't offer. This incredible aspect lets owners keep their valuable items of gardening equipment along with their beloved plants.
Traditional potting shed models with angled glazed frontages can be particularly good at providing plants the needed light and heat they thrive upon.
Potting Shed Advantages #2: Wall Shelves for Your Pots
One of the best perks of utilising a potting shed is that shelves for pots and other equipment can be put on walls, as can hooks to hang tools from. Unlike in most greenhouses, there's not much to hang a hook on. You can have some shelves, though, but they have to be freestanding and can't be very high.
If you wish to add more shelves for your flower pots while saving interior space, a potting shed is the right option for you, especially if you're not aiming to grow produce throughout the year.
Potting Shed Advantages #3: Storage, Storage, Storage
A potting shed sure is more than a wall shelves enthusiast garden building. The amount of storage it brings is, in fact, one of potting sheds take pride in. Available in various shapes and sizes, this plant house building caters to the requirements of each gardeners—and that is extra storage.
If you have enough space to play with, you may add spare storage and more hooks to store items, from garden appliances to other items like mountain bikes and holiday decorations. Granted that it doesn't get in the way of your gardening, a wooden potting shed can be used for storage in more ways than one.
Potting Shed Advantages #4: A Relaxing Retreat
With our normal fast paced lifestyle, it's important to have an area in which you can escape from and have some time to yourself every once in a while. The tranquil atmosphere created by a wooden potting shed can be both calm and relaxing to sit in all year round!
What we like about this plant house structure is that they can be adapted to fit your ideal surroundings. For instance, adding seats and benches to create a place to sit in, relax and focus on your gardening hobby.
It has been proven that working in the garden or sitting alone can reduce cortisol levels, a chemical in your body that produces in response to stress, even more than reading a book. That having said, a potting shed can be a place to escape the pressure and stresses of life and relax to get a little head space and let go of your worries while interacting with the most incredible gift of mother nature, aka plants.
Potting Shed Advantages #5: Maintaining Plants
As we've mentioned a while ago, although greenhouses are traditionally viewed as the ideal environment for housing various types of plants, plant house potting sheds have proven their worth and are now equally suitable for this purpose.
The wood from which a potting shed is constructed provides excellent natural insulation and the space is likely to stay warm all year round compared to greenhouses that are typically only warm during the summer months. Plus, the windows from potting shed buildings allow in both natural light and heat, which explains the year-round insulating properties.
This also means that plant life, particularly greenery that require to be kept in a warm climate environment, will be better suited in potting sheds.
Potting Shed Advantages #6: Ideal Workplace
Who said potting sheds can only be utilised for gardening purposes? Just like any garden buildings, a potting shed sports its versatility, which lets you transform it into a wonderful place to relax and escape from the hustle and bustle of everyday life you may have.
Whether you're a writer who longs for a quiet workplace or working from home who needs an office area to carry out your work effectively, a potting shed can double up as an area of hard work and inspiration!
Not only that but it also can be perfect for a number of different uses, especially with lighting installed. You can utilise the building as an outdoor dining shack or even a playhouse for your children, or a simple quick getaway during the hot summer months or the chilly, winter evenings.
Things to Consider When Purchasing a Potting Shed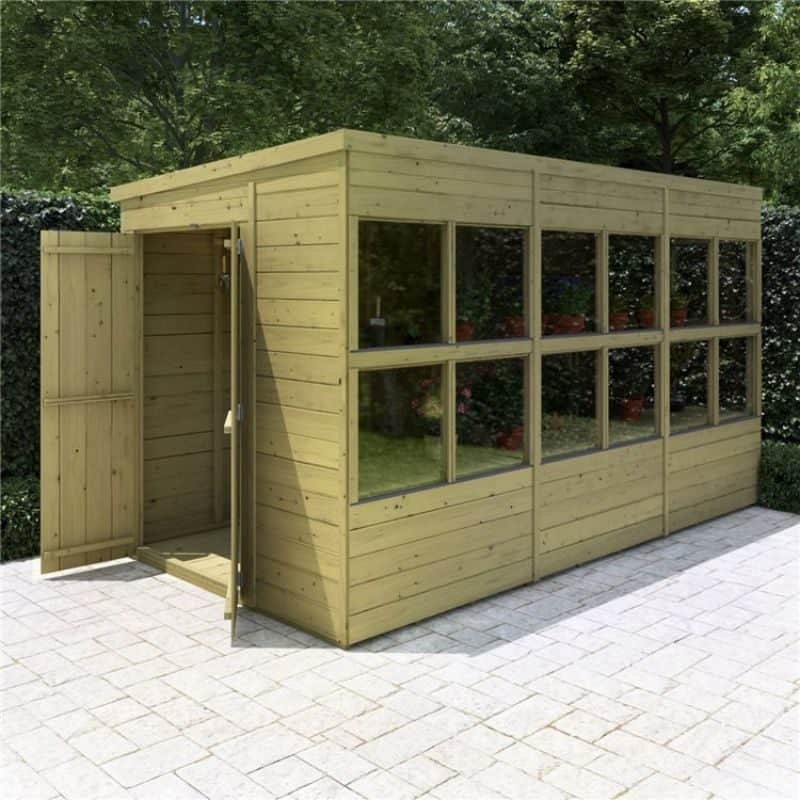 With a wide range of potting shed available on the market – all of which offer their own distinct perks and drawbacks – here's a quick run through of what you should consider before making a purchase.
1. Ventilation
If you plan on purchasing a potting shed, you'll want to make sure that the building has plenty of windows. Plants need light and the right temperature to reach their full growing potential. With this in mind, a well ventilated potting shed is vital.
2. Space
Make sure you're fully aware of the space you have available in your garden before buying your potting shed, in order to make a purchase which will best suit your needs. This is true for for the overall size of the potting shed, as well as the style of roof (dependent on whether or not height is an issue in your garden),
3. Material
For reduced cost and less upkeep, a plastic or metal shed building is ideal.
A timber shed, by contrast, requires more maintenance to stay in prime condition. But with pressure treated timber, this upkeep can be minimised. Moreover, as wood is a natural insulator and works well with glass, many potting sheds are airy and offer a good supply of natural light. This makes them the ideal choice for a potting shed, irrespective of any any additional costs.