Potting sheds stand out as both unique and invaluable additions to any garden. But with a wide selection of garden buildings on the market, it's easy to overlook their significance.
This blog will highlight the remarkable features that set this greenhouse alternative apart. Read on and discover the host of exceptional advantages they offer!
Potting Sheds vs Greenhouses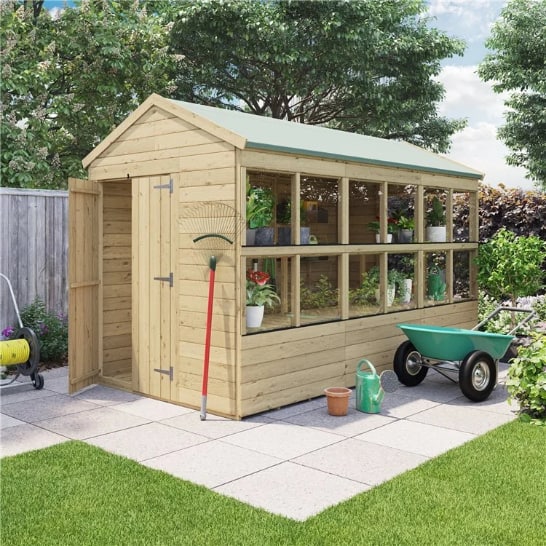 Garden greenhouses typically consist of transparent materials, e.g., glass or plastic, affixed to a sturdy timber or steel frame. These structures maintain a consistently higher temperature, providing the ideal plant environment.
In contrast, potting sheds for sale cater to gardening enthusiasts. They offer a multifunctional space for:
nurturing plants

engaging in various gardening activities that aren't suitable for a greenhouse
Functionality is a hallmark of a potting shed. It provides every green-thumbed individual with a serene haven for planning and planting. What truly distinguishes it is its dual purpose. It grants workspace not only for plants to thrive but also for your gardening essentials.
The Advantages
1. Provides the ideal environment for plant house potting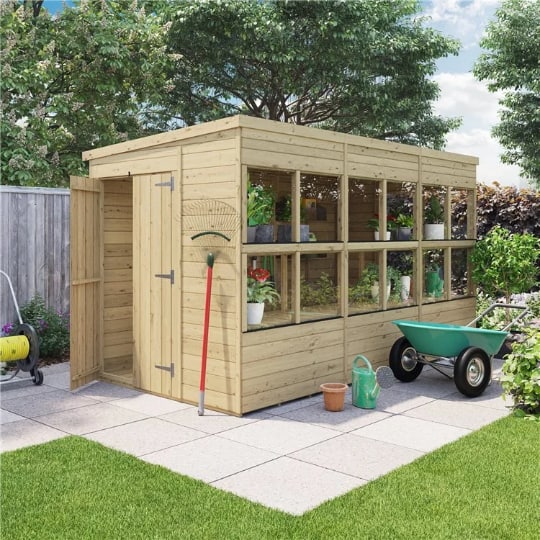 Potting sheds offer a warm environment for plants, as well as for seeds, pots and soil. Thanks to the angled glazed frontages, encouraging sunlight and heat to come in. This pent potting shed is a superb example, keeping them safe from dampness and elements. What's more, it can encourage the growth of plants and seedlings.
Top-of-the-range gardening tools and equipment tend to be quite expensive. If your garage ran out of space to store these essentials, a potting shed can be the perfect solution. Most feature secure key-operated locks, e.g., shed locks, which greenhouses don't often come with.
2. Wall shelves integration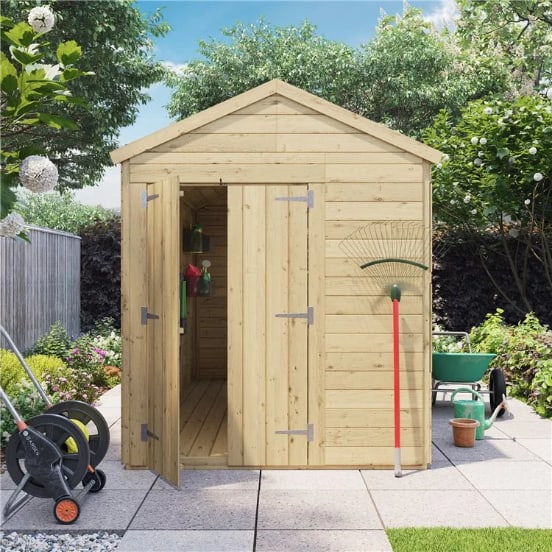 One standout perk of potting sheds is the versatility of their wall space. In contrast to many greenhouses, they provide convenient options for organising your tools. You can effortlessly mount shelves for pots, equipment, and hooks for tool storage.
This flexibility in shelf and hook placement is a game-changer. It maximises space utilisation while ensuring easy access to your gardening essentials.
A potting shed, even this wooden grow house, is ideal if year-round produce growth isn't your primary goal.
3. Storage, storage, storage
Potting sheds UK extend beyond mere wall shelves for gardening enthusiasts. The amount of storage they bring is, in fact, one of the advantages they take pride in. Available in various shapes and sizes, they provide ample storage space.
With sufficient space to work with, you can expand your storage options even further. The secret here is to install extra hooks and shelves. This extra space proves invaluable for storing a range of items like holiday decor items.
4. Relaxing retreat
In our bustling, fast-paced lives, carving out a space for personal escape is essential. A wooden potting shed offers a serene haven that remains calm and soothing year-round.
And what sets it apart is its adaptability to suit your ideal environment. Add seating, such as a cheap garden bench, to turn it into a tranquil spot for relaxation. With this approach, you can dive deep into your gardening passion. Your potting shed becomes your sanctuary for escaping life's pressures and unwinding!
5. Maintaining plants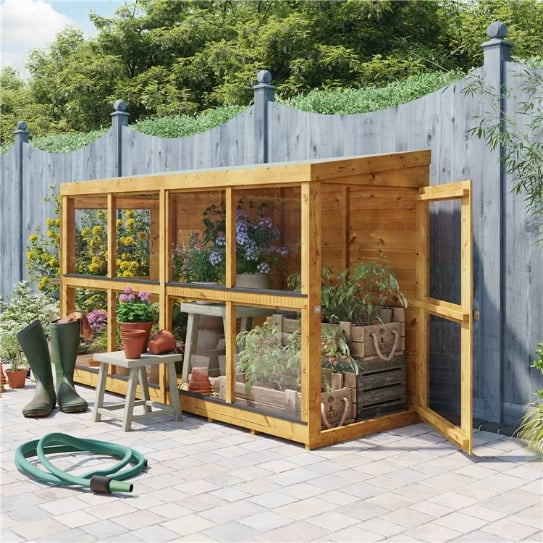 Potting sheds have emerged as equally viable options for nurturing your botanical treasures. For one, the inherent insulation properties of timber — with wooden potting sheds. This ensures a consistent warm environment throughout the year. It's a stark contrast to greenhouses that often lose their warmth outside of summer.
Moreover, the strategically designed windows usher in abundant natural light and heat. Thus extending their insulation capabilities year-round.
Such a unique attribute makes potting sheds an ideal habitat for plant life. This is especially true for those requiring a constant warm climate.
6. Ideal workplace
Who says potting sheds are exclusively for gardening? Just like other garden buildings, a potting shed boasts remarkable versatility. It can offer you the chance to fashion it into a serene escape from the everyday hustle and bustle.
For one, it is a hub of productivity and creativity – perfect for a remote worker in need of an efficient home office. But the possibilities don't end there. With the right lighting setup, this space can be reimagined as an al fresco dining haven. Or a playhouse for kids – take a cue on this potting shed playhouse.
7. Year-round comfort
A potting shed offers a comfortable space for gardening activities in any weather. You can tend to your plants and garden in a climate-controlled environment. Whether it's scorching summer heat, pouring rain, or chilly winter days.
Beyond gardening, a potting shed can serve as a versatile creative workshop. It's an excellent place for artists, crafters, or DIY enthusiasts to pursue their hobbies. With abundant natural light and ample space, it can be a hub for your crafting endeavours.
9. Organised gardening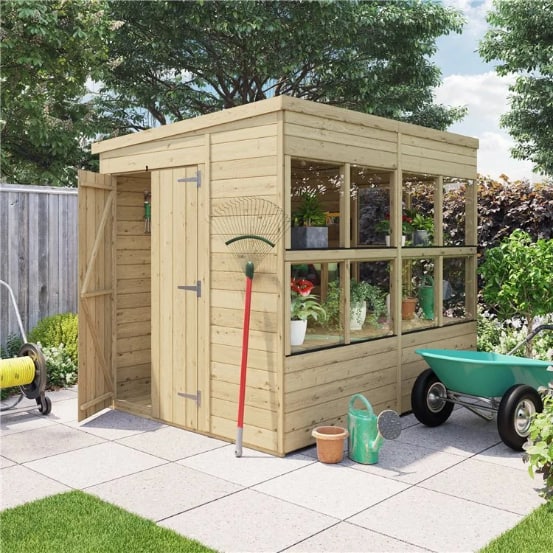 Keeping your gardening tools and supplies well-organised is crucial for efficiency. A potting shed helps maintain order, making it easy to access and keep your tools in top condition. No more searching for misplaced items or dealing with clutter in your green space.
10. Educational hub conversion
Transform your potting shed into an educational hub for gardening classes or workshops. It's an ideal setting to share your passion for horticulture with others. It can offer a space for teaching, learning, and cultivating a gardening community.
To get your own potting shed or greenhouse, simply click the button below. Start exploring our fantastic range here at Garden Buildings Direct!
Next on your reading list: 5 Best Plants To Grow In Your Greenhouse
Shop Greenhouses