With so many sheds and greenhouse available on the market today, a potting shed may not seem essential. But it certainly makes things easier, particularly when it comes to soil preparation, sowing and potting up seedlings.
Being able to offer their plants the perfect conditions for growing is a shared goal amongst just about every gardener out there. With that in mind, a dedicated area to prepare soil, pot and plant is crucial. If you're thinking about buying a greenhouse, then a potting shed is definitely worth your consideration as well.
Potting Sheds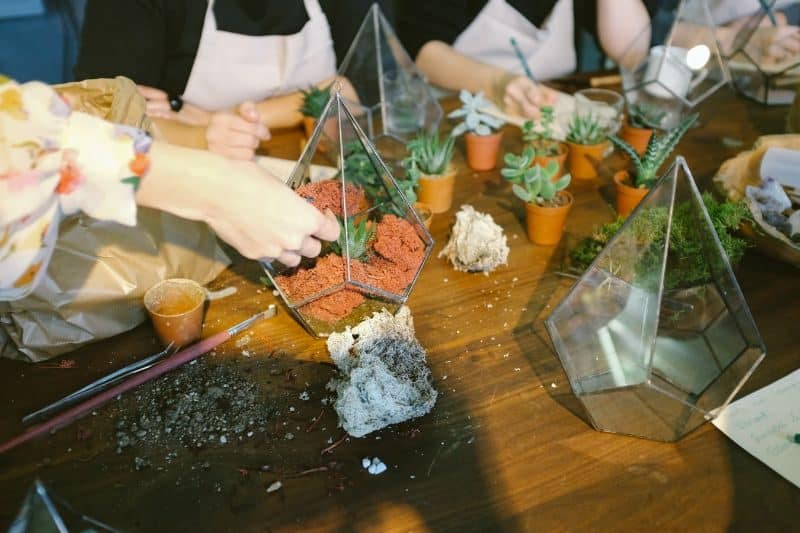 Offering a great environment for growing plants, a potting shed is a structure that lets you cultivate and grow whilst offering much needed protection against cold and windy conditions, without the need for a greenhouse. Not only does it provide you with a peaceful place to plot and plan, but it also allows you to do things which would otherwise cause a mess in your home.
Just like any traditional shed or wooden greenhouse, a potting shed offers a sanctuary for your plants, boasting ideal growing conditions. The shed element means that a potting shed can also be used as an area to store pots, trays, tools, soil and seeds.
Shed Designed Specifically for Planthouse Potting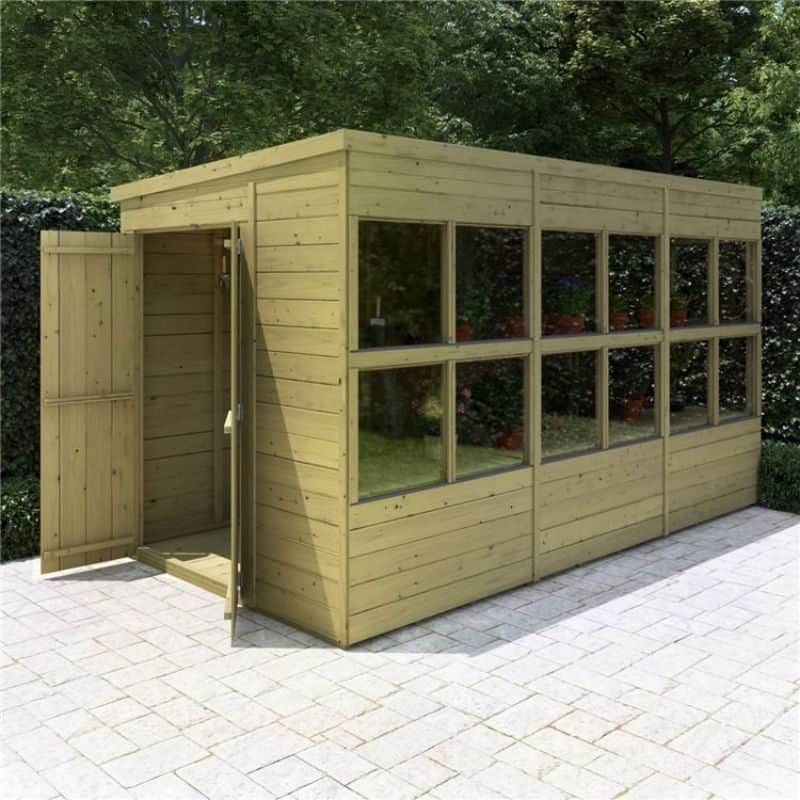 The advantage of owning a potting shed, as opposed to utilising a storage shed  as an alternative, is that it functions as a place specifically to keep your plants. Here, you can pot your new plants and start to grow new seedlings. Moreover, your potting shed can become the central point for all of your growing activities, rather than having herbs and other plants spread all over your garden.
So, a potting shed is ideal for those who view growing and cultivating plants as an enjoyable and relaxing past time.
The BillyOh Planthouse Potting Shed is a shed and greenhouse rolled into one, with 2 tier windows and shelving included as standard. The door can be placed at either end of the building for convenience, and it comes complete with pressure treatment as standard for longevity and protection.
Made out of European sourced timber, this potting shed guarantees 100% dependable quality and is built to last.
Design Insights
Integrated shed and greenhouse combination

Tongue and Groove construction throughout

11mm Floor & Roof included

Complete with green mineral roof felt, fixtures and fittings

Pressure Treated as standard for protection and longevity

2 tier windows and interior shelves

UK manufactured—with over 20 years of experience in design and production
Unique Features to Look Out For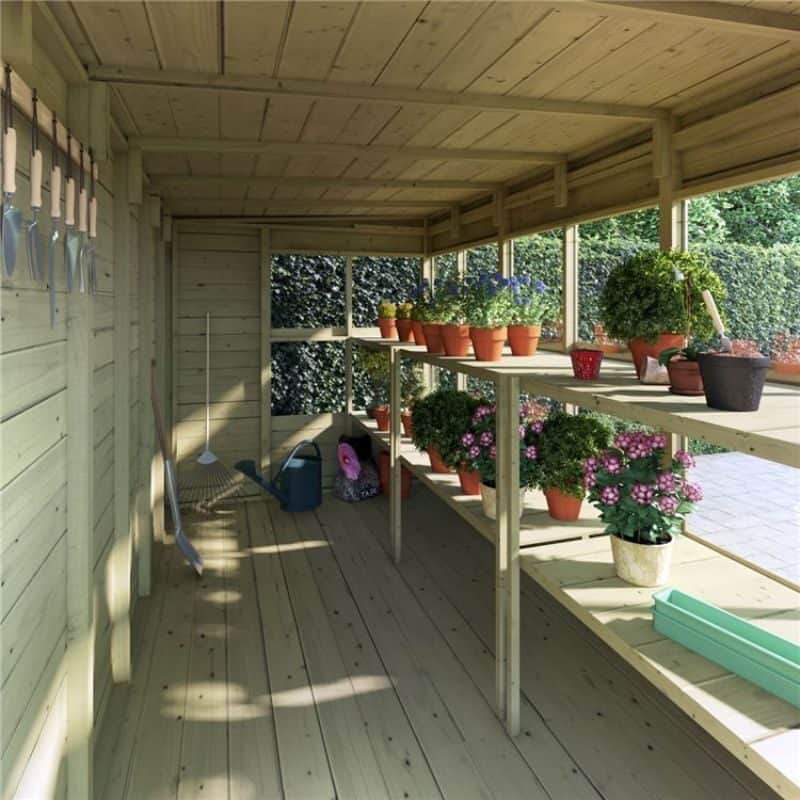 Durable Tongue and Groove Construction
When buying a garden building, other than focusing on the overall design, quality, and price of the structure, it's also important to consider the build quality and cladding used.
Cladding may seem a minor aspect of your outbuilding, but it's actually crucial for the overall finish and longevity of your potting shed. This is what keeps your garden building weatherproof and secure. 
Taking pride its robust tongue and groove construction, the Planthouse Potting Shed provides stability and security to the building and its contents. 
The panels interlock, creating a smooth finish which enhances the style of the storage unit. Each panel is 11mm thick and provides the shed with a fantastic degree of strength.
Improving the structural durability and strength of the entire building, this potting shed ensures that your plants, herbs, pots and seeds will be protected against storm damage, preventing rainwater from entering the structure, whilst also offering protection against other harsh forms of weather such as biting cold and vicious wind.
Ultimate Tear Resistant Felt
To ensure that your potting shed looks greats and functions as it should, it's vital to take the time to check out each feature of the building you plan to buy. One of the aspects you need to look out for is the roof.
What we like about this potting shed unit is that it sports a high performing waterproof felt which gives the overall building structure heaps of protection. With this, you can be safe in the knowledge that your building and the plants within are protected from harsh weather conditions and water damage.
This wooden potting shed includes a green mineral felt as standard. This felt is durable and watertight, which helps in preventing any water from slipping through and damaging the roof.
In addition, this felt is more durable than traditional sand felt, meaning that it does not need to be regularly replaced, making it a long term, cost-effective option.
Pressure Treatment 
For the ultimate protection and longevity of your potting shed, we recommend opting for pressure treatment. Pressure treatment is an extra step in the construction process. It involves timber being treated in a pressurised tank, with preservatives coating the wood. This greatly prevents rot, damp and general weather related wear-and-tear in the future.
This protects the wood inside and out, and is far more effective than regular treatment which only coats the surface of the wood. By pressure treating your timber, you're left with a building which is low maintenance and cost-effective. You may even so money in the long run, as a result of greatly reduced maintenance costs.
Note: The BillyOh Planthouse Potting Shed comes with pressure treatment as standard.
Available Sizes and Prices
8 x 6 – £749.00
12 x 6 – £939.00
16 x 6 – £1,209.00
Dimensions
Overall Dimensions (Includes Overhang)
(A) Width: 2.34m (7ft8)

(B) Depth: 1.87m (6ft2)

(C) Height: 2.04m (6ft8)
Customise Your Potting Shed
Base Option
No Base – £0

Ecobase Fastfit Full Base – £135.00
Guttering
None – £0

Standard One Size – £79.00
Optional Extras Available
Discover our range of BillyOh accessories that allow you to customise your very own garden building to the last detail:
Wood stain and protector paint
Exterior superior paint

– Please note that this not pre-painted on the product before delivery, and is supplied in a tub of paint.

BillyOh Deluxe Padlock and Hasp (£9.00)
BillyOh Silicone and Gun Set (£15.00)
BillyOh Value Assembly Kit

 

(£25.00)
BillyOh Deluxe 50mm Padlock Protector (£35.00)