Greenhouses, regardless of the type, serve one purpose – and that is to cultivate plant life by providing them with the ideal growing environment. 
Deemed as a highly practical gardening solution, every greenhouse style is designed to stimulate efficient growth and longer growing seasons. If you're thinking about what structure of greenhouse to opt for in your garden, metal greenhouses provide an excellent asset, boasting advantages that cannot be offered by other greenhouse types.
Metal Greenhouses UK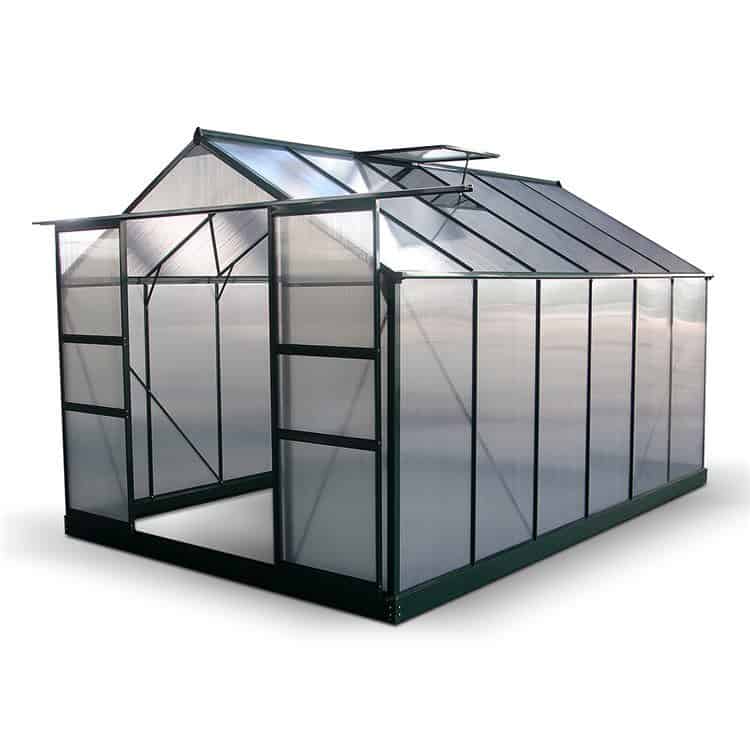 Just like any other type of greenhouse building, steel-frame greenhouses come in a range of shapes and sizes. 
Other than shielding plants from often adverse climate conditions – e.g. chilly temperatures, strong winds, heatwaves and torrential downpours – metal greenhouses offer a number of additional advantages that simply aren't by their wooden and plastic counterparts.
If you're looking for a more load bearing solution, a metal greenhouse offers this over a traditional wooden greenhouse. As metal greenhouses are often designed to be protected from corrosion and rust, they represent a perfect choice if you're after a more low maintenance option.
Metal Greenhouse Advantages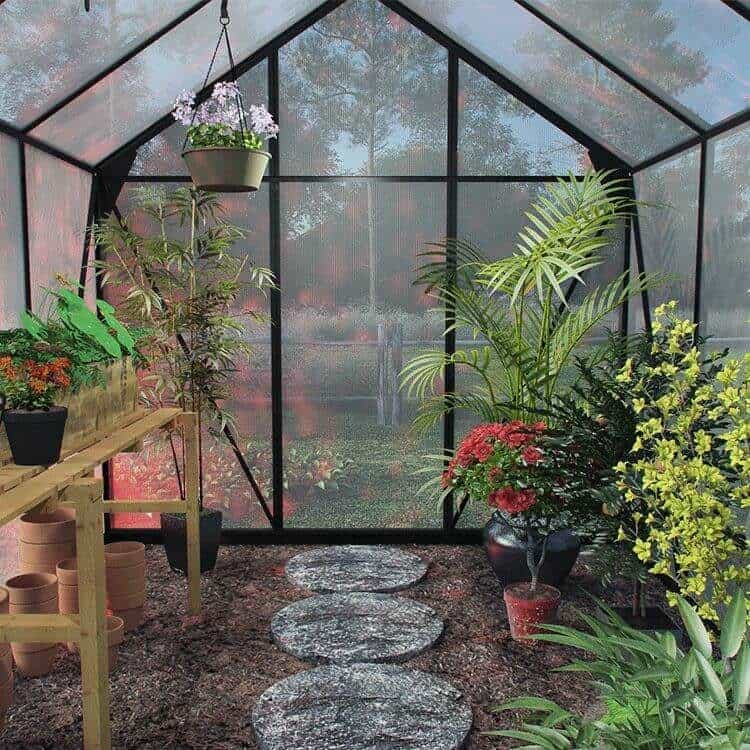 Curated by our outdoor experts, here are the following benefits that you can reap when you opt for a metal or steel-frame greenhouse.
Metal Greenhouse Advantages #1: It Offers Superior Protection for Plants
Perhaps one of the prime benefits of owning a metal greenhouse in your garden is the superior protection it can provide your fruits, vegetables, and other plants. Plus, steel frames are heavy, which helps the overall structure remain stable, especially in windy conditions.
Thanks to its robust material and design, you can relax at home knowing that your harvest is well protected from the often harsh elements. The more secure the environment is for your plants, the more they'll flourish and bloom in a safe manner.
Metal Greenhouse Advantages #2: It Provides Enough Source of Light
Plants get their energy from light through the process called photosynthesis, affecting the growth of a plant. Without a source of light, your greens wouldn't be able to produce the necessary energy they need to grow.
Hence, sunlight is crucial when it comes to your growing space. With a steel-frame structure, it ensures to provide your plants with plenty of natural light.
Metal Greenhouse Advantages #3: Economical
In contrast with glass greenhouses, metal greenhouses are a lot less expensive. Glass greenhouses often end up being around 40% more costly, while steel-frame buildings are extremely strong, built to last, and low cost.
This makes metal greenhouses an ideal choice when wanting a large greenhouse in a commercial setting, in order to keep costs down.
Metal Greenhouse Advantages #4: Easy Packaging and Installation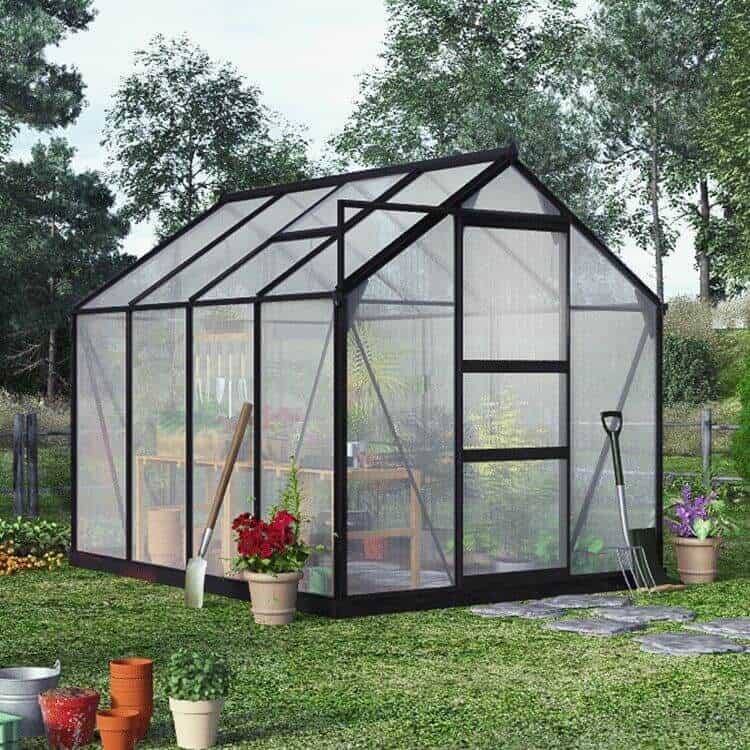 You don't have to worry about asking for an army to help you construct your metal greenhouse, thanks to its simple design and construction method.
Even better, most metal greenhouses are unique with their user-friendly packaging style. All-inclusive kits means that they're ready right out of the box. This also means you don't have to purchase any more parts to build the frame.
If you want a straightforward assembly process and something that doesn't require extensive labour or knowledge about greenhouse construction, you know what type of greenhouse to buy!
Metal Greenhouse Advantages #5: Energy Saving
Did you know that metal constructed greenhouses are more energy efficient than glass greenhouses? 30% more energy can be spared by simply utilising garden metal sheeting around the greenhouse.
By settling on a metal greenhouse in your outdoor space, it's guaranteed that you can spare a ton of energy production.
Metal Greenhouse Advantages #6: Pest Prevention
Greenhouses are where plants live and thrive. With an enclosed building structure, a metal greenhouses can be exceedingly beneficial in terms of protecting your harvest from pests, including: predators such as:
For rodents, you can add traps and screens around your greenhouse to guard your plants from them. Meanwhile, ladybugs are considered beneficial to the plants. They can help in keeping the population of nuisance insects under control.
Metal Greenhouse Advantages #7: Tough Aluminium Frame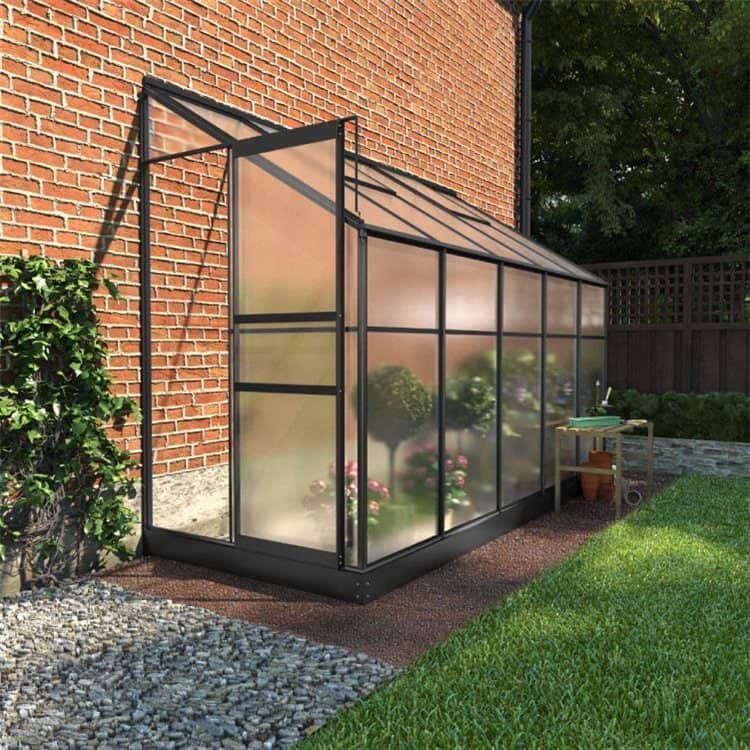 Most aluminium materials that are used in metal greenhouses are lightweight and firmly built, allowing the building to withstand daily wear and tear. What's more, the greenhouse frame is rust-free, which lets you focus on other maintenance duties, as opposed to patching small cracks or crevices which have naturally worn.
Similarly, a metal framed greenhouse will not rot like wood, nor would it easily succumb to the intense heat of sun. In terms of aesthetics, metal greenhouses feature aluminium frames with a smooth, green outer finish, allowing it to easily blend into any garden.
If you want to experience guaranteed durability, a metal greenhouse can be the ideal investment for you!
Metal Greenhouse Advantages #8: Polycarbonate Glazing
One of the features that stands out most in many metal greenhouses is polycarbonate glazing. Many retailers offer steel-frame greenhouses that are designed and built using Twin-wall polycarbonate glazing, instead of traditional glass.
The glazing diffuses sunlight and spreads it around the interior. This protects your plants from excessive levels of heat, therefore avoiding any harm which may negatively impact upon their growth.
Reflective insulating properties on the other hand, reflect the heat from the sun. This keeps the inside cooler and creates a more conducive environment for growth, helping your plants to grow perfectly!
Polycarbonate glazing also has a UV coating. It contributes to the protection of the plant and improves the durability and strength of the glazing.
Metal Greenhouse Advantages #9: Wide Range of Sizes and Shapes to Choose From
An additional benefit to consider is that metal greenhouses come in a wide selection of shapes and sizes. What's more, some retailers even provide modular designs, which can be extended or reduced in size, depending on precisely what you're after.
Given the high number of offers available today, finding a suitably steel-frame greenhouse that will meet your specific demands for quality and size isn't that difficult. A modular design will enable you to fit such a structure anywhere in your garden, regardless of how big or small it is.
Metal Greenhouse Advantages #10: Extended Growing Season
The benefits of aluminium materials have a significant impact on the overall performance of a greenhouse, which primarily leads to a prolonged growing season.
With this, you can now enjoy the perks of an extended growing season – allowing you to get more out of your plants! Consequently, you'll be able to harvest more fruits and vegetables throughout the year.
This also can help you increase your plant production, allowing you to cultivate all sorts of plants all year round! Many seasonal plants (such as less hardy herbs like parsley) can only be effectively grown during the warmer months. With a greenhouse, this issue is quickly washed away, allowing you to grow otherwise seasonal plants throughout the year.
Metal Greenhouse Advantages #11: Multiple Purpose
Having a metal greenhouse also lets you use it for a variety of purposes! As long as you understand the condition your plants or seedlings require to survive; you can grow various plants, such as fresh, organic vegetables, flowers, bulbs and houseplants, including exotic plants!
What's more, you have the freedom to change what you sow every year and adjust accordingly for your ideal harvest.