Although our business specialises primarily in garden buildings and external storage, some of our more creative and intuitive customers have used our products for other purposes – such as Ellie from Gloucester.
Ellie is a qualified mobile beautician based in Cheltenham, and with over ten years in the trade – weighed down with travelling and hefty rental fees to carry out her business in other people's salons – she decided the time was right to set up her own shop closer to home.
"My favourite thing about the Highfield Log Cabin is definitely the benefit of being able to run a salon from home!"
After endless hours browsing the internet for the perfect setup, Ellie visited Garden Buildings Direct due to our 'choice of buildings and variety of style,' and finally set her sights upon our Highfield Log Cabin. She believed that it would be the perfect setup to start up her own business in – and all from the comfort of her own home!
Her main reason for choosing the Highfield above other log cabins is that she knew that its sizeable doors and windows would make for excellent lighting to give her salon a homely feel.
"The windows and doors just looked like they'd make for great lighting…"
Ellie saw the product as a solid investment, which would allow her to progress further in her trade while saving money in the long run.
 Shortly after purchasing the cabin, she got straight to work on creating her ideal salon.
She decided to paint the exterior a pale pink with floral draping and neon lights to really make the place stand out – the interior follows suit and is also a mix of pink and neutral tones to compliment the outside's colour scheme.
"100% do it, it will be the best decision ever – great quality and service!"
You can see the full extent of Ellie's makeover below:
At Garden Buildings Direct, we're very proud of Ellie's use of our garden furniture, and we hope that no matter your idea of a worthwhile garden investment, we will strive to provide you with the best product and service possible should you choose to use our brand.
To see how Ellie is getting on with her beautician ventures, go check out her Instagram – @ellebeautyx_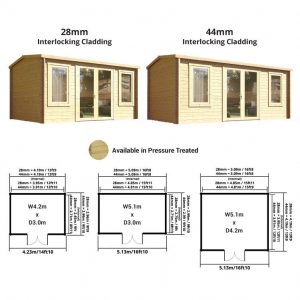 If you've got a fantastic story about your BillyOh shed, summerhouse or log cabin conversion – we would love to hear it! Simply get in touch with us on our social media pages for a chance to feature here.
And why not check out some more of our customer stories here!
Shop Log Cabins