We love to catch up with our customers to see how they're getting on with their garden buildings. So this week, we caught up with someone special who had a great story about how they transformed their BillyOh purchase.
As a mother to two children (and a handful of pets), Jennifer's living space can get pretty hectic – especially when there's a full house on the go!
Therefore, she decided to expand her house slightly by building a getaway at the bottom of her garden.
After trialling a couple of different sites which she found tricky to navigate, Jenny came across Garden Buildings Direct where she had far more success searching for her new unit.
'I also liked the website and found it easy to use.'
After browsing the site for a little while, she found the perfect retreat in our BillyOh Winchester Log Cabin, mainly due to its spacious size and open plan layout.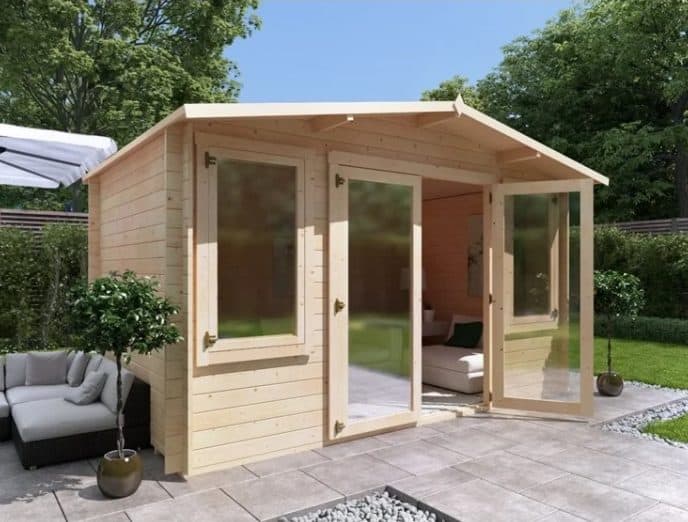 'We chose this building due to its size – it was the largest log cabin on the market.'
After a rapid order-to-delivery turnaround, Jenny set her sights on decorating her newly acquired building. The exterior was painted a cosmic grey with white trims, and lights were fitted on the outside to give it a homely touch.
The interior was originally decorated to be a social space for her children, but over the years she's transformed it into a number of things. It was subsequently madeover into a man cave, complete with football memorabilia, a pool table, and a large flat-screen TV for a little while afterwards.
Now it serves as a home garden gym which her son and husband use to train in, which has been especially handy over the lockdown period.
'Over the years it's had many different uses! When we brought it, we intended for it to be used by our children as a place to socialise and have sleepovers with friends.'
You can see the full extent of Jennifer's makeover below: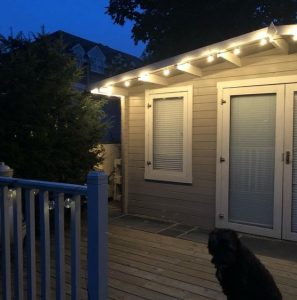 'I like the fact that it's had many uses and that we have this extra space to allow ourselves and our children to use it whatever way we feel best.'
There's no doubt that the Winchester Log Cabin is a very versatile unit, and we're buzzing to see the many transformations Jenny has conducted over the years. To check out some of these, go check out her Instagram account – @athomewithjen__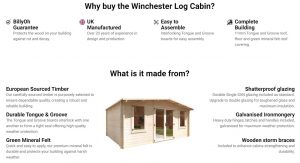 And if you've got a great story about your BillyOh shed, summerhouse, log cabin or playhouse conversion – we'd love to hear it! Simply get in touch with us on our social media pages for a chance to feature here.
And why not check out some more of our customer stories here!
Shop Log Cabins