We love to catch up with our customers to see how they're getting on with their garden buildings. So hearing back from Shirley, who brought one of our great Fraya Log Cabins, was a real treat – and we loved what she had to say!
We all make our homes to be a place we can feel relaxed and comfy in. But there's no doubt in anyone's mind that everyone needs time out of it, especially when it comes time to focus on work.
Shirley felt just the same – being at home was great, but she wanted to work in a different place to where she relaxed. In search of a solution, Shirley decided on making a whole new room outside the house where she could work in peace – and this led her to us.
In need of a room outside the house, Shirley decided on a Log Cabin building for her garden. And she went to the one place she knew guaranteed a good price and a quality build – Garden Buildings Direct.
"Your website was easy to use and allowed me to filter by log thickness – that's why I chose GBD."
Once on our site, Shirley filtered through our products for one that would fit the bill – with lots of space, thick cladding, and double glazing. Only the best in show could impress Shirley – so it's no surprise that the Fraya Log Cabin caught her eye.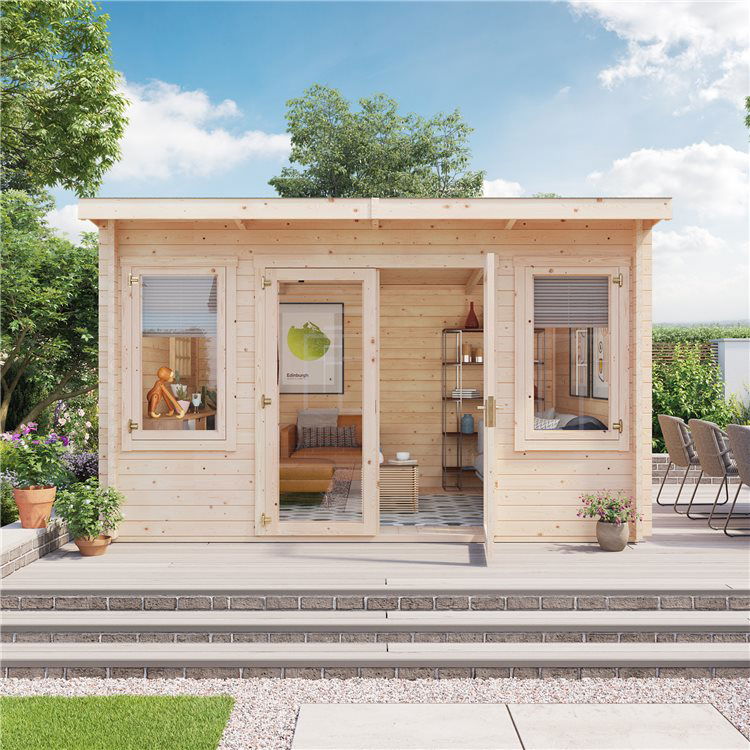 The BillyOh Fraya, with thick cladding options and double-glazed windows, is a garden room you can use all year round. Spacious, comfy, and attractive inside and out, it's a garden room that suits any outdoor space. And, with a variety of sizes and weatherproof pressure treatment available, you can personalise it for your needs just like Shirley did.
Once it was in the basket, it wasn't long before Shirley had brought and received delivery of her new 4 x 2.5m log cabin. After a quick assembly, it was time for decoration – and they didn't do a half job.
"We painted the exterior to match the design of our garden and whitewashed the interior with a neutral but cosy style."
Take a look at Shirley's handiwork below!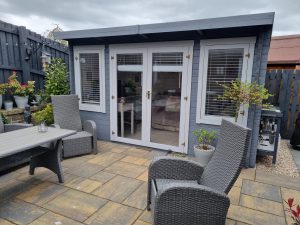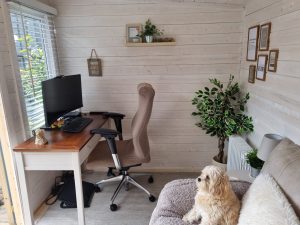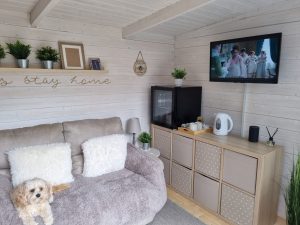 Looks amazing Shirley –  you know your way around garden room decor, that's for sure! (We're big fans of your adorable dog too!) With it all set up with her workspace, Shirley uses the garden room to work in a peaceful environment away from the noise of family interruptions and the washing machine. This allows her to separate home and work effectively.
She's happy with the outcome, too:
"Overall, my experience with Garden Buildings Direct was excellent!" 
When we asked if she had one bit of advice for customers, it was to buy big – the bigger the inside space, the more you can do with it and get out of it. Shirley also noted that it's important to consider your electronics and utilities before buying so you have everything you need. We agree with all of that Shirley!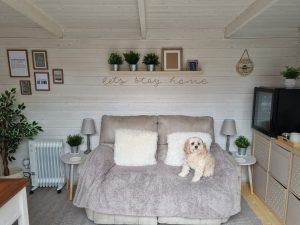 To get a log cabin that's just right for your garden, then check out our great selection of Log Cabins using the button below. Or, you can check out more reviews and stories in our other amazing Customer Stories.