We love to catch up with our customers to see how they're getting on with their garden buildings. And today we have a truly special story from David at Kettering Town Football Club about how they have made the most of their new BillyOh purchase!
More often than not, individuals come to Garden Buildings Direct for home improvements and extra storage space. But we were really blown out of the water when a representative from Kettering Town Football Club came to us seeking the use of one of our products!
Although it does happen occasionally, it's not often that a large business will come to us for a product, usually we just help out families who want new garden units. But when Dave came to GBD seeking our services a little while back, we were ecstatic to help out in any way, shape or form.
Dave needed a large storage unit for football equipment, but he specifically needed something very sturdy, safe and secure due to hundreds of football fans being near it on matchday.
'The shed we purchased needed to be secure, stable and look the part as it would be seen by hundreds of people on a match day.'
'We opted for a windowless option to increase security, albeit the contents aren't valuable but we felt it would look tidier.'
After a little bit of research from himself, and our personal recommendation – Dave decided that the Master Tongue and Groove 10×8 Windowless shed would be the ideal storage spot due to its incorporated safety features.
And with a 10-year anti-rot guarantee as standard on all tongue and groove sheds, it'll definitely stand the test of time!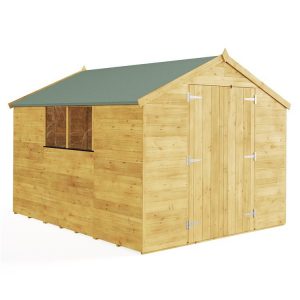 'We appreciated the size and construction options available and felt our final selection was perfect for our needs.'
With the help of the football committee, Dave had the new structure installed in practically no time at all, and ready for storage of precious goods.
Decor-wise, they decided to leave it in its natural state – it was to be used for storage after all and they didn't want it sticking out like a sore thumb!
'The whole experience was first class from selection, to order, to delivery.'
'The additional information on base types, roof types etc. on the website meant we could tailor the final configuration.'
We're pleased to hear that since construction, the storage unit has held up perfectly and Kettering Town FC have had no trouble at all with missing equipment or break ins!
You can see the full transformation below: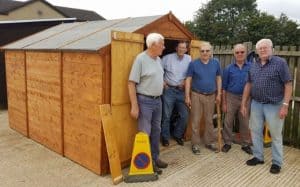 'Garden Buildings Direct and their additional information helped us to save money – so thank you! The process couldn't have been any easier.'
We're really pleased with the feedback we received from Dave and everyone at Kettering Town FC. We've been showered with compliments from them and we're so glad that they love their new sturdy and reliable product – any chance of a free sponsorship deal, lads?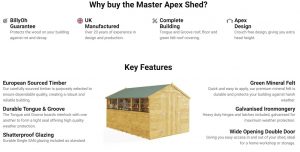 If you've got a great story about your BillyOh shed, summerhouse, or playhouse conversion – we'd love to hear it! Simply get in touch with us on social media for a chance to feature here.
Or if you want, you can check out more customer stories right here.