Just like many gardeners who find peace when they spend their time in the garden after a long, tiring day, the same goes for most men when they are in their place to get away and relax – aka their man cave bar.
Apart from the leisure that a man cave can provide, isn't it great when you have your own personal sanctuary where you can have your much-needed me time in between your tight schedule?
Having a temporary get away from the stresses of a modern, fast-paced lifestyle is something that can be beneficial, not only for male mental health, but also for everyone else's, too. Now, if you're looking for ways on how you can start off your dream man cave and build the ultimate man cave bar, you've come to the right place!
Turning Your Log Cabin Into a Man Cave Bar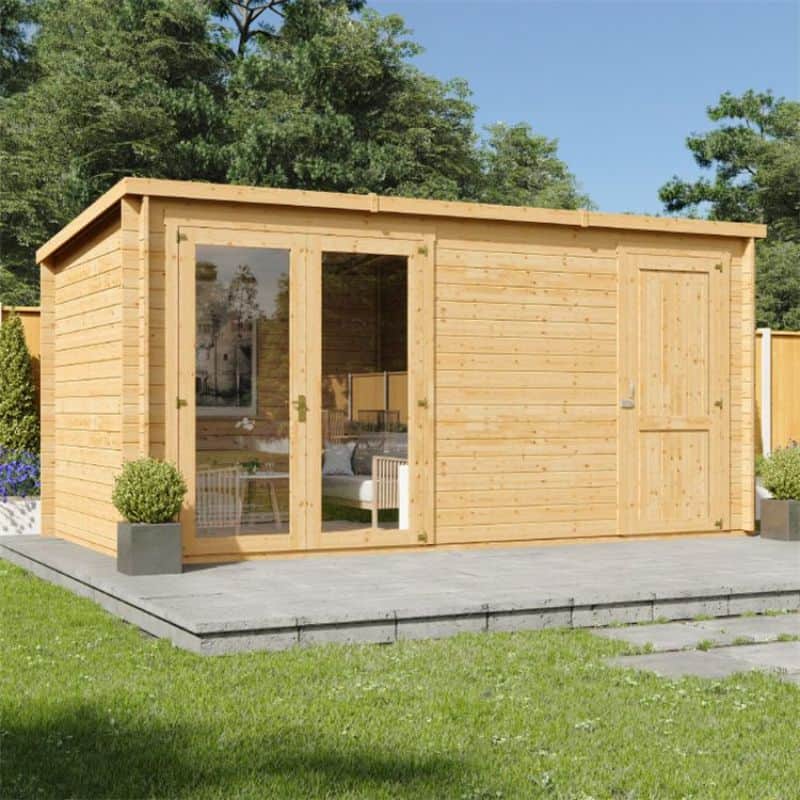 Listed down below are essential details you need to know when converting your existing log cabin into a man cave. From the tools and equipment to step-by-step instructions, we'll explain everything to you.
Let's get started!
Step 1: A Log Cabin for Your Man Cave Bar
Log Cabins can be a worthwhile investment for your garden because they offer a variety of uses. You can transform them into a relaxing retreat, garden office or even into a garden pub.
If you haven't purchased one and are planning to, all you need is a garden building that is designed not only to be "lived in" but that is also made out of high-quality materials. Speaking of top grade materials, we suggest opting for a Tongue and Groove construction.
This type of building construction does an excellent job keeping the building protected from harsh weather. Looking for your one-stop-shop? With a Garden Buildings Direct outbuilding, your dream garden bar will surely come to fruition. By purchasing one of our versatile garden buildings, you don't have to worry about the hard labour as each of our products comes with comprehensive assembly instructions.
On the other hand, if you already own one, it's time to clear out your log cabin, start taking measurements and understand the layout of your space.
Step 2: Interior Measurements
Keep in mind that log cabins come in various sizes; some are larger than others and not all log cabins have the same shape and dimensions. This is why taking the interior measurements, including the design and layout, is a crucial part of creating your ultimate man cave bar.
Before weatherproofing and repainting your building structure, it's a good idea to take the necessary measurements. Now you can have all the essential information you need, such as the design, decorations and furniture you want to bring into your man cave.
Step 3: Weatherproofing Your Man Cave Bar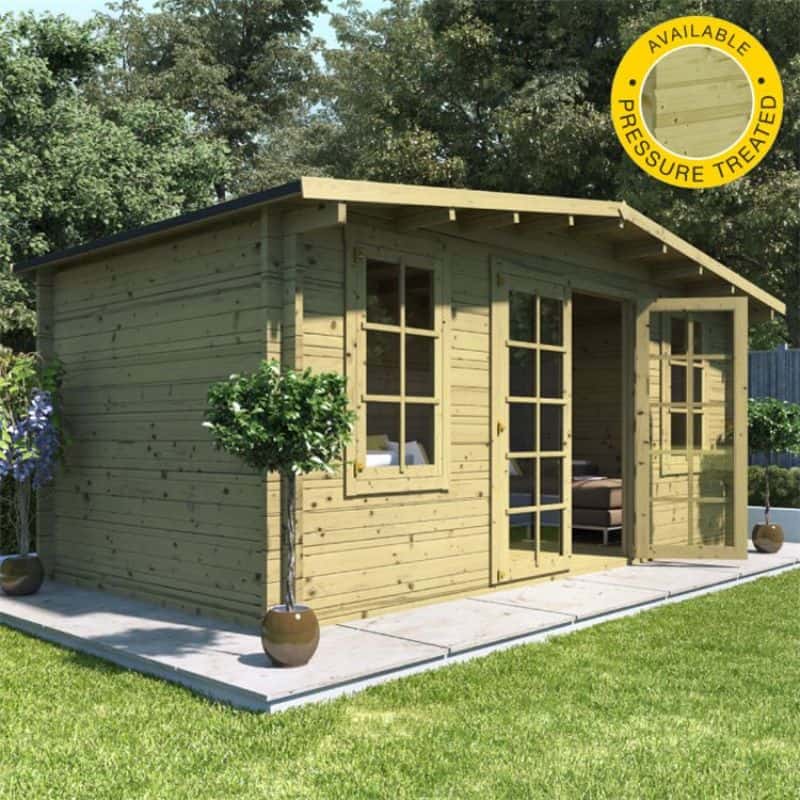 If you want to use your log cabin man cave bar for a long time, it's important to keep the wood protected, as this will extend the lifespan of the building and prepare it for harsh weather conditions. Here are two of the most common log cabin treatment techniques.
1. Wood Preservatives
Wood preservatives are used to keep the log cabin water repellent. The enemy to any log cabin is water, as this can cause mould and mildew, as well as encouraging fungi and insects! You should apply wood preservatives to a log cabin every couple of years to keep it protected.
2. Pressure Treatment 
If you're looking for ultimate protection for a log cabin, pressure treatment is a great option. We offer a range of pressure treated log cabins which require no treatment at home. 
The pressure treating works by dipping the logs into tanks full of chemical preservatives which penetrate the timber. This is carried out by professionals and not something you can do yourself.
It's recommended that a log cabin is treated before use as this will prolong its lifespan and make it more durable and hardy against the elements. The type of treatment you choose depends on your budget and cabin needs. 
For ultimate protection, pressure treatment is an effective treatment for the building.
Step 4: Insulating Your Man Cave Bar
If you wish to use your man cave bar all-year-round, proper insulation is crucial.
A well-insulated structure will not only provide warmth to your outdoor structure but also make it sound-proof. Essentially, you will need to insulate three parts of your log cabin: roof, wall and floor. 
If you have the proper knowledge, you can do so using bubble or fibreglass sheets. But if you are not adept in insulating a garden room, you can leave it to the experts to avoid any significant problems.
Step 5: Furniture & Decor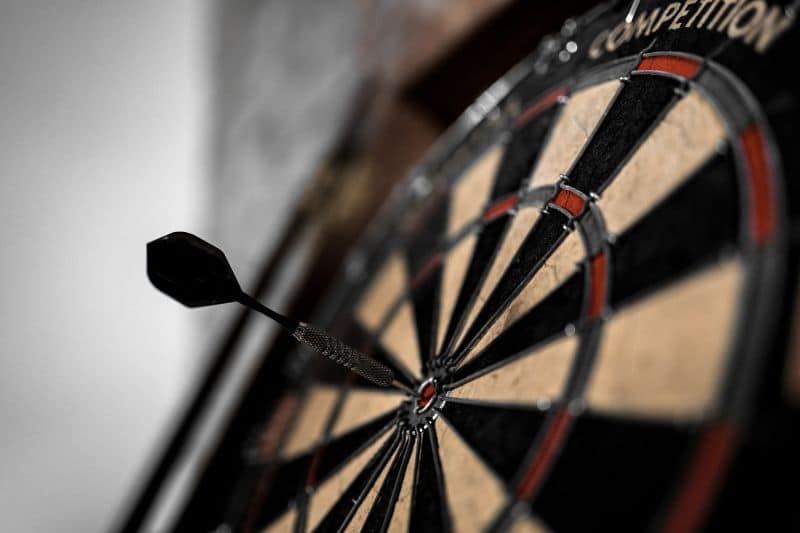 When it comes to choosing the ideal furniture for your man cave bar, other than the usual television area and football table, look for furnishing that is stylish, versatile and low-maintenance, and a one-time investment.
If you're looking for garden furniture that possesses all of these qualities, then Rattan Garden Furniture is your best bet!
Moreover, a man cave with the right gaming room is a great idea to provide hours of fun for the whole family! This will also provide you with personal space for you and your friends to play your all-time favourite PlayStation, Xbox or board games in between drinking sessions, for instance.
Other things to consider:
Flooring

Insulation

Electrical outlets
Imagine your ideal game room with:
Dartboard

Board games

Table games, e.g. pool table

Sports room

Collector's room

Bar
Step 6: Man Cave Bar Setup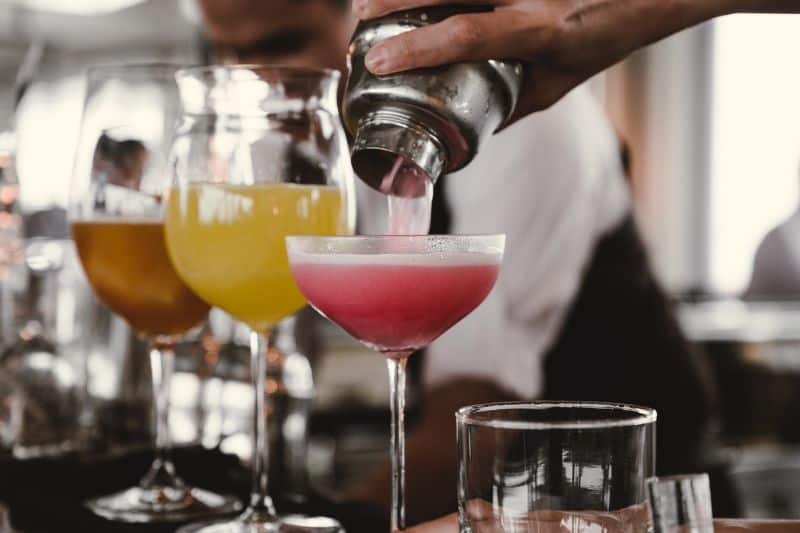 Your log cabin man cave bar wouldn't be complete without the must-have barware essentials, from glasses and shakers to stirrers, trays, coasters and of course – drinks! Don't forget about the interior and exterior decor, e.g. garden bar signs, beer mirrors, etc. They may be little pieces but they can transform the overall look of your garden bar.