A great cost-effective alternative to provide your children with a safe and controlled environment is to make use of your existing and unused shed and transform it into a playhouse. By reading this guide, you can create the perfect playhouse for your child to express themselves and at the same time, let their creativity and imagination run wild! In this write-up, we will break down everything you need to know, from transforming your shed into the ultimate playhouse, to our favourite playhouse design ideas you'll love.
Let's get started!
Playhouse Shed Ideas: Planning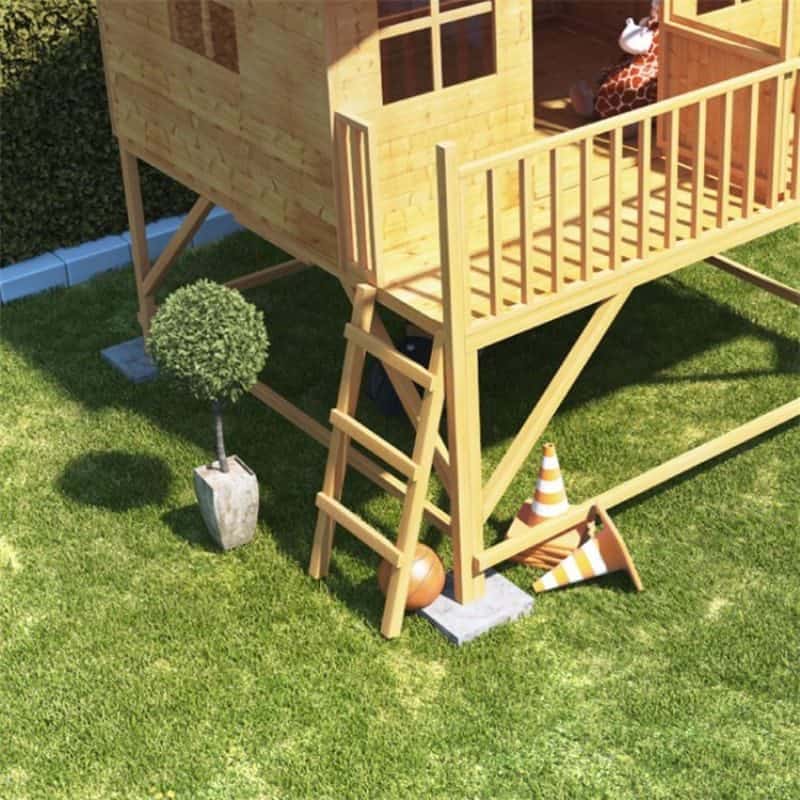 For the planning, it's essential to let your children be part of it. Ask them what they want to use their playhouse for so you will know what the requirements you need to prepare.
For instance, if they wish to utilise the building as their crafting area, then the playhouse shed will require windows, a lighting set-up, and some ventilation. This way, they can enjoy their arts and crafts with convenience.
Other things to consider:
Base

– Your playhouse shed will warp over time if you fail to build its foundation on level ground. Not only that, but your outbuilding will also be prone to leaks and pest infestation.
This is why it's crucial to pick a flat surface or at least try to flatten the dedicated space for the shed before installing.
Position

– It's wise not to leave your children's playpen in a totally open place. A shed right in the middle of your backyard patch with nothing to stop stormy winds attacking it on all sides could be vulnerable to severe damage.

Access

– Being able to quickly, comfortably and safely access the goods stored in a garden building should be a top priority when choosing a shed and its location.
A spot where the doors can be fully opened, with some surrounding space for the easy removal of bulkier goods, would be ideal if possible.
Shed Size –

Consider the style of the shed you are buying as well as size. If your garden doesn't have much space to offer, don't worry. With a range of shed styles available, you can always find one to suit your garden here at

Garden Buildings Direct.
Playhouse Shed Ideas: Layout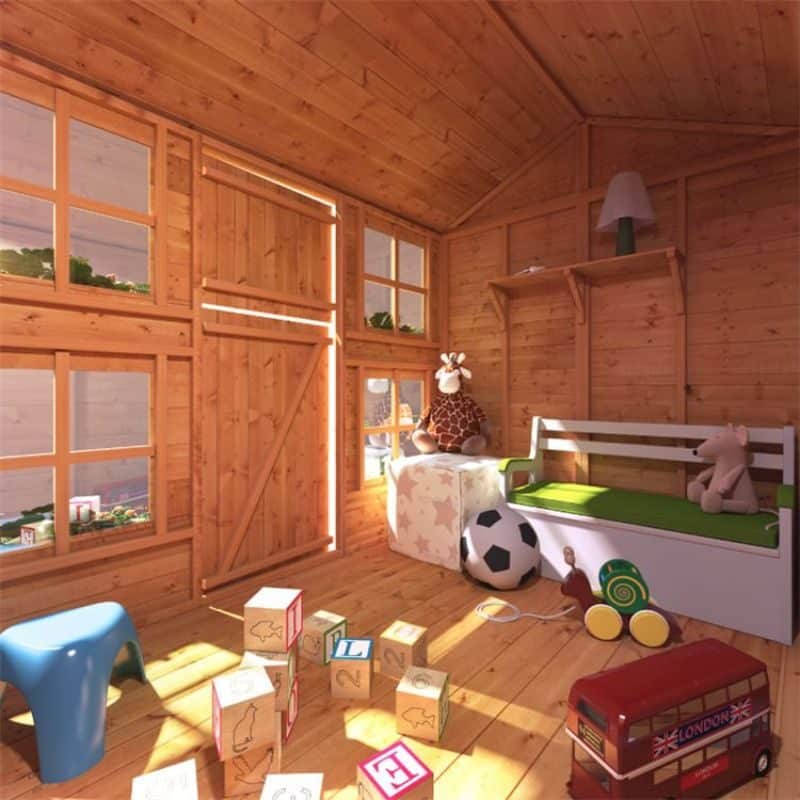 Now that you know what kind of playhouse shed your children want to have, your next step is to plan out the interior layout.
If your shed is tall enough, adding extra dimensions like a mezzanine level with a ladder will help to make the structure a more exciting space for your little ones. The low-storey floor can be utilised as a bedroom where the kids can invite their friends over for a slumber party or sleepover.
Don't forget to add a mini kitchen and seating area to make them feel like their playhouse shed is their little home. You can invest in some mini appliances like fridges or coolers so they can store their favourite yoghurt drink.
As for the seating, you'll want to make sure to opt for something comfortable. Weatherproof furnishings like rattan are an excellent choice as they can be used in and outdoors!
Playhouse Shed Ideas: Design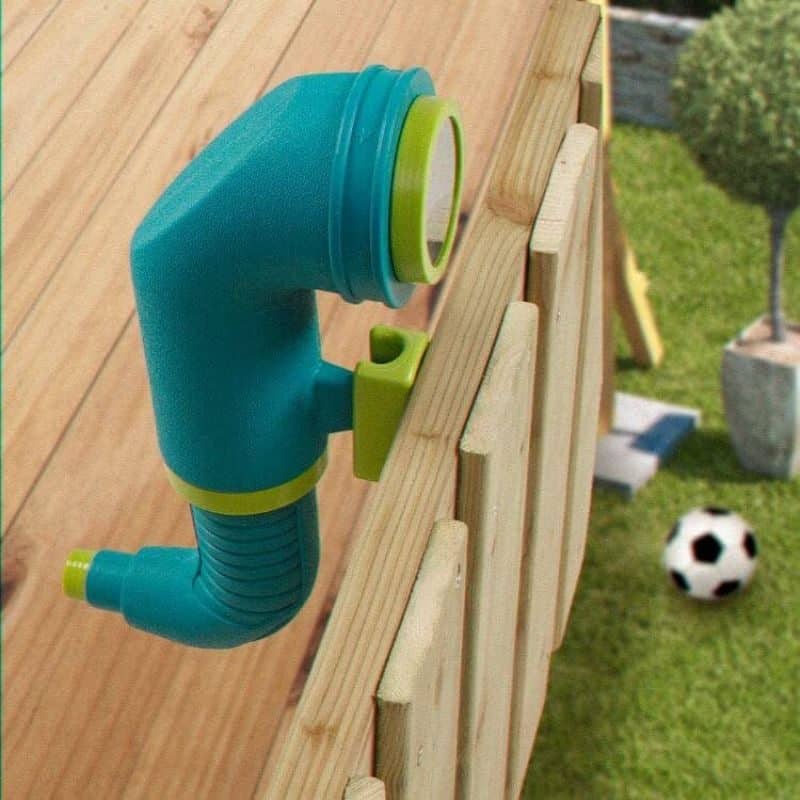 The good thing about wooden sheds is that they make the most sensible choice for playhouse transformation. 
They can be painted and altered, making them easy to redecorate—considering that most children's tastes change as they grow older.
An expert tip for your playhouse shed is to insulate and weatherproof the building for long-term use. This will save you some work and from problems in the future.
Designing Tips
When decorating the playhouse, make sure to encourage your children to be part of the design process. We suggest incorporating their favourite colour! Perhaps they would like to add a 2-step ladder or a slide for a stylish way down.
If they're eyeing a playhouse with multiple rooms why not incorporate some interior accessories that can match the theme they want.
Here's a shortlist of decoration ideas from flooring to the ceiling walls of the playhouse shed:
Colourful fabrics for the windows

– Let your kids pick their favourite colour or pattern for the curtains.

Lighting – To spruce up the building, adding some pin lights on the ceiling will do the trick.
Reading nook

– A simple bench can be their designated spot where they can lay back and read their all-time favourite books.

Storage

– Keep the playhouse clean and neat with storage!

Vinyl sheet flooring

– There's no need to spend too much money on some fancy flooring. Instead, opt for vinyl with stripes or checkered pattern flooring.

Craft spot

– Don't skip this part if your little ones love to draw and participate in craft activities.

Art wall –

Praising and acknowledging your child's work is a great way to encourage them to keep working hard. Once they see their work being displayed, they'll know how proud you are of it, and they'll be too!
Interior Ideas
Playhouse Shed Ideas #1: Castle Playhouse
Considered as one of the most common playhouse designs, a castle-themed playhouse shed will let your children to be swept up in a world of adventure. Think dragons, sword fights and the quest of finding the lost princess.
The castle should have sturdy wood floors, painted walls and some mysterious artwork on the wall. Interior and exterior walls can be painted with faux stone colours for a more dramatic look.
Playhouse Shed Ideas #2: Movie Theatre Playhouse
If your little ones are moviegoers, a movie theatre-inspired playhouse shed sounds like an excellent plan! Ideal for larger structures, you can add a big screen so your children can invite their friends over for a movie marathon.
If there's enough space, you can add a dedicated area for ticket and popcorn booths. And to achieve the real cinema vibe, make sure to consider the following:
Surround sound

– Depending on the size of the playhouse shed, install a surround sound system, including a sub woofer and seven-channel speakers placed at the centre, left and right, side surrounds, and rear surrounds.

Screen

– If you prefer a video projector, you will need to pre-wire a HDMI cable to show high-definition videos. You can also opt for a modern smart TV instead.

Lighting- When creating a 

movie theatre atmosphere, install some downlights on your ceiling and sconces along your sidewalls. 
Tip: To make the playhouse shed cinema an all-season entertainment room, proper insulation is vital.
Playhouse Shed Ideas #3: 50s Diner
This retro-style playhouse shed will transport you and your children back to the 50s! Opting for this small town diner-inspired playhouse shed, will give your kids a taste from the past! It will provide them with an unforgettable experience while taking turns to write the orders, cooking, and role-playing as the hungry customer.
To transport the diner straight back to the 50s, you can include some fun features like a drive-through window, menu board, and a large outdoor marquee! Don't forget to display some classic vintage posters, e.g. classic cars or vintage car licence, coca-cola, movie posters, and more.
Playhouse Shed Ideas #4: Clubhouse
Provide your youngsters with a local hangout spot where they can start a lifetime of memories with their buddies!
To achieve a clubhouse-inspired playhouse shed, go for a more contemporary and inviting design. We suggest using a revitalised colour palette with bright accents and modern furnishings. Let your kid add a statement piece to make an impact on the overall clubhouse interior.
Indeed, transforming a garden shed into a playhouse is a fun way to create something that your children will benefit from. We hope these tips and ideas will help you add that extra fantasy to your children's childhood!