We love to catch up with our customers to see how they're getting on with their garden buildings. When Leigh-Anne got in touch with us about how much kids loved their new Gingerbread Junior Playhouse, we just had to share it and how happy it made us!
As kids grow up, it can be hard to keep them entertained. Now, a little bit of boredom can be a good thing, but it's also important to make sure that they're getting exercise and spending time outdoors and in nature. After all, these things are important for growing kids.
Encouraging kids to get outdoors and enjoy the fresh air can sometimes be difficult to do. After all, kids can be especially stubborn! But one great way to get them consistently outdoors enjoying themselves is with a dedicated place for them to play: an outdoor playhouse.
This is exactly what Leigh-Anne had in mind for her children: a dedicated outdoor play space where they'd feel comfortable and safe outdoors. On the recommendation of a friend, she visited our playhouses on BillyOh. And as soon as she saw our great range of playhouses, she knew she'd made the right choice.
Browsing through our fantastic Playhouse range, Leigh-Anne found the 6×4 Gingerbread Junior Playhouse, which was perfect for her family.
"It was big enough that my 4-year-old can comfortably stand and my 9-year-old can fit in it to play with his sister."
After selecting her family's perfect playhouse, Leigh-Anne didn't waste time ordering it. While there was a missing part upon delivery to her house, she was totally satisfied with how we handled the error.
"We had contact very quickly for the replacement part to come. I had a really good experience."
With all the parts in place, putting together the playhouse was quick and simple – and before long Leigh-Anne and her children were decorating their new Gingerbread Junior. They went with the theme of a "little house", decorating it with a kitchen, BBQ, and table and chairs. On the outside, they've filled the flower beds with some beautiful flowers.
Take a look at their handiwork for yourself: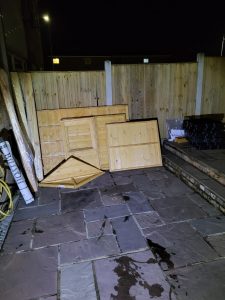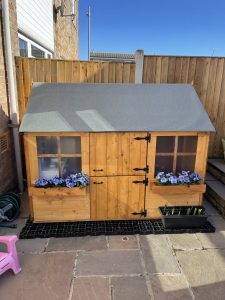 What these great pictures don't show is all the happiness their Gingerbread Junior has made. Leigh-Anne says she has been delighted with how much her children enjoy it:
"My favourite thing is how spacious it is and how much joy it brings to my daughter. She calls it her Wendy Castle."
"She loves being outside playing in the garden rain or shine. She now happily plays with things in it that she hasn't played with in a long time!"
These are the kinds of stories that make us love what we do. Hearing that our playhouse is bringing so much joy to Leigh-Anne and her children is simply amazing.
Leigh-Ann says that anyone who is considering getting a playhouse should simply "Do it!" and that she'd happily recommend us to anyone searching for a playhouse. Thanks Leigh-Anne, it means the world to us! We wish you and your children all the best  
If you're interested in getting a playhouse of your own, check out our great range by clicking the link or the button below. Alternatively, check out how some of our other amazing customers have personalised their garden buildings in our other customer stories!