We love chatting to our customers and finding out how they're coming along with their new garden projects. That's why this week, we spoke with Kevin – who thoughtfully bought a garden shed for his wife – to see how much his other half was enjoying her new gift.
As a loving and caring husband, Kevin constantly thinks about how he can make his wife content – often surprising her with small gifts here and there to make her day. What a sweetheart!
His wife is an avid gardener and loves nothing more than spending her sunny afternoons tending to her foliage. However, she never had enough space to store her tools! As a result of leaving them outside they would often become damaged due to good old British weather.
So after hearing recommendations from friends and family, Kevin decided to pay Garden Buildings Direct a visit – to find a solution for his wife with a backyard storage unit.
And he found exactly what he was looking for in our Combo Pent Metal Shed – instantly falling for its fantastic price tag and solid reviews.
Although this product is no longer stocked, you can also browse our vast range of similar metal sheds here.
'The reason I purchased from Garden Buildings Direct was purely on price and the quality looked good.'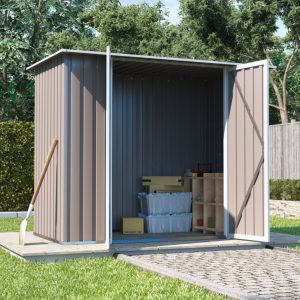 After a carefree delivery, Kevin broke the news to his elated wife, and they began constructing her new tool safe haven. 
By following the step-by-step instructions provided with every product, they erected the unit with ease. It was only a short matter of time until it was standing tall and ready for use.
'After purchasing the shed and putting it together with my wife, we were delighted because it was so easy to erect.'
You can see Kevin and his wife's new unit below: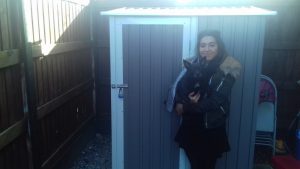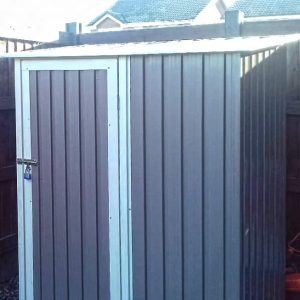 'Once erected and secured it was very sturdy and fitted all my garden tools and equipment very nicely.'
There are a lot of ways to spend time with the one you love. Kevin and his wife just built a shed together. Build a shed, cabin or summerhouse for your loved one and transform your study room, home office, entertainment space, gym…the possibilities are endless.
If you've got a great story about your BillyOh shed, summerhouse, log cabin or playhouse conversion – we'd love to hear it! Simply get in touch with us on our social media pages for a chance to feature here.
'We look forward to purchasing more items in the future.'
And why not check out some more of our customer stories here!
Shop Garden Storage