We love to catch up with our customers to see how they're getting on with their garden buildings. That's why we were over the moon when we heard from Deborah, who turned her Picton Corner Summerhouse into her very own safari!
Keep scrolling to hear about Deborah's journey all the way from purchase to decorating.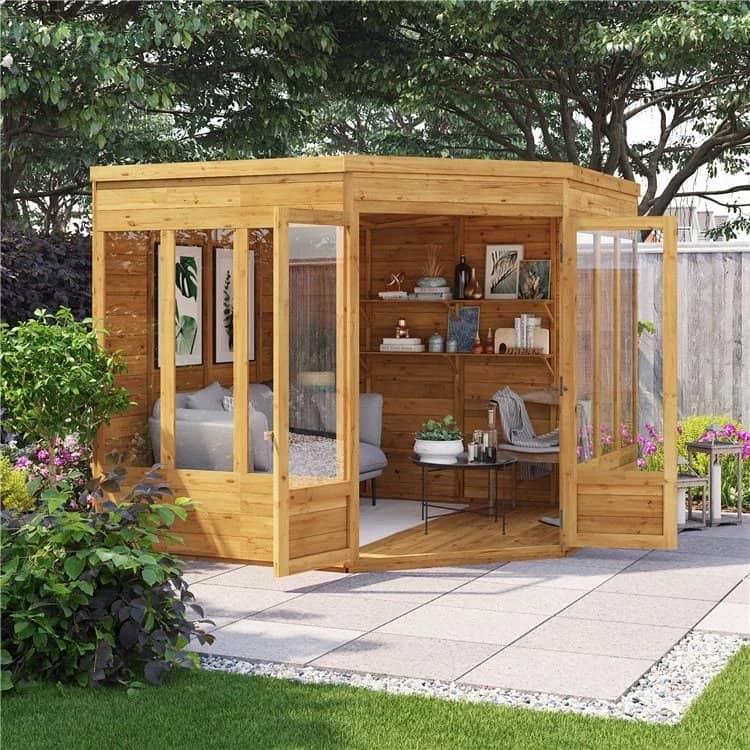 Choosing a Summerhouse
Deborah picked the Picton corner summerhouse for the style, and we can't fault her taste! The Picton features large windows, fully glazed doors and a tall roof to allow maximum light and airflow. The wide-opening double doors are also perfect for throwing open to enjoy a cool breeze.
(Perfect for use year-round)
Putting Her Picton To Use
Deborah told us that her summer house has now become a Safari lodge decked out with all kinds of exotic animals. We spotted giraffes, zebras, rhinos and more in the pictures she sent us. Can you spot them too?
(Picton Summerhouse Interior)
With the added space offered by the Picton, available in 7×7′, 8×8′ and 9×9′, Deborah and co. can now "sit in the garden all year round".
Styling and Decorating
And Deb didn't just stop at the decor. She's also painted the ceiling, walls and floor in a lovely light shade that really opens up this garden room.
And Deb's favourite things about the Picton, the "style and big windows" help to illuminate her amazing interior design. So what made Deborah choose Garden Buildings Direct?
(Featuring wide-opening double doors for easy access)
Shopping With Garden Buildings Direct
Deborah said she was swayed to shop with us thanks to our stellar "reviews, styles, and costs". That's why we've been helping create happy customers for over twenty years! Deborah said her experience was "very good from order to delivery"  and we couldn't be happier!
So if there's one last note from Deborah for anyone wanting to create their own garden retreat: "decide on the space available and what it's to be used for before choosing the style!". Wise words, Deborah.
We love hearing how our customers are putting their BillyOh buildings to use, so why not reach out on social media or in the comments below? And join us next time for another fantastic customer story.
Shop The Picton Summerhouse