Did you know that just £2,000 can get you a premium quality summer house from Garden Buildings Direct? In return, your quality of life and home value could increase over time.
Our customers want to consider all the options when committing to a garden building investment. But summer houses don't have to be financially demanding. 
Considering their notable upsides, it's worth investing your hard-earned money in one!
According to the figures, the average amount of a summer house cost is £8,000. Whereas the smaller units are around £3,000 – £4,000.
Now, what if we tell you that you can find way more affordable options than these price tags? That's what this guide is for!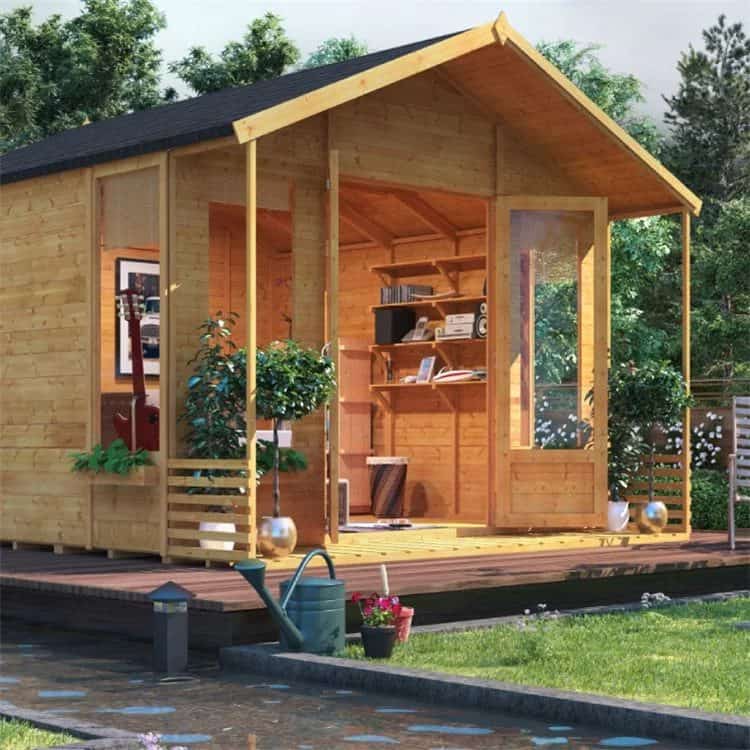 Summer Houses UK
The versatility of summerhouses goes beyond their name. With the right setup, they can potentially be used all year round.
The materials and construction techniques also play a big role. This will determine how well the structure can withstand harsh British weather.
One of the best construction methods is Tongue and Groove (T&G) panels and cladding. This uses an interlocking technique that keeps water out from the ceiling to floors.
Moreover, this style holds the board securely, ensuring the building is robust and durable. T&G comes in different sizes and thicknesses, depending on the manufacturer.
Here at Garden Buildings Direct, we offer 11mm to 19mm (& 28mm for some of our units) T&G panel options. Even with only 11mm T&G panels, we guarantee you that your summer house is built to last. 
Best Cheap Summerhouses (Under £2000) From GBD
There's just something wonderful about a traditional British summerhouse in gardens. And we want to cater our units to every taste and garden.
That's why our BillyOh summer houses come in various styles, sizes, and prices. Plus, with loads of customisation features, you can personalise yours the way you like it!
Below are a range of the best summer house units under £2000 to suit your needs for years to come, and of course, your budget. (The prices are in no particular order.)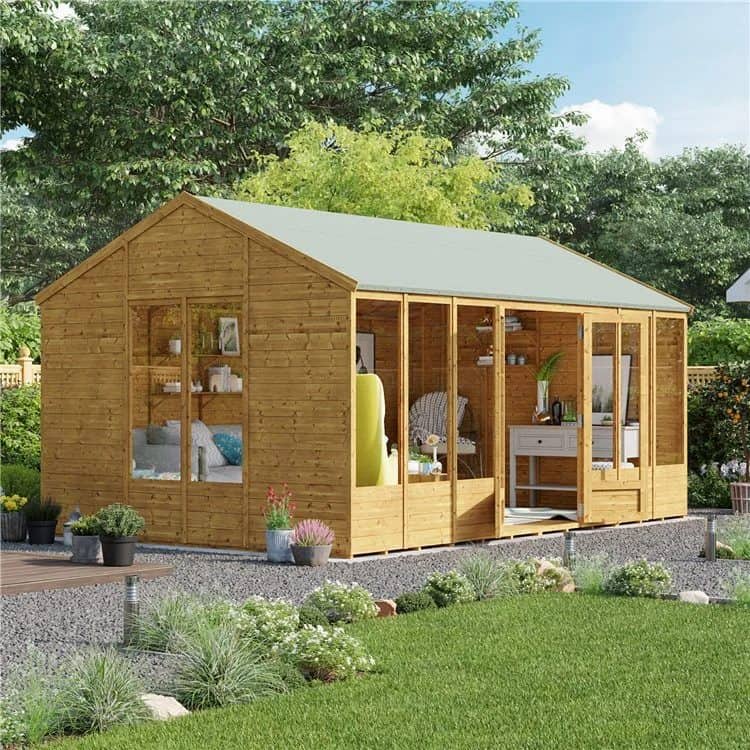 1. BillyOh Petra Tongue and Groove Reverse Apex Summerhouse
Price: £1,589
The BillyOh Petra is the real definition of a year-round summer house. It's a building that welcomes the sun and air across its front and double side windows.
The space is airy and bright, making it a suitable companion during the summer months. What's more, the tall doors with shatterproof glazing give you a fantastic view of your yard. 
The unit comes in a selection of sizes from 10×8 to 20×10. Plus, the reverse apex design offers increased head height.
We used high-quality European-sourced timber constructed in T&G panels. This model is designed for summer, but it can stand up to even harsh weather conditions, such as heavy rain and snow. And 10-year guarantee against rot and insect infestation!
Petra comes with a beautiful golden spray treatment which can be upgraded to pressure treated for longevity. The unit can also be painted, as many of our customers have done, to match your chosen aesthetic. 
Other customisation options include roofing upgrades.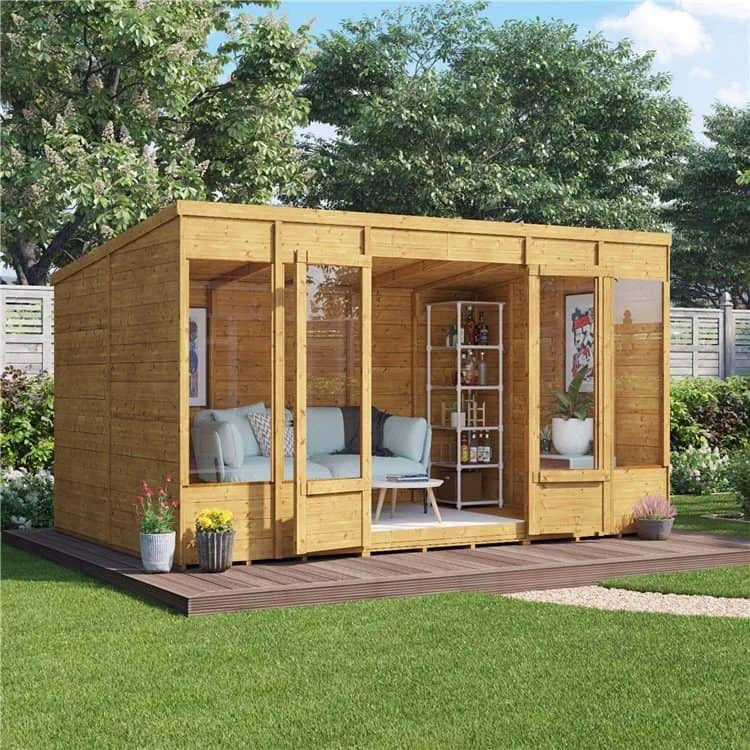 2. BillyOh Bella Tongue and Groove Pent Summerhouse
Price: £1,559
A modern and stylish take on the traditional summerhouse, the BillyOh Bella serves a multitude of purposes. The highlights of this building are the stylish windows and strong tongue and groove panelling.
The modular construction features a movable door and window panels. This allows you to configure the building to suit your garden. Plus, the central double door lets you move any of your larger furniture or items with ease.
The pent roof offers great head height and versatile use options without taking up space. With little to no roof overhang and an eaves height, it provides an excellent runoff.
The Bella also comes with an 11mm tongue and groove roof and floor selection. For a more robust option, a 19mm upgrade is available to boot.
Upgrade to pressure treatment is available for further protection and longevity. It comes with a 10-year guarantee against rot, insect infestation, and decay – all at an affordable price.
As with all our summerhouses, this model is a versatile one perfect for a range of uses. It can be a space for relaxation and entertainment, as workshop storage, or to house your outdoor hot tub.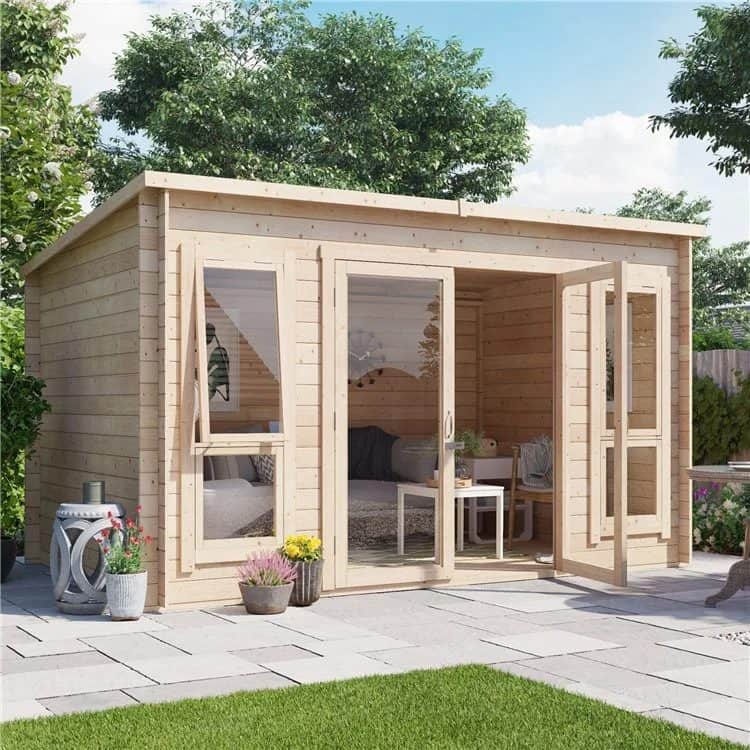 3. BillyOh Carmen Log Cabin Summerhouse
Price: £1,879
It's not hard to see why the Carmen is a customer favourite among our summer houses. This unit bridges the gap between log cabins and wooden summerhouses.
Thus, it gives you thick and robust 19 or 28mm log walls and a modern pent style, all at a reduced cost. On top of that, the modular pent design blends nicely in any garden with its modern but muted silhouette.
Another key feature of this log cabin summerhouse is the modern windows and doors. They invite sunlight to enter, making the whole room feel spacious.
Available in pressure treatment, the Carmen will stay looking great all year round, no matter the weather.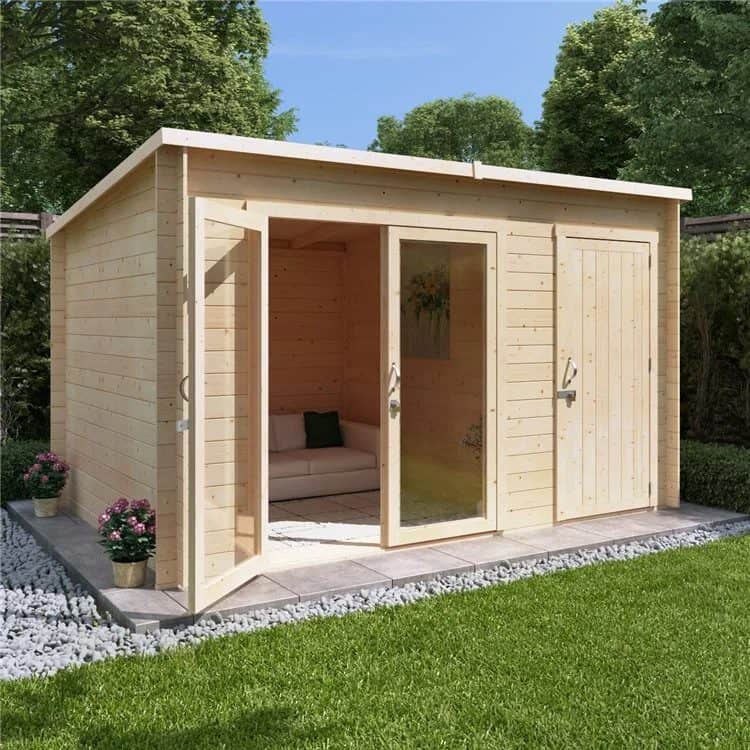 4. BillyOh Tianna Log Cabin Summerhouse with Side Store
Price: £1,809
Without fail, the BillyOh Tianna can offer you your dream home extension experience! Sporting a stylish pent design, it'll look fantastic in modern gardens.
Not only that, but its integrated side storage indeed is a bonus! The multi-purpose design is great for storing equipment in one place, safely out of sight.
The long windows grant you fantastic views of your garden and allow natural light to flood in. The wide double doors also provide ease of access in and out. They can be left open to allow the warm summer breeze in.
Available in 19mm or 28mm wall logs thickness, this perk ensures the building is robust and solid. Most importantly, this model operates as both a log cabin and a summer house and a storage area!
With this, you can utilise Tianna as a garden office, studio or stylish relaxation haven.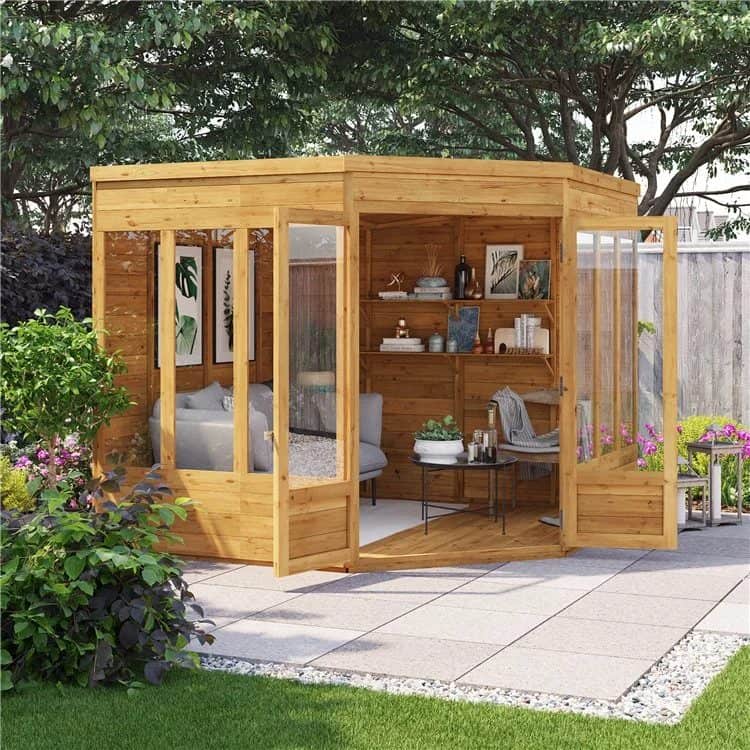 5. BillyOh Picton Corner Summerhouse
Price: £1,174
The Picton is a fantastic building to optimise your small outdoor space. It's a corner summerhouse that can transform an awkward space in your garden into a valuable area.
The pent design with no roof overhang has a ridge height of 2.09m (6ft10). This means this unit is well within the height restrictions of permitted development. In short, planning permission shouldn't be necessary.
What's more, it doesn't only feature a T&G floor and roof, but also a green mineral roof as standard. The cladding style offers structural integrity while forming a tight seal against water ingress.
And the size allows for a wide range of creative options, from a garden office to a summerhouse bar area!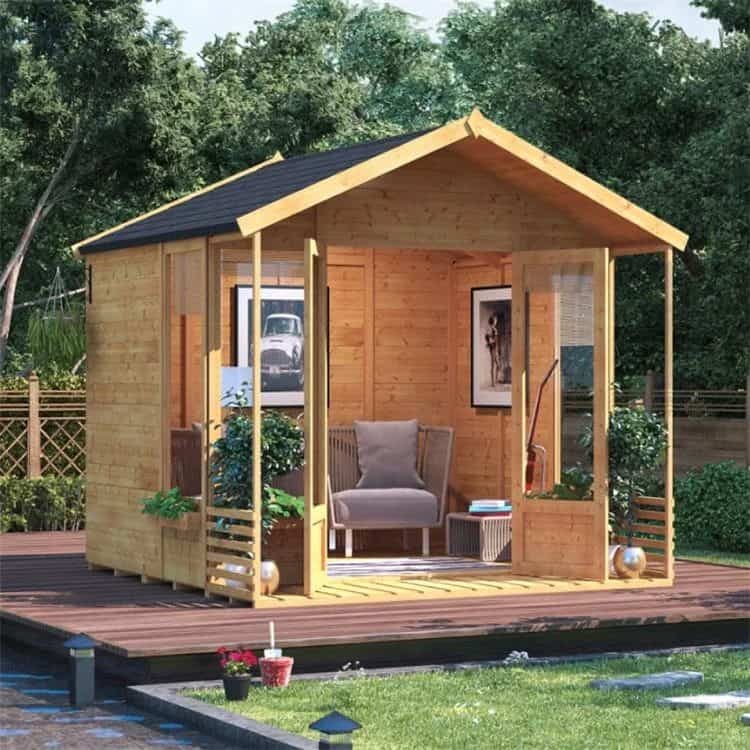 6. BillyOh Ivy Tongue and Groove Apex Summerhouse
Price: £1,343
The Ivy is one of our traditional summerhouses, but with stylish long windows and a veranda. The veranda offers a great space for potting plants or hanging garden flowers. 
Or it can be an idyllic place to have a coffee in the morning, appreciating your garden views. But you can also enjoy the view of your yard inside thanks to the full span windows.
With wide-opening double doors, you can use Ivy as a garden studio or sunroom. Plus, the tall apex roof offers you and your guests a generous headroom.
The model also comes with a cost-effective, yet durable solid sheet flooring – 11mm and 19mm T&G roof. Paired with the mineral felt, these features increase the unit's weather resistance.
Rain or shine, you can all cosy up in this summer house and enjoy a panoramic view of your outdoor space.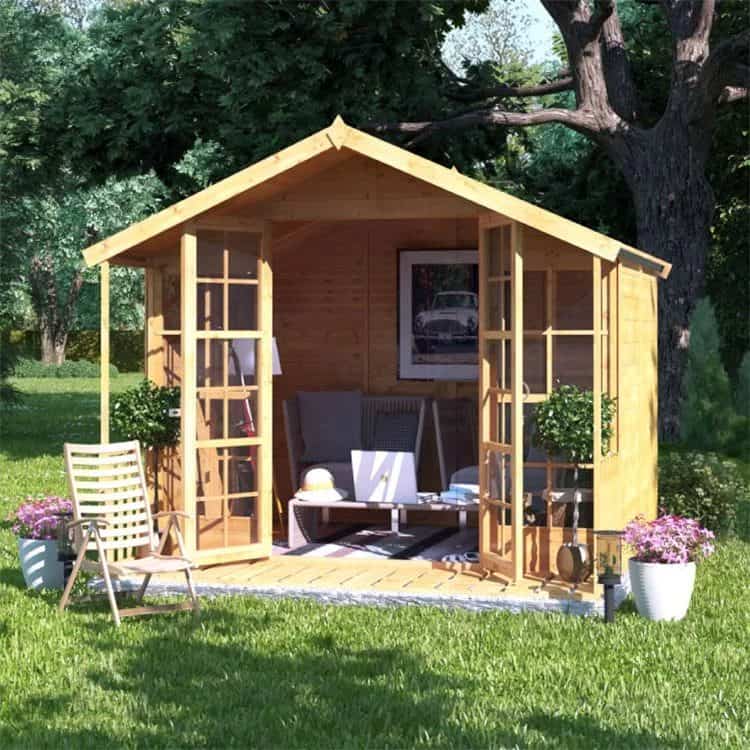 7. BillyOh Lily Tongue and Groove Apex Summerhouse
Price: £975
A stunning, classic small summer house with a traditional apex design! Like the Ivy, Lily features an overhanging veranda with Georgian windows and doors.
With a cute apex roof, classical details, and sturdy construction, there's so much to love about this T&G model. Plus, the lovely veranda and a windowed front let you enjoy glorious views all year round. 
The tall Georgian-style windows and glazed double doors let natural light into the interior. Simply add some garden furniture to make it the perfect garden retreat!
An 11mm tongue and groove floor and the roof is included as standard. Even better, the floor can be upgraded to 19mm for a more robust structure.
Another key point here is the galvanised ironmongery. The heavy-duty hinges, latches and handles are galvanised for maximum weather protection. And with the roofing felt included, this helps improve the weather resistance more.
Wrapping It Up!
We've got a summer house in our selection to suit everyone. Made from high-quality T&G panelling, all our summer houses offer a 10-year guarantee.
And if you select pressure treatment, it'll increase the guarantee from 10 to 15 years of protection. That's an extra half a decade with your summerhouse – now that's value-for-money!
Order your dream wooden summer house today at an affordable price!
Shop Summerhouses
FAQs
The majority of summer houses do not require planning permission. But consent is needed for any summer houses which cover over half the garden.
Or, it's not for domestic use, it's over 3 metres high with a pent roof or 4 metres high with an apex roof.
A garden summer house can be used as your very own special space. Use it as a studio for writing, painting or other crafting activities. Or it can simply become a space for relaxation and leisure with your loved ones.
Put it in an area that is free from aerial obstructions, such as trees. Although trees can offer shade, an overhanging branch can block the much-needed sun. Plus, when it falls off, it can damage the structure, especially the roof.