Catharine loves working from her Devon Log Cabin. Painted in a stylish black, with all-white interiors, the log cabin looks truly magnificent in Catharine's garden.
When her online business selling home decor and children's toys because outgrew her home, she decided a log cabin was the perfect solution.
"I wanted to separate the two and create a good work and life balance. It's a great place to work. I have plenty of space to pack all my online orders that come from all over the world."
The Devon Log Cabin
Catharine has created a multi-purpose interior for her garden building, which oozes style and luxury outdoor living.
"I'm loving my home office! I had heating and lighting installed and my husband added insulation and boarded it over and painted the whole room white."
"He also applied a whitewash to the ceiling so the character of the wood still shows through, which looks really good and he put down a laminate floor."
"I added a sofa-bed and I have put up a swing that hangs from the ceiling for my five-year-old son, so now it is a multi-use room!"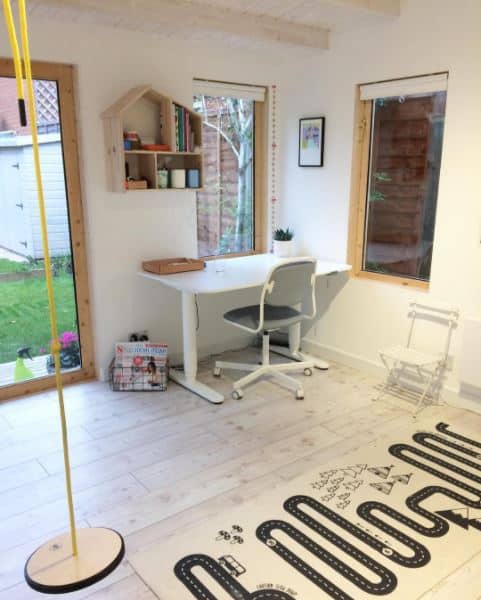 "The plan this summer is to purchase a movie projector. So we can project them on one of the walls to watch on a summer's evening."
Catharine said she chose to purchase from Garden Buildings Direct as "the cost was the most affordable and the reviews were very good."
When asked how her customer experience with us had been, she said,
"Very good. I phoned a few times with questions and found the customer service helpful."
"Nothing was too much trouble and all my questions were answered. I'd absolutely recommend buying from you!"
If you would love to create your own garden office, check out or stunning log cabins.