The key to transforming your gardening hobby into a full-time passion is a greenhouse. With this invaluable addition, you can cultivate your green thumb all year round. It provides the flexibility and confidence needed to nurture your plants.
But with a range of greenhouses available on the market, it's easy to get confused about which one is best for you. That's why we've taken the guesswork out of your search! In this post, we curated a list of the finest garden greenhouses for sale at Garden Buildings Direct.
Garden Buildings Direct Best Greenhouses UK (2023)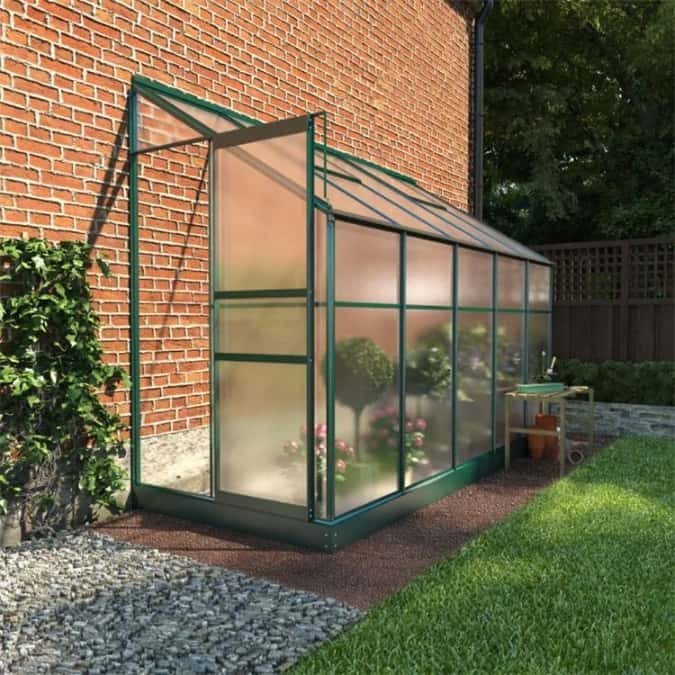 A dream come true if you're looking for a reliable and high-quality structure to nurture plants! Built with a sturdy and corrosion-resistant aluminium frame, this greenhouse is built to stand the test of time. Its galvanised steel base is a plus, allowing you to enjoy fresh and thriving produce for years.
Ventilation is a vital aspect of greenhouse gardening, and this unit has got you covered. It features an ingenious opening roof vent, ensuring optimal airflow. This helps prevent overheating and maintain the health of your plants. Additionally, a water gutter system is integrated, providing efficient drainage within the greenhouse.
Let's take a closer look at the design insights:
The 44mm hollow twin polycarbonate panels provide excellent insulation and plant protection.

Choose the perfect fit for your gardening needs, with options available in 4×8 and 4×40 sizes.

The attractive green finish seamlessly blends into your garden landscape, adding aesthetic appeal.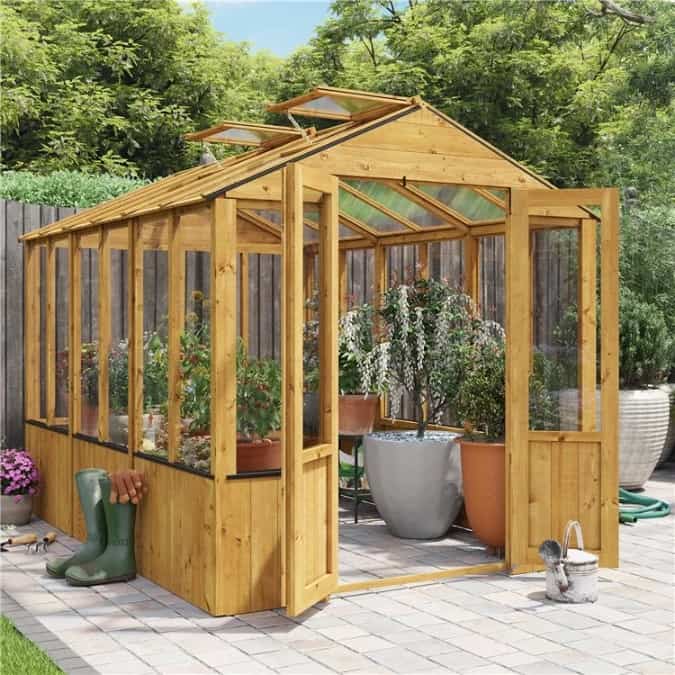 Introducing the BillyOh Lincoln Greenhouse, the perfect garden haven. A meticulously designed structure that combines accessibility, durability, and ample space. With wide-opening double doors, transporting items in and out is a breeze.
Crafted with a robust timber frame, it is built to withstand harsh weather conditions. Its spacious interior provides abundant room for cultivating a vast array of plants. Investing in one ensures longevity and more cultivation for years to come.
One standout feature is its innovative opening roof ventilation system. It promotes proper air circulation, creating an ideal growing environment for your plants.
But that's not all! The walls are constructed with styrene sheeting, a durable and resilient plastic material. This unique feature allows natural light to flood the interior. Moreover, styrene glazing offers plant protection against harmful UV rays.
Sizes available: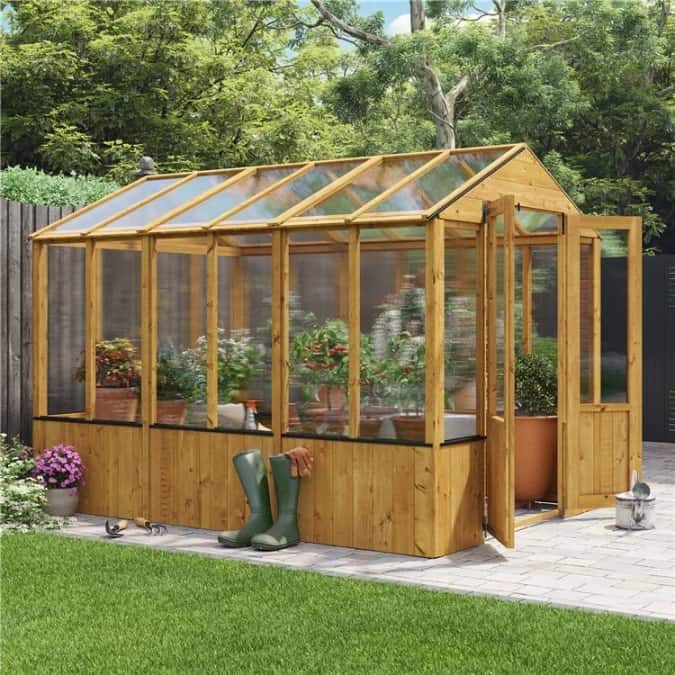 A versatile gardening solution available in different sizes to suit your outdoor space. Ranging from 3×6 to 12×6, the Lincoln provides ample room for your plants to flourish.
It stands out due to its unique combination of wooden and polycarbonate materials. This blend ensures both the natural beauty and durability of wood. Along with the strength and light transmission capabilities of polycarbonate.
Enhance your greenhouse experience with optional extras that elevate its functionality. For added structural support, a base is available, ensuring a sturdy foundation. Opt for shelving on one side, both sides or all around the interior to keep your plants and tools organised.
Let's explore the design insights:
The greenhouse features polycarbonate twin-glazing windows. This provides excellent light transmission while ensuring durability and resistance.

The reinforced framing ensures a robust structure that can withstand various weather conditions.

The wide-opening double doors allow for easy access.
Also available in a unit with a roof ventilation system.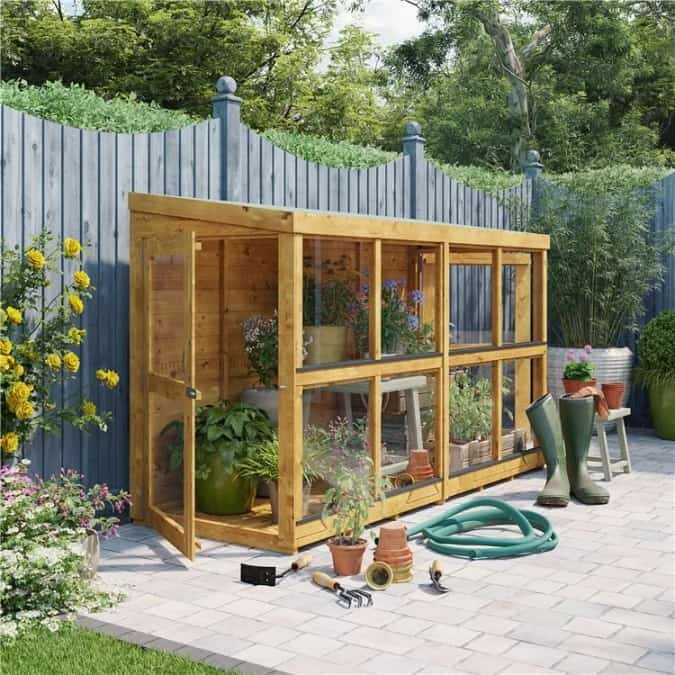 The solution to leap into insulated gardening without going for a bulky traditional greenhouse is here! Perfect for gardens with limited space, the Expert Growhouse is a small greenhouse.
The adjustable roof makes it a 2-in-1: standing, or a lean-to structure. The space inside is enough to fit two potting benches, with large windows to let in sunlight. Not to mention the two doors that provide easy access and sufficient ventilation. And, at such a small size, the Expert Growhouse is virtually maintenance-free.
If you've got green fingers but a small garden, then this is the perfect greenhouse for you!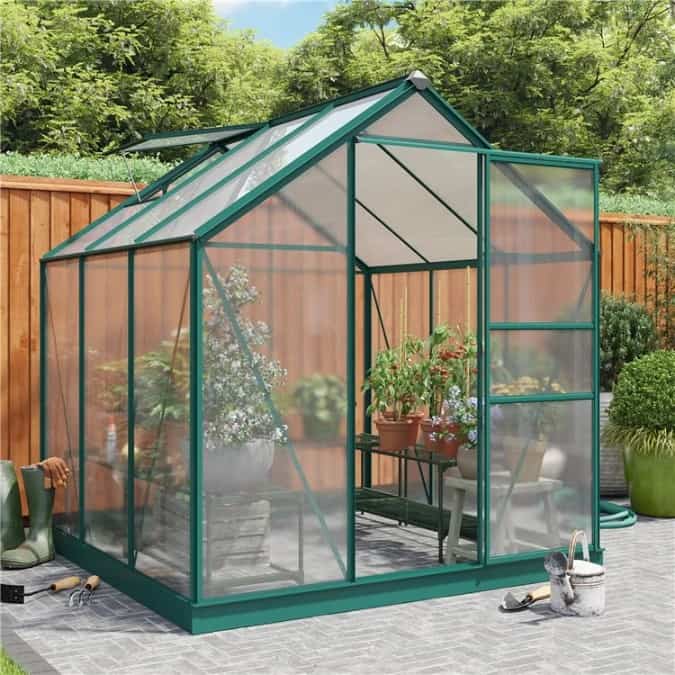 The ultimate sanctuary for passionate gardeners — the BillyOh Rosette Greenhouse. Designed to create the perfect environment for your plants and herbs. Ideal for small to medium-sized gardens,  it's a remarkable addition to enhance your gardening hobby.
Despite its compact size, this greenhouse offers ample interior space. With one, you can cultivate a diverse range of plants – no matter your gardening ambitions.
The advanced glazing material balances heat and light control. This feature creates optimal conditions for plant growth. Even novice gardeners can achieve professional results, thanks to temperature regulation.
Another key point to look out for is the single sliding central door. This design maximises interior space and offers easy accessibility for gardeners. Entering and tending to your plants has never been more effortless!
Experience the perfect fusion of functionality and convenience with the BillyOh Rosette Greenhouse. Sizes available: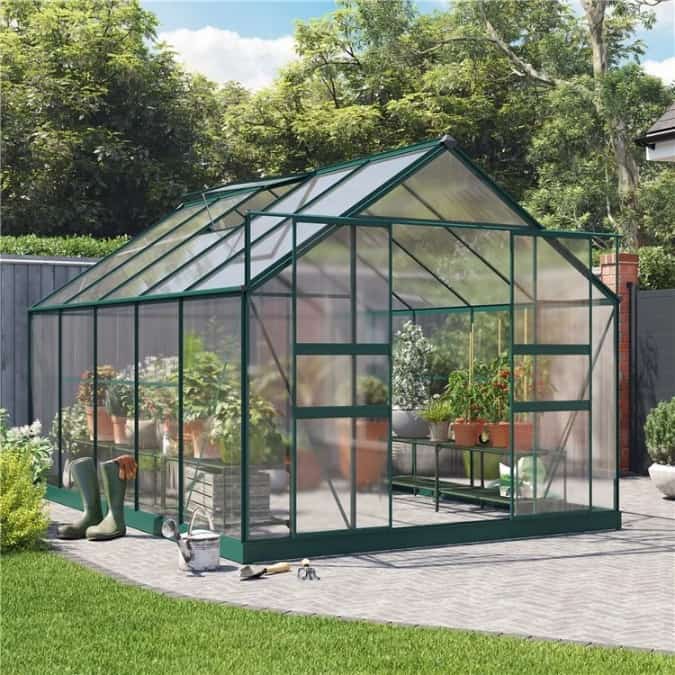 The ultimate choice for enhanced performance, strength, and durability in your garden! The robust aluminium framing provides a strong overall structure. Meanwhile, the included galvanised steel base offers a sturdy foundation for the building. With its galvanised steel components, this greenhouse is built to withstand the test of time.
What sets the Harvester apart is its exceptional framework. It features polycarbonate wall panels that provide durability and impact resistance. The glazed roof sections ensure optimal temperature regulation. Plus, the opening roof vents promote excellent air circulation throughout the year.
Measuring a practical 8×12 feet, the Harvester is designed to fit perfectly in your garden. Its size is carefully planned to avoid any planning permission regulations. Say hello to a hassle-free addition to your outdoor space!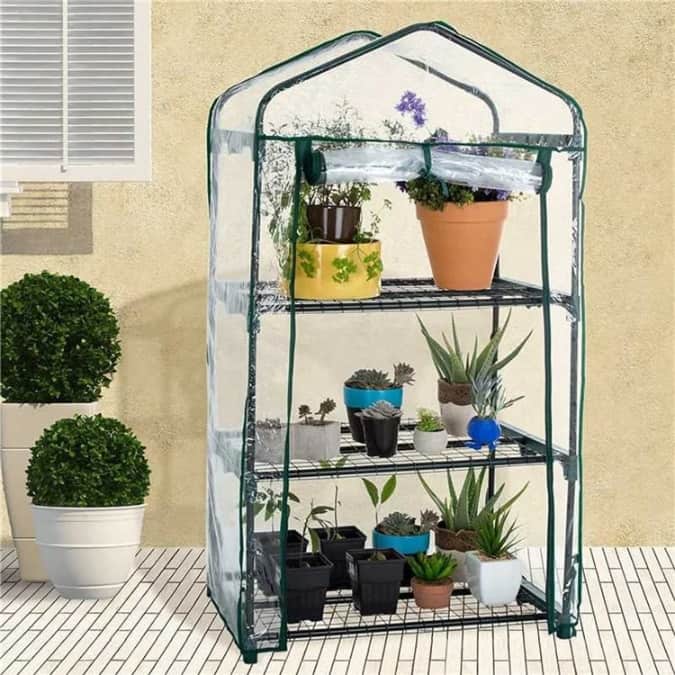 This small but mighty portable greenhouse is packed with big features! It's a great choice if you're looking for an affordable and durable unit that won't break the bank.
Made from high-quality UV-stabilised PVC fabric and comprises a 155 cm (H) x 50 cm (W) x 69 cm (D) footprint. You can take care of your seedlings and tender plants without compromising space.
The PVC cover that wraps the unit ensures plants receive enough light transmission. Also, keeping them shielded from the harsh elements, thanks to their robustness.
Each of the durable, painted steel frames has a loading capacity of 10kg. This allows you to position a good selection of trays and pots in either the 3-shelf or 4-shelf option. And if you need to find more room for a particularly tall plant, you can remove any shelves.
To use, simply unzip, roll up and tie the cover whenever you want to gain better access to your greens.
Why You Should Trust Us at Garden Buildings Direct
Garden Buildings Direct is dedicated to providing the highest quality products. Our commitment to excellence is reflected in the time and effort we invest in ensuring our products are the best they can be. Even better, we strive to maintain affordable prices.
With our expertise, we are confident in recommending the greenhouses above as the absolute very best in our collection. Explore them and discover the perfect fit for your gardening aspirations!