Summerhouses are one of the ideal alternative outdoor buildings to relax, unwind and entertain—providing an extra room that allows you to make the most of your garden!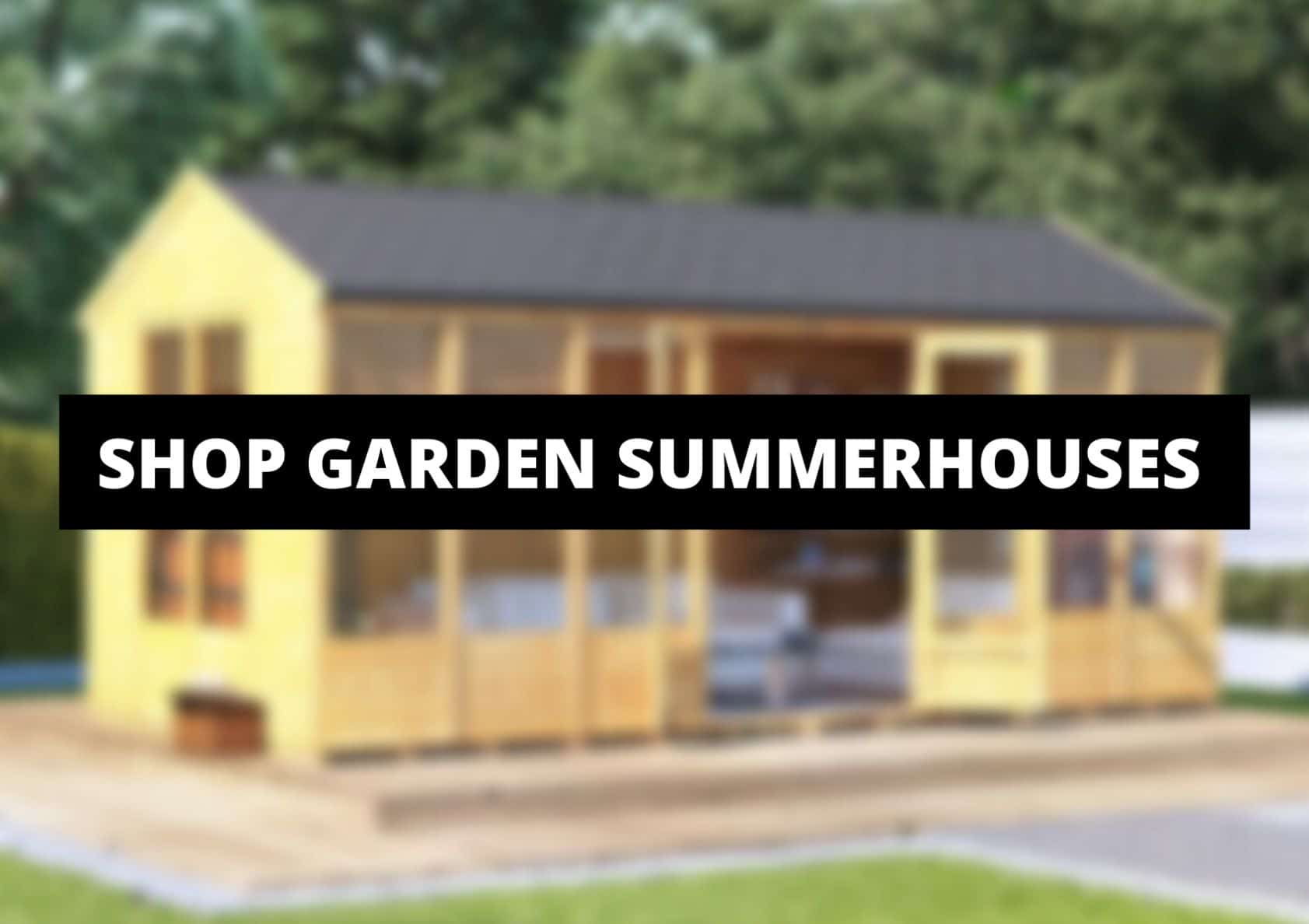 With several different styles and constructions available, shopping for a Summerhouse can be a bit tricky. To help you understand which building will best suit your needs, we've prepared this advanced guide with some handy tips on everything you need to know when you're shopping for a Summerhouse.
Log Cabins vs Summerhouses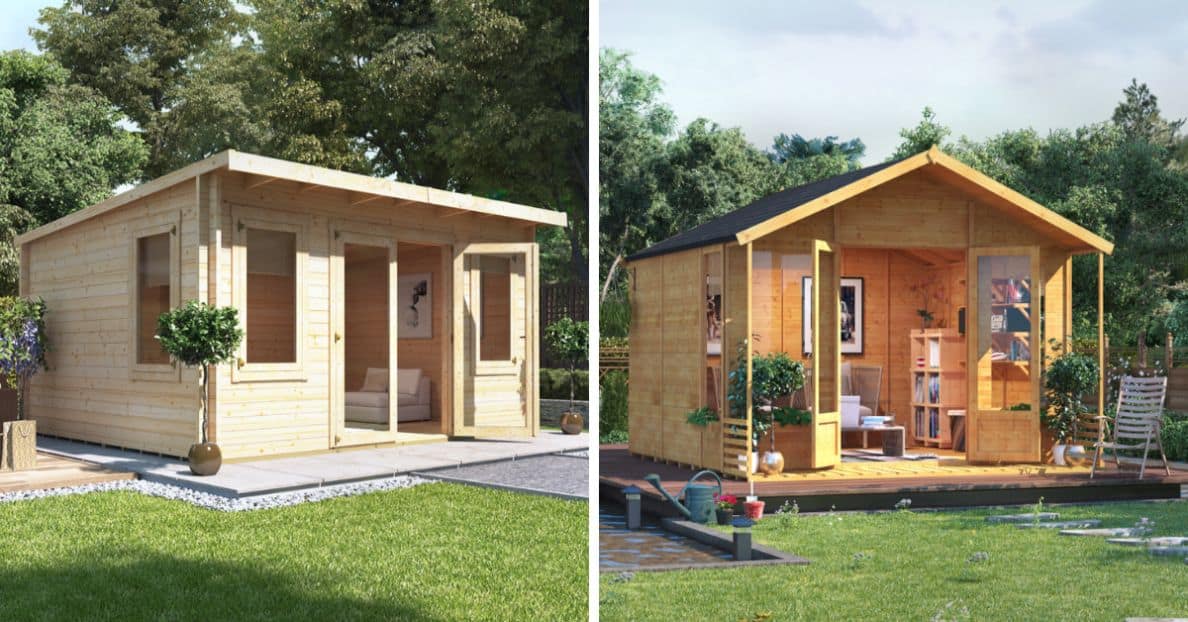 To tell you the truth, a lot of people actually can't tell the difference between a log cabin and a summer house as they're quite similar.
These two outdoor buildings are often distinguished by the way they are built. When building log cabins, overlapping corner connections are being used. On the other hand, summerhouses have mitred corners.
But there are actually other differences you will notice between the two, such as:
Log cabins are generally in a rectangular or square shape, while summerhouses can be in an octagonal or pentagonal shape.

Log cabins provide thicker wall options compared to summerhouses.
Meaning, log cabins are much ideal for those who fancy having more durable and stable garden buildings, especially if you're looking for a garden building that offers enough space.
But if you only use it for storage, you can opt for a model with thinner walls. Log cabins really come with countless variations.
What Size Do You Need?
Apex Summerhouses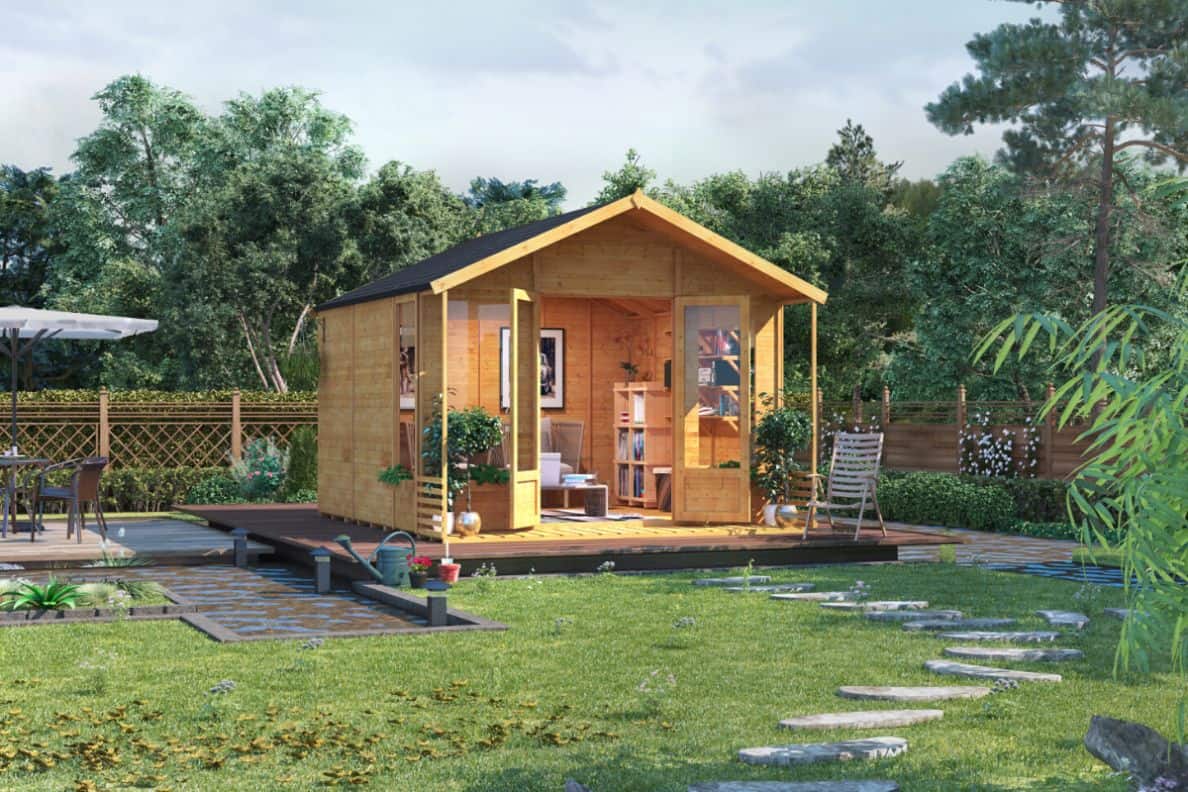 A summerhouse with an Apex roof has a ridge running along the length of the building with the roof sections tilting upwards from either side of the gutter meeting at the edge.
This type of Summerhouse is actually the most popular one due to its versatility, practicality as well as its traditional and enticing appearance.
Reverse Apex Summerhouses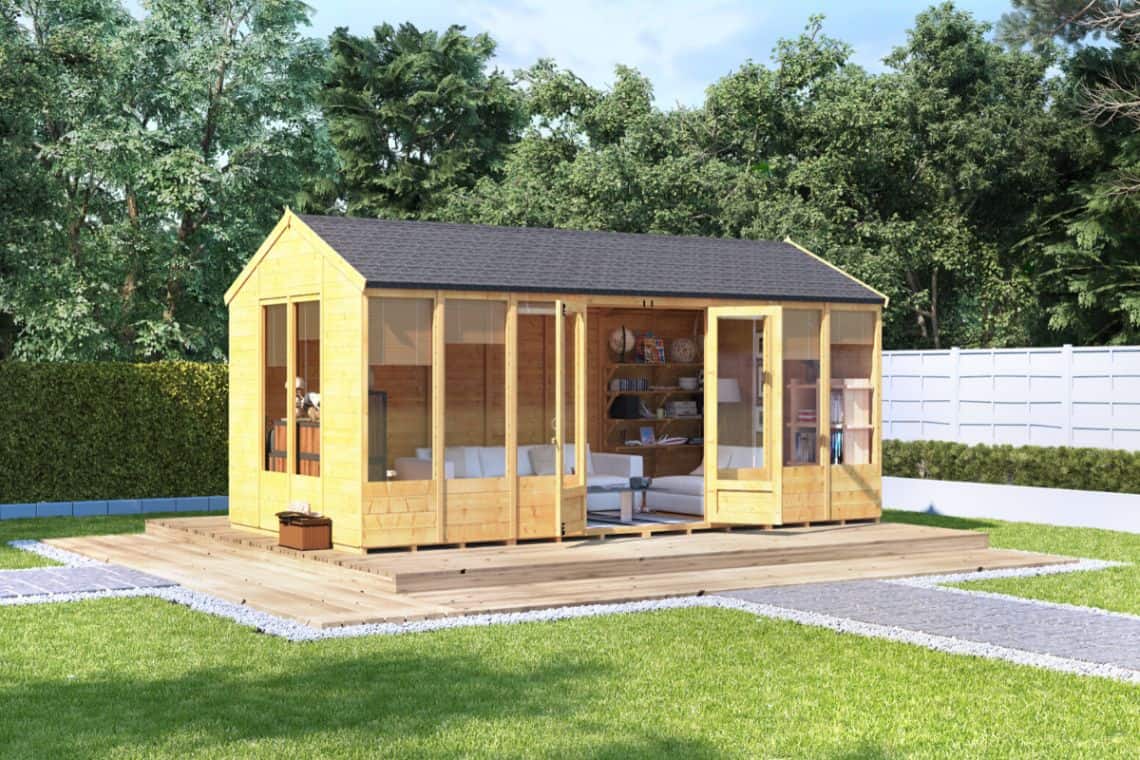 A reverse apex summerhouse is quite similar to the apex one. The main difference is that a reverse apex building's doors and windows are situated on the longest side of the building.
Pent Summerhouse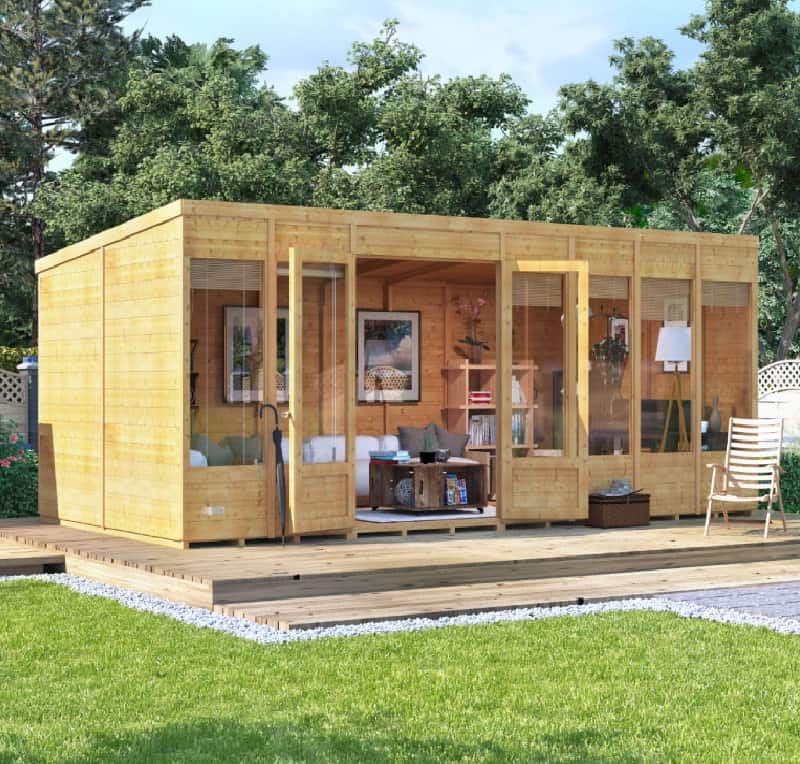 Pent designs gear more towards contemporary architectural concepts to complement any modern garden. Most of these designs feature front overhang roofs that add style as well as practicality to your garden summerhouse.
Corner Summerhouse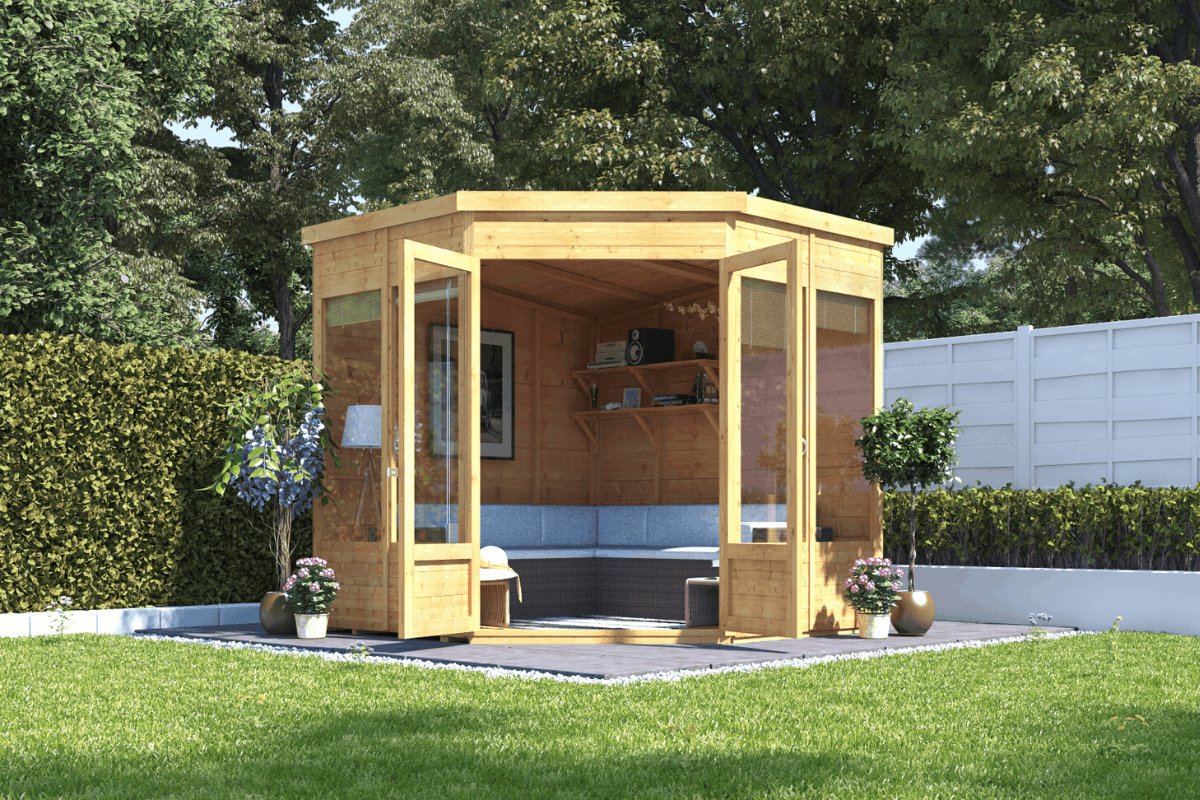 Aside from offering a unique look, corner summerhouses are made specifically for awkward garden spaces. Sometimes, traditional outdoor building designs don't fit in smaller and more complicated garden areas, so corner summerhouses will help you save the day.
What Type of Construction Best Suit Your Needs?
Overlap Summerhouses
A traditional rustic style, an overlap Summerhouse is designed with overlapping boards to allow rainfall to run off. It is often the most cost-effective style of wooden Summerhouse as it is reliable and long-lasting.
Tongue and Groove Summerhouse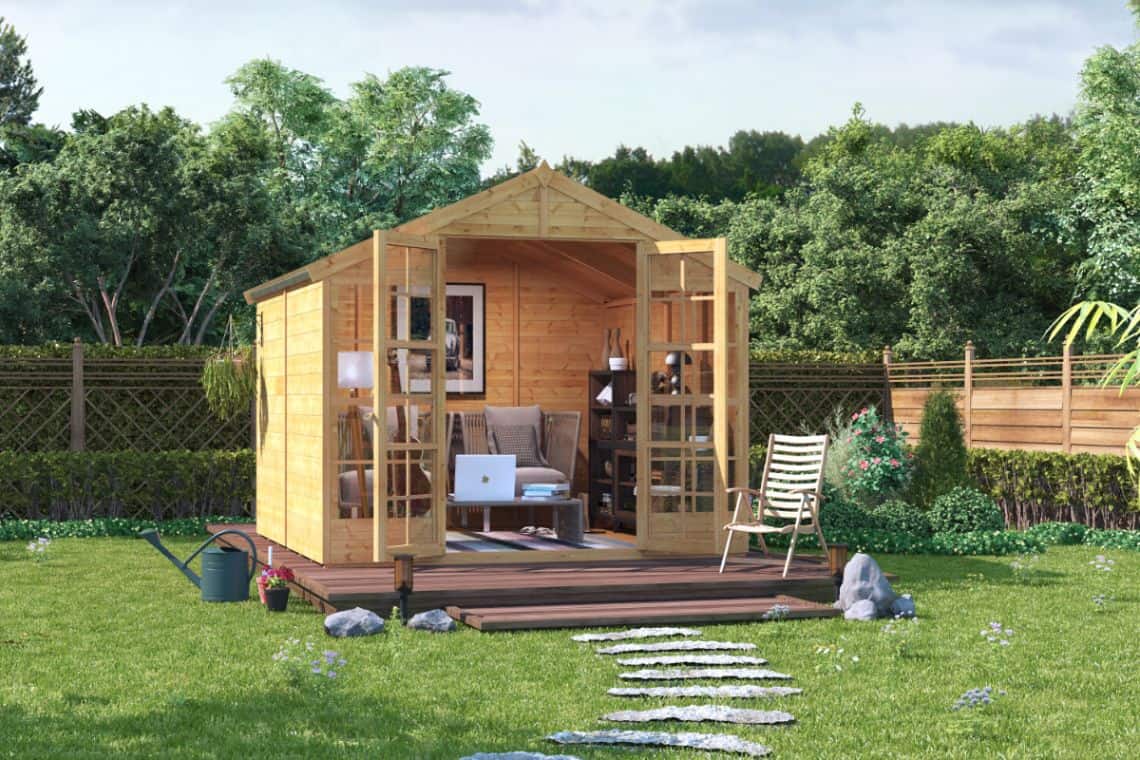 A premium Summerhouse feature interlocking Tongue and Groove boards are designed to last. The tight-fitting construction provides excellent protection against the wind and rain.
In addition, the cladding is more secure and durable.
Features to Lookout For
Now it's time to check out what other features are available you can choose for your summer house. 
Summerhouse Roof Covering Options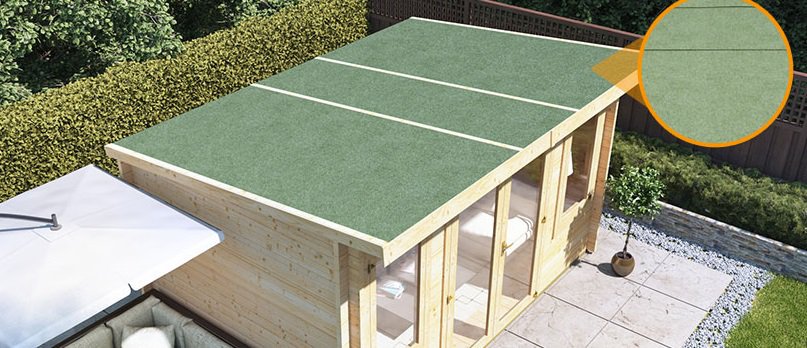 When it comes to a summer house roof, there are two options you can choose from:
Shingles – for heavy-duty protection and increased longevity.
Felt – for water-repelling purposes and added weather protection. It also comes in two common types: sand and mineral felt.
Sand felt – for the basic roof covering protection.
Mineral felt – you may upgrade your roof covering to this one to add extra protection against elements.
Summerhouse Customisable Roof Options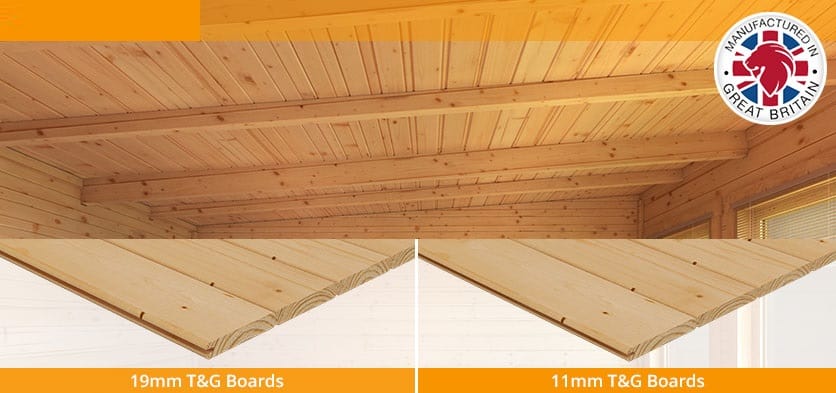 T&G Roof Panels are stronger compared with OSBs and Solid Sheets. Choosing T&G will also give you the option to use shingles as a cover for your roof increasing the overall sturdiness of the building and lifespan.
Reasons to Choose Pressure Treated
Experts say that the roof would have to be one of the toughest yet most bombarded sections of the building. We recommend all our customers to enhance the defensive capability of their roofs further by having it ordered pressure treated.
The treatments dramatically increase the durability of your roof and free you of your maintenance worries.
Summerhouse Flooring Options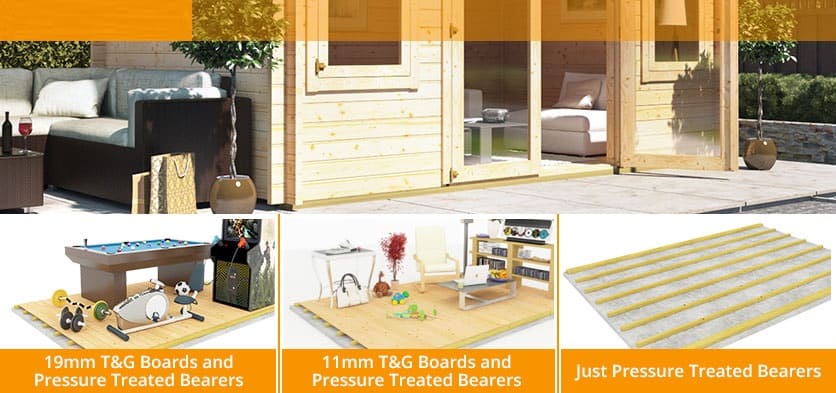 When looking for a wooden shed, there are two available flooring options you can choose from:
Oriented Strand Board (OSB) – this type of flooring is an engineered wood flooring made from compressed layers of wood strands stuck together.
Tongue and Groove Flooring – if you're looking for a stronger flooring, opt for this one as they are made from separate wooden boards that are designed to interlock. This is also ideal for storing bulky items.
Types of Summerhouses
Summer houses come in different styles and purposes. Here's how to know the difference between them all.
Contemporary Summerhouses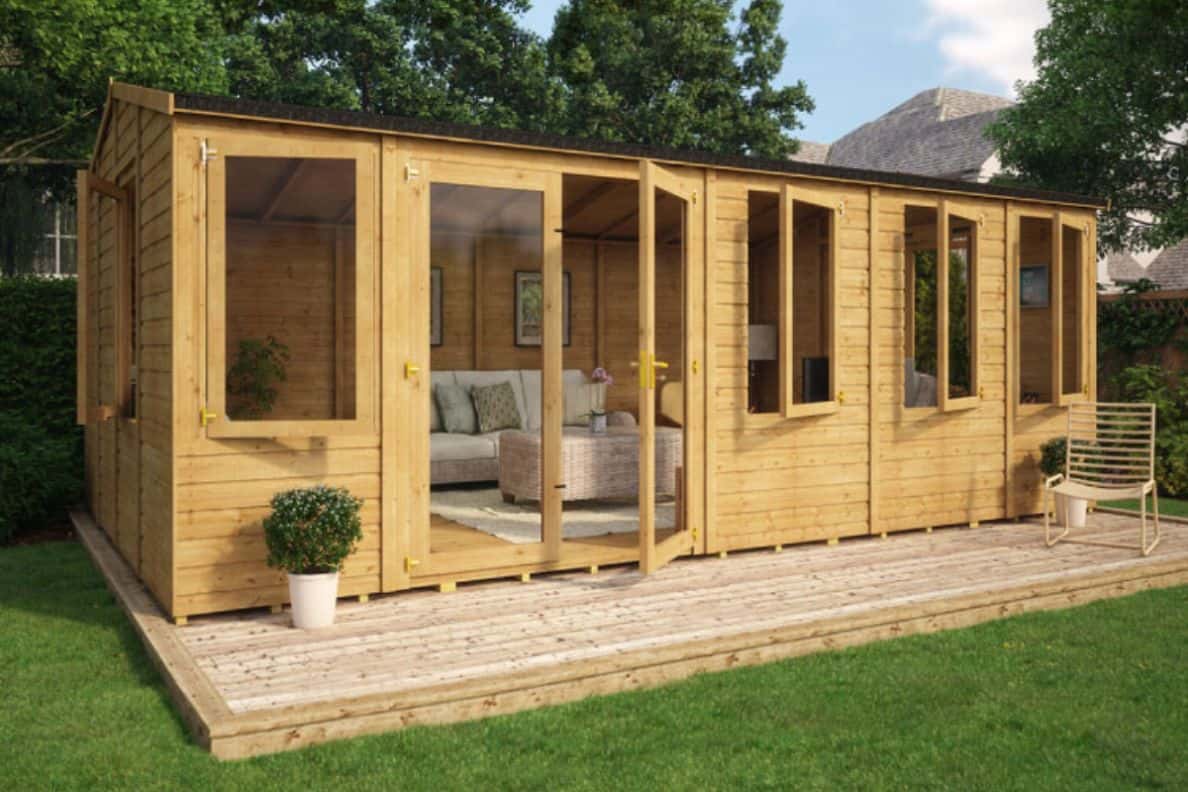 Contemporary summerhouses aren't just ideal for those who are into more stylish and modern designs. This outdoor structure is also a perfect touch to give your garden a modern edge and look. 
Made with an interlocking tongue and groove boards—it creates a smooth and clean aesthetic charm.
Traditional Summerhouses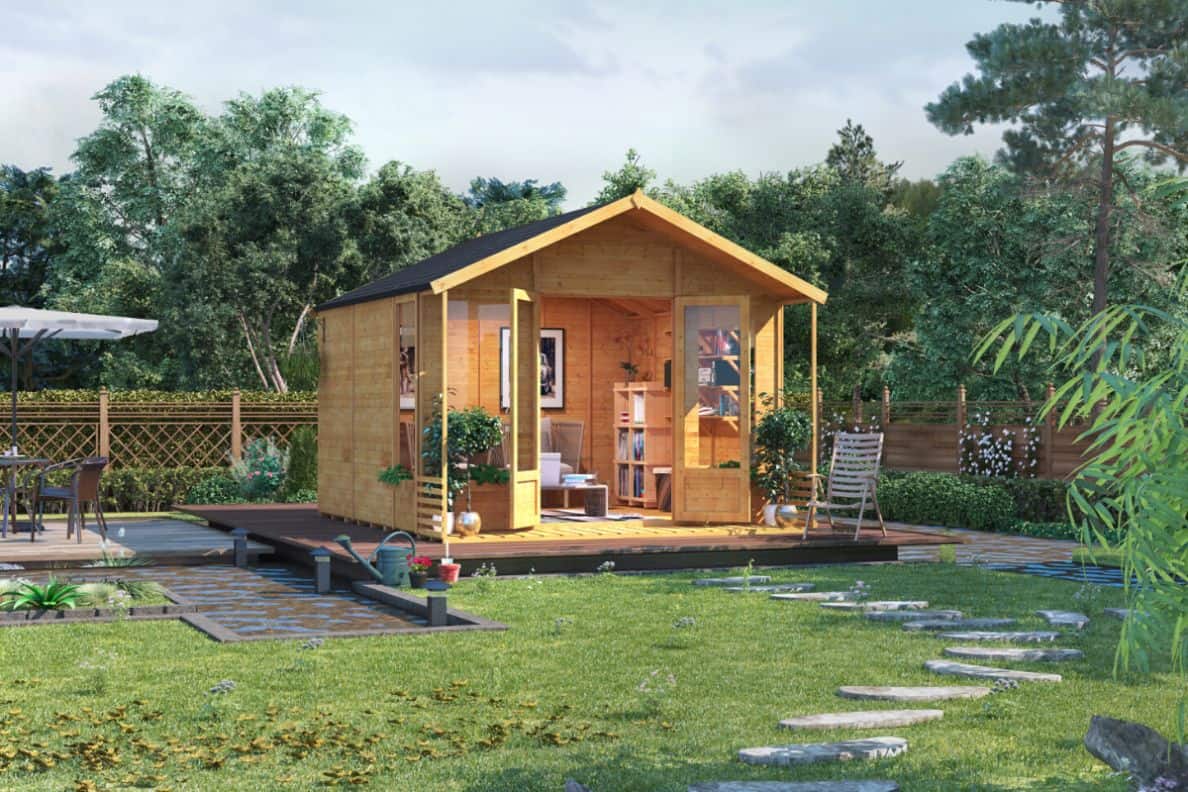 Some people tend to go for the traditional-looking summer houses rather than opting for the contemporary ones. For them, this classic and traditional summerhouse is more appealing than any of the other summerhouse buildings.
The traditional summerhouse features Georgian windows and the common apex roof shape. So, if you want a classic edge on your garden, the traditional summerhouse is what you can opt for.
Corner Summerhouses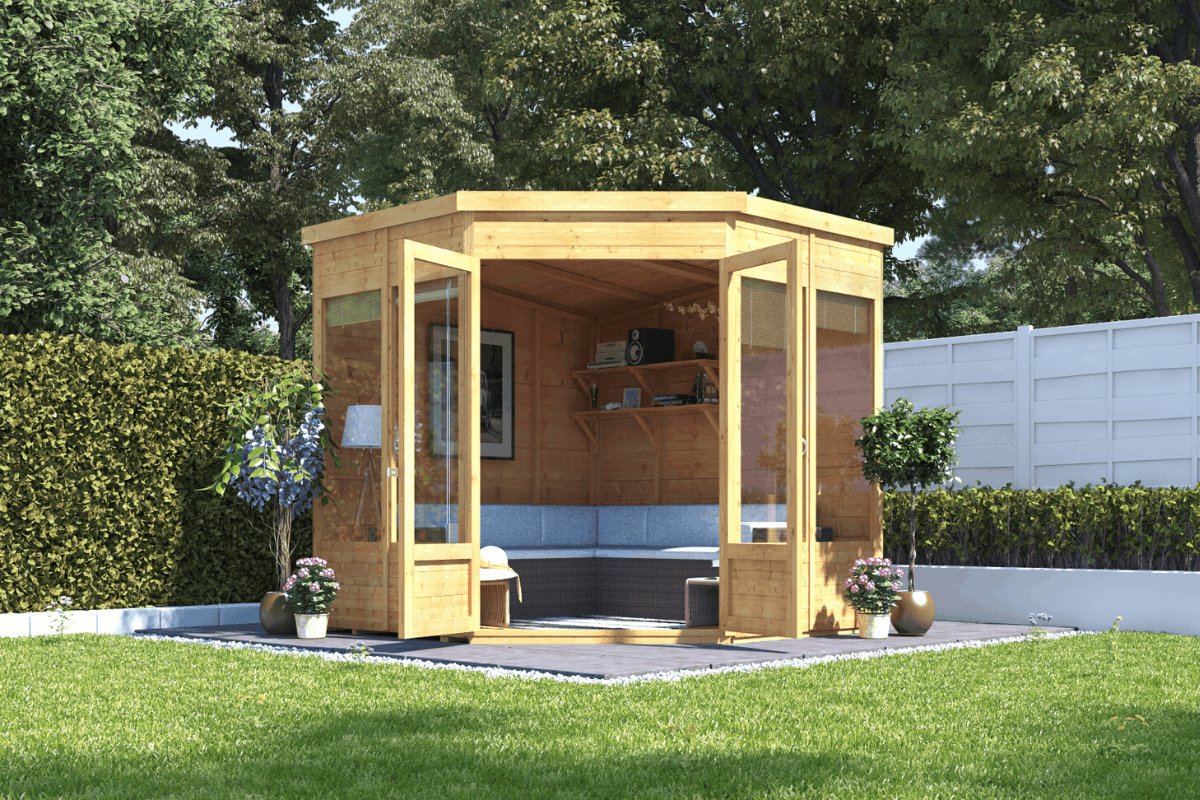 One of the difficult tasks you'd encounter when it comes to your summerhouse is to find the perfect space for it. This is where the corner summerhouses come in handy.
You don't have to worry about how are you going to place your summerhouse in a small or awkward space because this type of outdoor building can fit into a corner. It also features double doors that provide you with a panoramic view of your garden.
Small Summerhouses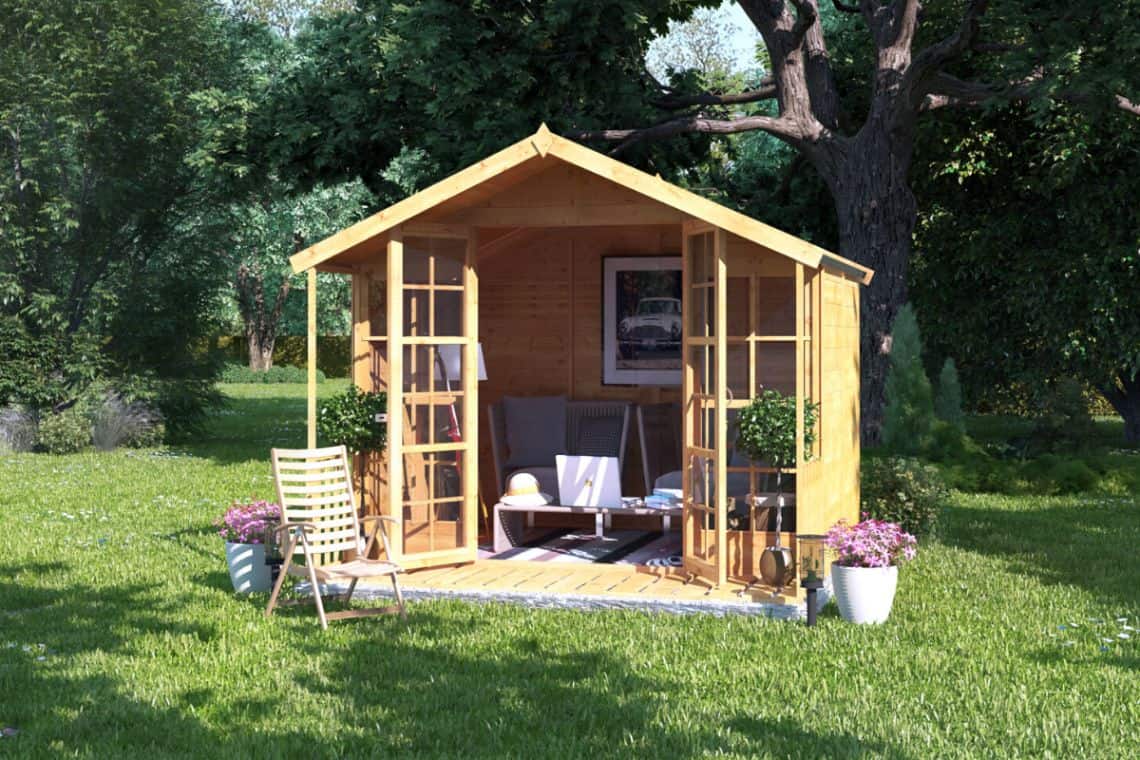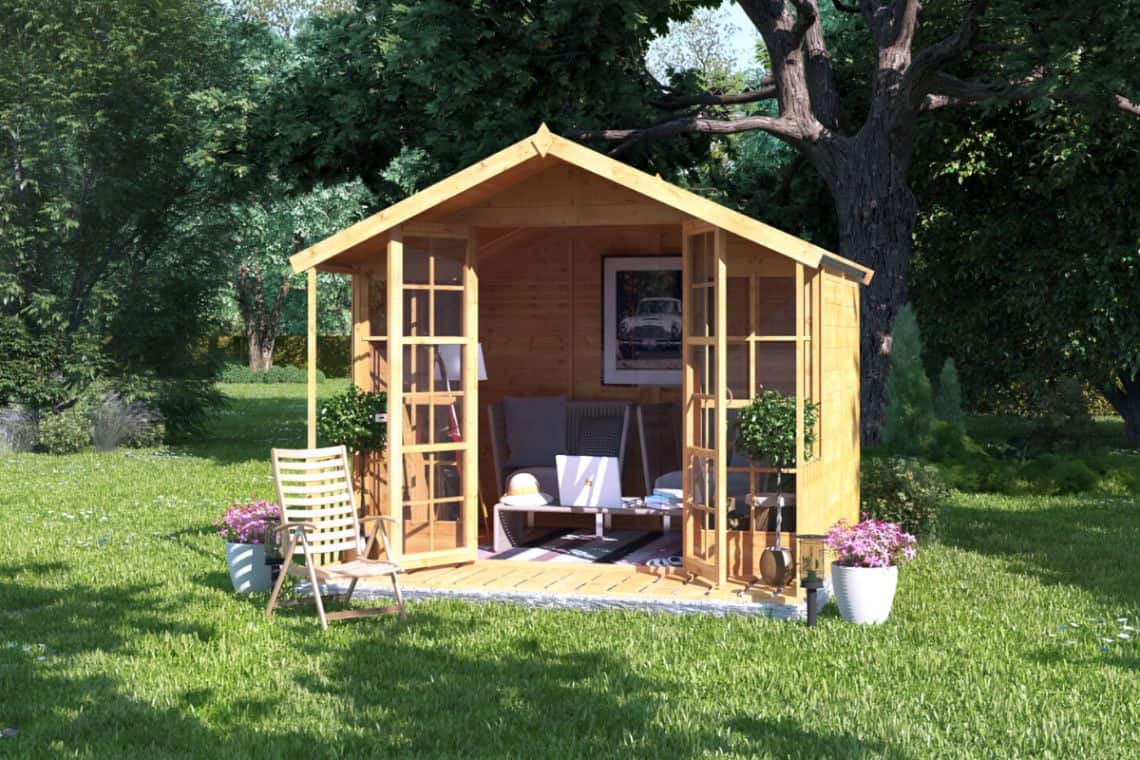 If you have a small and minimal garden space, a small summer house can be your best bet as it can measure as small as 6' x 4'. It turns out that small summerhouses aren't convenient, but they're also budget-friendly.
You can take advantage of this small outdoor building as a little haven to relax or as a storage area to keep your outdoor furniture during the colder months. 
Log Cabin Summerhouses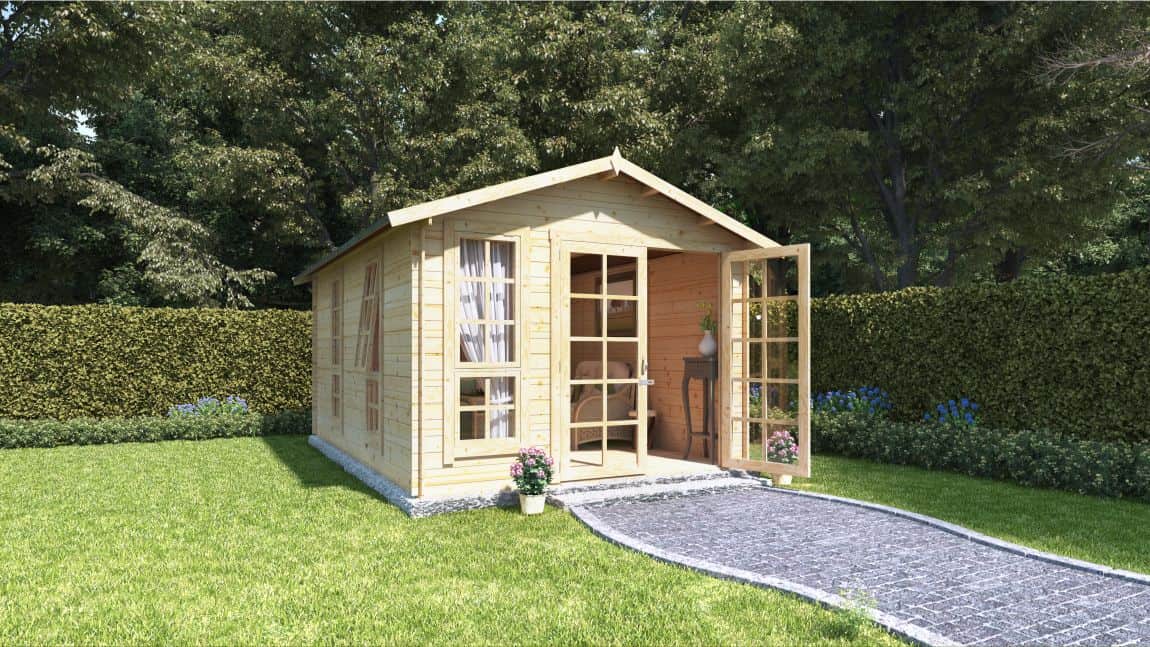 If you wish to have a luxurious style of the summerhouse, a log cabin summerhouse can be your best option. A log cabin summerhouse can add a touch of spectacular view in your garden.
Moreover, this lavish summerhouse is made with a sturdy outdoor building structure to withstand any harsh weather conditions and built to last.
Summerhouse Sheds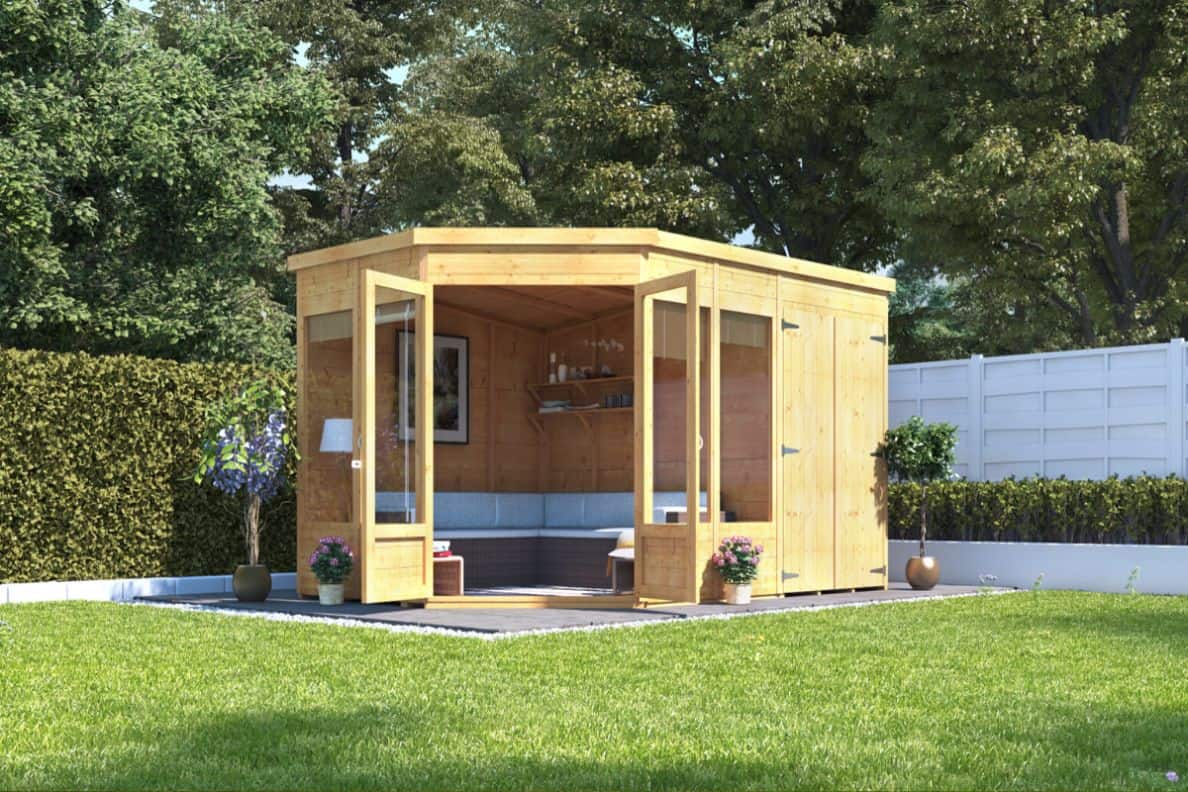 Yes, you've read that correctly. You can also use a summerhouse or a part of it for storage purposes where you can conveniently keep your garden tools safe.
In fact, this outdoor structure can also be the perfect place to escape and relax. Ideal for small families, couples or new homeowners—a summerhouse shed is an ideal solution for those who wish to have two different garden buildings without having to compromise on garden space as they are combined.
Summerhouse Maintenance Tips
If you want to keep your summerhouse looking neat and clean all year round, proper maintenance is essential. Here are the tips you can apply to maintain your summerhouse. 
In this way, you'll be able to enjoy using your outdoor building for many more years to come.
Treatment
To protect your summerhouse against the harsh weather conditions, you can apply wood treatment. It will not only help the structure withstand the weather but also help it last longer. Here are the other things you need to look out:
Cleaning

Roof, floor and walls regular checking

Insect and pest infestation

Moisture

Natural Shrinkage