These winter garden ideas will transform your backyard into a winter wonderland!
Don't let the cold weather stop you from your gardening hobby. Or allow the frosty climate to take over your backyard with a pile of snow.
You can still add beauty and interest to it even when the weather is dismal. All it takes is a bit of planning, inspiration and TLC to breathe life into a rather snow-covered and grey plot.
And with a greenhouse, achieving careful winter garden planning will be straightforward. Browse through this list of winter garden ideas to bring the very best to your outdoor space!
1. Grow the best winter plants
Don't let the beauty of your garden from the past seasons become a distant memory. Get yours thriving by adding cold-tolerant plants to beds before the first snow.
Snowdrops, for one, can give you that sign of hope, even on the coldest of mornings. Pansies, Lily of the Valleys, and Primroses are also worth considering.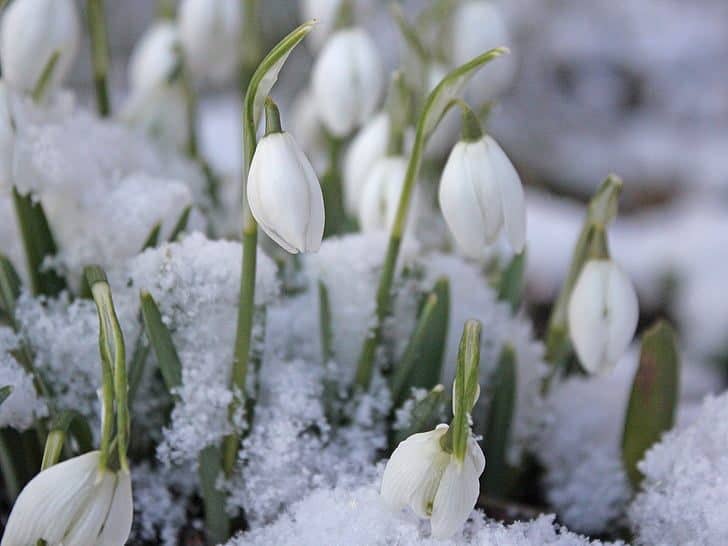 2. Bring structure to the plot
Rely on colourful winter stems, such as the borders of red twig dogwoods, for a midwinter fire vibe. Such structures will set the scene for the rest of your winter planting. 
In turn, it'll give you a heart-warming focal point in the midst of dull, cold weather days ahead.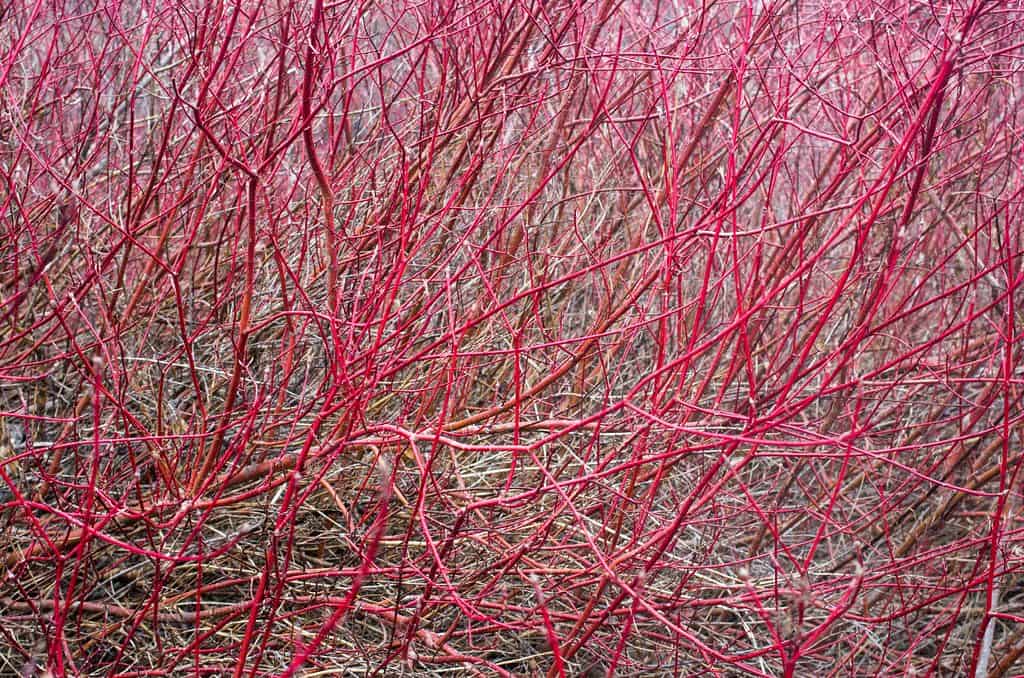 3. Keep cultivating your produce
The truth is, the frosty weather isn't the end of the growing season — cue greenhouses. Although they won't grow as fast as they would in the warmer months, they'll still flourish. 
The best ones to thrive are potatoes, winter lettuce, Brussels sprouts, dill, and mint, to name a few. Note: If you're on a quest for a greenhouse, this guide will come in handy.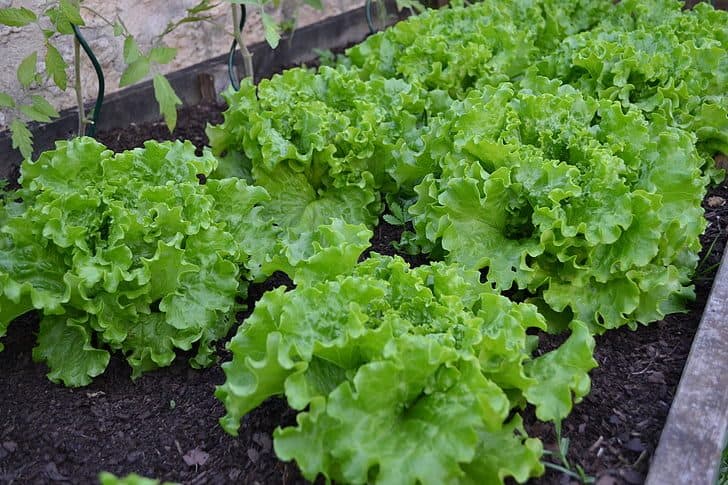 4. Introduce outdoor lighting
Decorate your trees with outdoor lights and make them the centre of attraction. Light them up and let the cool white and warm tones sparkle with snowfall.
Create a matching effect on the pathway with lanterns while string lights on the fence and the gazebo.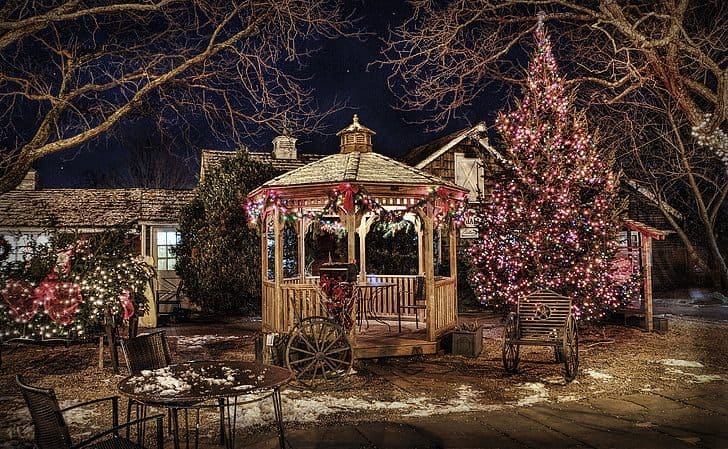 5. Outdoor steam bath experience
Nothing beats a hot bath experience during the winter months. And having an outdoor hot tub setup like this in your garden can give you that serendipity.
Top tip: Add a solar blanket on top of the tub to reduce evaporation and protect the water from the cold.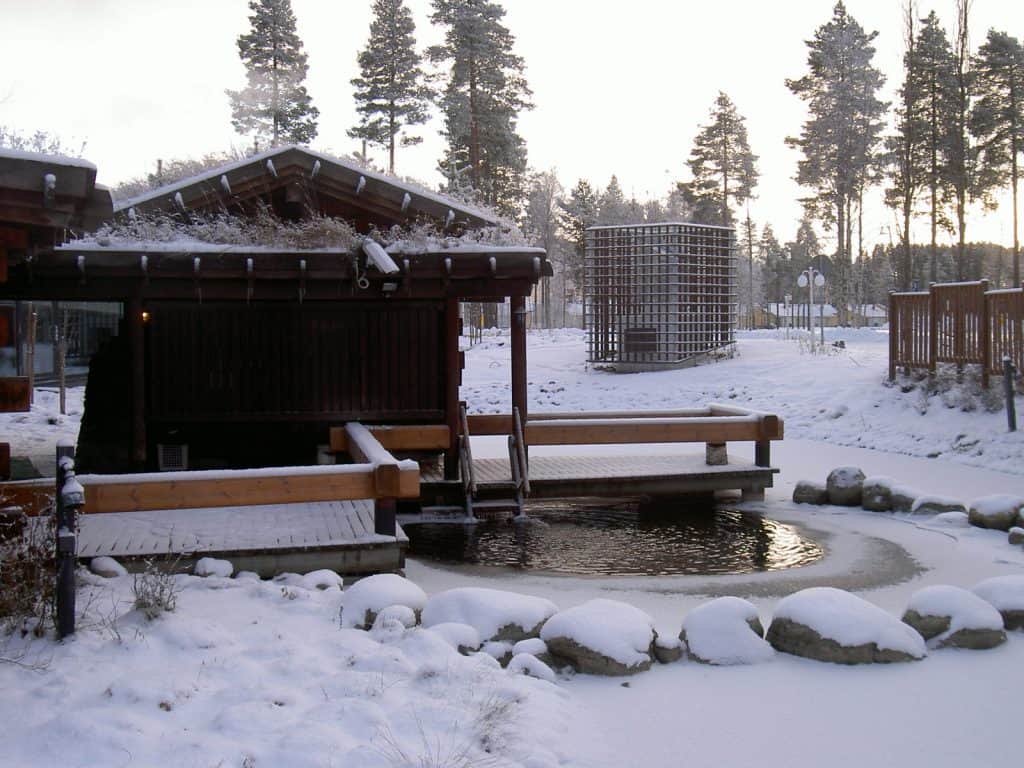 (Image Credit: Wikimedia Commons)
6. Winterise your log cabin
Your garden has done its part during autumn, and now it's time for your log cabin to shine this cold season. You'll want to ensure it's winter-ready to make the most out of it.
Don't know where to begin? These ideas will ensure your cabin retreat will weather the winter better.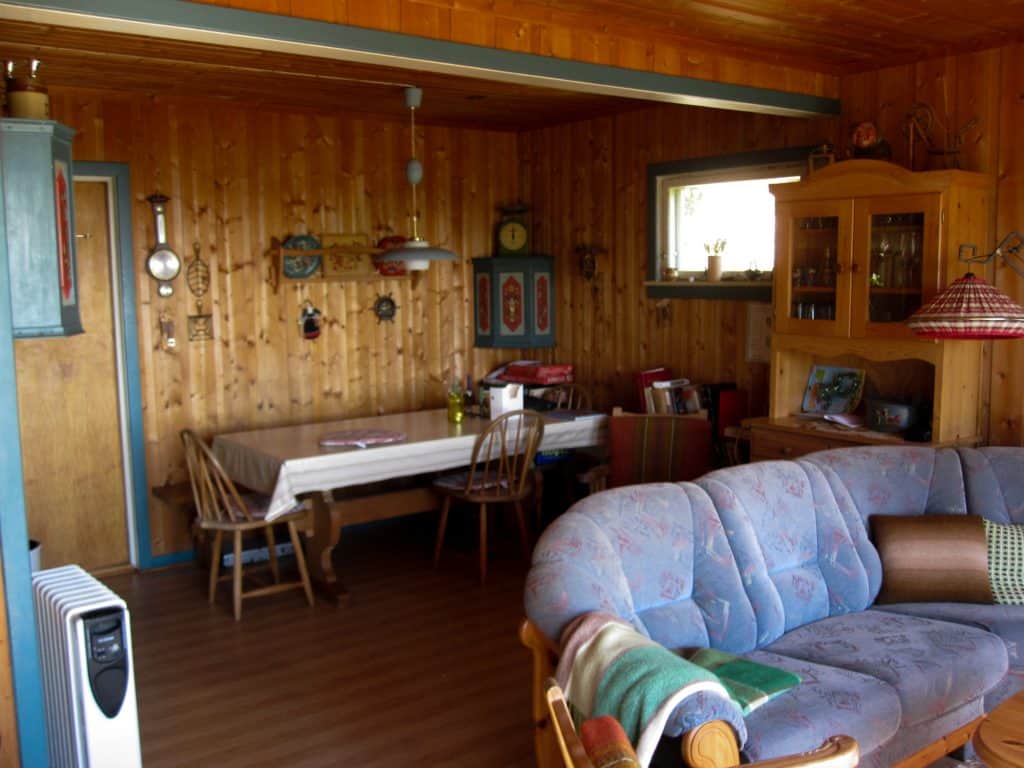 7. Help the wildlife
The coldest part of the year is when birds and other animals seek shelter. Take a few simple steps and help a host of animals by welcoming them into your garden. 
Turn it into a beautiful wildlife haven to liven up your sluggish backyard. Add bird boxes, hedgehog homes, or compost heaps for frogs to thrive and hibernate.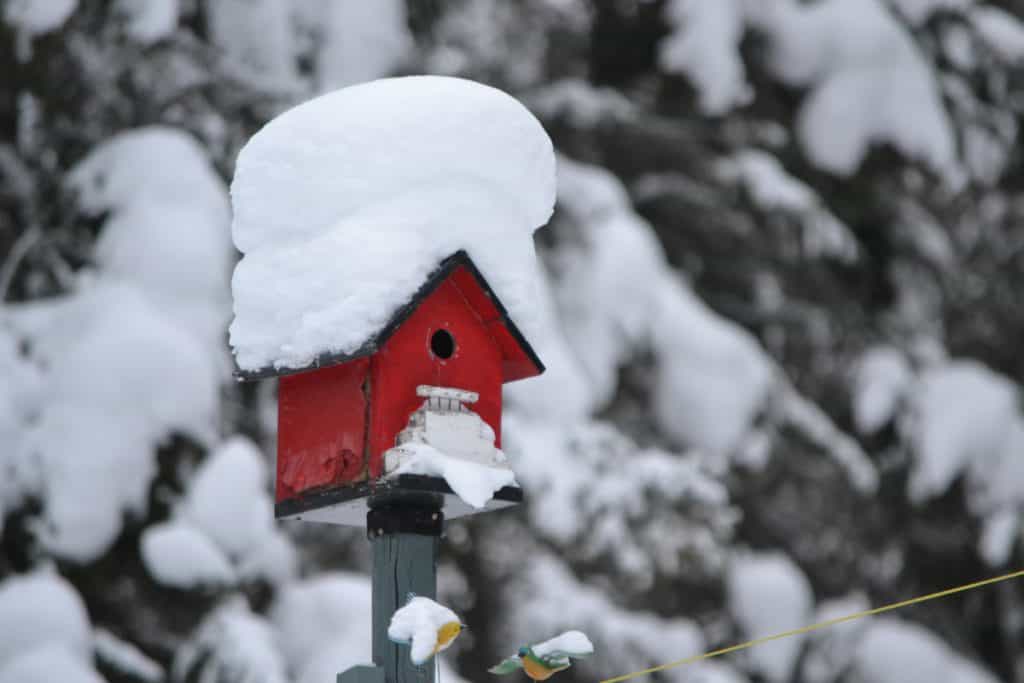 8. Container wonderland
Don't settle for the drab greys and browns of fall and winter; instead, create a cool container garden. Use evergreen sprigs, colourful twigs, and dried perennials to inject seasonal interest.
Pack each pot with more colour and interest, such as Wintergreen plants or Primulas. Both can bring a big boost of bold colour to a display.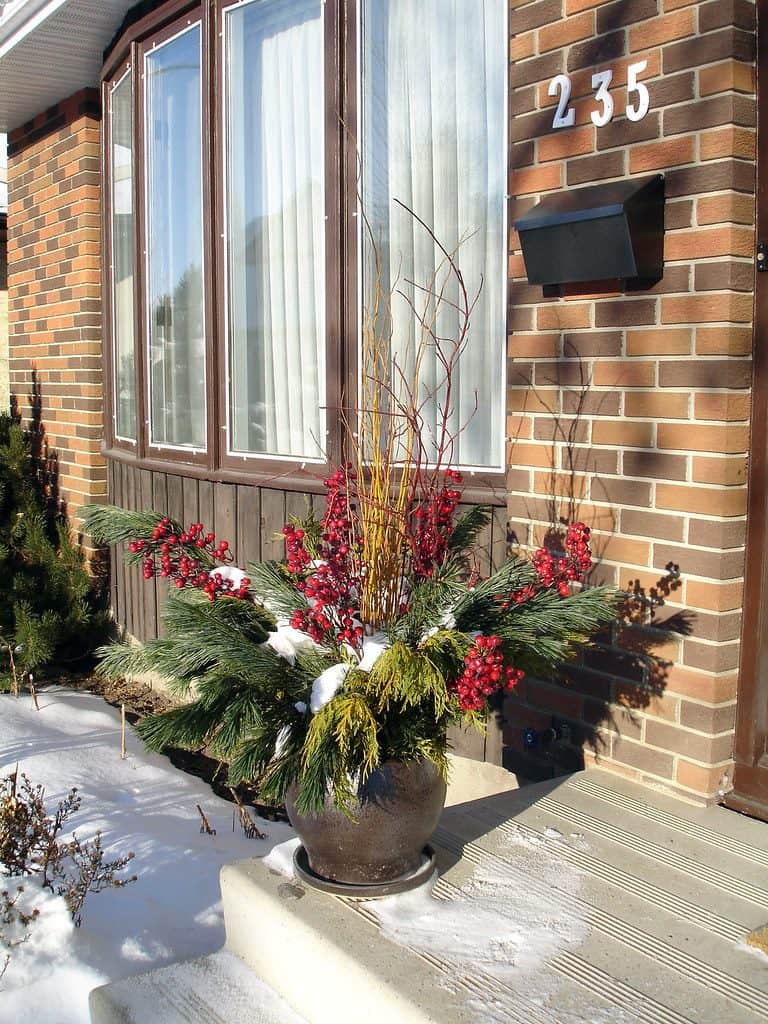 9. Fish pond care
A frozen fish pond can make your winter garden look more lifeless. Also, you don't want your Koi fish to end up frozen, do you?
Install deicers and surface heaters to keep a hole in the ice and allow for proper gas exchange. As long as the pond doesn't freeze to the bottom and an air hole is provided on the surface, your water friends will survive.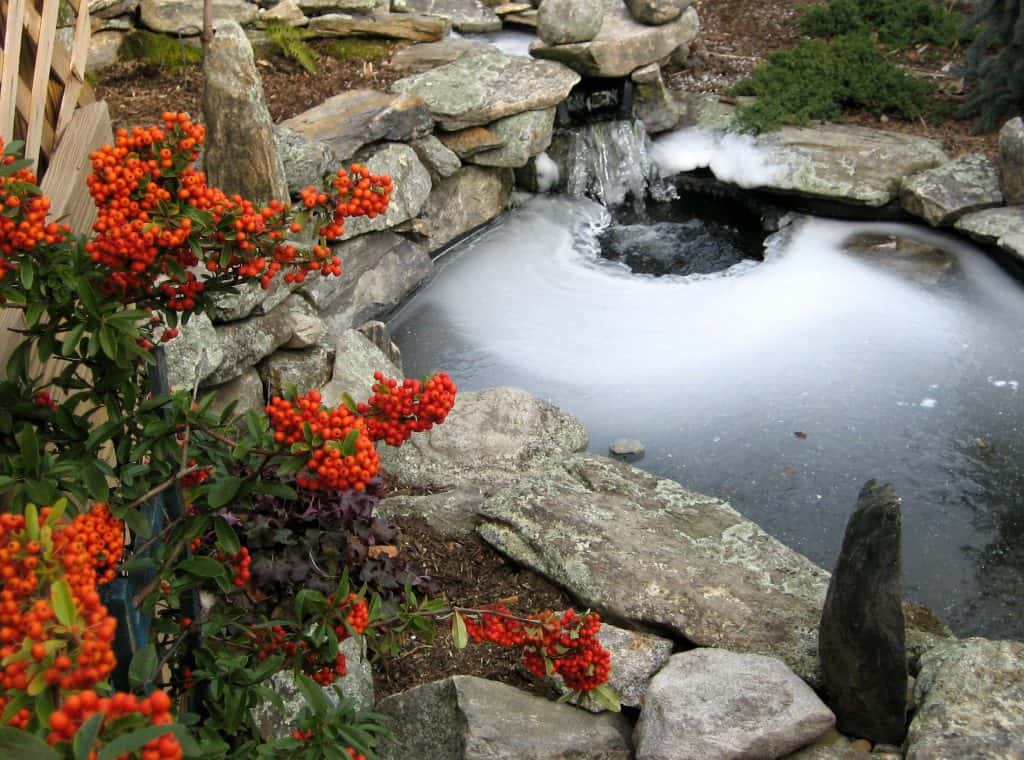 (Image Credit: Wikimedia Commons)
10. Decorate with evergreens
Evergreen foliage, from shrubs and trees, are the belles of the winter landscape. The soft needles of white pine or the leathery leaves of Holly is a prime example.
Make a point to add more evergreens throughout your garden planting scheme for texture.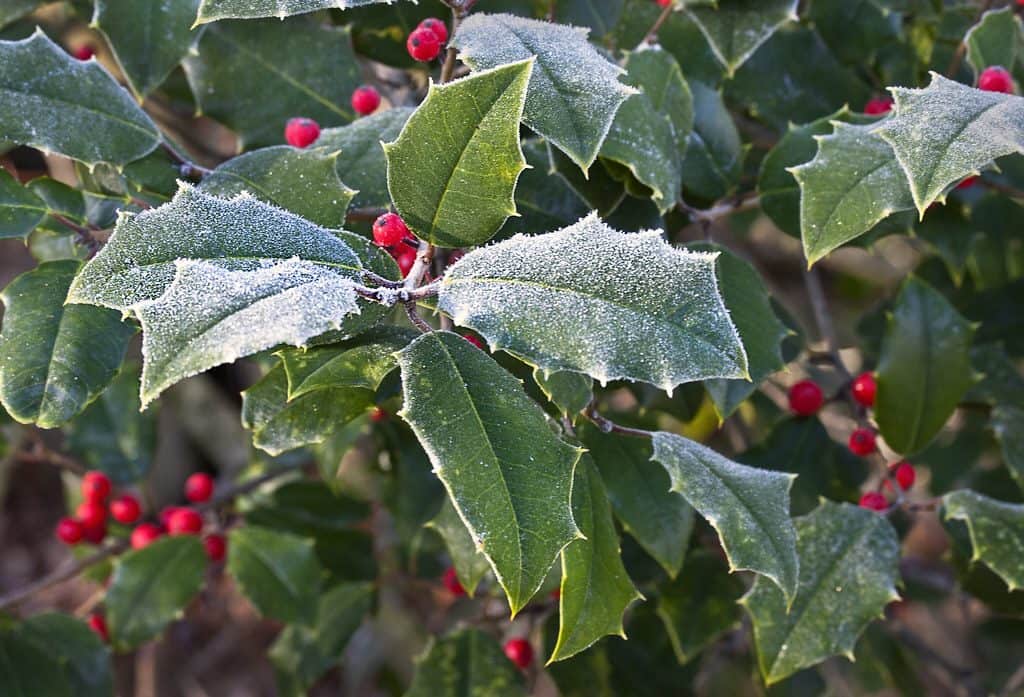 11. Layout your white garden
Wall gardens, hedges, and raised flower beds are key to adding structure to your winter plot. They also make the perfect backdrop for the snow-covered landscape.
Top tip: Go for evergreens that can be neatly trimmed in early fall. This will help keep them to stay smart-looking right through to spring when new buds form.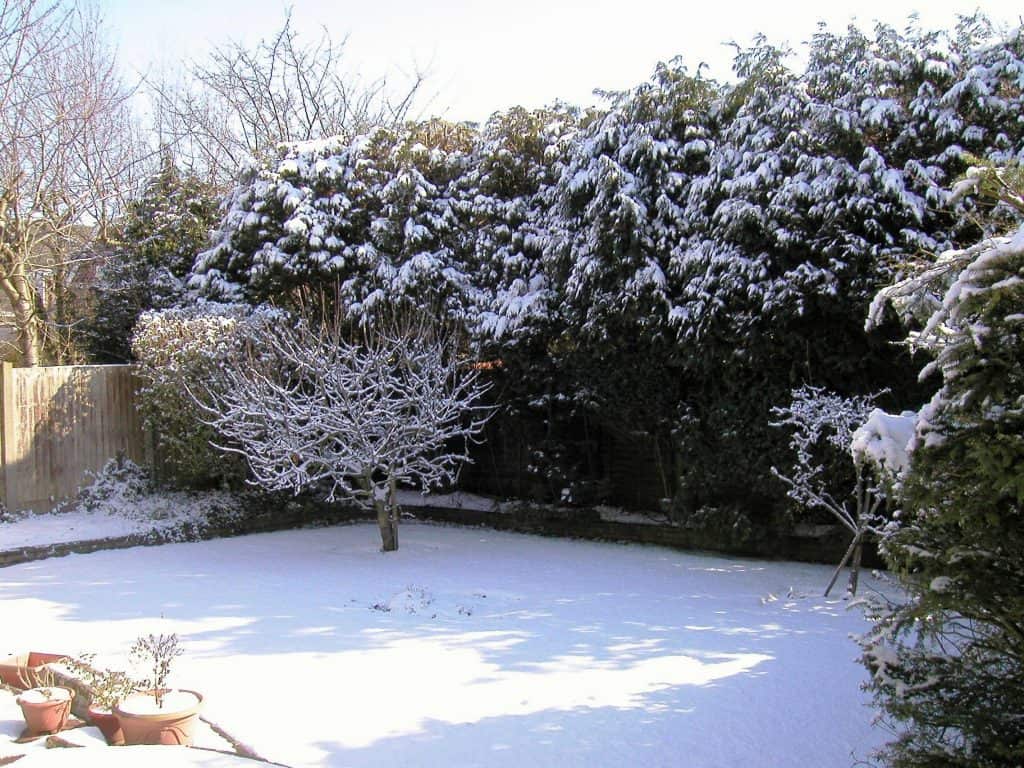 12. Topiaries trees for drama
Topiary trees look their best in the wintertime. Once the snow arrives, they take on a whole new dimension.
They add drama to the plot thanks to their stunning sculptural forms. They needn't be massive. You can clip evergreens such as yews into shape or plant hebes (which make nice winter features).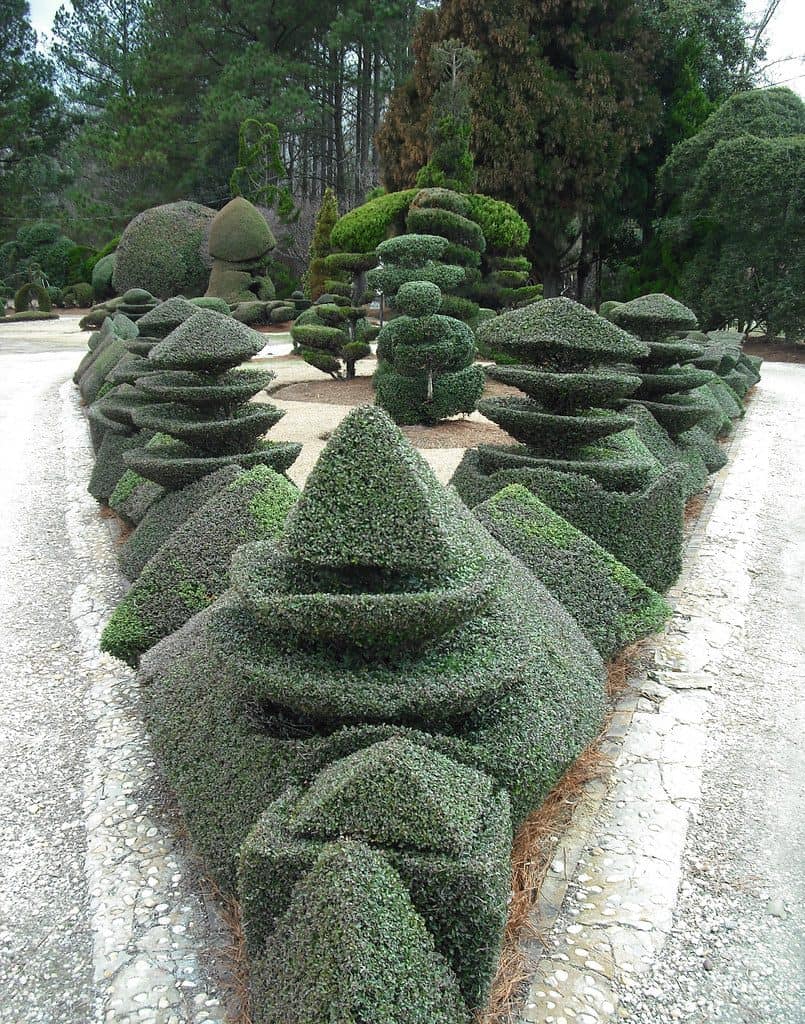 13. Burlap blankets for trees
Maintaining the health of your trees in the colder months is crucial. Wrap them up with a burlap blanket to ensure they're all set for a successful growing season.
Corrugated cardboard also works wonders as frost protection covers. Note: Remove the wraps right away when the temperature gets warmer.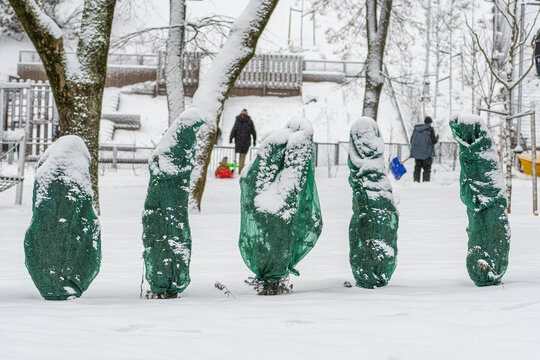 14. Add a touch of warmth
The cold weather can limit your time spent outdoors. But you can take the chill off evenings in the garden with heating.
It can be in the form of a fire pit, chiminea or patio heater. Besides the cosiness, they can create a focal point and make your outdoor space more inviting.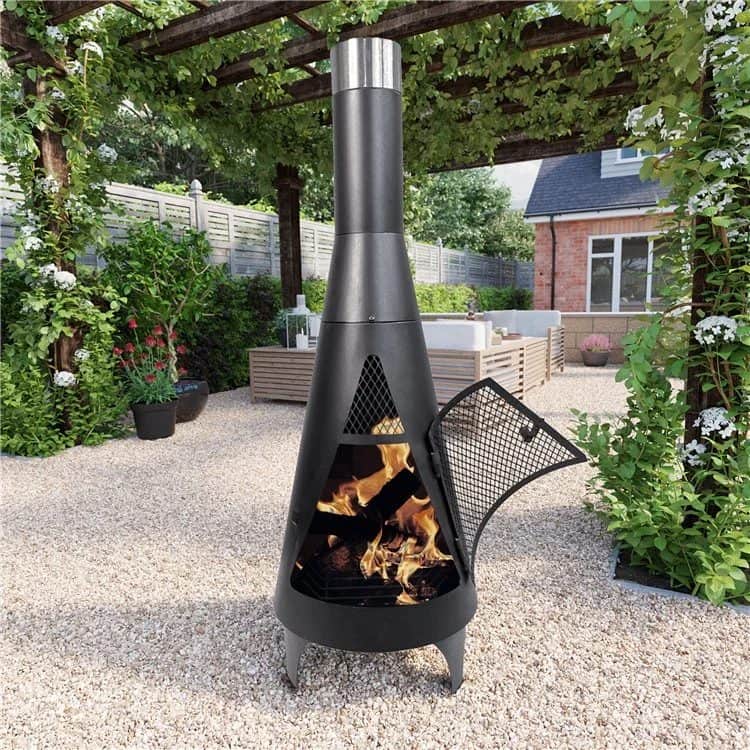 15. Pergola for winter climbers
If your garden lacks shelter, a pergola makes a fantastic, open-space garden room idea. It provides shelter from the winter elements and shade in summer.
Depending on the design, a winter cover like vinyl plastic sheets may help the snow slide off. And if snow blanket accumulates, brush it off to prevent damage to the structure.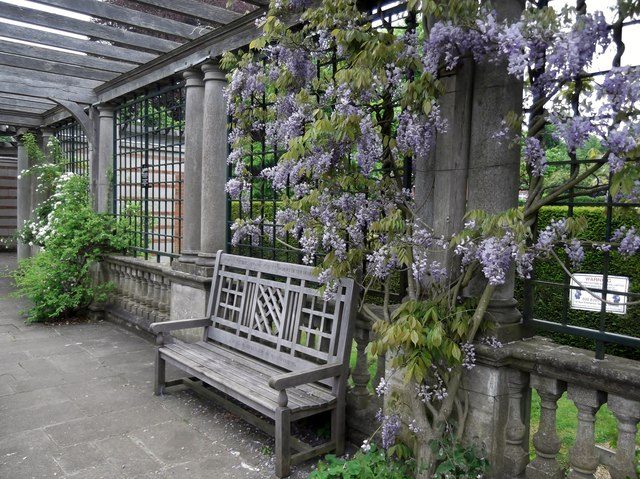 (Image Credit: Wikimedia Commons)
16. When snow meets Christmas rose
This pest-resistant evergreen perennial can be a welcomed addition to your white landscape. Plant it in a shady location with space to grow, and soon you'll be noticing its white flowers among the pile of snow.
Christmas roses will also look dazzling in patio plantings and along walkways. Note: It's actually not a rose at all, but a hellebore – Helleborus Niger.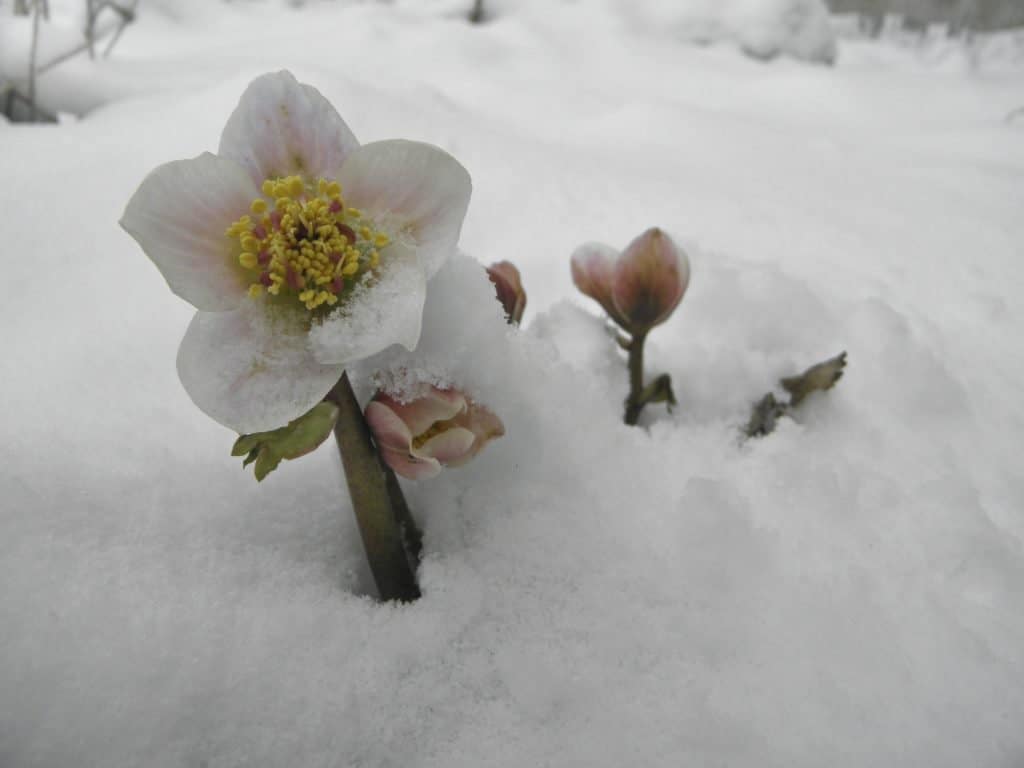 (Image Credit: Wikimedia Commons)
17. Spread the winter scent
Evoke the festive spirit from your home way to the garden with scented flowers like Witch Hazel. It releases a delicious scent of liquorice into the air throughout the yard.
Other scented plants that can thrive in containers include Skimmia, Daphne, and Winter honeysuckle. Grow them near doors, gates and pathways, so they waft you with their aroma as you come and go.
They make the perfect welcome home on a cold winter's night!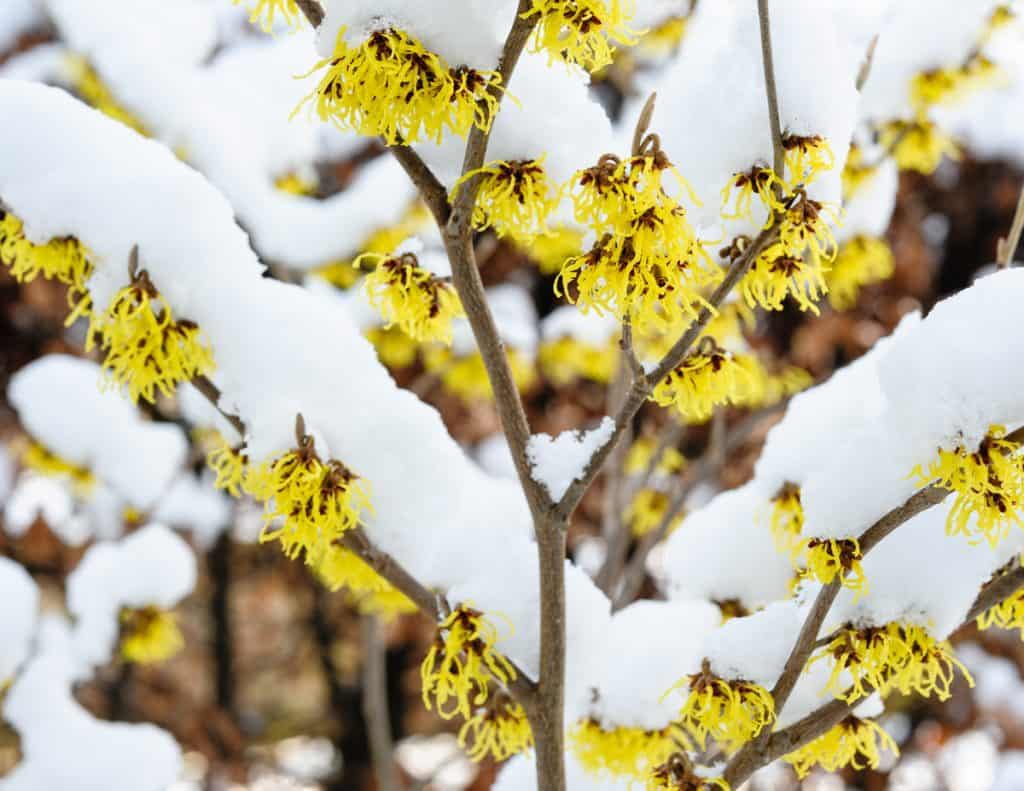 (Image Credit: James River Association)
18. Blend ornamental grasses in
On sparkling cold days, ornamental grasses can transform your garden into Narnia. It's the time of the year when their fine lines and elegant shapes meet the hoarfrost.
Mixing them with evergreen plants is also a good idea. Miscanthus 'Morning Light' and Calamagrostis 'Karl Foerster' are also two beautiful options to try.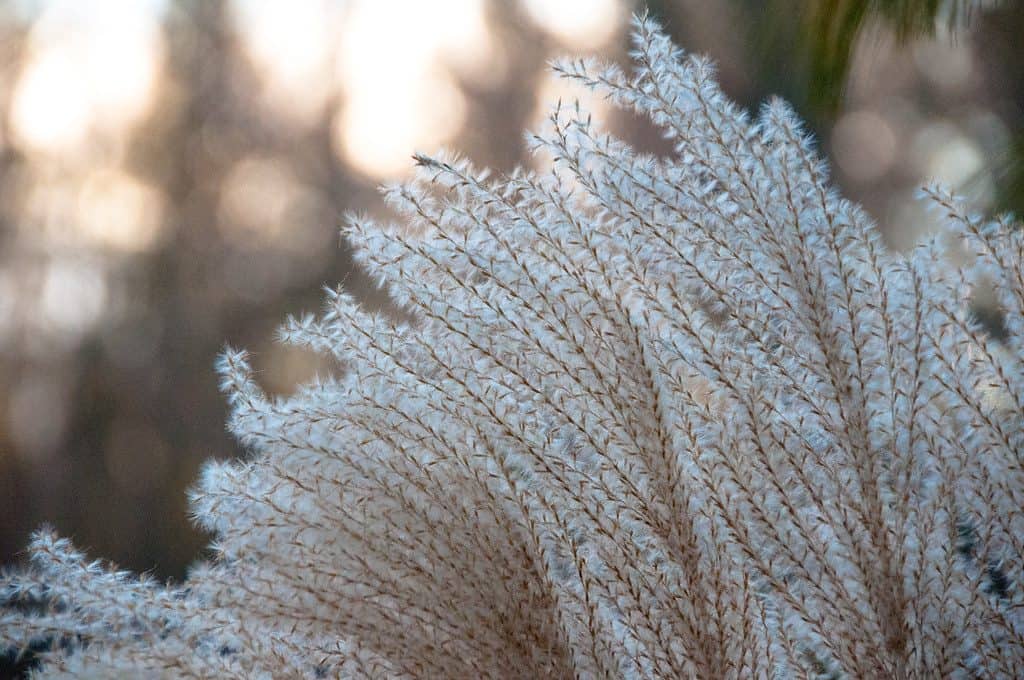 19. Get to pruning
Take this opportunity to don your shears and prune back dormant plants. It's much easier to see what you're working with most, if not all, of the leaves gone.
Snip off lower branches of trees and shrubs to keep them looking tidy. There's also a chance to open up space beneath trees for extra bulbs, such as crocuses, so watch them out!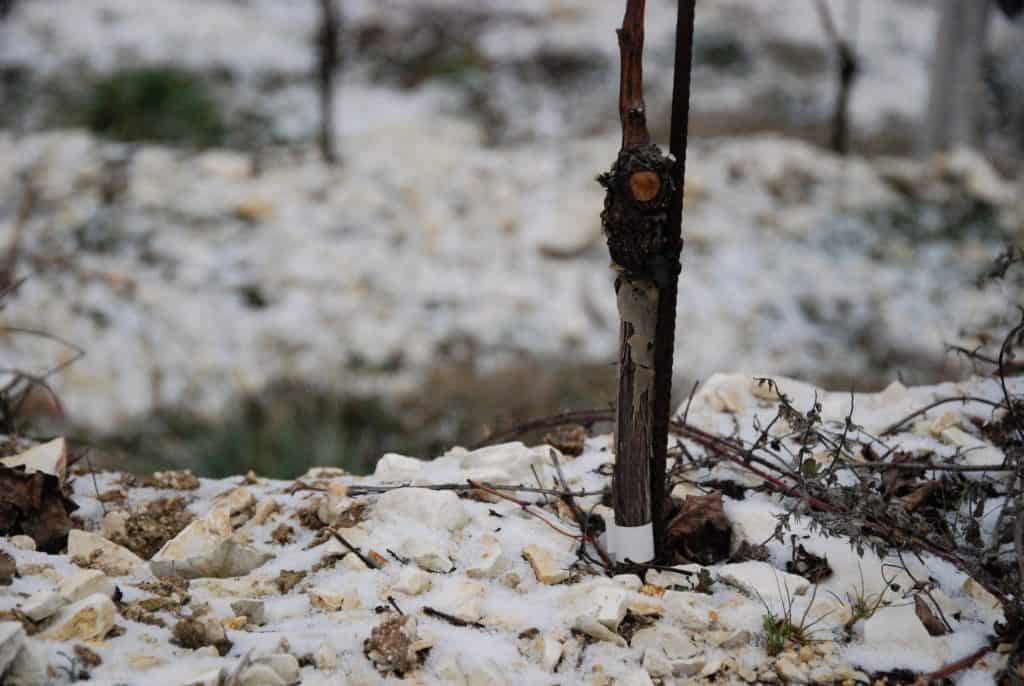 (Image Credit: Wikimedia Commons)
20. Show off your all-weather garden furniture
Aluminium furniture is your best bet if you plan to leave your patio furniture out all winter. Wicker made from polyethene also has a weather-resistant frame.
Set around a fire pit, of course, and you'll have an inviting scene to look at from indoors when it's too chilly to go out.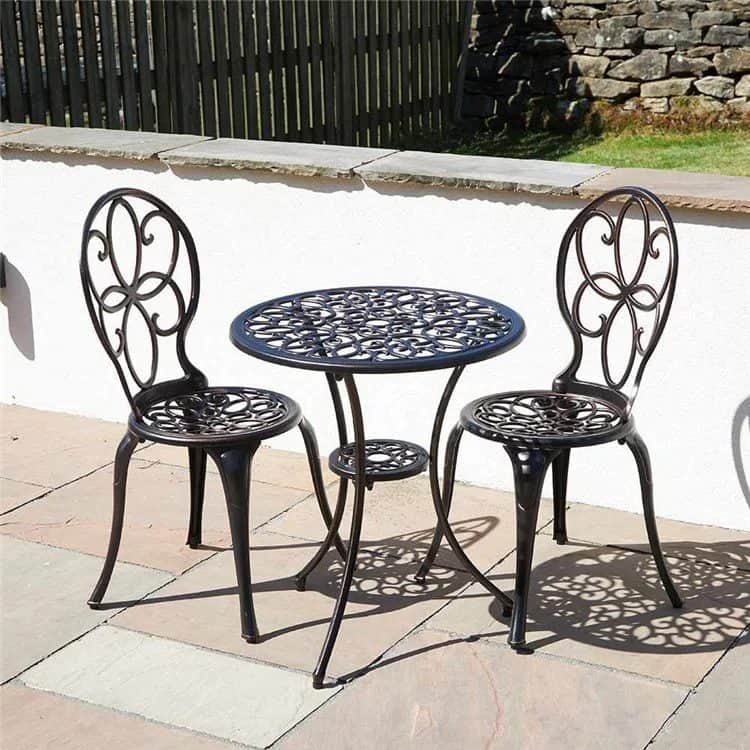 Round-up
There's so much to do in your garden in winter, and abandoning it after the late summer isn't one of them. Take this time of the year as an excuse to prep up your plot for Christmas and next spring.
This way, you can make your backyard feel alive and, likely, your spirit as well amidst the grey skies that linger. With these winter garden ideas, you can enjoy the outdoors and exercise your green thumb!