Imagine a space that combines form and function, blending into the contemporary world. Cue modern sheds – a beacon of versatility, style, and innovation in today's changing landscape.
In this blog, we'll delve into the key characteristics that define a modern shed. Join us as we explore their functionality, sleek designs, versatility, and more!
Functionality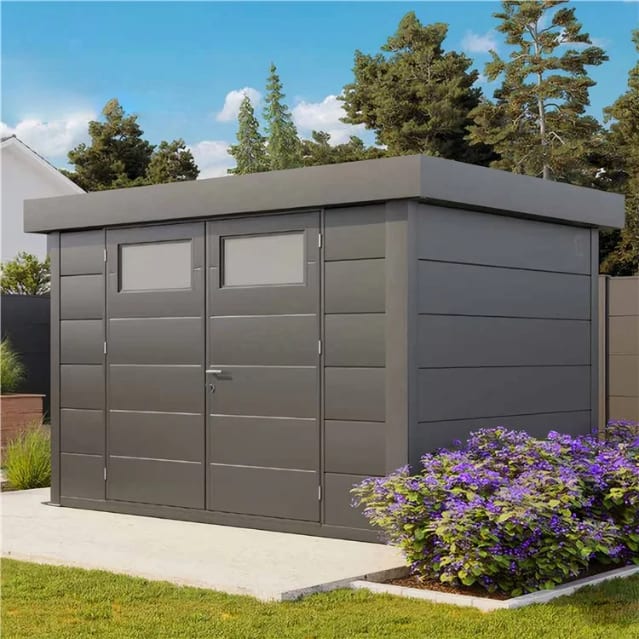 Modern garden sheds are meticulously crafted with specific functions in mind. Gone are the days of these structures being mere storage spaces. They have evolved to cater to a wide range of purposes, such as:
providing extra storage for

garden tools

serving as cosy workspaces or tranquil retreats
Their thoughtful design revolves around optimising space and layout for functionality. Every square foot is carefully considered, making them efficient and versatile.
Whether you need a garden office or a sanctuary for meditation, a modern shed can adapt to your needs. Take the Telluria Luminato Steel Garden Room, for instance. Its layout maximises usability, ensuring every corner serves a purpose.
Contemporary Design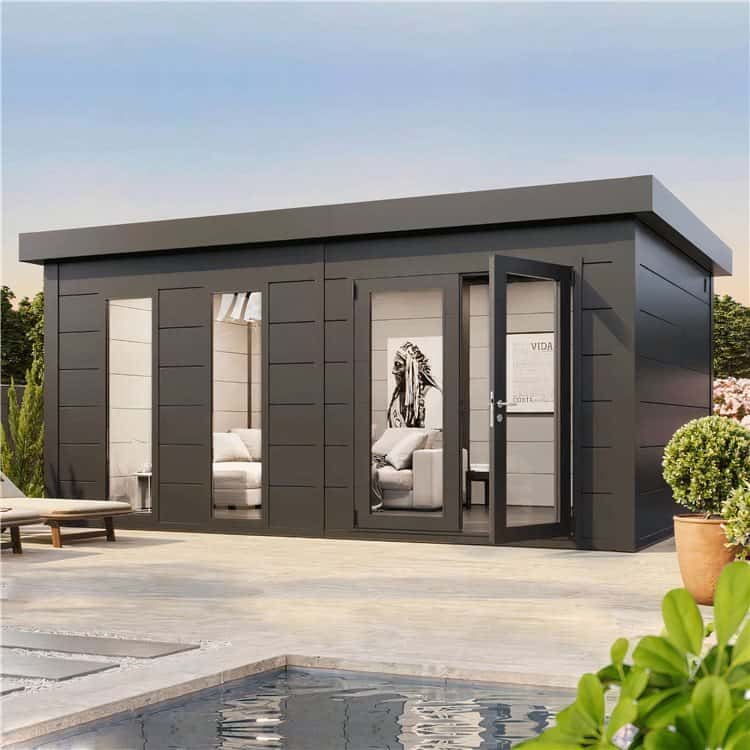 A modern shed is synonymous with sleek and stylish designs. Such features elevate them from mere outbuildings to architectural gems. Their aesthetic appeal is often a striking departure from traditional shed designs.
These contemporary structures make extensive use of materials like wood, glass, and steel. Wood, with its timeless charm, can be incorporated for warmth and contrast. Large glass windows and doors flood the interior with natural light. Meanwhile, metal frames provide a clean and minimalist look.
Imagine a modern shed with a steel frame and floor-to-ceiling glass walls. Plus, there is a green roof that blends into the surrounding landscape. Say no more with the Telluria 18x12ft Luminato Premier Steel Garden Room! A spacious 5.5m x 3.5m garden room with large windows for loads of natural light. The wall panels can easily be installed with insulation and electrical points, to add. Overall, it's a roomy, versatile space with a sleek graphite exterior.
Versatility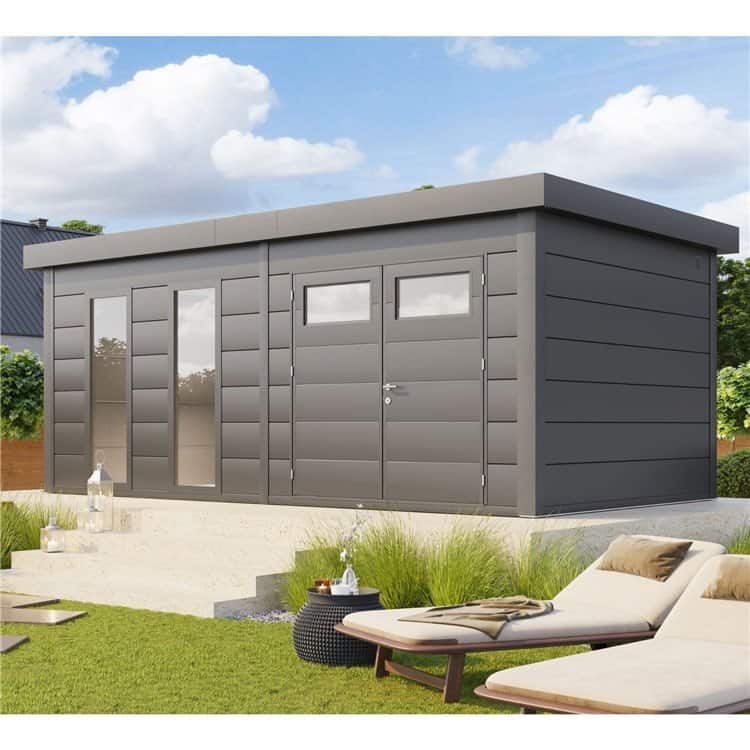 Modern sheds stand as paragons of versatility when compared to their traditional counterparts. Traditional wooden sheds, for one, often serve a single-purpose role. Whereas contemporary sheds adapt seamlessly to a multitude of functions. In essence, they thrive in both urban and rural settings.
Their adaptability shines as they transform into urban studios. Even as backyard retreats or countryside outdoor storage. What truly sets modern sheds apart is the capacity for customisation. These structures can be tailored to meet specific needs. This ensures they harmonise with their surroundings while serving a distinct purpose.
Eco-Friendly Features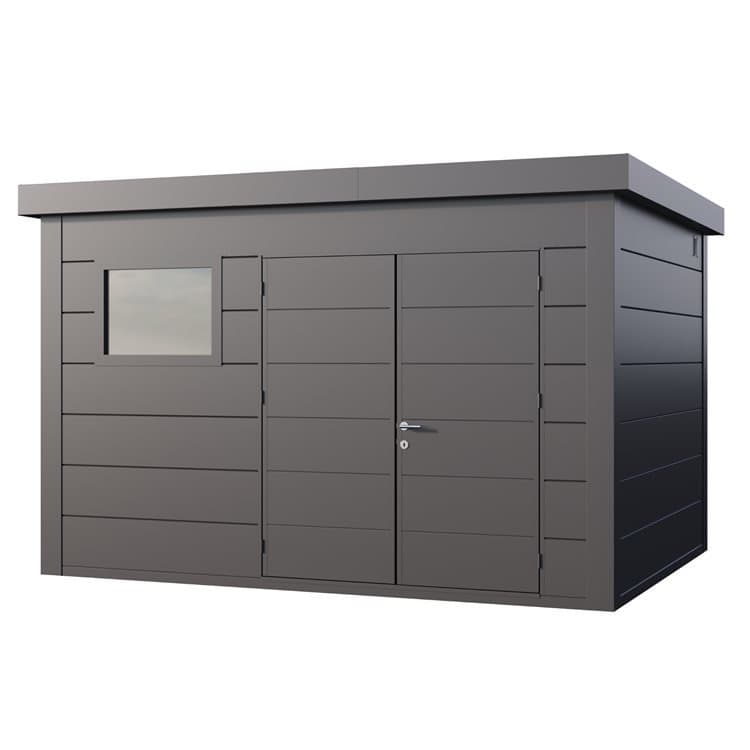 Contemporary garden rooms are embracing a growing trend toward environmentally conscious design. Awareness of ecological concerns rises. So does the demand for sheds constructed with sustainable materials. Most are equipped with energy-efficient options, to add.
These eco-friendly choices reduce the carbon footprint and contribute to a greener lifestyle. From reclaimed wood and steel to solar panels and rainwater harvesting systems, to name a few.
By incorporating these elements, they not only minimise environmental impact. But they also inspire shed owners to adopt more eco-conscious living. This, overall, creates a positive ripple effect in our quest for a more sustainable future.
Technology Integration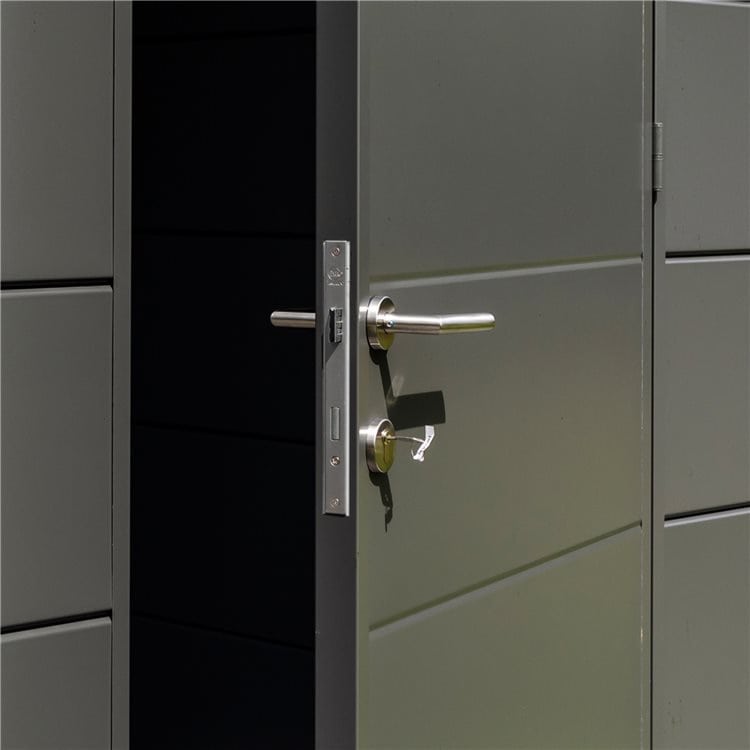 Technology has integrated into modern shed building designs, enhancing their functionality and convenience. These cutting-edge structures are equipped with smart features like:
automated lighting

security systems

climate control
With the touch of a button or a voice command, you can control lighting to create the perfect ambience. Moreover, monitor their shed remotely and adjust the climate for optimal comfort.
Other modern shed models feature UV, fire and wind-resistant exteriors. Some even come equipped with built-in ventilation and gutters with outlets. A great example is the Telluria 18x12ft Eleganto Premier Steel Shed Office. It's the largest model in the Eleganto range, providing a blend of storage and garden building. The pent roof with a two-degree pitch creates a contemporary silhouette. Plus, the graphite exterior allows it to blend effortlessly with modern garden settings. Moreover, the cylinder lock system is designed with security as the top priority – what's not to love?
These technological advancements not only elevate the usability of modern sheds. They also ensure that they are more than just static structures. Overall, they provide a level of convenience that was once unimaginable.
Round-up
Modern sheds represent a harmonious blend of form and function. Their remarkable features have redefined these structures for the 21st century, including:
sleek designs

versatility

eco-consciousness

integration of technology
They stand as a testament to the innovation and thoughtful design in the modern world. For more design inspiration, browse through our steel garden buildings. Garden Buildings Direct also offers contemporary models for summer houses and log cabins.
Here's your next read: Your Guide to Telluria Garden Buildings