Roses are ancient blooms that have a magic touch of transforming an ordinary garden into a peaceful haven. Often associated with beauty and romance, they're the stalwart of English gardens.
Few plants can rival their versatility or beautiful smell. When it comes to large blooms, divine fragrance and elegance, roses are top-notch.
If you want your garden or greenhouse to smell like spring year-round, then plant roses. This put-together list of rose garden ideas will help you get started!
1. Grow vertically
When talking about vertical garden ideas, you can never go wrong with roses. They draw the eyes and add instant impact to the garden.
Use various vertical structures to support climbing roses, such as fences, obelisks or archways. For a living rose wall, use trellises.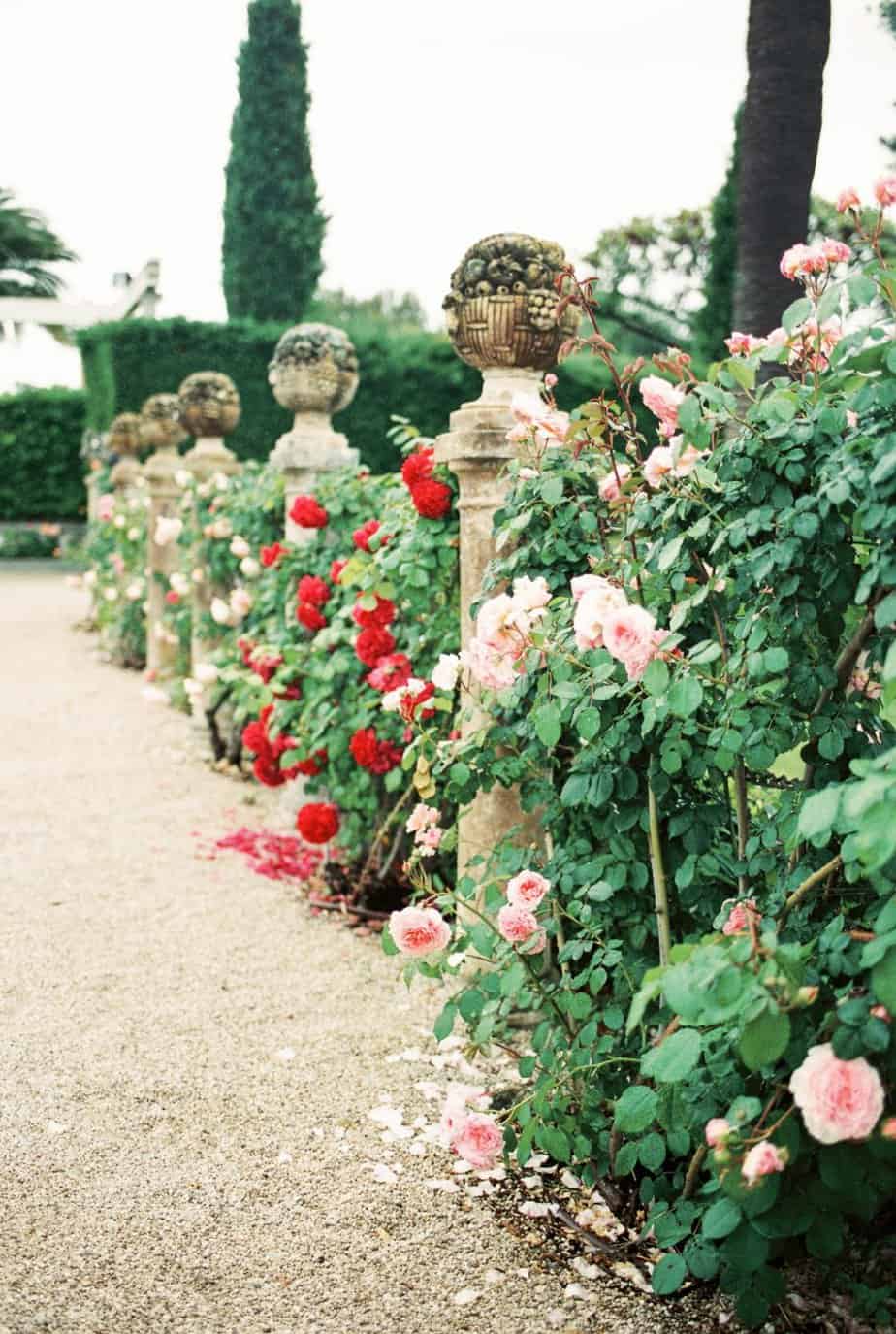 2. Canopy rose garden feature
A pergola makes a lovely addition to rose gardens. Train roses up the sides and over the top of this overhead structure for a fragrant and attractive canopy.
Mix it with other climbing plants for a lavish look and to create a striking focal point.
3. Roses as hedging
Roses cultured as a hedge work beautifully in any contemporary landscape. Stick with neutral tones to give a pop of colour while remaining cool and understated. Go for blush, white, or yellow varieties for the best impact.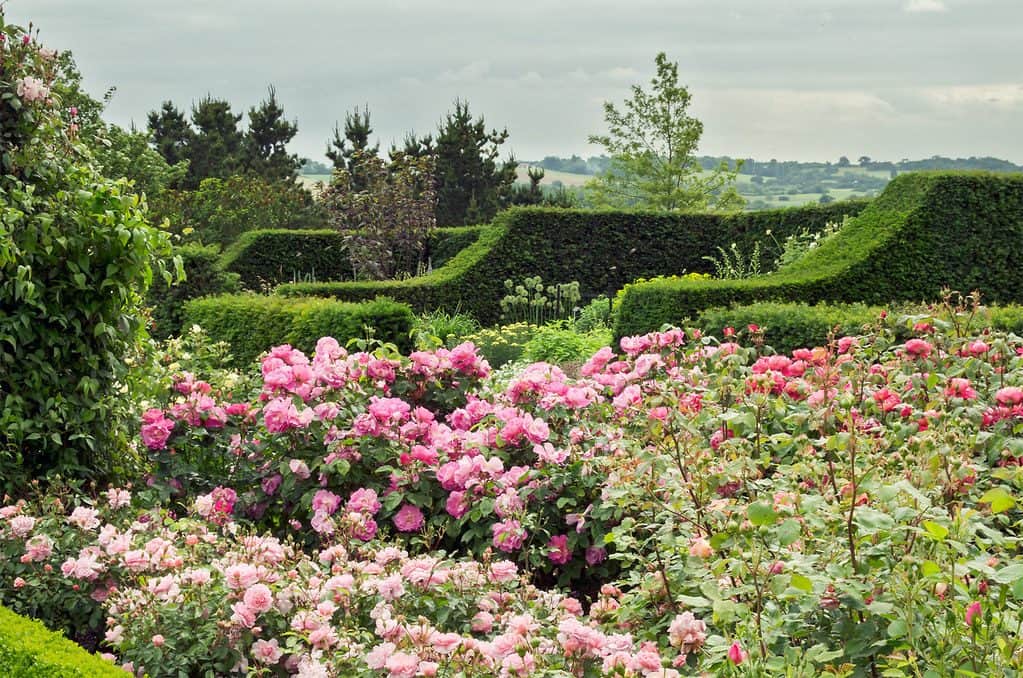 4. Flower carpet groundcover
Groundcover roses are trailing shrub roses, mostly with thorny stems and glossy leaves. Unlike other groundcovers, roses are courteous with their neighbouring plants. They grow around them instead of suffocating them.
Perfect for creating a punch of colour near a walkway or garden entrance.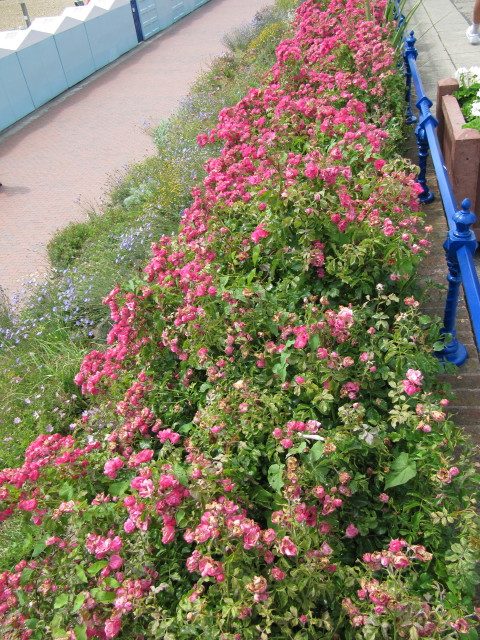 5. Plant in colour blocks
Planting multiple roses of the same variety in colour blocks is often seen in formal rose gardens. For this approach, ensure you plant in odd numbers and include a fantastic array of modern rose types.
Opt for Hybrid tea, floribunda or shrub roses for a show-stopping display.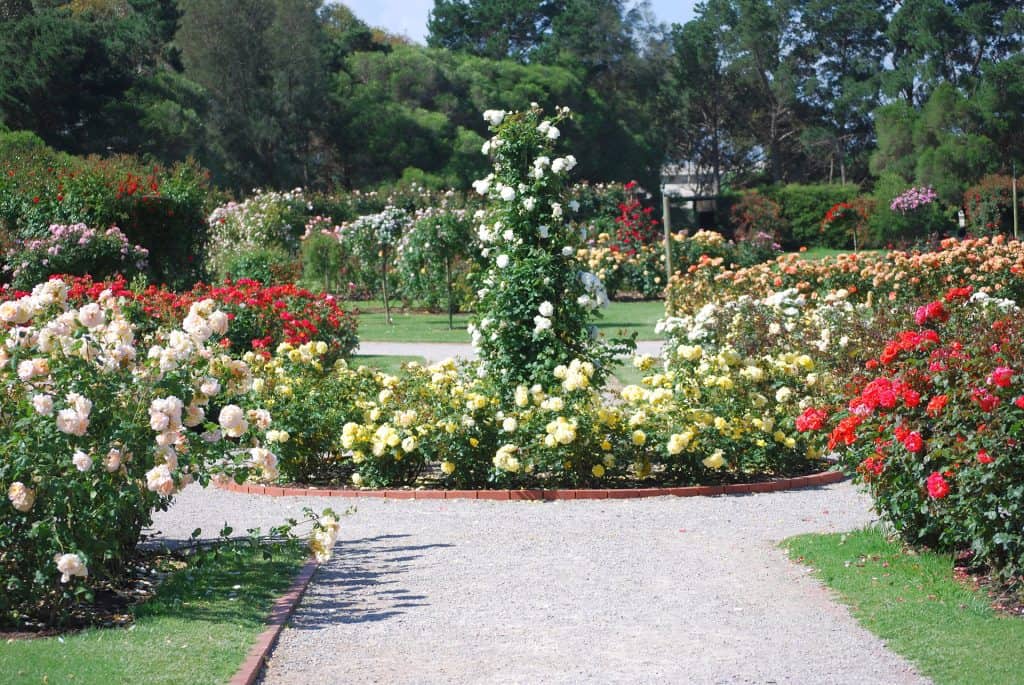 6. Create a path lined with rose arches
Line a series of arches with climbing roses along your garden pathway. Choose different rose varieties for each arch – the differing shades of roses will draw the eye in, creating visual interest.
Below, the Greek marble statue at the centre adds a dramatic effect, perfect for Greek-style gardens.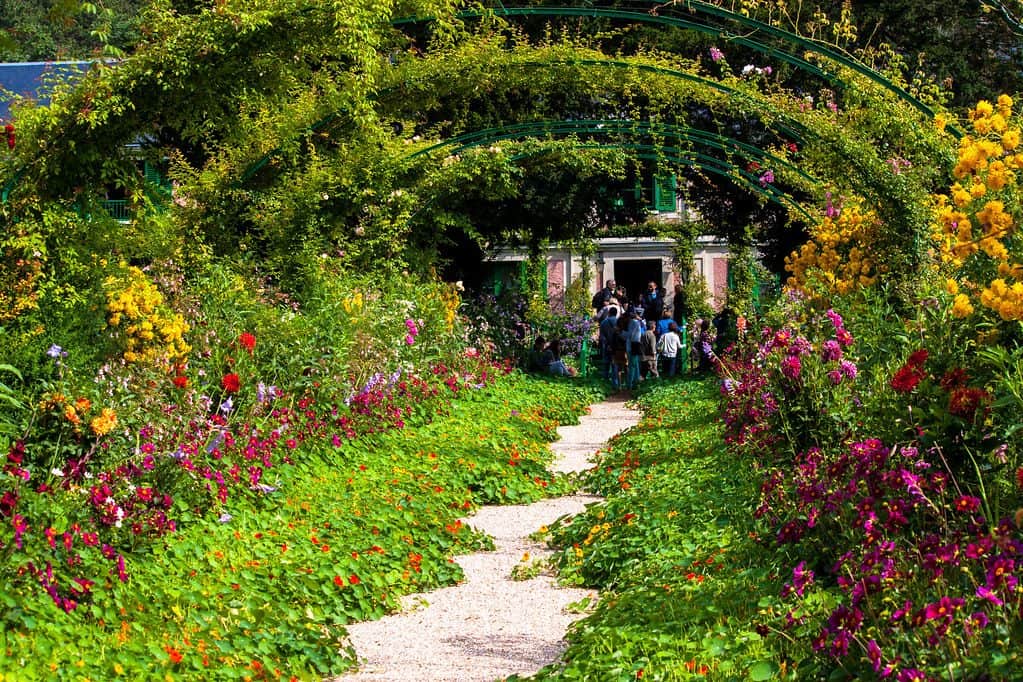 7. Rose-filled garden borders
Make your cottage garden dreamier by planting pink roses all around the borders. Opt for climbers in large containers and train them along the surrounding fences.
They'll cocoon your seating area with their delicate scent while providing a beautiful backdrop at the same time.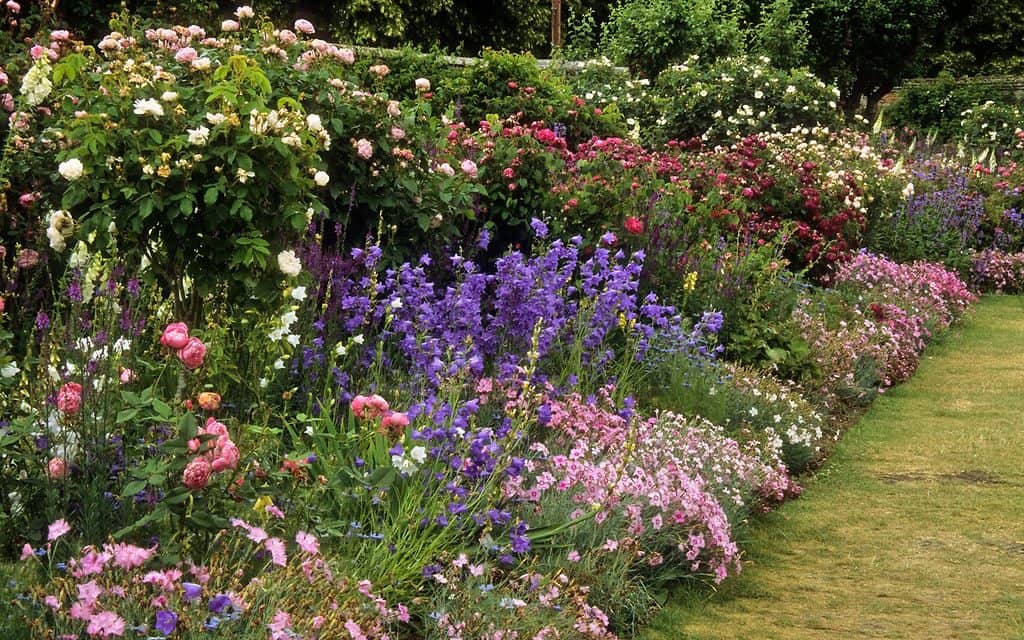 8. Bring height and colour to garden walls
Climbing and rambling roses are perfect for bringing height and colour to walls. They're also particularly useful if you wish to cover or soften unsightly structures or features.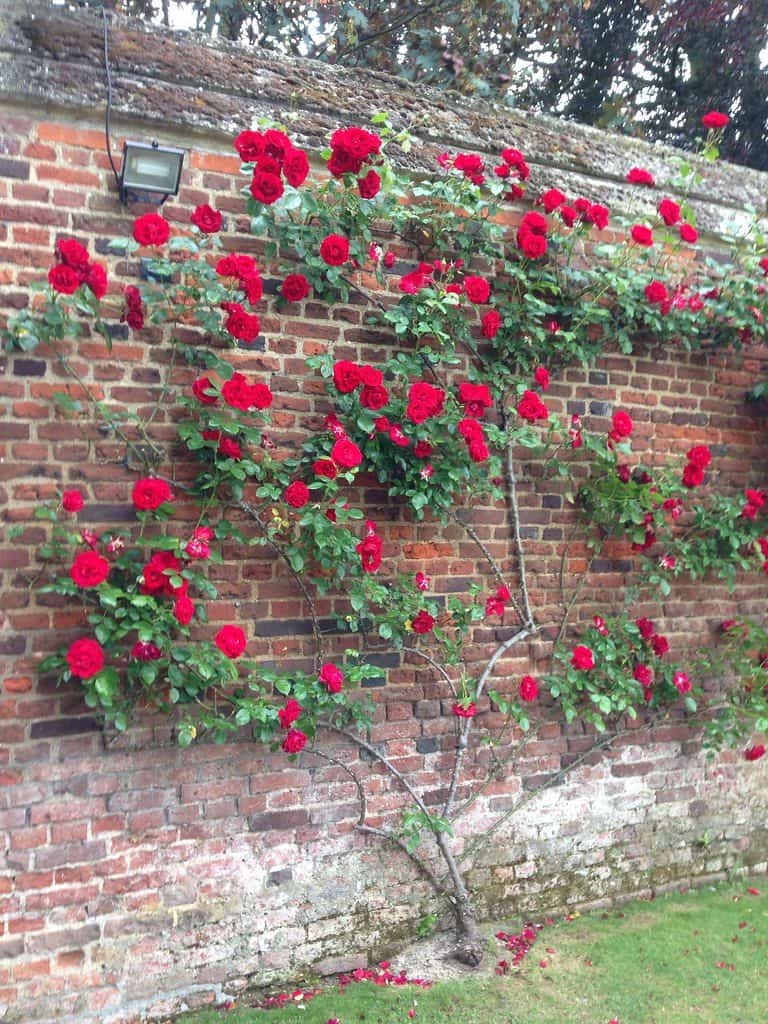 9. Pair them with lavender
Roses and lavender are a classic combination, bringing colour and fragrance all summer. Try planting Boscobel rose with English lavender for a delightful and easy-to-maintain display.
A brilliant approach for rustic or cottage-styled gardens!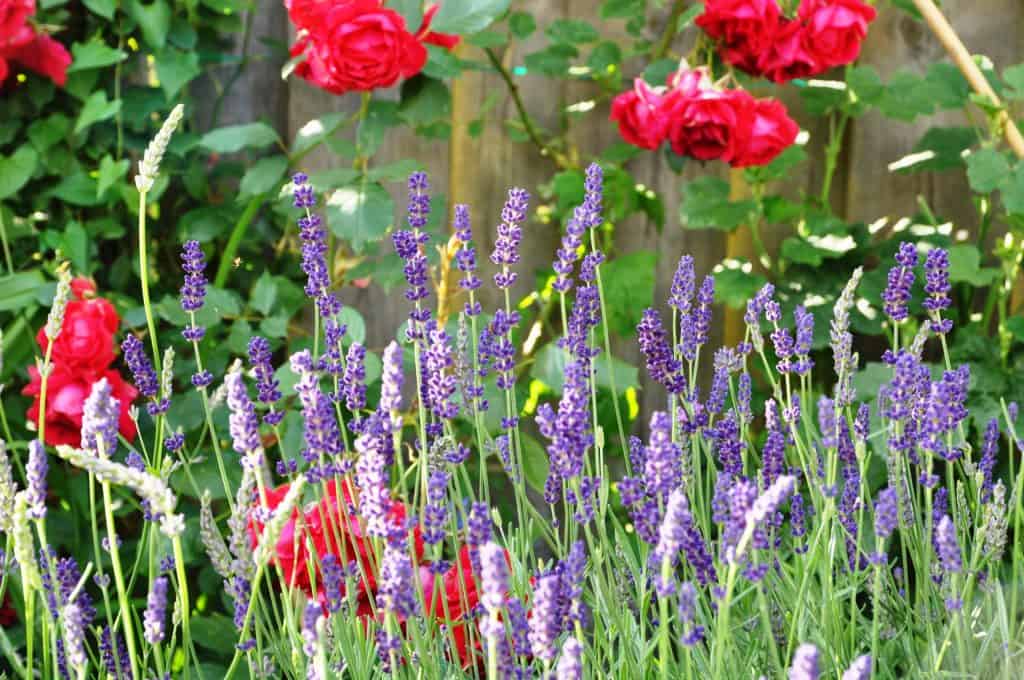 10. Grow in pots or containers
Most roses grow well in large pots, particularly when they have enough root space and proper care. Groundcover roses are a great pick to grow as they have a lower and more compact growth habit. This makes them look tidier when planted in a pot.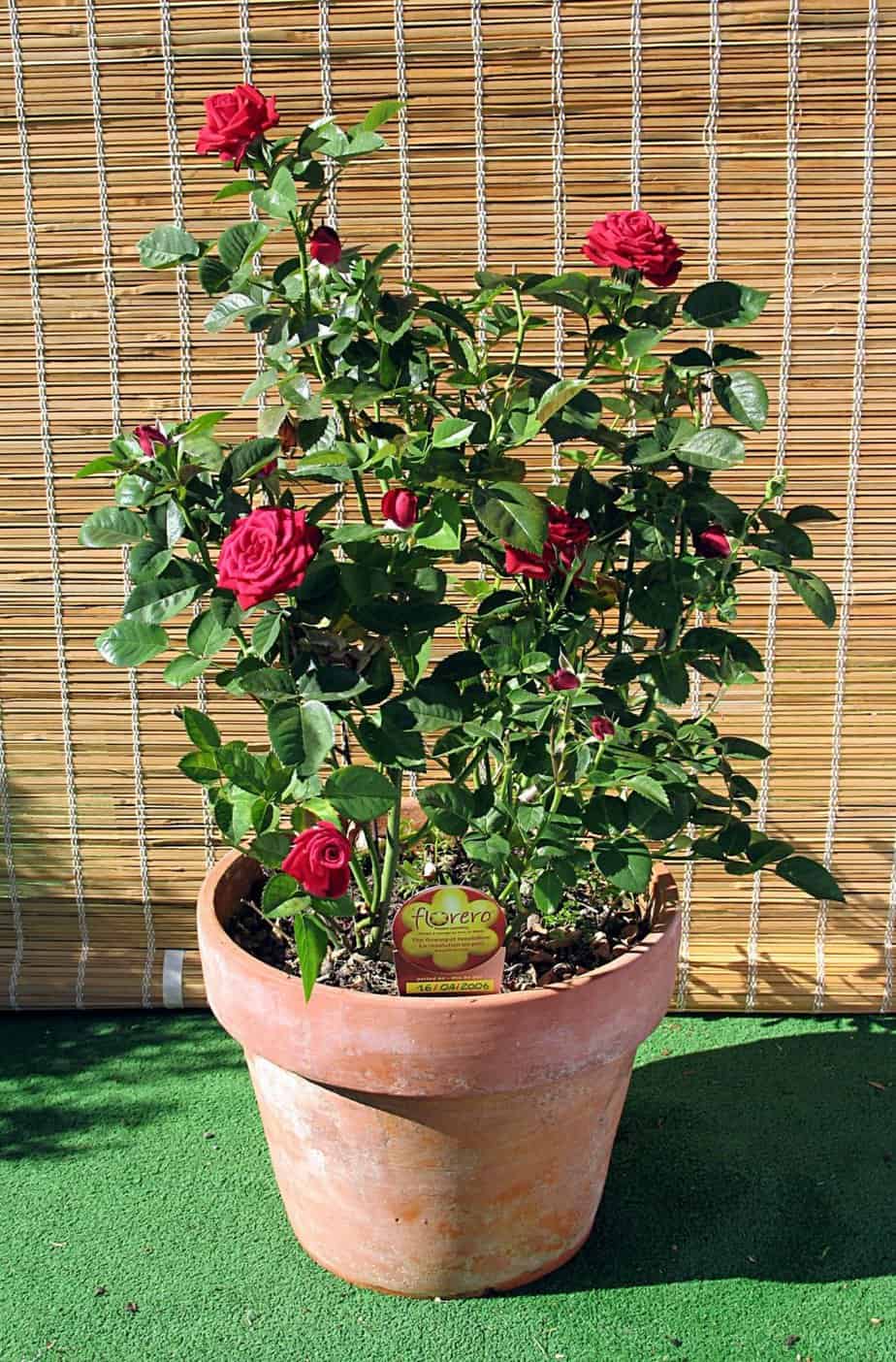 11. Roses in mixed borders
Use low-growing ground cover roses near the front of a mixed border. Or mix them with taller semi-climbers in the back to establish tiered heights and visual layers.
Avoid overcrowding rose beds; add edge mixed borders with a low box hedge to hide any bare stems.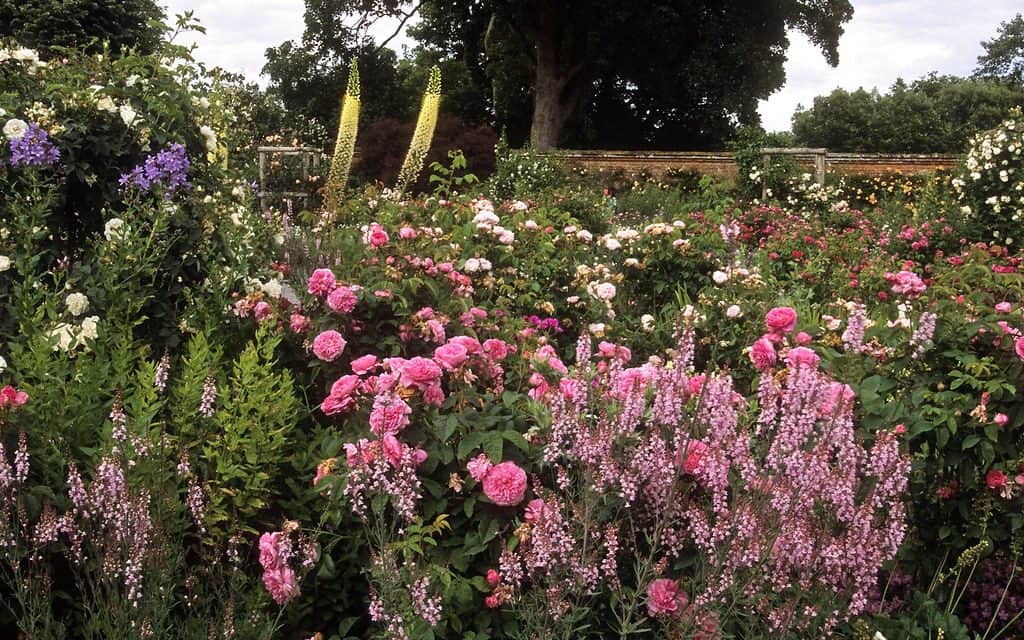 12. Grow them onto trees
Take your roses to new heights by planting them at a slight angle pointing toward a tree. Plant at least 2 feet from the trunk.  They'll slowly grow up and around the tree. Once up there, they won't need maintenance, so all you have to do is admire the blooms and let them grow! This is a great way to use the vertical space of your garden efficiently.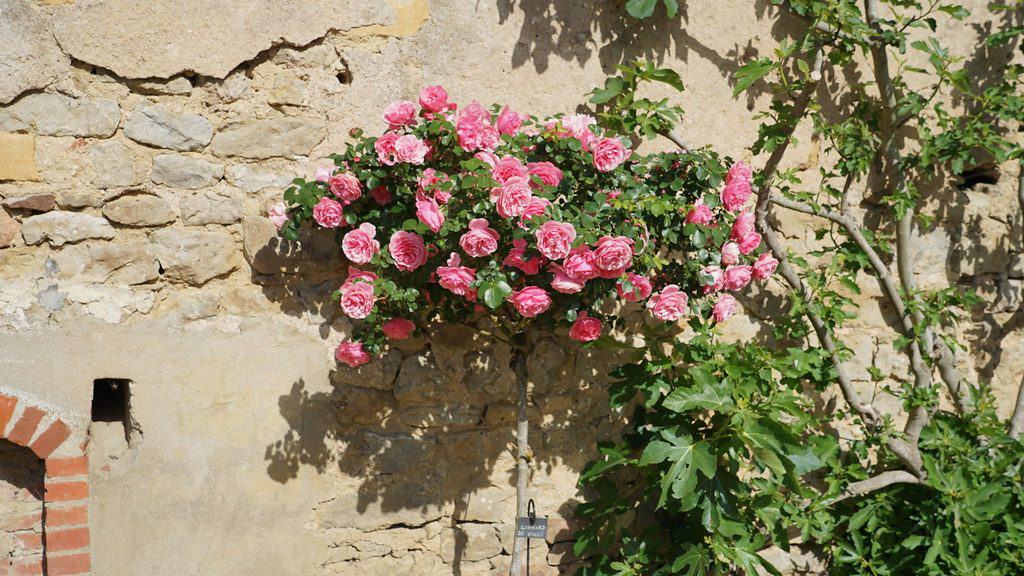 13. Cover a part of a shed
Tie in your rose as it grows, securing it to the side of a shed or garden building. Ensure it's secure so you can let it ramble for natural-looking coverage.
If grown around a doorway, or placed where people pass, consider a variety with fewer or no thorns.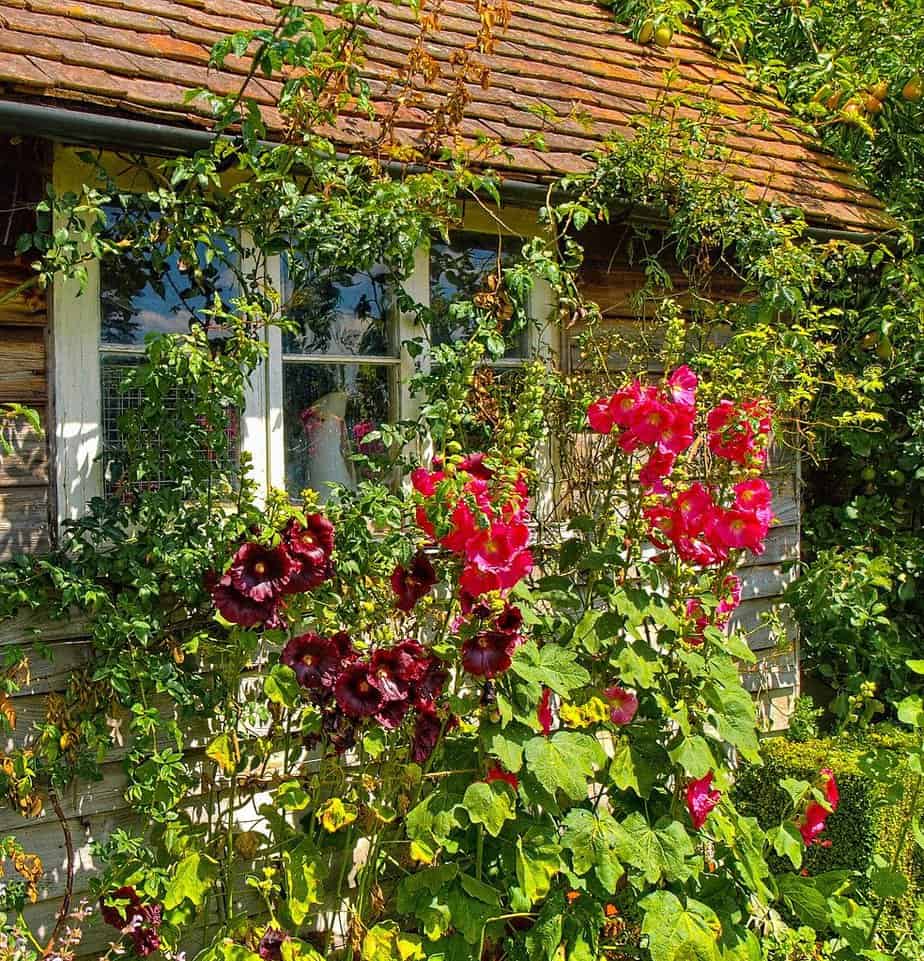 14. Cage the blooms with obelisks
Another effective way of adding border height is growing roses up a wooden or metal flowering obelisk. Loved for its strong, old rose scent, Gertrude Jekyll is a brilliant choice. Over time, it'll bring fragrance and quintessential elegance to your garden.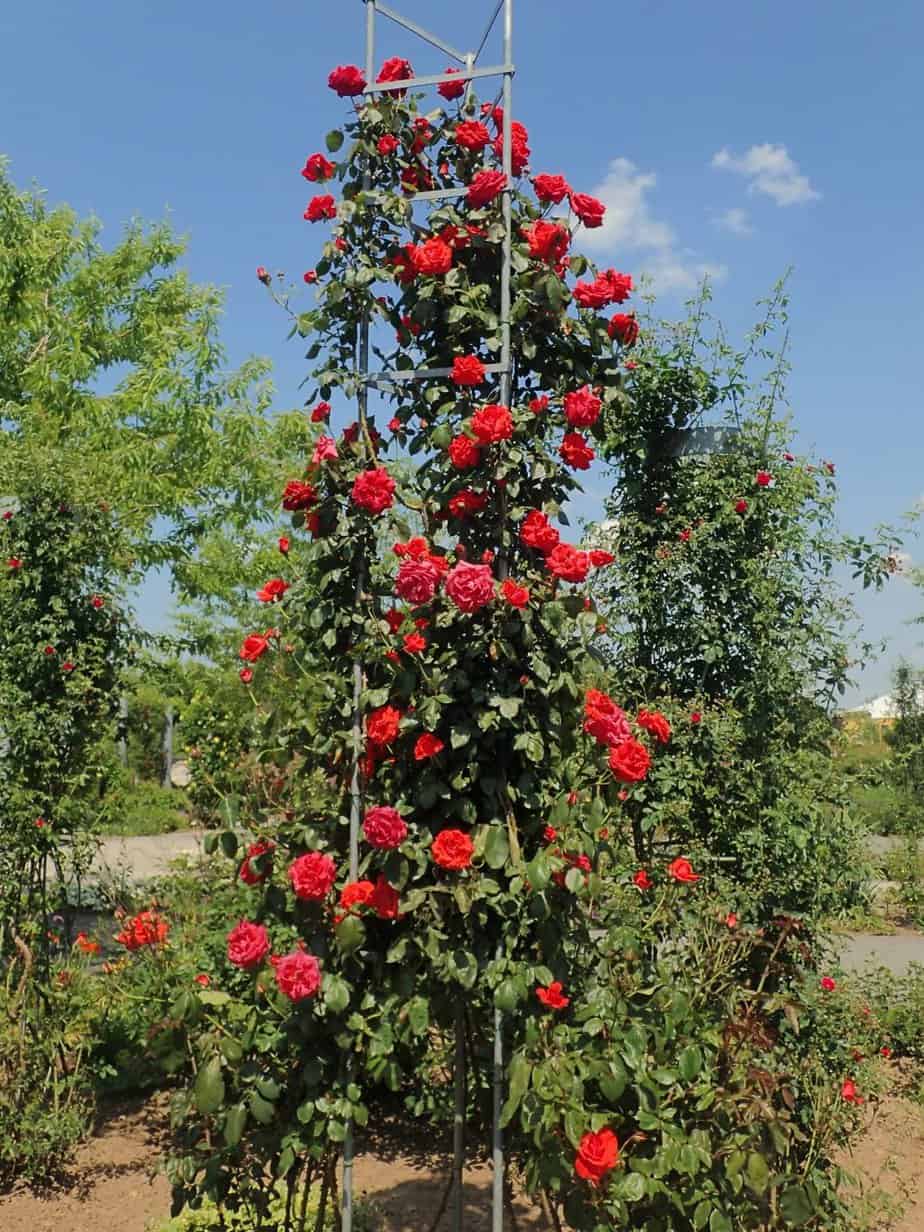 15. Chit-chat on a rose-covered patio
Spruce up the look of your patio with a gazebo covered in climbing roses. The cascading clusters of blooms add a whimsical touch and make a spectacular focal point.
Just make sure that your patio receives plenty of sunlight for the roses to thrive in.
16. Along the fence
Train climbing roses along a fence to create an attractive screen for privacy. The shrub roses don't need the fence for actual support. Instead, their strong canes grow up along and out from it, making beautiful blooming works of art.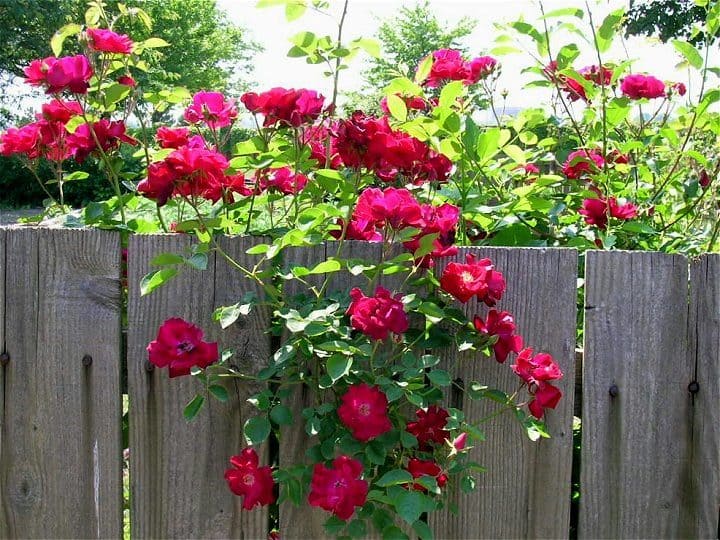 17. Rows of double knockout display
Double knockout Roses make a perfect and beautiful accent flower or ornamental shrubs. This rose variety reaches between 3 and 4 feet tall, making it an easy shrub to fit into small gardens. It grows well in rows or groups too.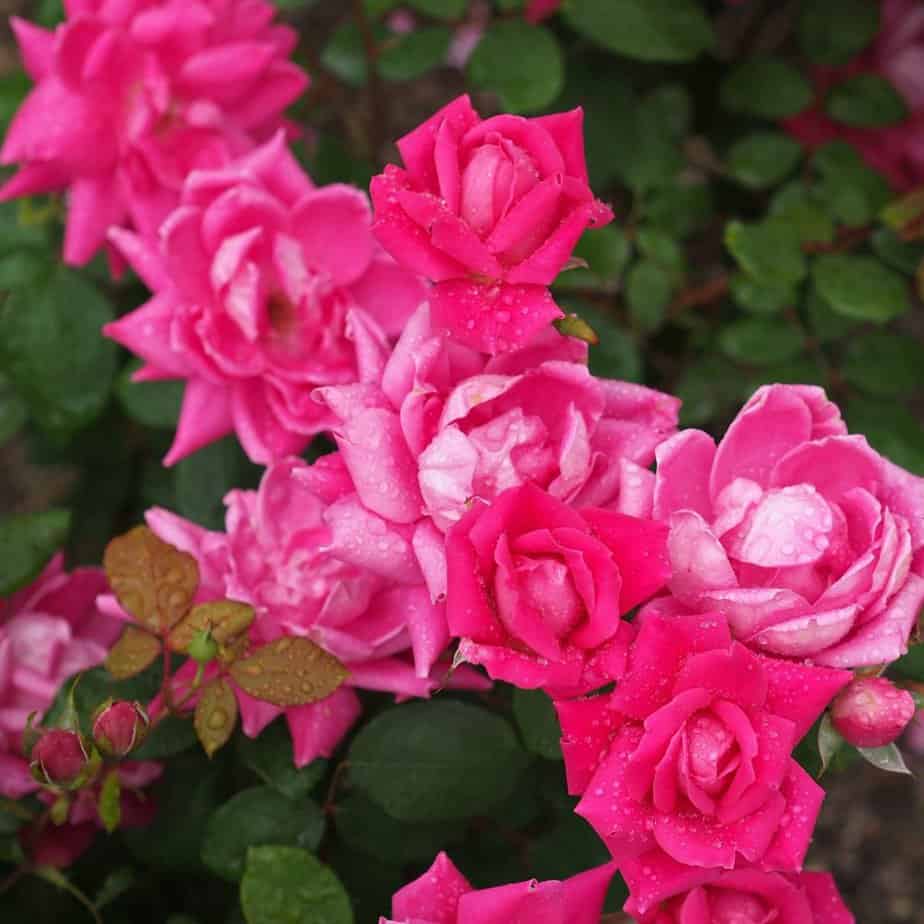 18. On or near the deck
Plant fragrant rose varieties near your decking to enjoy their fragrance up close. Munstead Wood, Honey perfume, and Boscobel are among the most fragrant roses.
Grow and train them with an obelisk near the deck, or opt for the container gardening method. This will ensure the roses don't waste growth over your decking.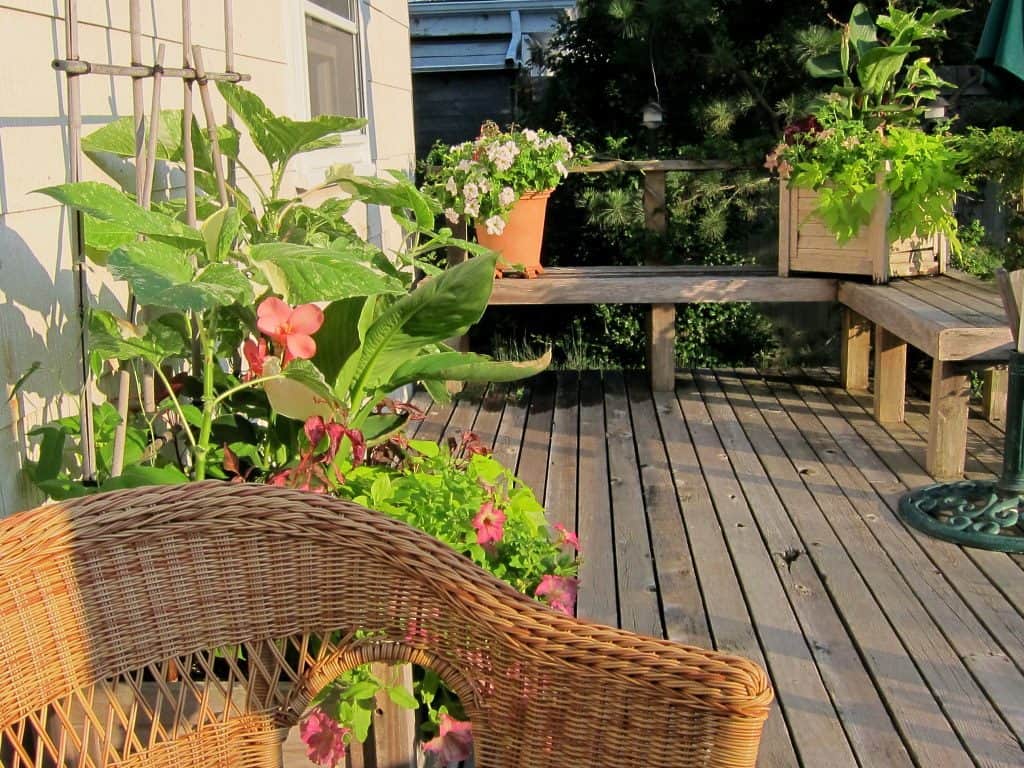 19. Add seating to enjoy the view
Make sure you have somewhere to sit and indulge the surroundings in your rose garden. There are lots of garden bench designs to choose from. But you can't go wrong with a simple wooden bench for that classic look.
20. Soften the surrounding with billowing perennials
In this landscape, Nepeta and Penstemon soften the surroundings of the standard rose. Look how the Nepeta blends beautifully, bringing extra colour to the mix. You may pick a plant in a similar hue for a soothing and colourful result.
21. Balcony roses for an Italian flair
Nothing dresses up a balcony and a window like flower boxes. This is a great way to enjoy gardening if you don't have a garden or enough space in it.
Inspired by an Italian window garden, this balcony proves you can make a dramatic impact in a small space.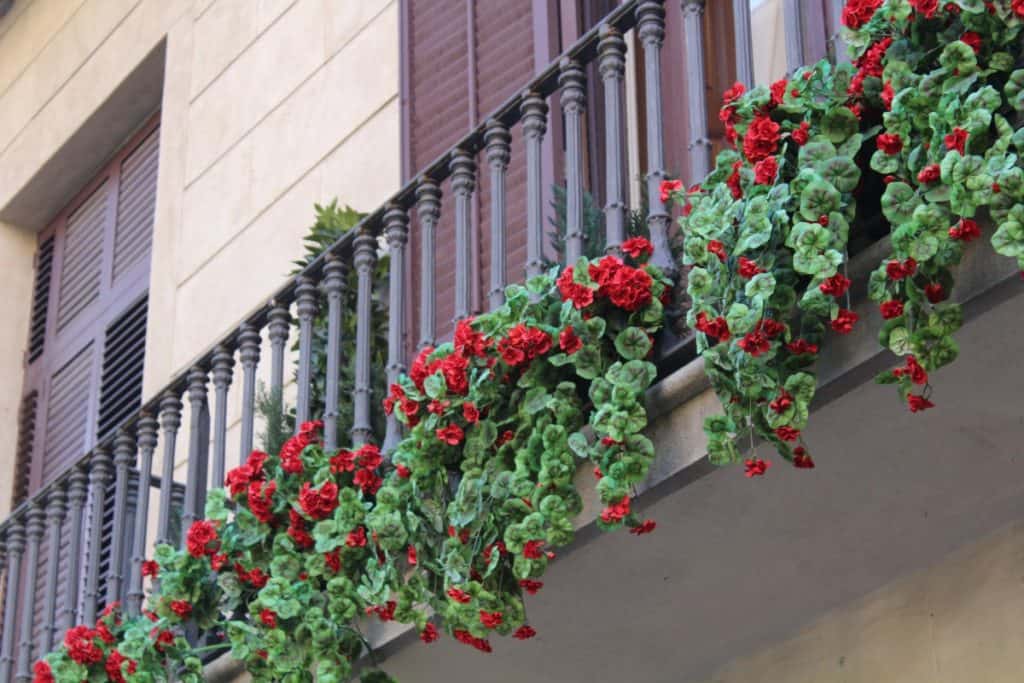 22. Decorate a lampost with creeping roses
A plain-looking lamp post might appear out of context in your rose garden. But all it takes is a climbing rose to make the outdoor light blend right in.
Consider the rose variety's maximum height, as you wouldn't want the light it emits to be devoured by the blossoms.
23. Cultivate in raised beds
Roses grow easiest when they are planted in an area with good drainage, such as in raised beds. It's also best that the beds get about eight hours of sunlight a day.
Plant them about three feet apart so that each bush has room to grow.
24. Get into a full cottage garden vibe
Roses are always on the list of varieties that must be included in a cottage garden setting. A small yard can create a beautiful and coherent cottage rose garden. A bigger one, meanwhile, will allow you to combine more flowers and plants into the mix.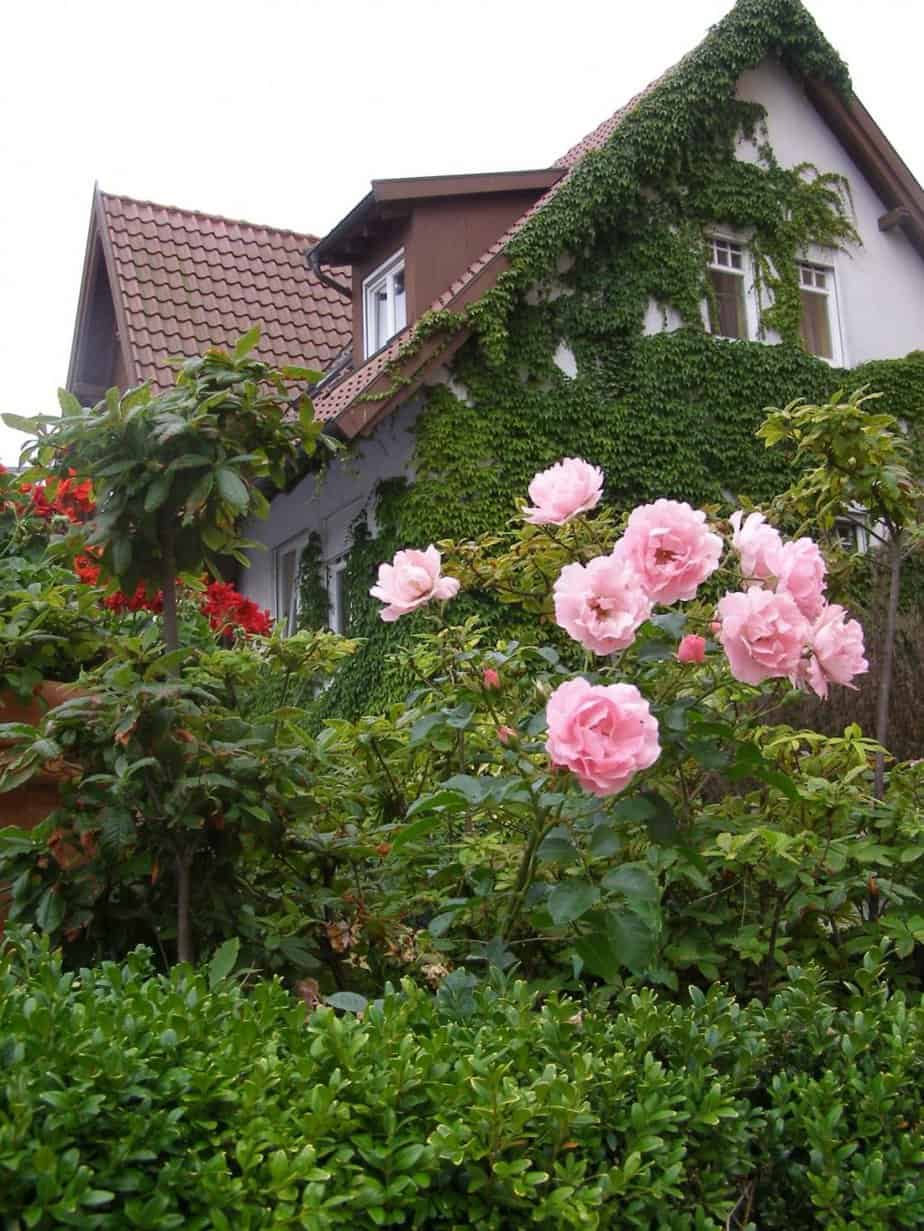 25. In a formal courtyard
Bring the splendour of Versailles to your backyard. If your plot has enough room to offer, you may as well go all out with your planting scheme.
Take a cue from these rose bushes planted alongside hedges as frames. The formal design will surely add a luxurious and stately feel.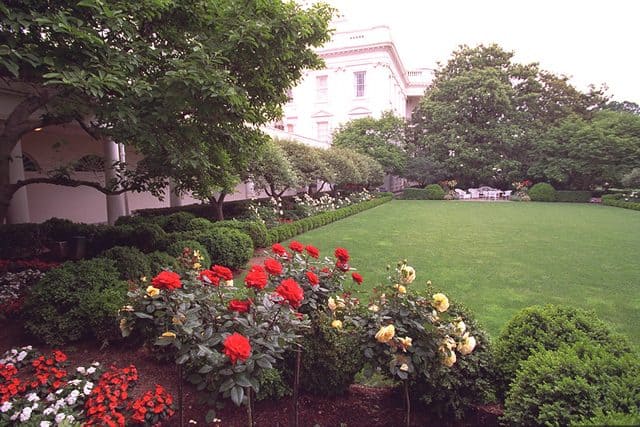 26. One potted rose is enough
This small backyard may not have adequate space for gardening, but plants always find a way. The wall is covered with creeping vines, adding a breath of life to the small plot.
And the bright pop of colours you see in the corner is none other than a potted rose – enough to create a charming space. Sometimes one rose is enough.
27. Up on the roof
Take your landscaping to the next level by cultivating a rose garden on top of your roof! Take inspiration from this charming cottage house.
The bushes will usually take less than five years to blanket the rooftop fully. You won't need to buy supports, the roof itself is just fine. Simply take care they do not break through the insulation or cause structural problems.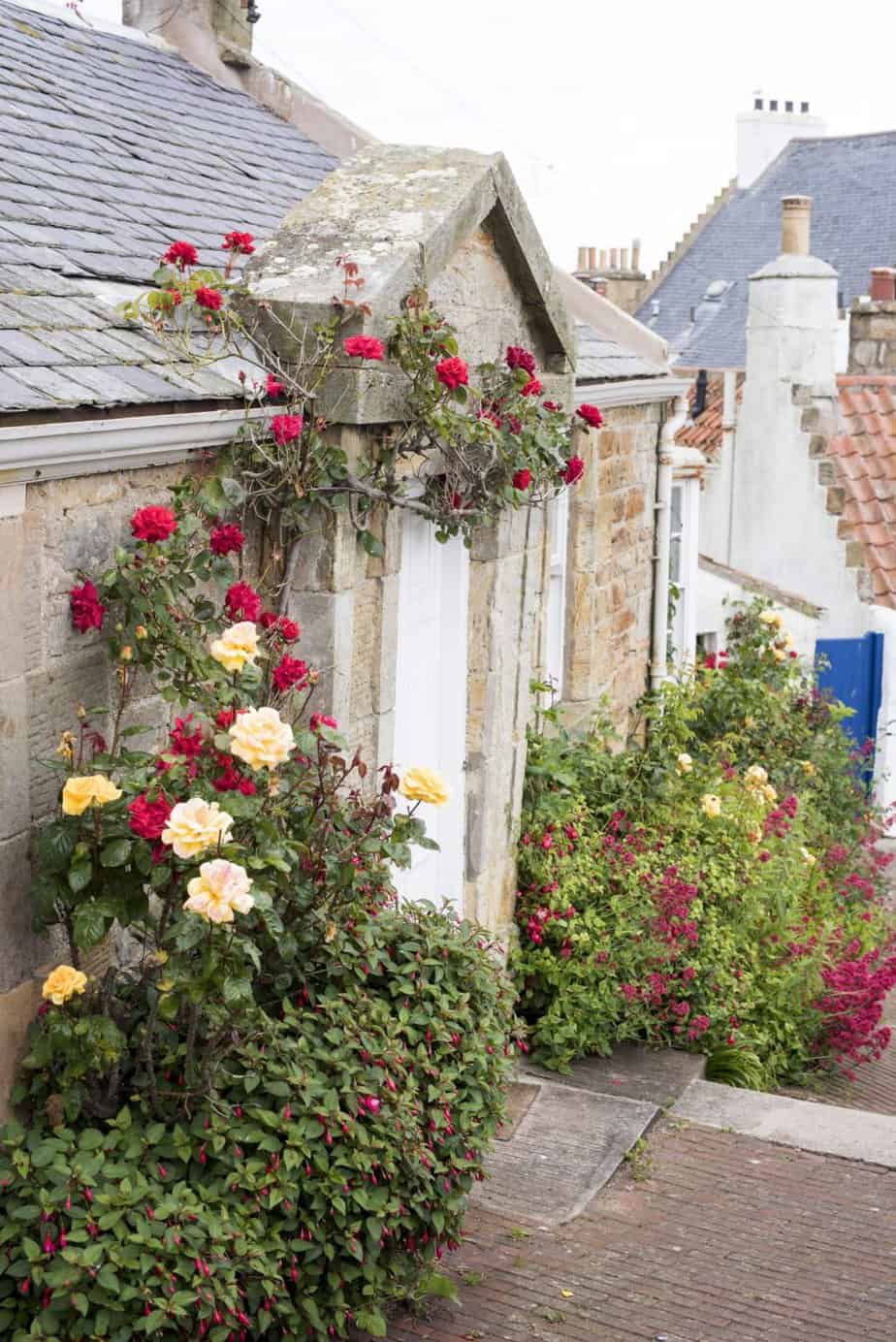 28. Sunken rose garden approach
Low-cut shrubs in symmetrical designs frame the submerged rose garden. This landscape scheme was quite popular throughout the Victorian period.
Top tip: Plant with a wider variety of roses to introduce different height levels as well as varying colours and shapes.
29. Plant three in a row
It can be tricky to mix different shrubs and flowers without having enough hue variability in your rose garden. Make things brief by concentrating on one location and planting three roses in a row. This will help give the impression of one giant bush.
30. Surround the garden fountain
If there is no central focus or highlight object to draw attention in your garden, consider a water feature. A garden fountain is a brilliant idea but looks even better when complemented with colourful flowers. Surround it with lush bushes and climbers for an entire rose display.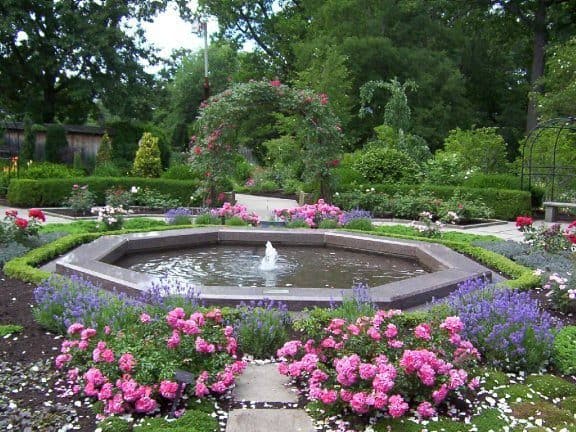 Round-up
A rose garden can be as simple as a single rose variety scattered with a few other plants. But it can also be as elaborate as a formal landscape with hardscaping, arbours, obelisks and more.
Lucky for you, there's a range of rose garden ideas for almost every position. Available as climbers, ramblers, bushes, shrubs and ground cover roses, you name it. Start making your own rose heaven today!