As the seasons come and go, it can be difficult to keep track of what needs to be planted and when. 
Even for us avid gardeners, it can be easy to forget or misremember when a certain flower needs to be sown – and whether that's inside, in a cosy greenhouse, or outside! 
That's why we've created this super handy Winter and Spring Planting Calendar, so you have a place that has all the planting info you need. With detailed planting tables for the months of January to May, you can find both indoor and outdoor planting suggestions for fruits, vegetables, and flowers.
We've even added in some helpful little tips to help you make the most of what you're planting! If you see an asterisk next to a flower, fruit, or vegetable, then take a look below the monthly table for related planting or growing tips.
Seed packet at the ready? Scroll down to learn more and browse our winter to spring planting calendar!
Handy Tips
Before we begin, let's just point out a couple of things to help you with all the planting you'll be doing.
When it comes to planting indoors or outdoors, you can plant "indoor planting" in a greenhouse. But if you are doing this make sure that your greenhouse is heated and that it retains a hot temperature throughout the winter.  This is because some plants need to be at room temperature to thrive and grow.
If something is planted inside and then outside in separate months, this doesn't mean you plant them twice. Instead, you'll be moving the same growth from inside to its plot outside. This happens quite often with vegetables (as you'll soon see).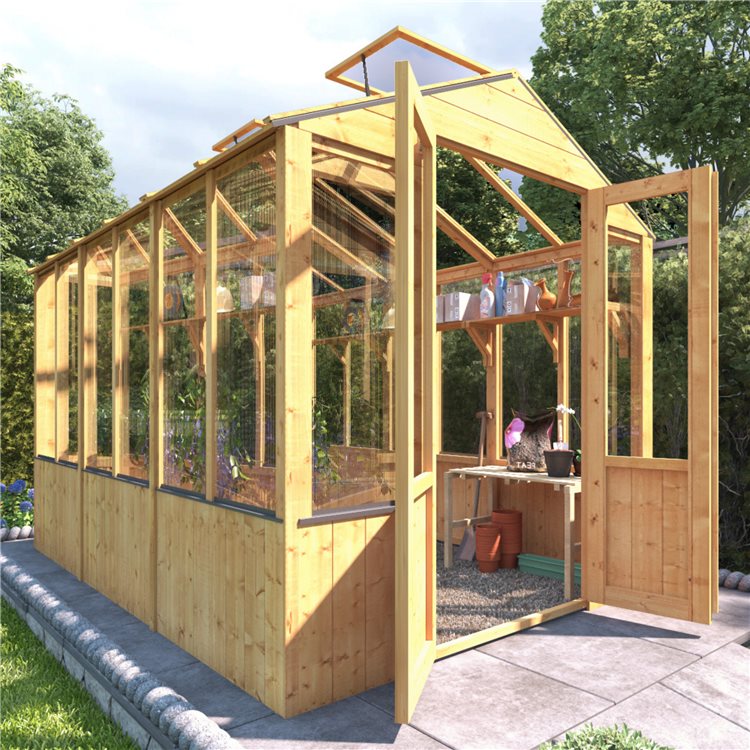 Most importantly, it's worth keeping in mind that many of these timings depend on frost. Frosts happen when the temperature is so cold that a layer of ice forms on the ground. Frosts are dangerous to plants because they cause the water inside them to become ice which ultimately kills the plant. When planting in spring, always be on the lookout for frost!
Remember if you didn't get the chance to plant or sow something the previous month, you can always do it in the next! You can also find a full, year-round vegetable planting calendar here.
Now – on to the planting calendar!
January
While January might sometimes seem like the heart of winter, it's more like the beginning! Balmier Decembers mean that it might not be until January that we get our first frosts and our first real taste of winter temperatures.
Naturally, this means that there won't be too much planting to do. But you can still start your plants or flowers off indoors – or even get those hardier species and cold-loving bulbs in the ground!
January calendar and tips 
January
Plant or Sow Indoors:
Plant or Sow Outdoors:
Flowers:
Snapdragons*
Geraniums
Begonias
Lobelias
Carnations
Sweet Peas*

Lily Bulbs*
Fruit and Vegetables:
Herbs*
Aubergine
Greenhouse Tomatoes
Garlic*
Onions
Cane Berries (Raspberries, Blueberries)
Bare-root Fruit Trees
Snapdragons: These colourful flowers need a long growth period before summer arrives, so it's essential to get them growing early. Sow them inside and keep them comfortable until late spring.
Sweet Peas: When planting your sweet peas inside or in a greenhouse, ensure they're sitting in a spot that gets lots of sunlight.
Herbs: If you're planning to grow any herbs this year, you could always give them a headstart by starting to grow them indoors.
Lily, Onion, and Garlic bulbs: These bulbs are best planted in winter – so get them into the ground as soon as possible for the best results! With Lillies, make sure to plant them in a partly shaded spot. Don't worry – they're all frost tolerant.
February
February is still full of wintry conditions and frosty mornings – though by the end of the month conditions should start to perk up a little (no promises, this is the UK after all!) If you want some help protecting your plants from the cold, take a look at our guide here.
Since it's still pretty cold in February, there aren't too many chances for outdoor planting. That doesn't mean there isn't work to be done, though. In fact, this month can be quite busy if you're planning to grow lots of vegetables as you'll be starting many of them inside now. This is also the case for annual, biennial, and perennial flowers.
See the February planting calendar below.
February calendar and tips
February
Plant or Sow Indoors:
Plant or Sow Outdoors:
Flowers:
Dahlias*
Annual flowers
Biennial flowers
Perennial flowers
Petunias*
Impatiens*

Bare-root roses
Winter-flowering shrubs such as Daphne and Witch Hazel
Nicotiana*
Fruit and Vegetables:
Artichoke
Broccoli
Brussel Sprouts
Cucumber
Kohl Rabi
Pepper
Chillies
Basil*
Carrots
Parsnips
Rhubarb
Dahlias: Take extra care when starting Dahlias inside, especially in a greenhouse, as they can't drop below 10°c. They prefer to be planted in compost, too.
Petunias: Like Dahlias, Petunias also require very specific growing conditions. Dahlias like it warm, so keep them at a toasty minimum of 24°c.
Impatiens: The flower Impatien, or "Busy Lizzie", requires lots of sunlight while it's growing. A bright windowsill is the best place for them.
Nicotiana: While we've put Nicotiana down for February, they'll want to be planted right at the end of the month to avoid most of the cold.
Basil: If you're growing herbs indoors, don't start your basil until February and keep it indoors until summer is here in full.
March
The coming of March means the coming of Spring. During March you'll start to see the first signs of the changing season, with Snowdrops beginning to appear and plump buds forming on the end of trees.
Don't be caught out by these beautiful sights, however – March is still late winter, so the cold won't go just yet. Planting around this time is always tricky, as you need to plant after the late frost has passed. Keep an eye on the weather forecast and wait until the end of the month or even April if it looks like there could be a spring frost on the way.
March calendar and tips
March
Plant or Sow Indoors:
Plant or Sow Outdoors:
Flowers:
Climbing annuals
Cleome seeds*
Cosmea seeds
Gazania*
Marigolds
Sunflowers
Poppies
Cornflower
Wildflowers
Deciduous trees
Forced flower bulbs*
Fruit and Vegetables:
Asparagus
Artichoke
Broccoli
Brussel Sprouts
Celeriac
Celery
Marrow
Shallot
Squash
Sweetcorn
Peas
Broad Beans
Beetroot
Cabbage
Kale
Kohl Rabi
Leek
Lettuce
Radish
Rocket
Samphire
Spinach
Spring Onion
Turnip
Cleome Seeds: As with Impatiens, grow your Cleome seeds on a sunny, warm windowsill.
Gazania: Start your Gazanias inside in March, but as soon as the last frost has passed you'll want to get them outdoors!
Forced flower bulbs: If you've "forced" any flower bulbs by keeping them in a dark place, now is the time to bring them outside. They'll complete the rest of their growth and flowering stages there.
April
Spring should be in full swing by the time April rolls around. Flowers should be sprouting wherever you look, and perhaps even the first few leaves on trees (although this is usually reserved for May). 
April weather means higher temperatures and wetter weather conditions – ideal conditions for growing. Crucially, the last frost will probably have passed. This means you can get the vast majority of your growing outside. There'll be less planting to do than moving, as you take the vegetables and flowers you started inside out.
It's time to get those garden beds working hard!
April calendar
April
Plant or Sow Indoors:
Plant or Sow Outdoors:
Flowers:
Nasturtiums
Dianthus
Petunia
Scabious
Salvia
Ageratum
Zinia
Rudbeckia
Clarkia
Lagurus
Monarda
Fruit and Vegetables:
Melon
Cauliflower
Chard
Courgette
Chives
Coriander
Dill
Parsley
Pak Choi
Watercress
Brassica
Potatoes
May
Sunny days, flowers and greenery everywhere you look…that's right, May is the time for growth. Yes, that means growth in your garden too! By now you'll be seeing the fruits of your labours from the winter months.
The emphasis for May is getting your flowers out – as well as the rest of your fruit and vegetables. The soil will now be warm and loose enough now for most flowers. But you don't have to stop growing indoors! There are still a few things you can start inside to keep them safe before summer comes around.
Stray cold days may come around, so keep an eye for them and cover veg or flowers if you think extra protection is necessary. 
May calendar and tips
May
Plant or Sow Indoors:
Plant or Sow Outdoors:
Flowers:
Climbing perennials
Foxgloves
Dianthus
Helipterum
Larkspur
Primrose*
Sweet William
Phlox
Candytuft
Godetia
Nigella Damascena
Foliage bedding
Alyssum
Hydrangeas
Lavender
Rudbeckia
Snapdragons
Marigolds
Fruit and Vegetables:
Sweetcorns
Artichoke
Beans
Broccoli
Brussel Sprouts
Celery
Courgette
Cucumber
Marrow
Pepper
Pumpkin
Swede
Tomato plants*
Primrose: Primrose is a summer flower, but you'll be starting it indoors during early May. Sow the seeds in soil or organic matter, then place the tray in the fridge for three to four weeks. After that, keep it at room temperature for 6 weeks until the seeds germinate for outdoor planting in late summer.
Tomato plants: Tomato plants can be planted outdoors from May, but make sure you have a variant that can withstand outdoor temperatures. Otherwise, plant them in their more natural environment of a greenhouse.
Time to Get Planting!
Winter and Spring is the trickiest time of the year when it comes to planting. But with this month-by-month, detailed planting calendar, and a keen eye for when the cold is coming, you should be able to dodge the frosts and get to summer with a garden full of life and colour!
If you're interested in levelling up your gardening ability with a greenhouse, then look no further than us here at Garden Buildings Direct. 
We have a varied range of quality greenhouses available at great prices. Simply click the button below to browse!