We love chatting to our customers and finding out how they're coming along with their new garden projects. That's why this week, we caught up with Michael, to see how he was making the most of his new BillyOh product.
A quote that often resonates with us here at Garden Buildings Direct is: "Time is non-refundable – use it with intention."
This is especially relevant to Michael. He came to Garden Buildings Direct to replace his old and outdated shed, which had given in to years of heavy weather.
For someone who knows the value of time, ease of ordering and a quick delivery were some of the most important things for Michael. He needed something fast, but something that wouldn't compromise the quality of service or product in general.
So when he came across our Master Tongue and Groove Pent Shed he was delighted – after all, it ticked all of the necessary boxes. And the deal was made even sweeter with the promise of free UK mainland delivery with all products!
'I needed to buy a new shed as my old one was on its last legs. I found the BillyOh Master Tongue and Groove Pent Shed online at a reasonable price so I purchased it.'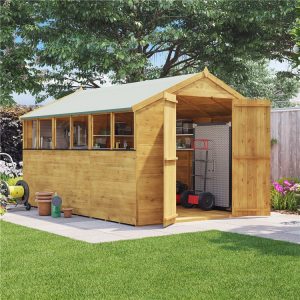 After a speedy delivery – dropped off at a pre-arranged time – Michael wasted no time in erecting his new storage unit. Thanks to pre-cut timber and step-by-step instructions, he had it built and ready for painting in practically no time at all.
He decided to paint the exterior with Ronseal's fence life stain in a trendy red colourway – adding both sleek style and extra weather protection to his new shed. And, coupled up with our ten-year anti-rot guarantee as a standard with tongue and groove sheds, this new unit is set to weather all storms.
'Everything was there and I put the shed together with the instructions supplied.'
'I would definitely recommend this product to anyone looking to buy a solid shed from this company.'
You can see Michael's full transformation below: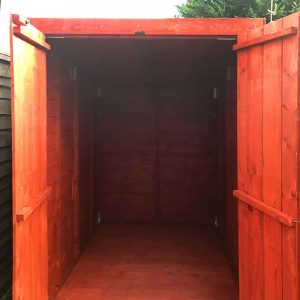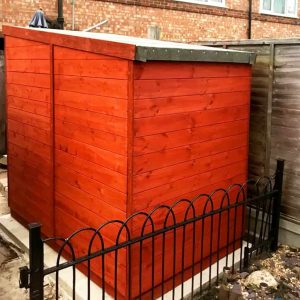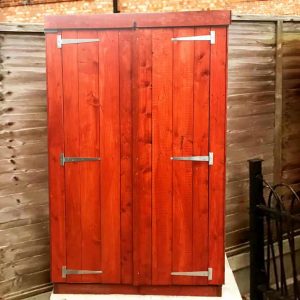 In addition to the variety of sheds we offer, our quick delivery and value for money are the things that won Michael over.
Our aim is not only to be fast but also to be the best quality at the same time, not only in terms of manufacturing and final product, but also to deliver outstanding customer service. Besides his customer experience, the lifespan of our buildings is something that persuaded Michael as well.  As they say; "If you see the value in something, then it is worth investing in."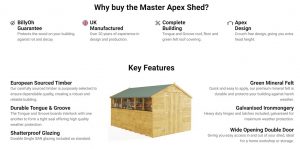 If you've got a great story about your BillyOh shed, summerhouse, log cabin or playhouse conversion – we'd love to hear it! Simply get in touch with us on our social media pages for a chance to feature here.
And why not check out some more of our customer stories here!
Shop The Master Apex Shed