We love chatting to our customers and finding out how they're coming along with their new garden projects. That's why this week, we caught up with Lynda, to see how she was putting her newly acquired sentry box to use.
We all subconsciously match things daily – accessories to go with what we wear, drinks to accompany what we eat, furniture for our homes…the list goes on and on.
So it makes complete sense to match your garden shed with your plot accordingly. Nobody wants to look out of their back window at an ugly building that sticks out like a sore thumb.
So when Lynda came to Garden Buildings Direct she was looking for just that – a classy storage shed to go with her beautiful back garden.
'Garden Buildings Direct offered exactly what I was looking for following a Google search.'
After a little while browsing our website, she noticed that our Tall Sentry Box Grande matched her pre-existing shed that she wanted replacing! As it all tied in with the colour scheme of her garden, it was obvious that this was the perfect selection.
'The Tall Sentry Box Grande matched the shed I already owned, and it does look fabulous.'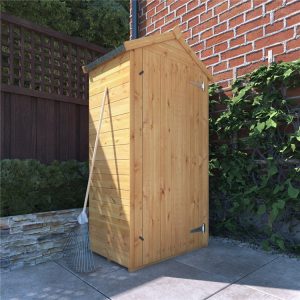 Throughout the buying and delivery process, Lynda contacted our customer service team with any queries that she had – and we're proud to tell you that she was overwhelmed by the support our first class agents offered her!
'Customer Experience of buying and delivery were excellent.'
After a prompt delivery on her nominated date, Lynda made no hesitation cracking on with the building side of things. And thanks to our pre-cut materials, she had it up in a flash.
'Erecting was very straightforward with all parts fitting well. My husband loves it and it matches beautifully with his larger shed.'
Decoration-wise, Lynda decided to coat her new shed dark green with a stand-out white trim, so she can show off her new storage unit with pride and joy. And we must say, it ties in very well with her garden, great choice!
You can see Lynda's new garden shed below:
'I've also just recommended some friends who love the shed to Garden Buildings Direct.'
The wide range of buildings we offer including this sentry box are not only space-savers but also practical and durable.
If you've got a great story about your BillyOh shed, summerhouse, log cabin or playhouse conversion – we'd love to hear it! Simply get in touch with us on our social media pages for a chance to feature here.
And why not check out some more of our customer stories here!
Shop Garden Storage