What is the Platinum Jubilee?
Celebrating the 70th anniversary of Queen Elizabeth II's reign, Thurs 2nd June through to Sunday 5th June will see a national four-day weekend in commemoration.
So how can I celebrate?
Well, across the extended bank holiday the whole country is set to be bursting with temporary events. But you can even throw your very own Platinum Party with just a bit of help from the team at Garden Buildings Direct.
We've come up with everything you need to know on how to throw a jubilee party. Just keep scrolling.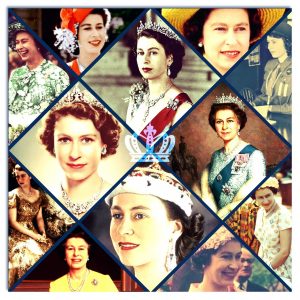 ---
What is The Platinum Jubilee?
If you're going to do it – do it right. Whether it's getting involved in community activities or throwing your own street or garden party – make the most of your extended bank holiday weekend.
And to do this, you need to know some of the facts!
Queen Elizabeth II is celebrating a 7-decade reign
Thurs 2nd June and Friday 3rd of June are the designated bank holidays
She's the longest-reigning monarch in British history
22,000 people will attend the BBC's platinum party at the Palace
10,000 of those tickets were assigned in a public ballot
But the parties aren't just happening at Buckingham Palace and in London! No, there are loads of ways you can get involved and have a cracking weekend without even leaving your street.
---
What To Do On The Bank Holiday Weekend?
So how are you going to make the most of all that free time? Well, we've split this post into three main themes:
How to throw a garden party
How to throw a street party
How to throw a tea party
And trust us, it doesn't get more British than that. Check out our handy tips and budget-friendly product picks to make the most of the bank holiday. Or, scroll to the bottom for a list of public events on over the Jubilee weekend.
---
1. Throw a Garden Party
What better way to enjoy the long weekend and (fingers crossed) good weather than out in the garden with friends. Check out our ideas from around the web and some great outdoor living products to make this a weekend to remember:
Turn Your Shed Into a Bar
If you've got a shed, summer house or log cabin and you want to repurpose it from office to wine bar for the weekend, we've got you covered.
The BillyOh Nightjar garden bar is:
Spacious at 1.2m x 1.2m
Features sturdy 28mm Log board construction
Is designed to fit BillyOh Log Cabins over 3m x 3m
Can be fixed either way around to any cabin wall
Comes complete with instructions, fixtures and fittings
Keep The Drinks Cool
If the weather's good and you're planning to be outside all day, you'll want to make sure your beverages are cold throughout. Check out some budget-friendly picks to keep guests happy, below.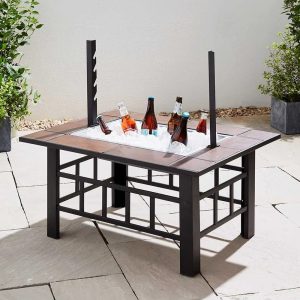 (3 in 1 Fire Pit, BBQ and Ice Cooler)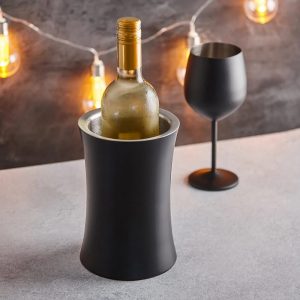 Wine Coolers
Or, if you want to dot some classy coolers around the garden, pick up one of these handy holders. Suitable for 2L bottles, they're perfect for keeping wine chilled throughout the day.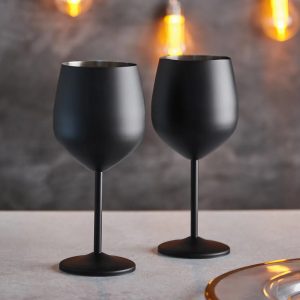 (Stainless Steel Matte Wine Glasses)
Wine Glasses
And if you're planning on a sudden influx of guests, you might not enough in the cupboards. These matte stainless steel wine glasses are a great budget-friendly addition that won't go out of fashion.
But Keep Guests Warm!
Remember –  keep the drinks cold and the guests warm. If you're planning on staying out into the evening, help keep everyone comfy by providing rugs and spare jackets as well as warm spots with the ideas below.
Aurora, Medora, and Albert Patio Heaters
If you're staying outside all day, why not deck out your patio area with some inexpensive heating? We've got free-standing, wall-mounted and dual-purpose patio heaters to solve the cold!
Shop Patio Heaters
Fire Pits
Or, keep it rustic and get everyone round the campfire for a few round of "God save the Queen". 😉 Either way, bring a focus to your party's layout and get people socialising around a warm fire.
Shop Fire Pits
Chimineas
Another option is always to set up a (or more than one) chiminea on your patio. These are great for kicking out a lot of heat without taking up to much space and with no open flames. Perfect if you have kids or dogs!
Shop Chimineas
An Inflatable Hot Tub
And if you really want to get wild (and stay warm!) then pick up an easy-to-inflate hot tub. You can get set up in no time and have the perfect place to watch the Platinum concert at Buckingham Palace.
Shop Inflatable Hot Tubs
Get Cooking
If you're having friends and family over for the Jubilee, it's a fair assumption that people are going to get peckish at some point. So get some Coronation chicken on to stick with the theme or scroll down to our tea party section for more food ideas.
Make sure you're ready to cater to even the fussiest eaters while still enjoying yourself…
With a Gas BBQ
Make it easy on yourself. Snags, burgers, halloumi and a few buns. And with larger models like our Huntsville 6-burner you can cater for larger parties. Our gas BBQs feature stainless steel construction, wheels for portability and fantastic prices. Check them out below.
Shop Gas BBQs
With a Charcoal BBQ
Or, go old school with a charcoal barbecue. Why not even mix up the traditional with the contemporary and have a UK/USA mash-up by picking up a smoker. People loved pulled pork and brisket and you can even get prepped ahead of time! Check out your options below.
Shop Charcoal BBQs
With a Pizza Oven
Combine food with a fun activity for the family with a handy pizza oven. You could even set up a toppings station where kids and adults alike can customise their own pizzas. Just take a look below.
Shop Pizza Ovens
Stay Shaded
Check out these ideas below to make sure guests don't get too hot or sunburned over the long weekend. These solutions are easy on the wallet and look great whilst providing some much-needed shade.
Garden Parasols
You can go for a fixed or cantilever model if you don't have a parasol hole in your table but you still want to lean one over dining areas.
Shop Garden Parasols
Sunshade Sails
Mediterranean-looking shade solutions make gardens look great and keeps them cool in the heat of the day.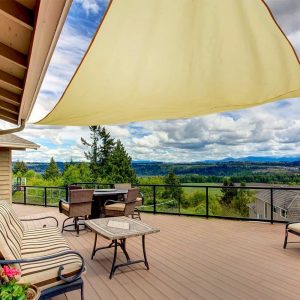 Shop Garden Shades
Gazebos and Pergolas
Get set up to cover your BBQ, food tables or even a chill-out area with a garden gazebo. You can opt for pop-up models for a quick fix, or more permanent wooden structures which you can decorate with lights and vines.
Shop Gazebos
Decorate Your Space
Once you've got everyone fed and hydrated, you can move onto thinking about how your space is going to look. If there's one time you can really go all out it's going to be this four-day weekend. So keep scrolling for our best garden decoration ideas.
With Bunting
Bunting is perfect for decorating awnings, doorways, trees, and gazebos. Check out the pics below to get some ideas or you can even follow a tutorial to make your own.
With Flags
If there's one thing we're sure to see a lot of over the Jubilee it's flags. Think outside the box and fly Irish, Scottish or Welsh flags if you have family from there. You could even fly flags by counties like the Cornish flag!
With Table Settings
We're talking Beefeater motifs and even more Union Jacks. Go wild with these cool table setting ideas and all the other jubilee decorations necessary to throw a great party.
With Lights
If you want to make your weekend truly magical why not try hanging some quirky outdoor lighting that draws guests into your party? Check out our favourite picks below:
Shop Outdoor Lighting
Get The Garden Ready
To throw the perfect garden party – the garden needs to look presentable! That might mean getting outside and getting your hand dirty to get things in order.
Jubilee Topiary and Planting Patterns
If you've got some hedge cutters and a bit of confidence why not give something like this a go?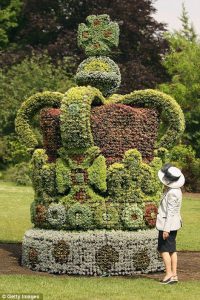 Or you could even plant a Union Jack or a simple English flag (say, with red and white roses!).
(Image Credit/Daily Mirror)
And you can keep your garden neat and tidy with some planter boxes dotted around.
Shop Garden Planters
Set Up In Style
Setting out rugs for guests to sit on the grass is great but for grandma and gramps and people who want to take a load off, some quality garden furniture is going to serve you well. Check out some of our top picks for the weekend:
Shop Garden Furniture
We hope you got some inspiration from our jubilee garden party ideas. But if you want to spill out onto the streets, check out our street party ideas below!
---
2. Throw a Street Party
If you want to throw a jubilee street party then have a quick read of the rules you need to follow. Then check out our platinum jubilee street party ideas, below.
Risk Assessment & Road Closures
If you're planning to host a street party it's best to let both neighbours and your local council know about it.
From Thusrday 2nd to Sun 5th June – it's legal for anyone to hold a street party
You have to fill out an application form (you can find these on your local council's website)
You don't have to fill out a risk assessment (but you should still have contingency plans in action such as suitable toilets, hydration stations, and first aid)
You will need to apply for a temporary events notice if you're hosting music or selling alcohol
Once you've got all that sorted –  crack on with the street party ideas below!
Decorations
Check out these awesome jubilee street party decorations:
(Credit: Flickr/Wikicommons)
You could even give out jubilee party packs so people can help to decorate!
Setting Up
We suggest using long trestle tables where possible to serve food and drinks. Plus, this will help you stretch down the street and seat as many people as possible.
Shop Garden Tables
Seating
Shop Garden Chairs
Jubilee Drinks
You can even keep things festive all the way through to your drinks selection. Don't believe us? Take a look below.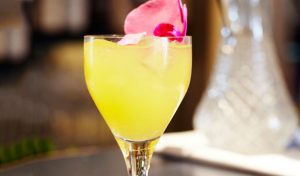 Jubilee Cocktail From The Savoy
This Jubilee cocktail was dreamed up by Erik Lorincz – head bartender at The Savoy, London.
Ingredients:
30ml Bombay Sapphire gin
30ml Orange & Grapefruit sherbet
15ml Lemon juice
10ml Almond syrup
30ml Earl Grey tea
Champagne to finish
Method:
Shake all ingredients (bar the Champagne) together and pour over ice into a chilled goblet glass, topping with Champagne and garnishing with edible flowers.
Cherries Jubilee From Tasty
The team at Tasty have come up with this awesome Cherries Jubilee cocktail, check out the recipe below.
Ingredients
2 oz cherry liqueur

(60 mL)

4 oz vodka

(120 mL)

½ oz grenadine

(15 mL)

ice, for serving
10 tipsy cherries
2 oz lemonade
In a mixing glass, combine the cherry liqueur, vodka, and grenadine. Stir to combine.
Fill 2 rocks glasses with ice. Place 5 tipsy cherries in each glass. Divide the cocktail between the glasses. Top each glass with 1-ounces of lemonade.
Enjoy!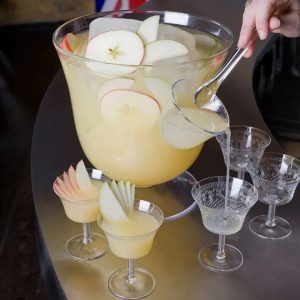 Jubilee Punch
Or mix up something for everyone with this Jubilee punch from House and Garden.
Food and Nibbles Ideas
If you're stuck thinking about what more can you put on the barbecue, then allow us to help out with a long list of ideas below:
Mini pies
Sausage rolls
Scotch eggs
Crisps (they've got to be Walkers!)
Cheese and pineapple sticks
Cucumber sandwiches (what's more royal than that?)
Jammy Dodgers (great for kids and the red can fit with your Union Jack theme)
Victoria sponge (give Lizzie's Mum a thought too!)
Strawberries and cream
A "best of British" including
Marmite
Branston pickle
Digestive biscuits
Yorkshire tea
Soreen malt loaf
Or check out this video for more:
And whilst we're on the subject of food, let's check out how you can keep things a little more civilised – throw your own tea party!
---
3. Throw a Tea Party
So you want to know how to throw a jubilee tea party? Well, you're in the right place. Take some of the best ideas (like decorating with bunting, and using large trestle tables) from our garden and street party ideas.
But keep scrolling for even more tea party ideas to get in the spirit of the Jubilee.
Custom Cups
Pick up some Jubilee-themed cups for soft drinks or use funky antique-looking mismatched china for a proper British feel!
Jubilee Cakes
Try to bring the Jubilee feel to every aspect of your party. And what better place to start than the cakes? Think scones and high-tea or you can even go kitsch with Wagon Wheels, Jammy Dodgers and Digestives for some classics.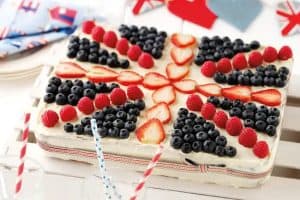 Jack Tray Bake
Check out this Union Jack traybake from Baking Heaven for a super-summery feel.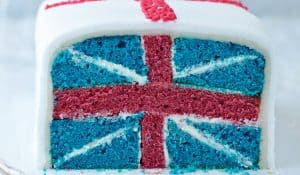 Union Jack Filling
Or this amazing blue and red flag filling from The Happy Foodie – just click the link to see the recipe.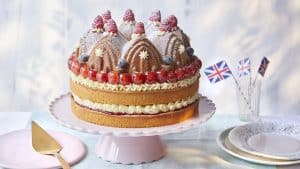 Jubilee Bundt Cake
And last but not least, head over to BBC food for this stunning bundt cake.
Or see it you can top the 25 layer cake someone baked for the Queen's Silver Jubilee:
Then you just need to put the national anthem, Rule Brittania, or Jerusalem on to really put the finishing touches on your Jubilee tea party!
---
Community Events
See if any of these community events are happening near you:
A Big Jubilee Lunch
Platinum Jubilee coffee mornings
And if you can't find any of these in your local area, check out all the main events happening in London below:
---
Public Events
And with four days free, you might even get a chance to throw a street party and get out and about! If that's the case, click the links to check out some of these events going on over the Platinum weekend:
---
Jubilee Round-Up
Well, we hope you found out just how to throw a jubilee party and got some great ideas along the way. You can pick up any of the fantastic products mentioned or head over to our online store here. Keep scrolling for a recap in case you've forgotten anything!
Celebrations for Queen Elizabeth II's Platinum Jubilee will occur from Thurs 2nd June – Sunday 5th June
You can get involved by throwing a garden party, a street party, or a tea party
Or you can attend one of many public events like the Platinum Jubilee pageant
Or even get involved with community events near you like attending your nearest the Platinum Beacon lighting
For garden parties:
For street parties:
For tea parties:
FAQs
The Queen's Platinum Jubilee will occur on Sunday, 5th June, 2022 with bank holidays on the Thursday and Friday of that week.
There are loads of public events on over the Jubilee weekend, like:
Or read this guide to get ideas on how to throw a jubilee party of your own!
If you're planning to host a street party it's best to let both neighbours and your local council know about it.
From Thusrday 2nd to Sun 5th June – it's legal for anyone to hold a street party
You have to fill out an application form (you can find these on your local council's website)
You don't have to fill out a risk assessment (but you should still have contingency plans in action such as suitable toilets, hydration stations, and first aid)
You will need to apply for a temporary events notice if you're hosting music or selling alcohol
Check out this post for more rules.
Click To Shop