If you're looking to invest in garden gates, there's a chance that aluminium options have crossed your path. 
And whilst we've been vocal about why aluminium gates are so great, we thought we'd help narrow down your search for you.
So if you're looking for an aluminium side, pedestrian, or garden gate, we'd like to present you the BillyOh Nova.
Below, we've got a quick product overview of the Nova. So to get all the hard facts you need to make a decision, keep scrolling! 
Why Buy Aluminium Gates?
We'll whizz through this section in case you know all there is to know about aluminium.
On why aluminium gates are the best choice, let's break them down into pros and cons before we look at the BillyOh Nova.
Aluminium Gates Pros
When choosing garden or driveway gates, your choices will usually be cast iron, wood, or aluminium. We'll make a quick comparison between these three in a moment. For now, know that aluminium and aluminium gates are:
Strong

Lightweight

Durable

Well-priced

Low Maintenance

Weather-resistant

Modern and Elegant
But we also have to consider:
Aluminium Gates Cons
Of the top of our heads, we'd have to be pretty harsh, but these might include:
Not as strong as other metals

Not ideal for a rustic look
Other than that, aluminium's upsides far outweigh any downsides.
But let's contextualise aluminium gates versus the competition.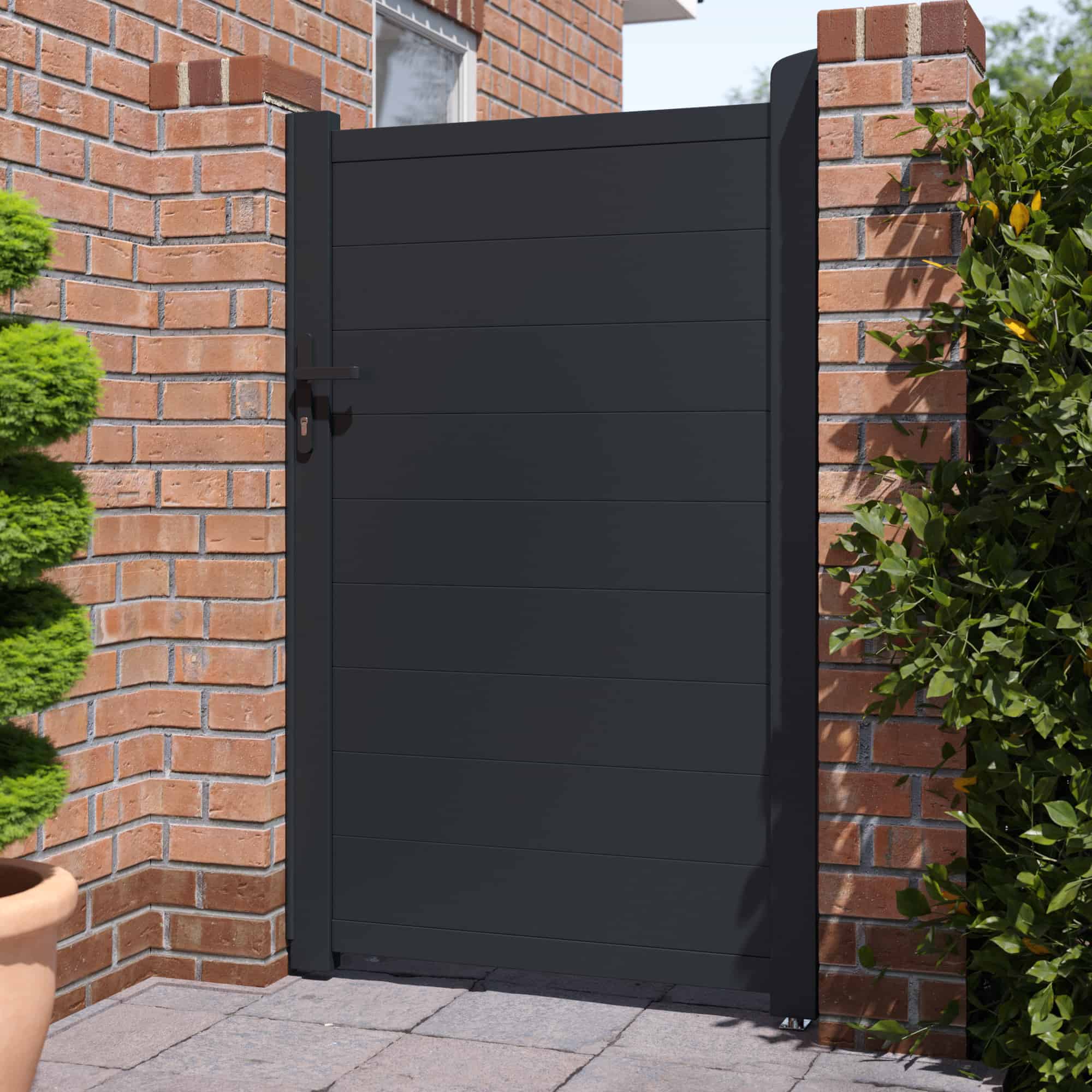 Aluminium vs Metal Gates
When we say 'metal gates', we mean gates made of cast or wrought iron. These heavy, classic looking gates look fantastic in large driveways.
But you came here for garden and pedestrian gates. And that's where iron gates, beautiful as they are, fall down somewhat.
When we said that iron gates are great for driveways, we bet you imagined one with vertical iron bars. And there's a good reason for that – iron is heavy. And that weight means that having a solid iron gate is out of the question.
Not only would it be a considerable expense, but it'd be a nightmare to try and move as well. Either you'd be blowing a lung trying to push it or spending a lot (and putting a lot of strain) on an electric gate mover.
So how would a wrought iron gate work for a garden or site gate? Well, the answer is the same. You'd have to compromise on privacy.
On the flip side, aluminium gates are nowhere near as heavy. They're also easier to maintain and install. 
Because aluminium is so light, aluminium gates are also a lot easier to open. This is particularly useful when installing a garden in an area of high foot traffic. So if you're looking for a garden or pedestrian gate – think aluminium.
There are also options for infilled slats that offer full privacy. This is a big upgrade from a near-seethrough wrought iron gate. It'll even offer that little bit more security than a decorative aluminium gate.
Aluminium vs Wooden Gates
But, like iron gates, aluminium won't offer you that rustic, traditional look. 
But, if you're willing (or more than happy!) to go for a more modern, stylish aesthetic, then you'll save yourself time and money in maintenance. For example, wooden gates are prone to rot in damp weather and cracking in hot weather.
Not only that, but wooden gates by default will have metal components like hinges. These will have to be oiled and maintained to keep them functioning and rust-free. This goes for whether you have manually-opening gates or ones on an electric motor. 
In contrast, aluminium gates don't rust. They also come powder-coated. This gives them added resistance to things like chemical cleaner and acidity in the rain.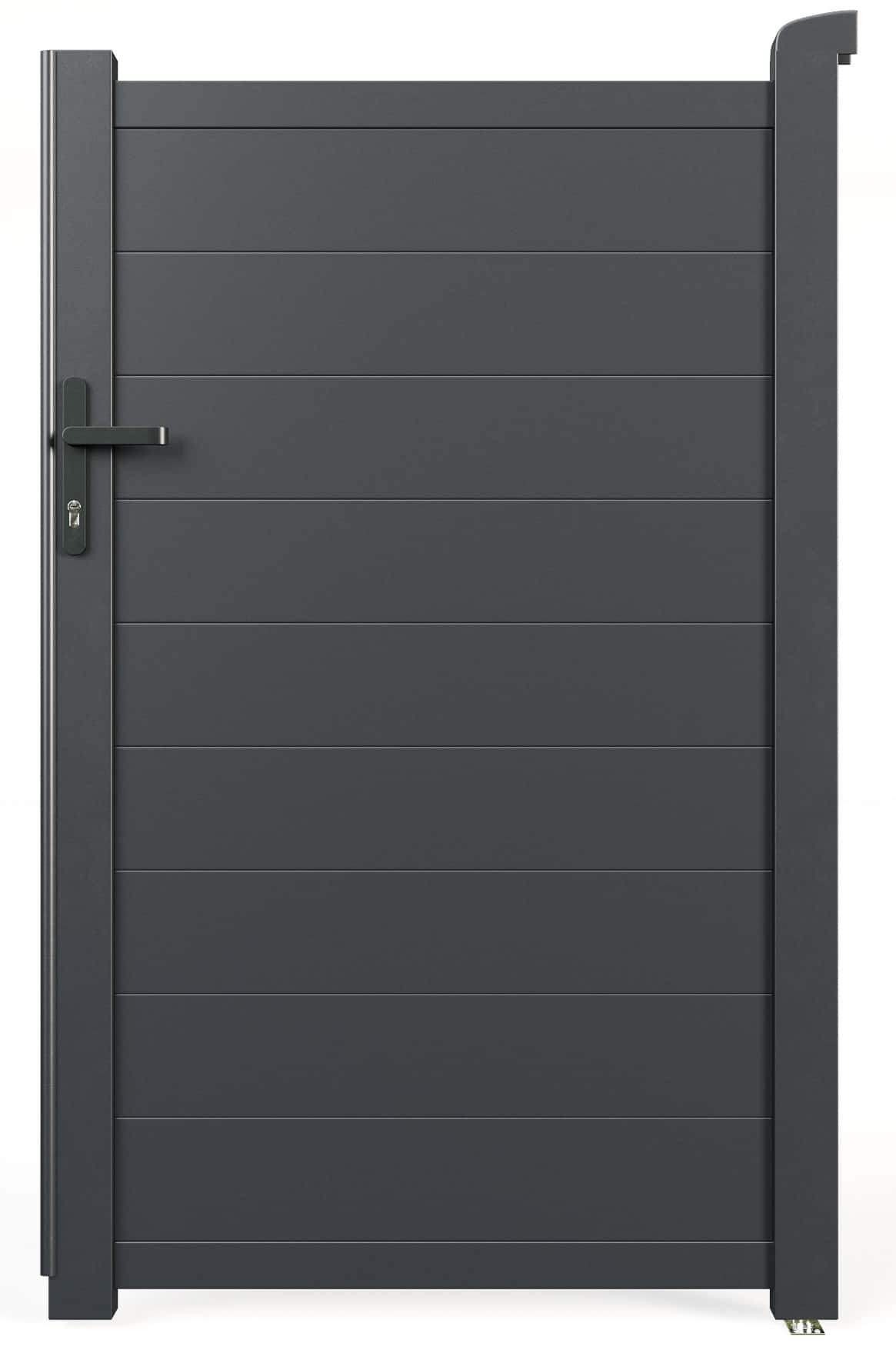 Cleaning Aluminium Gates
Powder-coating also helps to make cleaning aluminium gates a lot easier than wood or iron.
This means you can maintain aluminium side gates by keeping them lubricated. We suggest using WD40 for semi-regular maintenance. As for cleaning aluminium side gates, simply:
Rinse aluminium gates with a garden hose (no pressure washers!) to remove dirt and debris

Using a non-abrasive aluminium gate cleaner, clean gates with a wet sponge

(Optional) Use a non-abrasive brush to remove residue

Rinse aluminium gate again with a hose

Wipe dry with a soft, microfibre cloth
It couldn't be easier!
BillyOh Nova Design Features
So now you've got a bit of a better idea of why to choose aluminium gates. Now let's have a look at why you should choose the BillyOh Nova.
The BillyOh Nova pedestrian gate is great for side entrances with access to a garden or the back of your house.
Not only can these sort of entrances pose security risks, but they can also compromise your privacy. So if you want to keep your family time in and the rest of the world out, you'll want a full-privacy pedestrian gate.
As such, the BillyOh Nova is robust, neat, and lightweight. It's the perfect way to add privacy and security to your property, as well as style and elegance.
How does it work?
The BillyOh Nova is a single swing aluminium gate. It has a key-operated lock on a standard lever handle. This means that you can lock up at night or leave the gate closed in the daytime.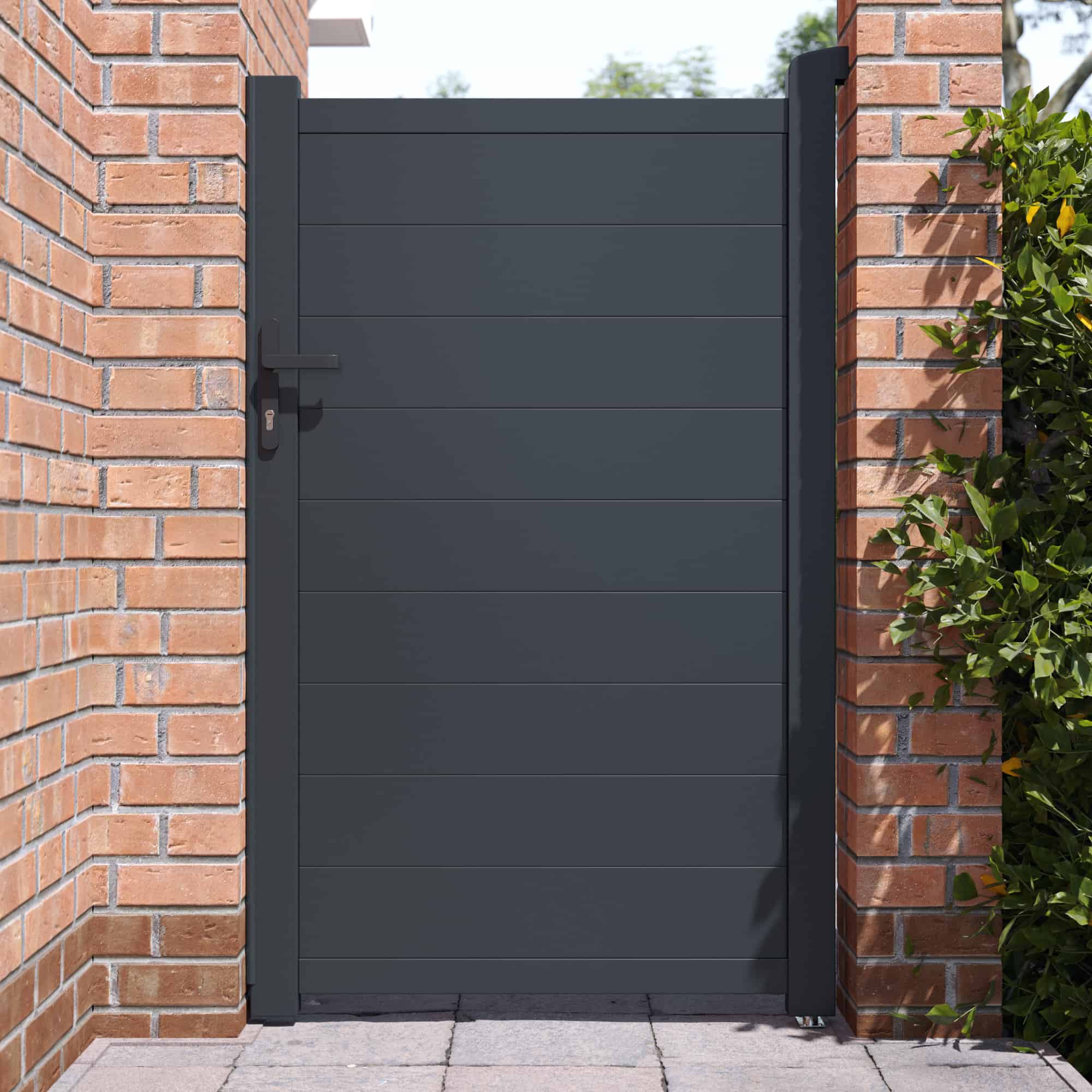 What does it look like?
The BillyOh Nova comes in black powder-coated aluminium. The boarded horizontal slat design provides maximum privacy, 
How long will it last?
The powder-coated finish ensures these gates are weather-resistant and protects from rust. Powder coating is a method whereby dry powder is applied, then charged and cured under heat or UV. It provides better resistance to chips, scratches, and wear than simply painting.
What size is it and how much?
The BillyOh Nova comes in:
100 x 142cm at £249

100 x 158cm at £269

100 x 173cm at £299
So you can customise the height for added privacy depending on your columns on either side.
Just to recap the BillyOh Nova's design features. 
Key takeaways:
Key operated gate lock included as standard

Robust, light and weather-resistant aluminium construction

Low maintenance; wipe clean

Powder-coated finish for long-lasting colour

A modern take on the garden gate – suits any property

Supplied with all-metal gate hinges, handles and locks
BillyOh Nova: Reasons to Buy 
| | |
| --- | --- |
| It's easy to install | Secure your hinges and lock and hang the gate. |
| Modern and stylish | A modern twist to the traditional garden gate. Suitable for all types of properties. |
| Maintenance-free | Wash down with soapy water and rinse when required. |
| Robust and lightweight | Aluminium is a perfect material for gates. This is because it's strong, stable and lightweight. |
| Powder-coated finish | No need for repainting or refinishing. The powder coating ensures the gates are fade-resistant and scratch-resistant. |
| Weather-resistant | Strong and durable. Resistant to impact, rust, corrosion and deformation due to heavy weathering. |
| Manual or automatic | Designed with a reinforced profile. Can support an electric gate opener if desired. |
| Full privacy | A fully boarded design ensures both privacy and security to your property. |
BillyOh Nova Recap
If you're in the market for a side, pedestrian, or garden gate, then the BillyOh Nova should be on your radar.
Aluminium gates in general are cheaper. They're also more weather-resistant and easier to maintain than wooden or iron counterparts. But the BillyOh Nova shines in its ability to offer full privacy whilst being lightweight.
This means it's less of a strain either on you and your family or an electric motor. It also makes it safer if you have young children who like to trap their fingers in things! And it offers a lovely modern aesthetic that's sure to fit in with your home.
So if you want privacy and security at an affordable price, pick up a BillyOh Nova today.
Shop Aluminium Gates
FAQs