Why buy aluminium gates? They're not as strong and durable as wrought iron, right? And they don't offer the same rustic aesthetic as wooden gates.
Well, we've already spoken about why aluminium gates are great. But one of their biggest draws is maintenance. Aluminium gates are easier to maintain than their alternatives and they last for a long time.
So are you looking at buying aluminium sliding gates? Or do you want to know how to care for the aluminium gates you do have. Either way, we've got you covered. 
In this quick guide to maintaining aluminium gates, we'll go through:
Why

they're easy to maintain

How

to maintain them

Why

maintenance is simpler than with iron and wooden gates
So if you're ready for some quick-fire tips on maintaining aluminium gates, let's get into it!  
Powder Coated Aluminium Gates
One of the best things about aluminium gates is that they're weather-resistant.  
So, whether you're going for a metal driveway gate or a pedestrian gate, you won't have to do too much maintenance.
The reason for this is that aluminium gates are powder-coated. Bare aluminium will form a natural oxide layer. This gives it some resistance against corrosion. 
But by powder-coating an aluminium gate, we can prevent this low level of oxidisation. At the same time, it creates a seal against water and air exposure.
Powder-coating is where a coating of fine powder is applied to the metal by charging it with an electric current. This then forms into a protective cover that's resistant to weather and corrosion.
Powder-coating also gives aluminium gates protection a sleek, luxury finish.
That's three-for-the-price-of-one! You get:
An easy to maintain garden or driveway gate

A gate that's resistant to corrosion
That's why maintenance and aluminium gates go hand-in-hand together.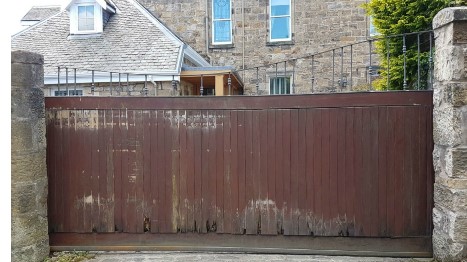 How to Care For Aluminium Gates
Of course, powder-coating aluminium gates will solve most of your troubles. But you'll still need to treat them right.
Your garden and driveway gates can still play host to insects and bacteria. This means that you'll still need to clean and care for your aluminium gates. (We'll explain how to do this in a moment).
Remember that insects and bacteria can both speed up the wear and tear of powder-coating. Also, even the most careful gate owners in the UK are bound to pick up some chips and scratches.
The good news is that aluminium gates are less prone to minor damage than wooden and wrought iron gates. So for scratches, you can always fill them with aluminium paint. Or, you can start by sanding down the offending area then repaint it.
Top tip: Electronic gate openers will reduce the chance of scratches and dents to driveway gates!
How to Treat Aluminium Gates
So earlier we said that aluminium gates and fences are powder-coated. This means that maintaining your aluminium gate should be a doddle.
Yet, you still need to treat things like metal gate hinges and garden gate locks from time to time. And what else would you want to use on an aluminium gate than WD40?
Check out this helpful guide for spraying gate handles, posts, and hinges. Make sure you keep your aluminium gates treated right.
And thanks again WD40!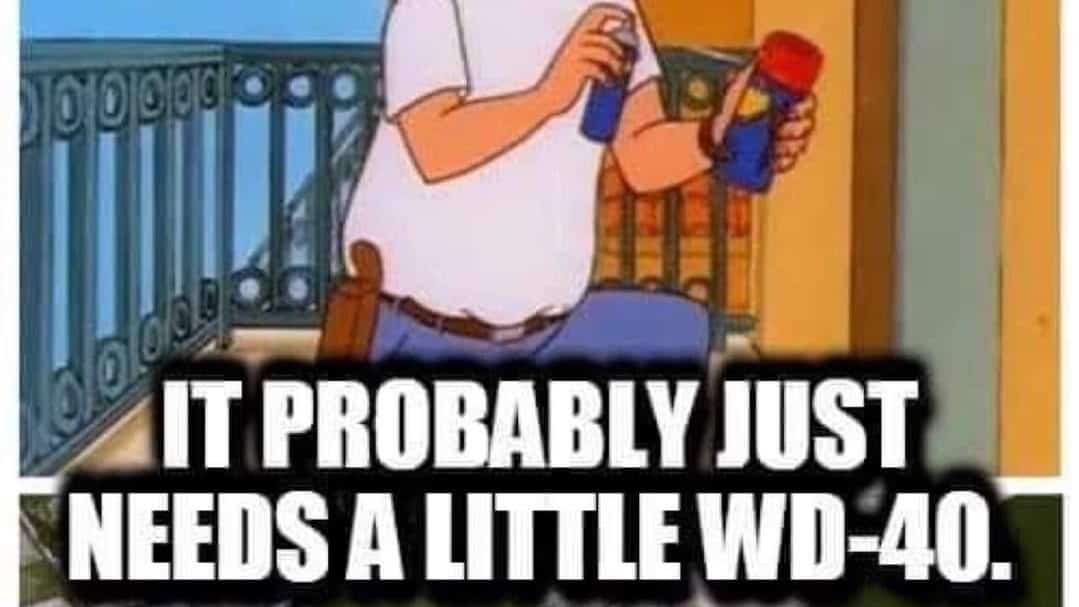 How to Clean Aluminium Gates
And so we come to the most important point of this quick guide to maintaining your aluminium gates. I.e. how to clean them. Let's take a quick look before we dive into it.
How to clean aluminium gates:
Rinse aluminium gates with a garden hose (no pressure washers!) to remove dirt and debris

Using a non-abrasive aluminium gate cleaner, clean gates with a wet sponge

(Optional) Use a non-abrasive brush to remove residue

Rinse aluminium gate again with a hose

Wipe dry with a soft, microfibre cloth
Sounds easy right? And it is! That's why aluminium gates are so popular – they're easy to maintain.
Remember when following these steps – don't use any type of pressure washer on your aluminium gate. If you do, you run the risk of compromising your aluminium gate's powder-coating. 
If this happens, then any pressurised spray will eat away at your gate's protective layer. So it's best just to use a garden hose or a sponge and some water. If you do use a gate cleaner, make sure it doesn't contain chemicals that could affect the powder-coating.
For a cleaning product that's safe for aluminium gates, don't use anything corrosive. And always use a non-alkaline cleaner for your aluminium gates and fences.
Remember, as easy as aluminium gates are to maintain, everything still gets dirty. Plus, gates with patterns and slats will need careful hand-washing in hard-to-reach areas.
Aluminium Gates vs Wrought Iron Gates
Which brings us on to the question of – why choose any other gate than an aluminium one? It's a good question. 
Of course, wrought iron and wooden gates might hold sentimental value. Or they might add to a property's aesthetic. But when you look at what's required to maintain these types of gates, you'll join us on the aluminium side of the fence. 
For example, with a wrought iron gate you'll need to both wash it and remove rust. Because this is a tough, durable metal you'll need a wire brush and some elbow grease. You might even need a drill with a brush attachment.
After that, you'll still need to wash wrought iron gates with white spirit. Then you can use a brush and an emery cloth to smooth its surface. Last but not least, you'll need to apply metal primer to wrought iron gates and leave it for 24 hours. Only then can you come back and apply fresh paint.
All that just to prevent corrosion. Whereas, aluminium gates are powder-coated at the point of manufacture. So wrought iron gates definitely need more maintenance.
Plus, iron itself doesn't cope too well with long-term air and water exposure. In turn, this will lead to rust that will cause any paint coating to flake. Rust can also be a nightmare for wrought iron metal gate hinges and moving parts. 
And, if you don't treat it your gate could rust to the point that it no longer opens! 
Bear in mind that iron is heavier than aluminium. Because of this, an iron gate may also have a high installation and delivery cost. Plus, if you have a sliding driveway gate, it will need a strong motor to move it.
Just consider that against aluminium which comes pre-treated and requires minimal maintenance.
Aluminium Gates vs Wooden Gates
And when it comes to aluminium gates versus wooden gates, there's a clear winner.
Wooden gates need some of the highest levels of maintenance. This is because wood can contract or expand depending on temperature and the weather.
This means that wooden gates can crack and rot can develop. If not treated right, these problems can put undue pressure on gate motors. This means you'll have to maintain both gate and motor.
But, of course, wooden gates still have loads of positives. They can offer a rustic look and a design that doesn't obstruct your view. It's just that they need a lot of regular maintenance. 
And even with all that maintenance, they'll still succumb to age and wear a lot sooner than aluminium gates.
Maintaining Aluminium Gates
We hope this guide has helped explain that aluminium gates are super-easy to maintain. That goes for sliding gates, driveway gates, and even garden gates.
This is because all our BillyOh aluminium gates come powder-coated. This gives them a luxury modern look that's weather-resistant. All while taking the weight of cleaning and maintenance off your shoulders!
Not only that, but they're lightweight and easy to install. Compare this to iron and wooden garden gates. Both of which need a lot of maintenance and will deteriorate a lot quicker. Now do you see why we love aluminium gates so much?
And if we've got you in the mood for a bit of maintenance, check out our quick guide to the must-have tools for shed repairs.
Shop Aluminium Gates
FAQs