Let's say you've just bought, or are looking to do up, your house. If you're thinking about re-doing your driveway, you might want to change or add gates.
But wooden and metal gates can be expensive, hard to maintain, and even just heavy. So instead, you might be weighing up in your mind the pros and cons of aluminium driveway gates.
And that's what we'd like to help you with today. So below, we've broken down the arguments for aluminium driveway gates. We've also included a product review of some BillyOh Valencia driveway gates.
Check it all out below.
Why Buy Aluminium Driveway Gates?
We'll try to get through this section fast if you know all there is to know about aluminium gates.
But on why aluminium gates are the best choice for a driveway; let's break it down into pros and cons. Then we'll take a look at the BillyOh Valencia.
Aluminium Gates Pros
Your choices are cast iron, wood, or aluminium when choosing driveway gates. We'll make a quick comparison between these three in a moment. For now, just know that aluminium driveway gates are:
Strong

Lightweight

Durable

Reasonably priced

Low maintenance

Weather-resistant

Modern and stylish
But we also have:
Aluminium Gates Cons
Off the top of our heads, if we were being harsh, we'd say:
Not as strong as other metals

Not ideal for a rustic look
Other than that, aluminium's upsides far outweigh any downsides.
But let's quickly contextualise aluminium driveway gates versus the competition.
Aluminium vs Metal Gates
When we say 'metal gates', we usually mean gates made of cast or wrought iron. And these heavy, classic looking gates do look fantastic in large driveways.
But they can also cause some issues. For example, typical metal driveway gates feature vertical bars with gaps between them.
And there's a good reason for that – iron is heavy. Having a solid iron (or even wooden) gate is sometimes out of the question. This is especially true if it's a swing gate you have to open manually.
And just to be clear, driveway gates can come as either:
Swing Gates –

Where the gate is made up of two parts that open in or out
Sliding Gates –

Either manual or operated by a motor
Bi-folding Gates –

That fold on themselves – a great space saver
So as you can see, having a heavy driveway gate that has puts a lot of strain on a motor can be expensive. You'll have to tally up installation and running costs. But the alternative is you having to jump out and struggling to move it manually every time!
Or, you go for a metal or wooden gate with less material so that it's lighter. But then you compromise on privacy.
The point we're trying to make is that all three of these options feature a compromise. 
Whereas aluminium driveway gates are nowhere near as heavy. They're also easier to maintain and cheaper to install due to handling. 
Because aluminium is so light, aluminium gates are also a lot easier to open. This becomes particularly useful when installing a gate in an area of high traffic – like a driveway. So if you're looking for a driveway gate – think aluminium.
And last but not least, you can opt for a driveway gate with a horizontal solid infill for the most privacy.
Aluminium vs Wooden Gates
Similarly to iron gates, aluminium won't offer you that rustic and heavy, traditional look. But they do provide the offputting security measures that iron gates feature. 
For example, black powder-coated aluminium driveway gates look heavy. Even though they're not, particularly.
So potential intruders are much more likely to think twice.
And if you're willing (or more than happy!) to go for a more modern, stylish aesthetic, you'll also save yourself time and money in maintenance. For example, wooden gates are prone to rot in damp weather and cracking in hot weather.
Not only that, but wooden gates by default will have metal components. These will include things like hinges that aren't made from aluminium. These will have to be oiled and maintained to keep them functioning and rust-free. This goes for whether you have manually-opening gates or ones on an electric motor. 
In contrast, aluminium gates don't rust and come powder-coated. This gives them added resistance to things like acidity in the rain.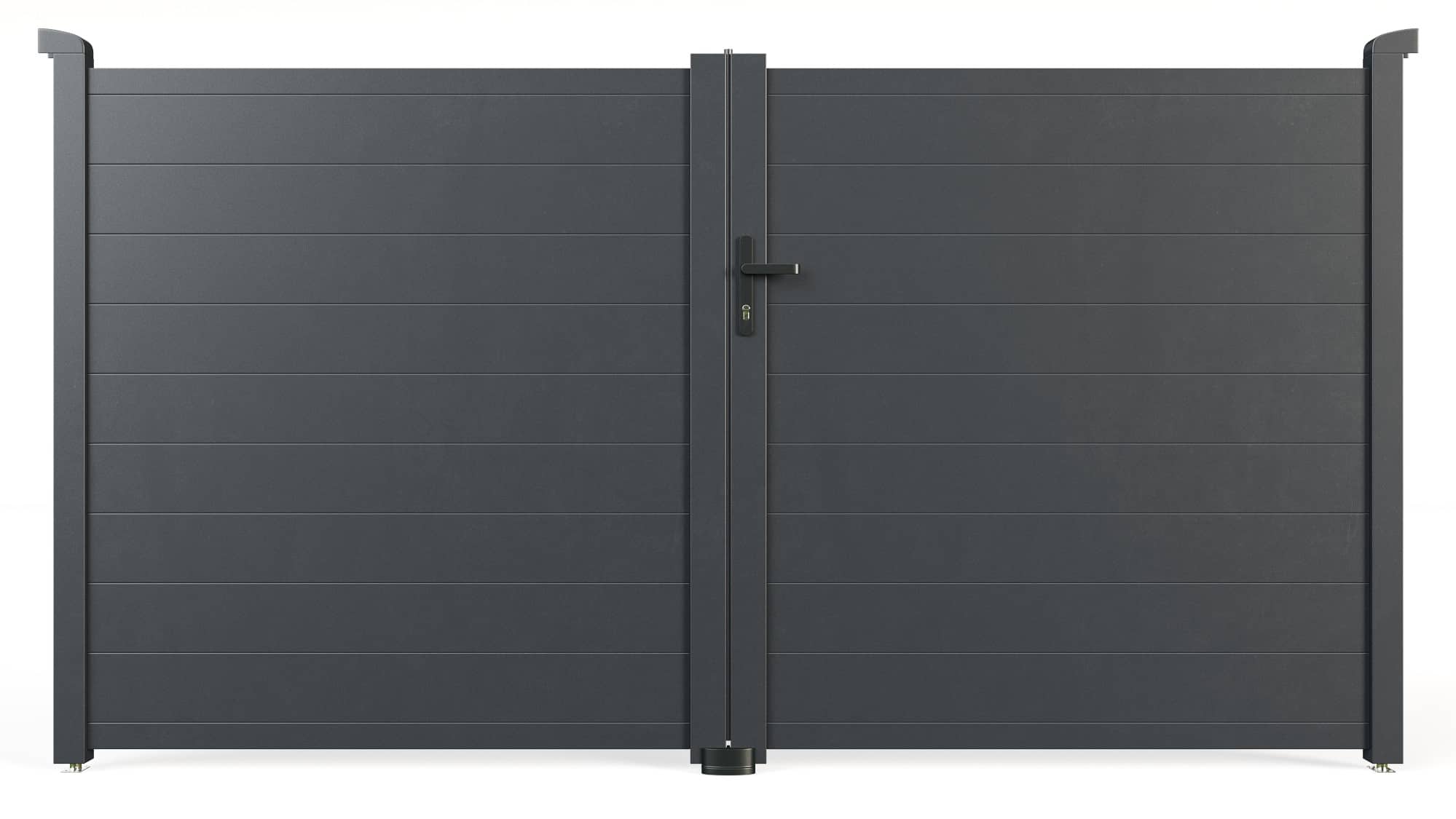 Cleaning Aluminium Gates
Powder-coating also helps to make cleaning aluminium gates a lot easier than wood or iron.
You can maintain aluminium side gates by keeping things like hinges lubricated every so often. We suggest using WD40 for semi-regular maintenance. As for cleaning aluminium driveway gates gates, simply:
Rinse aluminium gates with a garden hose (no pressure washers!) to remove dirt and debris

Using a non-abrasive aluminium gate cleaner, clean gates with a wet sponge

(Optional) Use a non-abrasive brush to remove residue

Rinse aluminium gate again with a hose

Wipe dry with a soft, microfibre cloth
It couldn't be easier!
Driveway Gates: BillyOh Valencia
So now you know why aluminium is such a great choice. But why buy the BillyOh Valencia for your driveway?
Well, a sturdy-looking driveway gate can increase your kerbside appeal and property value. But let's have a look specifically at some of the Valencia's design features.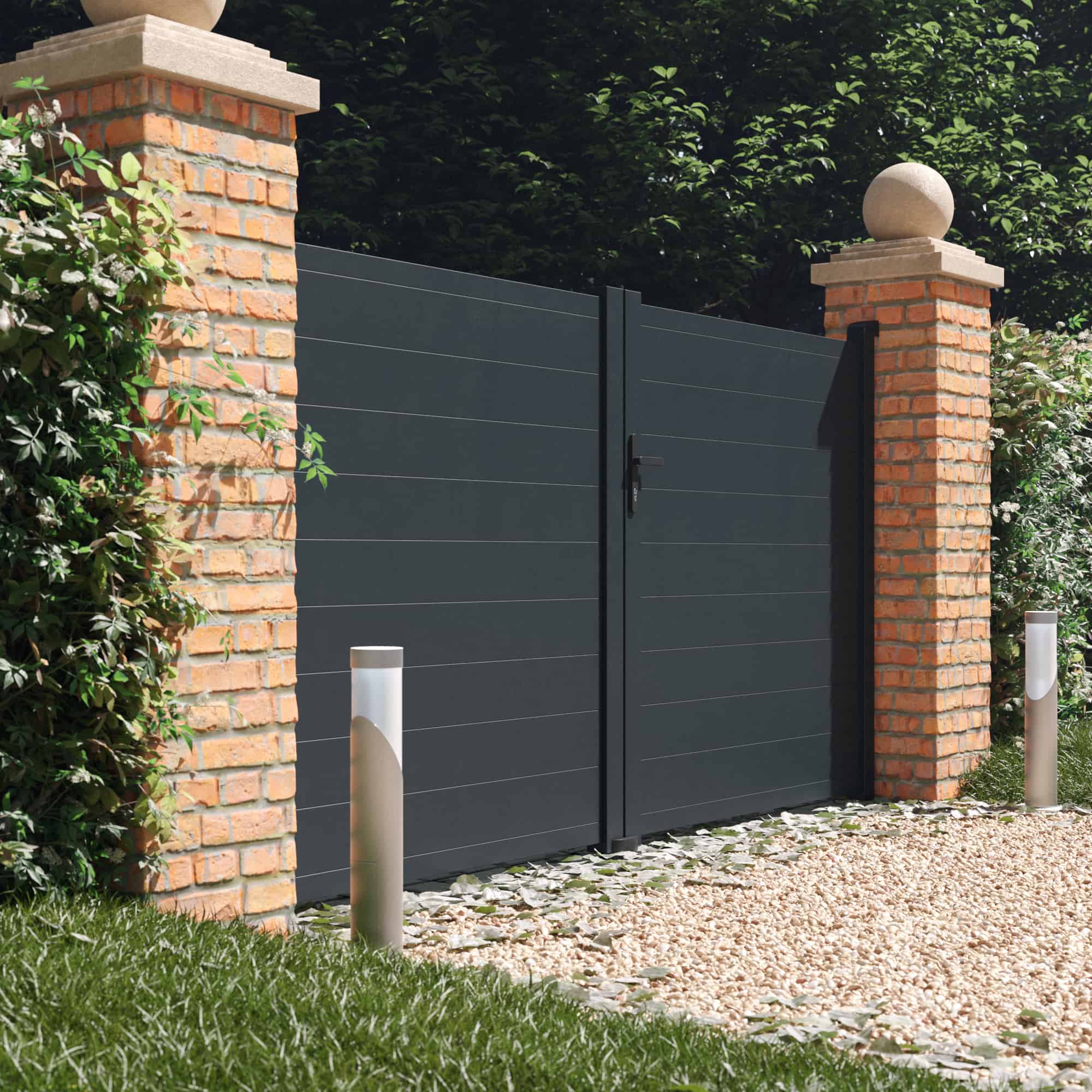 How does it work?
The Valencia double-swing driveway gate comes with a reinforced profile. It also supports electric gate openers. This means that you can choose to have it installed for manual or automated use for convenience.
The fully-boarded design also ensures privacy and security for your property. The gate comes supplied with hinges, mortice lock and keys. It also comes with wall mounted latch and lock keep, expanding bolts and screws. Simply secure your hinges and lock and hang the gate.
What is it made from?
Aluminium is robust and lightweight and makes the perfect material for gates. Aluminium driveway gates are extremely strong and durable. They're also resistant to impact, rust, and corrosion due to heavy weathering.
This also makes aluminium driveway gates almost maintenance-free. Simply wash them down with soapy water and rinse when required.
What does it look like?
The BillyOh Valencia features a powder-coated finish. This means that there's no need for repainting or refinishing. Powder-coating also ensures that driveway gates are fade- and scratch-resistant.
The powder-coated slat design offers a modern twist to the traditional driveway gate. The Valencia is suitable for all types of properties.
How long will it last?
The powder-coated finish ensures these gates are weather-resistant and protects from rust. Powder coating is a method whereby dry powder is applied, charged, and then cured under heat or UV. It provides better resistance to chips, scratches, and wear than simply painting.
The manufacturer's warranty will cover the metal gate for 1-year for technical problems. Due to the strong aluminium construction of the gate, it has an estimated use-life of 10 years. This makes it much more resilient than traditional wooden gates.
What size is it and how much?
The BillyOh Valencia driveway gate comes in either:
300 x 158cm at £599

Or 392 x 158cm at  £699
To suit your driveway and car needs.
Key takeaways:
The BillyOh Valencia driveway gate is:
Robust, light and weather-resistant

Low maintenance

Fully powder-coated for long-lasting colour

Secure with no vents or gaps 

A wide opening gate – allowing for easy access

Supplied with all-metal gate hinges, handles and locks
BillyOh Valencia Driveway Gates
So there you have it. Not only should you consider aluminium if you're looking to buy driveway gates. But we also strongly recommend you check out the BillyOh Valencia.
With a wide double-swing gate with automated opening, you can save yourself a lot of hassle. And the Valencia's horizontal infill design is modern whilst offering full privacy.
Aluminium driveway gates are lower maintenance and longer-lasting than their counterparts. They even come at a competitive price point. So why not upgrade your driveway gates to the BillyOh Valencia today?
Shop Aluminium Gates
FAQs